Book Conviasa Flights with Alternative Airlines
Make a Conviasa reservation and find some amazing deals
---
About
Conviasa is a Venezuelan airline based at Simon Bolivar International Airport in Caracas, Venezuela. Its legal name is Consorcio Venezolano de Industrias Aeronáuticas y Servicios Aéreos, which in English means Venezuelan Consortium of Aeronautics Industries and Air Services. It is the flag carrier and largest airline of Venezuela, operating services to domestic destinations and internationally to the Caribbean and South America. The airline operates from Caracas to Madrid through a codeshare with Air Europa.
Domestically, the airline has a hub at Portlamar on the Margarita Island and flies to Barcelona, Barinas, Canaima, Cuidad Bolivar, Elorza, El Vigia, Guasdualito, Las Piedras, Los Roques Archipelago, Maracaibo, Maturin, Puerto Ayacucho, Puerto Ordaz and San Fernando de Apure.
---
Economy Class
Facilities
Whether you want to treat your taste buds to avocado salad, chicken with saffron rice or exotic desserts, the choice is yours. Passengers can also request magazines and newspapers from the crew.
Seating
Seats are not only comfortable but also spacious, equipped with all the latest features.
---
Business Class
Facilities
Passengers are welcomed with complimentary drinks and are offered everything from appetizers, complete meals to exotic desserts. In terms of in-flight entertainment, the carrier offers a collection of Spanish and English movies, so a good time is guaranteed.
Prior to flight passengers can relax in the lounge service provided by Conviasa Business Class.
Seating
In terms of comfort, the experience is unbeatable with seats offering features like ample legroom, superior reclining, headrest and footrest.
---
Baggage Allowance
Carry-on Baggage
Conviasa passengers are allowed one piece of hand luggage, which must not exceed 8 kg. The dimensions of hand luggage must fit within the dimensions of 37 x 25 x 61 cm.
Baggage Allowance
When flying domestically within Venezuela, passengers in economy class are permitted 20kg of baggage. Passengers in first class are allowed 40kg of baggage.
When flying internationally, passengers in economy class are permitted 2 bags each, weighing a maximum of 32kg each. However, when flying to or from Havana and Bogota, this is reduced to 1 bag of 23kg each. Class Executive passengers are permitted 3 bags, each weighing 32kg each.
Excess Baggage
Conviasa charge for baggage that is bigger than the permitted free allowance. This will be charged at a rate linked with the fare of the ticket for your chosen route.
---
Check-In
Online Check-in
Conviasa do not currently offer online check-in for their passengers
Airport Check-In
Passengers must check-in for their flights at the airport. Conviasa does not advertise a recommended time to arrive at the airport, but check with the airport you are flying from, or with Conviasa directly, to see what time you can check-in.
---
Book Flights in English
We give our customers the chance to buy Conviasa flights in English. Just enter your destination into the search bar above to use our safe and secure booking process in English. Pay in the currency of your choice and using whichever payment method you please! Avoid unnecessary stress and book with Alternative Airlines in English today!
---
Alternative Airlines
Please click on the logos below to find out more about airlines that fly similar routes:
---
Route Map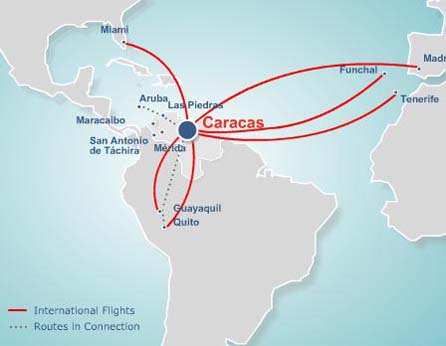 There are numerous domestic Venezuelan routes available. To learn more please visit 'Domestic Flights in Venezuela'.
---
Popular Routes
Caracas

Porlamar
Madrid

Havana
Havana

Madrid
Caracas

Panama City
Piarco

Grenada
Buenos Aires

Caracas
---
The Fleet
Airbus A330
Airbus A340
Boeing 767
Dash 7
Airbus A340
Cessna 208
---
Hub Airport
Simon Bolivar International Airport
Simon Bolivar International Airport is located in Maiquetia, Caracas and is the main international air passenger gateway to Venezuela among the twelve international airports in the country. It handles flights to many destinations in the Americas, the Caribbean and Europe. The airport is also a hub for Transcarga International Airways.
Other airlines which use Simon Bolivar include Aeromexico, Aerolineas Argentinas, Aeropostal (now ceased), Insel Air (now ceased), Avianca, LAN Airlines, Aerolineas Estelar, Venezolana, Rutaca Airlines, LASER Airlines and also Aserca, before it ceased operations in 2018. It has two runways and can handle almost 20 million passengers every year.