Search & Buy Avior Airlines Flights
Airlines will always try to sit children with their parents (subject to check-in)
Some airlines will allow travel for unaccompanied minors. Please email us to check.
The fare is based on the child's age on the date of travel.
More detailed information can be found here Traveling with children
Most airlines will let infants travel with their parent(s) for free. However some airlines will charge up to 10% of the adult ticket price. Click on 'Price Breakdown' to find out more.
If you are pregnant, but due before the flight departure date, please contact us once your baby is born and has a name. We can then add him/her to your ticket.
Infants will not be given a seat. The airlines expect parents to travel with them on their lap.
Airlines regard infants as being under 24 months old.
The fare is based on the child's age on the date of travel.
More detailed information can be found here Traveling with children
Buy
Avior Airlines

Flights
Avior Airlines Reservations with Alternative Airlines
Make an Avior Airlines Booking and Find Some Amazing Deals
---
About Avior Airlines
Avior Airlines is a Venezuelan airline based in Barcelona, Anzoategui. The airline operates flights within Venezuela and the southern Caribbean. Destinations include Oranjestad, Willemstad, Panama City, Bogota, Manta, Medellin, Miami, Barcelona, Manaus, Valera, Valencia, Maracaibo, Porlamar, Caracas, Barinas, Barquisimeto. Avior Airlines' hub airport is General Jose Antonio Anzoategui International Airport.
---
Avior Airlines Baggage
Carry-on Baggage
Avior Airlines permits one piece of carry-on baggage weighing 8kg (17,7lb) with maximum linear dimensions of no greater than 115cm. The Avior airlines carry-on baggage allowance is the same for both "Cabina Ejecutiva" (Business Class) and "Cabina Económica" (Economy Class) ticket fares.
Checked Baggage
The checked baggage allowance for Avior Airlines passengers will vary depending on the flight route and the ticket class purchased. On domestic Avior Airlines flights Business Class passengers are permitted three pieces of checked baggage with a combined weight of no more than 40kg. Economy Class passengers are permitted two pieces of checked baggage with a combined weight of 25kg. Please consult your ticket for a breakdown of Avior Airlines baggage allowances on international flights, as baggage weight limits will vary depending on the destination you are travelling to.
---
Economy Class
Onboard the Airbus A340-300, there are 219 seats in economy class. These have the typical economy set up of a 2-4-2 configuration and the seats themselves are very comfortable and provide for a good flight experience.
---
Business Class
Business Class is only operated on Avior's transatlantic flight on the Airbus A340-300. In this class of 28 total seats, there is a configuration of 2-2-2. The seats are angled flat to be able to relax properly. This service also means passengers have a greater baggage allowance.
---
First Class
Avior operates a business class, or executive class as it is sometimes called, on their transatlantic flights which involve the Airbus A340-300. In this cabin, seats are arranged in a 1-2-1 configuration, with a total of only 8 seats.
---
Avior Airlines Route Map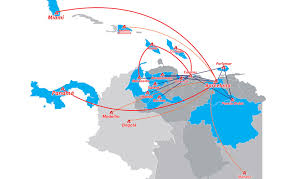 ---
Avior Airlines Popular Routes
Barcelona

Oranjestad
Medellin

Barcelona
Manta

Caracas
Caracas

Miami
Valera

Porlamar
Manuas

Panama City
---
The Fleet
The aircraft used in the Avior Airlines fleet include Boeing 737-200, Boeing 737-400 and Fokker 50.
---
Hub Airport
General Jose Antonio Anzoategui Airport
Avior Airlines is based at General Jose Antonio Anzoategui airport in Barcelona, Venezuela. This airport is the main airport serving Barcelona, Venezuela. Airlines that fly to General Jose Antonio include Aserca Airlines, Avior Airlines, Rutaca and Serami.
---
Alternative Airlines to Avior Airlines
Please click on the logos below to find out more about airlines that fly similar routes to Avior Airlines:
---
Avior Airlines News
6th June 2018
Avior Airlines starts using A340 aircraft again
After undergoing maintenance earlier this year, Avior Airlines' A340-300 aircraft resumed running regularly scheduled services. The aircraft arrived in Venezuela on 26th May and then proceeded to fly a route between Barcelona José Antonio Airport (BLA) and Miami International Airport (MIA), which it will continue to fly until the end of July this year. From 1st August 2018, Avior will use the aircraft to fly between Caracas Simón Bolivar International Airport (CCS) and Benito Juárez International Airport (MEX), Mexico City.
Avior Airlines are looking to add a number of new aircraft to its fleet. The Venezuelan carrier is in talks in bringing in a two more A340s and two more B737400s, which would bring its fleet capacity to 10.
30th April 2018
Venezuela's Avior Airlines reiterates Miami-Caracas desire
Avior Airlines (9V, Barcelona José Antonio Anzoategui) has implored the US Department of Transportation (DOT) to revisit its still pending application for access to the Caracas Simón Bolivar-Miami Int'l market in light of SBA Airlines' dormancy. SBA was, until recently, Venezuela's designated carrier on the route.

Avior is currently authorized to run regular passenger flights between Barcelona José Antonio Anzoategui and Miami and sought, in August 2016, to expand that authority to include the Caracas-Miami route.

However, 18 months after the application to the DOT for an amended exemption authority was submitted with no response, Avior has now sought to leverage SBA's suspension of operations to its advantage.

In its filing to the DOT last week, Avior said it had already been designated to the route by the Venezuelan civil aviation authority (Instituto Nacional de Aeronáutica Civil - INAC) and was now awaiting Washington's consent.

"In an effort to preserve much-needed service, the Government of Venezuela has designated and licensed Avior to provide service to replace the Santa Barbara service that has been terminated," it said. "Avior requests the Department amend its exemption to provide services such as Scheduled foreign air transportation of persons, property, and mail between Caracas, Venezuela and Miami, Florida, either directly or via intermediate points in other countries, with or without stopovers."

According to the ch-aviation schedules database, Avior currently plies the Caracas-Miami route daily albeit using MD-83 equipment wet-leased from World Atlantic Airlines (WL, Miami Int'l).

At present time, American Airlines (AA, Dallas/Fort Worth) is the only other scheduled passenger carrier active between Miami and Caracas.