Avior Airlines Reservations with Alternative Airlines
Make a Booking with Amazing Deals
---
About
Avior Airlines is a Venezuelan airline that flies scheduled and charter passenger flights. It also has a subsidiary airline called Avior Airlines Peru, which mainly flies to destinations within Peru. The airline is based at Generál José Antonio Anzoátegui International Airport, Barcelona and flies to destinations within South America and the Caribbean.
The airline launched in 1994 and operated its first-ever service between Canaima and Margarita Island with a charter flight. It began flying scheduled flights shortly after and has now built its route network to include more than 10 destinations.
---
Destinations
Domestic Destinations
| CITY | AIRPORT |
| --- | --- |
| Barcelona | General José Antonio Anzoátegui International Airport (BLA) |
| Barinas | Luis Cáceres de Arismendi Airport (BNS) |
| Caracas | Simón Bolívar International Airport (CCS) |
| Porlamar | Santiago Mariño Caribbean International Airport (PMV) |
| Puerto Ordaz | Manuel Carlos Piar Guayana Airport (PZO) |
| Valencia | Arturo Michelena International Airport (VLN) |
To learn more about domestic services within Venezuela please visit our 'Domestic Flights in Venezuela' page.
International Destinations
COUNTRY
CITY
AIRPORT
Brazil
Manaus
Eduardo Gomes International Airport (MAO
Colombia
Bogotá
El Dorado International Airport (BOG)
Cali
Alfonso Bonilla Aragón International Airport (CLO)
Medellin
José María Córdova International Airport (MDE)
Curaçao
Willemstad
Curaçao International Airport (CUR)
Dominican Republic
Santo Domingo
Las Américas International Airport (SDQ)
Ecuador
Guayaquil
José Joaquin de Olmedo International Airport (GYE)
Peru
Lima
Jorge Chávez International Airport (LIM)
---
Fleet
Currently, its fleet consists of Airbus A340-300s, Boeing 737-200s and 737-400s and Fokker 50s. Overall, it has more than 20 airlines within its fleet.
The airline has historically used regional jets from manufacturers such as Cessna and Dornier. However, in recent years, it has updated its fleet and taken on narrow body Boeing aircraft and wide body Airbus aircraft, which are used for its long-haul flights. World Atlantic Airlines has previously leased aircraft to Avior.
---
Book Avior Airlines in English
Flights with Avior Airlines can be booked in English with Alternative Airlines. Just search for the routes you want to fly, fill in your details and your e-ticket will be emailed to you all in English.
---
Route Map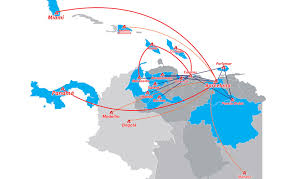 ---
Baggage
Carry-on Baggage
Avior Airlines permits one piece of carry-on baggage weighing 8kg (17.7lb) with maximum linear dimensions no greater than 115cm. The Avior airlines carry-on baggage allowance is the same for both "Cabina Ejecutiva" (Business Class) and "Cabina Económica" (Economy Class) ticket fares.
Checked Baggage
The checked baggage allowance for Avior Airlines passengers will vary depending on the ticket class purchased and the route flown, please check the baggage allowance for your flight at the time of booking.
The maximum baggage checked allowance for Economy Class passengers is one piece of 23 kg and the maximum baggage allowance for Business Class passengers is two pieces of 23 kg.
---
Economy Class
Onboard the Airbus A340-300, there are 219 seats in economy class. These have the typical economy set up of a 2-4-2 configuration and the seats themselves are very comfortable and provide for a good flight experience. Boeing aircraft offer a similarly comfortable cabin experience, however, seas are set out in a 3 x 3 formation.
---
Business Class
Business Class is only operated on Avior's transatlantic flight on the Airbus A340-300. In this class of 28 total seats, there is a configuration of 2-2-2. The seats are angled flat to be able to relax properly. This service also gives passengers a greater baggage allowance.
---
In-Flight Entertainment
There's no in-flight entertainment onboard Avior Airlines flights.
---
WIFI
There's no in-flight WIFI on Avior Airlines.
---
Food
Passengers are offered a selection of food and drink from the airline's in-flight menu. The menu will differ depending on the route flown, with snacks served on shorter-flights and meals served on select longer flights. Soft drinks and water are offered on all flights.
---
Frequent Flyer
Avior Plus
Avior Plus is Avior Airlines exclusive frequent flyer program that rewards passengers by allowing them to accumulate air miles each time that they fly. These miles can then be spent to upgrade or purchase future flights on Avior Airlines.
There are three different levels of membership to purchase, all with varying degrees of benefits. Here are the different benefits for each level of membership:
| SILVER | GOLD | BLACK |
| --- | --- | --- |
| Extra miles bonus for flying in an executive cabin | Extra miles bonus for flying in an executive cabin | Extra miles bonus for flying in an executive cabin |
| Priority customer service | Priority customer service | Priority customer service |
| Miles redemption | Miles redemption | Miles redemptions |
| | Extra miles bonus (+10%) | Extra miles bonus (+20%) |
| | Transfer miles to other Avios Plus members | Transfer miles to other Avios Plus members |
| | Priority baggage claim | Priority baggage claim |
| | Priority boarding | Priority boarding |
| | Priority check-in | Priority check-in |
| | | Seat upgrade (based on availability) |
| | | Discount on purchase of miles packages |
| | | Invites to Avior Plus events |
| | | Additional baggage allowance |
---
Airline Alliance
Avior Airlines isn't part of an airline alliance at this time.
---
Hub Airport
General Jose Antonio Anzoategui Airport
Avior Airlines is based at General Jose Antonio Anzoategui airport in Barcelona, Venezuela. The airport has a single terminal building and two separate runways. The airport mainly facilitates domestic flights but does have international services from Avior Airlines.
Avior Airlines is currently the only airline that uses the airport as a hub. However, Conviasa, LASER and Rutaca Airlines all fly to/from the airport too.
---
Alternative Airlines to Avior Airlines
Please click on the logos below to find out more about airlines that fly similar routes to Avior Airlines: