Cheap domestic flights to Havana, Santo Domingo, and more with Aeropostal. Aeropostal is Venezuela's oldest airline and is based at the Simon Bolivar International Airport serving Caracas.
Aeropostal Flights

This is a long established, family owned airline with a proud tradition of connecting the major Venezuelan cities to Caracas, the capital and onwards to key international destinations. International services operate to Cuba (Havana), Dominican Republic (Santo Domingo and Puerto Plata), Aruba, Dutch Antilles, Trinidad and Tobago, Colombia (Bogotá and Medellin), Ecuador (Quito and Guayaquil) and Peru (Lima). Within Venezuela the cities served from the Caracas hub include Barcelona, Barquisimeto, Maracaibo, Maturin, Porlamar, Puerto Ordaz, San Antonio del Tachira and Valencia.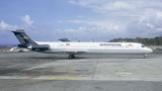 Aeropostal offer cheap domestic flights to Havana, Santo Domingo, Puerto Plata and more. Check the full range of departure airports served on our online booking form.
Aeropostal of Venezuala
Aeropostal is one of South America's great names of aviation but the latest organisation carrying the brand effectively started in 1997. No longer do they fly to Europe but they are a great way to get around Venezuela or to connect this fascinating (and changing!) country to a South American wide itinerary.