Airlines will always try to sit children with their parents (subject to check-in)
Some airlines will allow travel for unaccompanied minors. Please email us to check.
The fare is based on the child's age on the date of travel.
More detailed information can be found here Traveling with children
Most airlines will let infants travel with their parent(s) for free. However some airlines will charge up to 10% of the adult ticket price. Click on 'Price Breakdown' to find out more.
If you are pregnant, but due before the flight departure date, please contact us once your baby is born and has a name. We can then add him/her to your ticket.
Infants will not be given a seat. The airlines expect parents to travel with them on their lap.
Airlines regard infants as being under 24 months old.
The fare is based on the child's age on the date of travel.
More detailed information can be found here Traveling with children
Transatlantic Flights
Cancellation Protection
Protects
Trusted Choice
65,000 happy customers
Rated 4.5 Stars. Based on 3,581 service ratings over the past year
Dedicated customer service team on hand to help
Secure payments
Cancellation Protection
Protects
Trusted Choice
65,000 happy customers
Rated 4.5 Stars. Based on 3,581 service ratings over the past year
Dedicated customer service team on hand to help
Secure payments


Transatlantic Flights
Find out more about transatlantic flights - what are they, what airlines offer them and some FAQs.
What is a
transatlantic flight?

A transatlantic flight is a type of flight that flies across the Atlantic Ocean. This can be from Europe, Africa or the Middle East, flying to North, Central or South America.
In the early days of flying, aircraft engines were not advanced enough and didn't have the power to travel this longer distance, which encountered much more difficult weather conditions. However, much has developed since then and in 2015, 44 million passengers flew on transatlantic routes, with 5.33 million of those on Delta Air Lines.
What are the best airlines for

transatlantic flights

?
Virgin Atlantic
Virgin Atlantic is a British Airline, offering transatlantic flights to locations such as London to Boston, London to Orlando or Manchester to New York. They offer a range of fares, with their cheapest being the 'Light' fare, which doesn't include any free checked luggage. They offer more luxurious options, such as the 'Delight' option which gives you more legroom, priority boarding, higher quality food and a flight kit including a blanket, pillow and headphones.
British Airways
British Airways is the National Airline of the U.K. They offer many transatlantic passenger flights from its base in London Heathrow. They offer a basic or standard ticket on their long-haul routes, which differs in the amount of luggage permitted, seat selection and boarding priority. The operate transatlantic flights on their large fleet, including their new Airbus A380, Boeing 787's and Boeing 777-300ER's.
United Airlines
Although many people associate United Airlines with domestic flights in the US, they also offer many transatlantic flights to destinations such as Brussels, Dublin, Tel Aviv, Barcelona and Stockholm from US destinations such as Chicago, New York and Washington.
Lufthansa
Germany's leading airline and one of the largest airlines in the world, Lufthansa, has more than 300 destinations in over 100 countries, meaning they offer a wealth of transatlantic passenger flights. Some of these include Munich to Baltimore, Panama City to Frankfurt and Frankfurt to Salvador, as well as many of the well-known North American destinations.
Air Canada
Air Canada offer a no-frills flight service with friendly attentive flight attendants. Their transatlantic flights are operated on their new Boeing 787 Dreamliners, which includes seat power points, larger tv personal screens and a greater selection of entertainment.
Condor
Condor airlines is a typical 'transatlantic discounter', which offers transatlantic passenger flights at a discounted price. They link many American cities to Germany with their transatlantic routes, making up their total 75 destinations. Their economy class tickets include free checked and hand luggage, entertainment and USB ports.
Norwegian
Norwegian is the best airline for cheapest transatlantic flights! This low-cost carrier is one of the newest airlines to offer long-haul transatlantic flights, meaning their aircraft are more modern. They offer 3 economy fares, with the cheaper ones typically offering fewer amenities.
Popular Transatlantic Routes
Here are some of the most popular transatlantic routes. Click on the links on the airlines on this page to find out more, or use our search bar to discover your own route.
Transatlantic Flights
FAQs
What are transatlantic flights?
Transatlantic flights are flights that fly across the Atlantic Ocean. Transatlantic flights fly from between destinations in Europe, Africa, the Middle East and the Americas.
What transatlantic flights have wifi?
Airlines operate different policies when it comes to offering wifi on transatlantic passenger flights. Some do not yet have the technology on their planes, or only offer it on more modern aircraft. Out of those that have WiFi, some airlines offer complimentary wifi, whereas others charge for this service. Norwegian Air offer free in-flight wifi on all their flights. Airlines such as American Airlines, Delta, United and Air Canada all charge a price to use the WiFi. To find out more, visit our blog on the best airlines for Wi-Fi.
How much baggage am I allowed on transatlantic flights?
The amount of baggage you are allowed depends completely on the airline and often fare purchased, but transatlantic flights often offer larger luggage allowances than regional or domestic flights. Visit the individual airline page to find more information, or check your allowance when booking.
If you're unsure on what items you can bring in your carry-on and checked baggage, read our prohibited items blog, per TSA rules.
How long are transatlantic flights?
The duration of transatlantic flights depends completely on the route travelling, aircraft and conditions. Flight times are often quicker when flying west to east, because of the winds and the jet stream meaning the aircraft has optimum weather conditions. Here are some examples of the times for certain routes:
London to New York : 8 hours
Los Angeles to London: 10 hours 30 minutes
New York to Paris : 7 Hours 20 Minutes
Chicago to Frankfurt : 8 hours 20 minutes
San Francisco to London : 10 Hours 25 minutes
Miami to London : 8 hours 40 minutes
Washington to Addis Ababa : 13 hours 15 minutes
Sao Paulo to Luanda, Angola : 8 hours 15 minutes
Do transatlantic flights have power outlets?
Again, this depends completely on the airline you are flying with, the model of the plane for your flight, and sometimes the class travelling in. In some more modern planes, there is most likely plugs at your seats which you are able to use, however this is not always guaranteed. The planes used for transatlantic flights are often larger and more modern than those used for short-haul flights, so they are more likely to have power sockets, but this is not always the case.
On Alternative Airlines website, you can see the features of your flight, including power outlets. To view this, enter your route travelling into the Alternative Airlines search bar, and select your flights.
On the passenger details page, there will be a box like this which appears: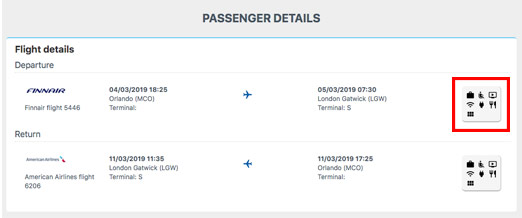 When you hover over this box, a box appears with all the features of that flight. You can see all the features, including power supply.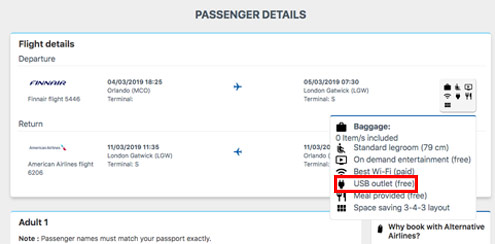 Do transatlantic flights have more room?
Generally, yes. Although the amount of legroom is completely dependent on the airline and plane flying in. However, Air France offer 31-34 inches of legroom in long-haul economy, but only 32-32 inches in short-haul economy. Similarly, KLM offer 31-35 for long-haul economy and 29-31 for short-haul economy. This increase of about 2 more inches in long-haul compared to short haul seem to be the case for other airlines, such as Lufthansa and Thomas Cook.
Do transatlantic flights leave at night?
Transatlantic flights don't always leave at night, but there are benefits to travelling overnight. Red-eye flights are flights which leave at night and arrive early the next day. These flights are generally cheaper and mean passengers do not lose a working day. Click here to find out about red eye flights and what red-eye flights we offer at Alternative Airlines.
When should I book transatlantic flights?
There is no set time to book transatlantic flights, but check out our cheapest fare finder or read our blog on the best day to buy flights for information about where you can get the best deal on your transatlantic flight.
Why are transatlantic flights so expensive?
Transatlantic flights are often more expensive than domestic or regional flights, purely because they are longer, meaning more staff costs and higher fuel and maintenance expenses. However, they don't always have to be so expensive, read our blog about the best days to buy flights and use our best fare finder to find a cheap alternative to traditional expensive transatlantic flights.
When did transatlantic flights become common?
Transatlantic flights became common in the 1970s with the introduction of widebody aircraft such as and the Boeing 747 and Douglas DC-10. These wide-body jets allowed airlines to carry more passengers and thus allowed airline to offer passengers more affordable prices.
Can I book transatlantic flights that are red eye?
Yes, you can book transatlantic flights that are red eye here on Alternative Airlines. Read more on our red eye flights page.
Why do transatlantic flights go so far north?
Transatlantic flights, in particular flights between Europe and the US, fly far north because it's the quickest and shortest route between the two destinations. U.S customers can choose to pay transatlantic flights over time with Affirm when booking with Alternative Airlines. UK customers can choose to use Fly Now Pay Later or PayPal Credit to spread the cost of their flights.
Are transatlantic flights turbulent?
Generally, transatlantic flights don't experience much turbulence at all. Routes flying near the Poles experience less turbulence than routes near the equator and the Pacific. Additionally, aircraft used on transatlantic flights are designed for long-haul travel and therefore are larger and more sturdy than aircraft used on short-haul and domestic flights.
Another reason for less turbulence on transatlantic flights is because of the lack of mountains in the North Atlantic. However, you're more likely to experience turbulence if you're flying to or from the West Coast, as you'll fly across the Rocky Mountains.