Buy
Canadian North

Flights

Search and Buy Canadian North Flights Online with Alternative Airlines

Flights to and from Canada

Make an Canadian North reservation and find some amazing deals with discounted Canadian Northtickets at Alternative Airlines
---
About Canadian North
Canadian North is a Canadian airline headquarted in Calgary, Alberta, Canada. The airline operates scheduled passenger services to areas in Nunavut and the Northwest Territories of Canada.
Canadian North offer scheduled flights to 17 destinations in the Northwest Territories and Nunavut, through southern gateways of Edmonton and Ottawa. Canadian North is 100% aboriginal owned by the Inuvialuit Development Corporation, representing the Inuvialuit of the Western Arctic.
Canadian North's main base is Edmonton Airport and was founded in 1989 as a subsidiary of Canadian Airlines. This was to provide focus towards the norther Canadian communities.
Canadian North has gone through many changes since the 1980's as was purchased by another holding company, Norterra and utilised 3 different livery schemes, the airline changed its current image in 2003. The logo displays distinct features of the north of Canada - the midnight sun, the polar bear and the Northern Lights.
The airline codeshares some flights with First Air until 16th May 2017.
Canadian North and its founding companies - Canadian Airlines, Pacific Western Airlines, Transair and Nordair - have proudly provided safe, reliable and efficient passenger and cargo services to Northerners for more than 80 years.
---
Destinations
Canada
British Columbia
Comox (CFB Comox) charter
Vancouver (Vancouver International Airport) charter
Alberta
Calgary (Calgary International Airport) charter
Edmonton (Edmonton International Airport)
Fort McMurray (Fort McMurray Airport) charter
Northwest Territories
Inuvik (Inuvik (Mike Zubko) Airport)
Norman Wells (Norman Wells Airport)
Yellowknife (Yellowknife Airport) hub
New Brunswick
Moncton, New Brunswick (Moncton International Airport)
Nova Scotia
Halifax (Halifax Stanfield International Airport) seasonal
Newfoundland and Labrador
St. John's (St. John's International Airport) seasonal
Nunavut
Cambridge Bay (Cambridge Bay Airport)
Cape Dorset (Cape Dorset Airport)
Clyde River (Clyde River Airport)
Gjoa Haven (Gjoa Haven Airport)
Hall Beach (Hall Beach Airport)
Igloolik (Igloolik Airport)
Iqaluit (Iqaluit Airport)
Kugaaruk (Kugaaruk Airport)
Kugluktuk (Kugluktuk Airport)
Pangnirtung (Pangnirtung Airport)
Pond Inlet (Pond Inlet Airport)
Qikiqtarjuaq (Qikiqtarjuaq Airport)
Rankin Inlet (Rankin Inlet Airport)
Taloyoak (Taloyoak Airport)
Ontario
Ottawa (Ottawa Macdonald–Cartier International Airport)
Quebec
Montreal (Montreal- Pierre Elliott Trudeau International Airport)
United States
Florida
Miami International Airport
Palm Beach International Airport
Canadian North Route Map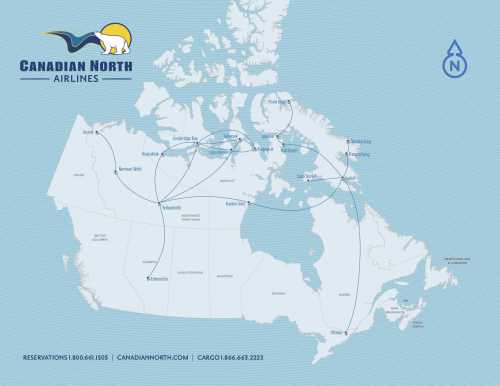 ---
Baggage
Each passenger is allowed to bring up to one (1) piece of carry-on baggage on board
• The maximum dimensions must not exceed 23 cm x 41 cm x 57 cm (9" x 16" x 22.5"),
• The maximum weight must not exceed 10 kg (22lbs)
---
News
April 3rd 2018
Canadian North promotion
Canadian North have a sping offer for all their round-trip flights between Ottawa and Iqaluit if you make a booking before Sunday April 22nd 2018 and you are travelling between 9 April 2018 and 25 April 2018. Search for Canadian North flights for cheaper than usual rates.
February 17th 2018
Canadian North gets futuristic with Fetchable
Fetchable is Canadian North' s new internet-based service. "We have available space on our aircraft and we're looking for ways to fill it," said Canadian North president Steve Hankirk."One of the things we've talked about for quite some time is having a delivery model, both north and south, that's robust and timely, and that we're going to use latest technology in."
The partnership with BBE Expediting promises to deliver product to the Nunavut communities on its flight plans from anywhere in the world. It also promises one-day service for perishables from the south. The service is available in Nunavut wherever Canadian North flies: Pond Inlet, Qikiqtarjuaq, Pangnirtung, Iqaluit, Cape Dorset, Hall Beach, Iglulik, Rankin Inlet, Kugaaruk, Taloyoak, Gjoa Haven, Kugluktuk and Cambridge Bay.
Fetchable was developed over the course of the last six months and launched in early February. "Any number of individuals and retailers can use Fetchable on-line. It's very simple to use. Any individual or retailer can use it to ship cargo in a cost-effective manner to the North, or, quite frankly, if you've got goods to ship to the south, you can connect to a network and basically get it anywhere," said Hankirk. Any perishables transported via Fetchable will be treated like luggage, meaning it will get to the community on the same day it's shipped. The company is even looking to use special German boxes, Fetchable-branded, that will help keep perishables fresh and easily identifiable.
August 2017
No evidence of anti-competitive acts between First Air and Canadian North:
No evidence of anti-competitive acts between First Air and Canadian North: Competition Bureau
Investigation began in 2016 amid predatory pricing allegations
The Competition Bureau has found no evidence of anti-competitive acts between First Air and Canadian North in its investigation of predatory pricing toward the now-defunct GoSarvaq.
While the bureau found First Air and Canadian North's seat sales, which coincided with GoSarvaq's launch, had an impact on GoSarvaq, "the Bureau did not find sufficient evidence to conclude that these were anti-competitive acts as required by the [Competition] Act," according to a statement from the bureau.
The seat sales saw one-way tickets along the Ottawa-Iqaluit route go below $500 from the roughly regular $1,200 fare.
The bureau looked at whether the bigger airlines dropped their prices so low that they would make less money than not flying at all. If they did, with the intent to recoup the lost revenues after GoSarvaq went out of business, it would be illegal.
But the bureau didn't find any evidence to indicate the airlines broke any laws.
Although the Bureau found evidence indicating the bigger airlines saw GoSarvaq as a threat, and that the airlines took deliberate actions in response to GoSarvaq's launch, it found no evidence that First Air and Canadian North were price-fixing with each other.
Canadian North says its pleased with the conclusions from the Bureau, along with how the bureau acknowledged the challenges of flying in the North.
As for the alleged predatory pricing along the Ottawa-Iqaluit route, the airline says the route is important to its operations in Nunavut as a gateway to the Eastern Arctic.
"Whether profitable or not, we'd never want to surrender market share on that route," said Canadian North's communications manager Kelly Lewis, adding it's also an important cargo route.
"We've operated for two decades on that route, almost. We've worked hard to build a lot of market share. To not respond [to GoSarvaq's low introductory rate] would have been, basically, surrendering and put the sustainability of our business at risk and certainly put jobs at risk."
Asked why customers haven't seen a similar seat sale since, Lewis said GoSarvaq's initial fare was an introductory offer.
"You have to compete to a changing market conditions, and we were comfortable, for the short term, doing that," Lewis said.
"Is that a price that we we would want to offer on an ongoing basis? I wouldn't think so, no. But nobody had stated that was going to be a permanent standing price for that route."
The competition bureau also investigated First Air and Canadian North's codeshare agreement — which saw both airlines sell seats on each other's planes on certain routes — but closed the investigation after First Air ended the codeshare agreement in May.
---
Pay your way
Pay for flights in USD or 70 other currencies of your choice with Alternative Airlines.
Choose from over 18 payment methods, including PayPal, Apple Pay , Fly now Pay later and Alipay
Check out all of our payment methods here.
---
Search and Buy Canadian North flights
Book Canadian North flights with Alternative Airlines. Find amazing deals with discounted Canadian North flights at Alternative Airlines. Canadian North flies to many destinations worldwide, and Alternative Airlines offers a cost effective and safe service to all its passengers. Let Alternative Airlines help find you alternatives for cheap Canadian North tickets. Make international and domestic flight reservations on Canadian North flights today.
Browse the most popular Canadian North flight flights to cities. Alternative Airlines can help you make reservations on Canadian North flights to lots of destinations. Book Canadian North flights on Alternative Airlines and save money. Alternative Airlines is an online travel agency, specialising in booking lesser known airlines and remote destinations.
---
About Alternative Airlines
Alternative Airlines is an online flight search complete with customer service specialising in booking flights on lesser known airlines and to remote destinations. We offer you a wider choice of airlines supported by a team of customer service and travel specialists for help and advice on your travel plans. We specialise in finding the best available fares on the widest range of airlines and making them available to you online, with prices in the currency of your choice.
Alternative Airlines handles all your travel arrangements and payments, complete with ticketed confirmation. We do not direct you to other websites or service providers. We help you through the process. This is what makes us Alternative Airlines. Check out our revies on Feefo or our reviews page. If you want to know a little bit more about us, read our blog for our alternative travel secrets and stories.
Browse for flights, find some amazing deals, make a reservation and pay in the currency of your choice today with Alternative Airlines. Let Alternative Airlines help find you the best prices and make international and domestic flight reservations with us today.
Join the Alternative Airlines Members Club and get £100.00 back on your 5th booking with Alternative Airlines. You will have insight to many benefits and exclusive deals on over 650 airlines. Click on the Members section on the Alternative Airlines website for more information and join today. We are open every day from 8am until 8pm (UK local time).
How to pay
You can pay for your flights with Canadian North in the currency and payment method of your choice when booking through Alternative Airlines.
We accept PayPal making flight purchases with Canadian North easy and more secure for customers. PayPal is one of the leading forms of online payment, with more than 169 million accounts worldwide.