Search and Buy Canadian North Flights with Alternative Airlines
Make a Canadian North Booking and Find Some Amazing Deals
---
About
Canadian North is a Canadian airline headquartered in Kanata, Ontario, Canada. The airline operates scheduled passenger services to areas in Nunavut and the Northwest Territories of Canada.
Canadian North offers scheduled flights to 26 destinations in the Northwest Territories and Nunavut, through southern gateways of Edmonton and Ottawa. Canadian North is 100% aboriginal owned by the Inuvialuit Development Corporation, representing the Inuvialuit of the Western Arctic.
Canadian North's main base is Yellowknife Airport (YZF), Cambridge Bay Airport (YCB) and Iqaluit Airport (YFB) and was founded in 1989 as a subsidiary of Canadian Airlines. This was to provide focus towards the northern Canadian communities.
Canadian North Airline has gone through many changes since the 1980s as was purchased by another holding company, Norterra and utilised 3 different livery schemes, the airline changed its current image in 2003. The logo displays distinct features of the north of Canada - the midnight sun, the polar bear and the Northern Lights.
The airline codeshares some flights with First Air until 16th May 2017.
On November 2019, First Air and Canadian North completed the merger and combined schedules into one. However, full integration is expected to take 12 to 18 months.
Canadian North and its founding companies - Canadian Airlines, Pacific Western Airlines, Transair and Nordair - have proudly provided safe, reliable and efficient passenger and cargo services to Northerners for more than 80 years.
---
Baggage Allowance
Carry-on Baggage
Canadian North allow passengers to bring one piece of carry-on baggage. This must not weigh more than 10kg and must fit within the following dimensions: 23cm x 40cm x 55cm.
In addition, passengers are allowed one personal item. This could be items such as a briefcase, laptop case or a handbag.
Checked Baggage
Checked Baggage allowance for Canadian North flights depends on the number of bags and the type of ticket purchased. Each checked bag must be 23kgs. Please see below to check your ticket fare alongside baggage allowance and additional fees.
Super-Flex
1st Bag - Free
2nd Bag - Free
3rd Bag - Free
Flex
1st Bag - Free
2nd Bag - Free
3rd Bag - $78.75 - $86.25
Saver
1st Bag - Free
2nd Bag - $36.75 - $40.25
3rd Bag - $78.75 - $86.25
Pivut
1st Bag - Free
2nd Bag - $36.75 - $40.25
3rd Bag - $78.75 - $86.25
---
Economy Class
Currently, the only level of service on Canadian North flights in Economy Class. In this class, passengers can expect a comfortable and enjoyable flight and travel experience.
Economy Class Facilities
During the flight, passengers are provided with complimentary beverages, including tea and coffee, fruit juices and soft drinks. There are also alcoholic beverages available to purchase.
Passengers can enjoy the in-flight entertainment system; 'Sky-High' onboard their flights. This includes access to the Wi-Fi network where passengers will be able to use their own devices to access the selection of movies and TV shows.
The seats in economy are industry-leading, with plenty of legroom and generous overhead storage, meaning your travels are comfortable and relaxing.
What are Economy Class Seats Like?
The seats in economy are industry-leading, with plenty of legroom and generous overhead storage, meaning your travels are comfortable and relaxing.
---
Check-In Information
Online Check-In
Canadian North offers web check-in 24 hours before departure for flights which are operated by Canadian North. It can be accessed via the airline website.
Airport Check-In
Passengers are recommended to check-in at least 60 minutes before the scheduled departure time.
---
Destinations
Domestic Destinations
| STATE | CITY | AIRPORT |
| --- | --- | --- |
| Alberta | Edmonton | Edmonton International Airport (YEG) |
| Alberta | Edmonton | Edmonton International Airport (YEG) |
| Northwest Territories | Fort Simpson | Fort Simpson Airport (YFS) |
| Northwest Territories | Hay River | Hay River/Merlyn Carter Airport (YHY) |
| Northwest Territories | Inuvik | Inuvik (Mike Zubko) Airport (YEV) |
| Northwest Territories | Norman Wells | Norman Wells Airport (YVQ) |
| Northwest Territories | Yellowknife | Yellowknife Airport (YZF) (Hub) |
| Nunavik | Kuujjuaq | Kuujjuaq Airport (YVP) |
| Nunavut | Arctic Bay | Arctic Bay Airport (YAB) |
| Nunavut | Cambridge Bay | Cambridge Bay Airport (YCB) (Hub) |
| Nunavut | Cape Dorset | Cape Dorset Airport (YTE) |
| Nunavut | Clyde River | Clyde River Airport (YCY) |
| Nunavut | Gjoa Haven | Gjoa Haven Airport (YHK) |
| Nunavut | Hall Beach | Hall Beach Airport (YUX) |
| Nunavut | Igloolik | Igloolik Airport (YGT) |
| Nunavut | Iqaluit | Iqaluit Airport (YFB) (Hub) |
| Nunavut | Kimmirut | Kimmirut Airport (YLC) |
| Nunavut | Kugaaruk | Kugaaruk Airport (YBB) |
| Nunavut | Kugluktuk | Kugluktuk Airport (YCO) |
| Nunavut | Pangnirtung | Pangnirtung Airport (YXP) |
| Nunavut | Pond Inlet | Pond Inlet Airport (YIO) |
| Nunavut | Qikiqtarjuaq | Qikiqtarjuaq Airport (YVM) |
| Nunavut | Rankin Inlet | Rankin Inlet Airport (YRT) |
| Nunavut | Resolute | Resolute Bay Airport (YRB) |
| Nunavut | Taloyoak | Taloyoak Airport (YYH) |
| Ontario | Ottawa | Ottawa Macdonald–Cartier International Airport (YOW) |
| Quebec | Montreal | Montréal–Trudeau International Airport (YUL) |
---
Route Map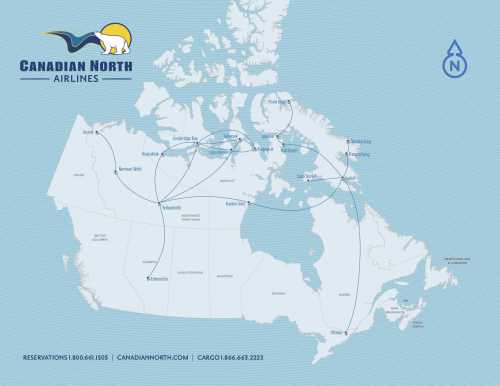 ---
The Fleet
As of January 2020, Canadian North fleet consists of:
13 x ATR 42
2 x Boeing 737-200 Combi
13 x Boeing 737-300/400
4 x De Havilland Canada Dash 8
---
Frequent Flyer Program
Aurora Rewards is a Canadian North's frequent flyer program where members are able to earn Aeroplan Miles on Canadian North flights in addition to Aurora Rewards points. You will earn anywhere between 25% and 125% of the actual flight's miles when you fly on Canadian North. The the program has 3 tiers Silver, Gold and Diamond, each of them offering you benefits.
---
Alternative Airlines to Canadian North
Please click on the logos below to find out more about airlines that fly similar routes to Canadian North Airlines:
---
Hub Airport
Yellowknife Airport
Yellowknife Airport (YZF) is a Canadian Airport which runs both commercial and corporate aviation services. As one of three airport hubs for Canada North, it is located a 5-minute drive from the city of Yellowknife, Northwest Territories, Canada. It is owned by and operated by the Government of the Northwest Territories, Department of Transportation. It is also the hub airport for Air Tindi First Air and Northwestern Air.
The airport is also a hub for Buffalo Airways, an airline which provides charter passenger services, as well as cargo and firefighting flights.
Cambridge Bay Airport
Cambridge Bay Airport (YCB) is another of the three airport hubs for Canadian North. The airport operates non-stop, scheduled flights to other major cities domestically but also to the USA, Mexico, the Caribbean, Europe and Central America. In all of Canada, it is the largest major airport by total land area, and the fifth-busiest when looking at passengers. In 2017, for example, it served nearly 8 million passengers.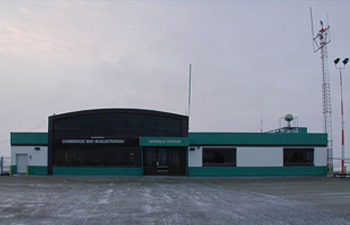 Iqaluit Airport
The final of the three hub airports for Canadian North, Iqaluit Airport (YFB) is located next to the town of Iqaluit in Nunavut, Canada. It is used for both scheduled commercial passenger services, and also has military uses. Other airlines that fly out of the airport are Air Nunavut, Chrono Aviation and Nolinor Aviation.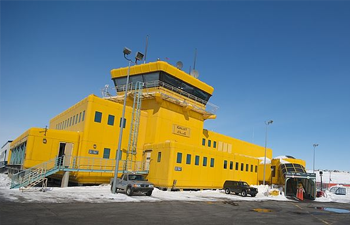 ---
Airline Alliance
The airline isn't part of any airlines alliances at this current time.
---
News
April 3rd 2018
Canadian North promotion
Canadian North has a sping offer for all their round-trip flights between Ottawa and Iqaluit if you make a booking before Sunday April 22nd 2018 and you are travelling between 9 April 2018 and 25 April 2018. Search for Canadian North flights for cheaper than usual rates.
February 17th 2018
Canadian North gets futuristic with Fetchable
Fetchable is Canadian North' s new internet-based service."We have available space on our aircraft and we're looking for ways to fill it," said Canadian North president Steve Hankirk."One of the things we've talked about for quite some time is having a delivery model, both north and south, that's robust and timely, and that we're going to use latest technology in."
The partnership with BBE Expediting promises to deliver product to the Nunavut communities on its flight plans from anywhere in the world. It also promises one-day service for perishables from the south. The service is available in Nunavut wherever Canadian North flies: Pond Inlet, Qikiqtarjuaq, Pangnirtung, Iqaluit, Cape Dorset, Hall Beach, Iglulik, Rankin Inlet, Kugaaruk, Taloyoak, Gjoa Haven, Kugluktuk and Cambridge Bay.
Fetchable was developed over the course of the last six months and launched in early February. "Any number of individuals and retailers can use Fetchable on-line. It's very simple to use. Any individual or retailer can use it to ship cargo in a cost-effective manner to the North, or, quite frankly, if you've got goods to ship to the south, you can connect to a network and basically get it anywhere," said Hankirk. Any perishables transported via Fetchable will be treated like luggage, meaning it will get to the community on the same day it's shipped. The company is even looking to use special German boxes, Fetchable-branded, that will help keep perishables fresh and easily identifiable.