Airlines will always try to sit children with their parents (subject to check-in)
Some airlines will allow travel for unaccompanied minors. Please email us to check.
The fare is based on the child's age on the date of travel.
More detailed information can be found here Traveling with children
Most airlines will let infants travel with their parent(s) for free. However some airlines will charge up to 10% of the adult ticket price. Click on 'Price Breakdown' to find out more.
If you are pregnant, but due before the flight departure date, please contact us once your baby is born and has a name. We can then add him/her to your ticket.
Infants will not be given a seat. The airlines expect parents to travel with them on their lap.
Airlines regard infants as being under 24 months old.
The fare is based on the child's age on the date of travel.
More detailed information can be found here Traveling with children
Cheap Domestic Flights in Ireland
Cancellation Protection
Protects
Trusted Choice
65,000 happy customers
Rated 4.5 Stars. Based on 3,581 service ratings over the past year
Dedicated customer service team on hand to help
Secure payments
Cancellation Protection
Protects
Trusted Choice
65,000 happy customers
Rated 4.5 Stars. Based on 3,581 service ratings over the past year
Dedicated customer service team on hand to help
Secure payments
Search and buy domestic flights in Ireland with Alternative Airlines. Discover our guide to domestic flights, as well as some FAQs…
Which airlines fly domestically in Ireland?
There are many airlines registered in Ireland but only one airline currently offers internal flights in Ireland. Aer Arann used to serve internal Irish flights but, unfortunately, the airline ceased operation in 2014.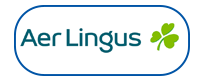 Aer Lingus is part of International Airlines Group (IAG) and it's the flag carrier of Ireland. The only domestic flights that Aer Lingus offers are from Dublin to Kerry Airport (KIR), Shannon Airport (SNN) and Donegal Airport (CFN).
The airline mainly offers the gateway to fly between the USA and Europe, especially with its connectivity in the IAG network. All of its domestic flights within Dublin is operated by Stobart Air, who is an ACMI and charter airline.
Why book

domestic flights

in Ireland?
Although the domestic air travel market is small in Ireland, it still provides connectivity for international and transatlantic flights. Whatever your reason for travel is, domestic flights are an easy way to travel within the country.
Internal Ireland Flights
Check-In Time
Domestic Irish flights depend on the airport and the airline that you are flying. However, as there is only one airline that offers domestic flights, the check-in deadline will be the same.
Here are the check-in deadlines for Aer Lingus:
Online: Available from 30 days to two hours before the flight.
Airport: Closes 45 minutes before the flight.
Other Airlines Registered in Ireland
Ryanair is one of the biggest low-cost carriers in Europe, who's based in Dublin, Ireland. The airline was founded in 1984 and also has its base at London Stansted Airport. Ryanair UK, Buzz, Malta Air and Lauda are all sister airlines of Ryanair, which makes up a large number of market shares in Europe.
Ryanair operates a fleet of modern Boeing 737 aircraft across its routes.
SAS Scandinavian Airlines Ireland
SAS Scandinavian Airlines Ireland is an Irish subsidiary of SAS Scandinavian Airlines. The airline was founded in 2017 as n ACMI company, which supports all the SAS operations.
SAS Ireland operates a fleet of Airbus 320neos that are perfect for operations across Europe.
Stobart Air is an ACMI and charter operator, which was founded in 1970. Aer Lingus is the airline's biggest client and the airline flies to 43 routes in 11 countries. It operates with a fleet of ATR72 and ATR42, which are perfect for regional services.
CityJet is an ACMI company based in Dublin, Ireland. The airline was founded in 1993 with its first service being flights between Dublin and London City Airport, which operated on behalf of Virgin Atlantic. In 2000, Air France brought the company for its operations but later in 2014, it was sold to Intro Aviation.
Currently, the company flies routes from Aer Lingus, Air France, Brussels Airlines, Hop and SAS Scandinavian Airlines. It operates a fleet of Bombardier CRJ900 and Avro RJ85.
What are
domestic flights?
Domestic flights are flights that only fly within a particular country, it is also known as internal flights.
Domestic flights in Ireland are all short-haul flights. Most airlines would be using narrowbody aircraft and turboprops to operate these short-duration flights.
Start searching for your next domestic flight in Ireland using our search form. We would provide you with a list of flights available, and we would even show you the connecting journey if you wish to travel internationally after your domestic flight. Our best fare finder can show you which day is the cheapest to fly too.
FAQs
Do I need a passport for domestic flights in Ireland?
You will need a form of photo-identification to show your identity. This could be a valid passport, a driver licence with a photo or social security card with photo.
Can I book domestic flights online?
Yes! You can book a domestic flight online with us using our search form. We will show you that list of airlines that are operating the route you search for with their pricing listed.
How much baggage can I take on domestic flights within Ireland?
One carry-on bag that is no heavier than 7kg is allowed as well as one 20kg baggage, but it is subject to change depending on the ticket purchased.