Gojet Airlines Tickets and Reservations with Alternative Airlines
Book Your Gojet Airlines Flight Tickets and Find Some Amazing Deals
---
About GoJet Airlines
Headquartered in Bridgeton, Missouiri this airlines operates commuter feeder services under the United Express and Delta Connection brands.
The airline flies to nearly 60 destinations within the US and Canada, and was established in 2004. The hub airports for this airline are O'Hare International Airport, Chicago, and Denver International Airport.
---
GoJet Airlines Baggage Allowances
The baggage carry-on and checked luggage allowances are dependant on whether the service is run as a partner service for United or Delta.
Passengers are advised to check this information when booking.
---
Class Fares
GoJet Airlines provides a scheduled air service on behalf of United Airlines and Delta Airlines; GoJet is not responsible for ticketing and reservations. The Class fares will be determined by the partner airlines' policies and procedures. Below is a breakdown of the class information offered by each airline; for more information, visit our Delta Airlines and United Airlines pages.
United Airlines: ​​United Express CRJ700
70 seats with three classes of service​
First Class seats​: 6 seats; seat pitch: 37 in
Economy ​​Plus seats: 16 seats; seat pitch: 34 in
United Economy seats: 48 seats; seat pitch: 30 in
Delta Airlines: Delta Connection CRJ700
69 seats with three classes of service​
First class seats​: 9 seats, seat pitch: 36 in​
Delta C​omfort+ seats: 16​ seats, seat pitch: 34 in
Delta Main Cabin seats: 44 seats, seat pitch: 31 in
Delta Airlines: Delta Connection CRJ900​​​​
76 seats with three classes of service​
First cla​ss s​eats​: 12 seats, seat pitch: 37 in
Delta C​omfort​+ seats: 20​ seats, seat pitch: 34 in
Delta Main Cabin seats: 44 seats, seat pitch: 31 in
---
GoJet Airlines Route Map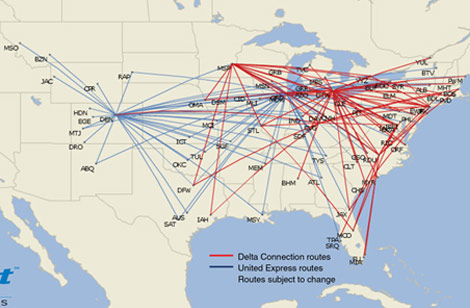 ---
GoJet Airlines Destinations
This airline flies to nearly 60 destinations within the United States of America and Canada, including:
Domestic USA Destinations
Norfolk, Virginia
Syracuse, New York
Tulsa, Oaklahoma
Jacksonville, Florida
Kalamazoo, Michigan
Bozeman, Montana
Columbus, Ohio
Myrtle Beach, South Carolina
Rapid City, South Dakota
Canadian Destinations
Montreal, Quebec
Toronto, Ontario
Halifax, Nova Scotia
Quebec City, Quebec
---
GoJet Airlines Fleet
Bombardier CRJ-550 (on order)
Bombardier CRJ-700ER
Bombardier CRJ-900ER
---
About GoJet Airlines