Porter Airlines Reservations with Alternative Airlines
Make a Booking and Find Some Amazing Deals
---
About
Porter Airlines is a regional Canadian airline based in Toronto, Canada and operates scheduled flights between Toronto and Canada and the United States, as well as to many other destinations within Canada. The airline is based at Billy Bishop Toronto City Airport (YTZ) and flies to more than 20 destinations overall.
Porter Airlines launched in 2006, initially only operating a single Toronto–Ottawa route. As time went on, the airline began to expand its services to other areas in Canada and — eventually — to the US, when it launched its first set of international flights to California and Florida.
This airline claims to have revolutionized short-haul flying with a warm and effortless approach to hospitality, restoring glamour and refinement to air travel. A lot of this is reflected in its in-flight offering. Unlike many other short-haul airlines, the airline offers service with attention to detail and complimentary add-ons, such as free snacks, beer and wine.
Porter Airlines flights are temporarily suspended until February 2021, due to the coronavirus pandemic. However, you can quickly and easily search for flights on other airlines that fly similar routes to Porter Airlines by using our search form.
Did you know? You can book Porter Airlines flights on finance. When you book flights through Alternative Airlines you can secure Poter Airlines flights today and pay over time.
---
Destinations
Where does Porter Airlines fly?
Porter Airlines flies to several destinations across Canada and the US, including to Montreal, Quebec City, Moncton, Saint John, Thunder Bay, Boston, Myrtle Beach, Newark, Burlington and more.
Domestic Destinations
| | | | |
| --- | --- | --- | --- |
| Fredericton | Halifax | Moncton | Montreal |
| Mont Tremblant | Ottawa | Quebec City | Stephenville |
| Saint John | Sault Ste. Marie | Sudbury | Timmins |
| Thunder Bay | Toronto | Windsor | Bracebridge |
Destinations in the US
| | | | |
| --- | --- | --- | --- |
| Boston | Burlington | Chicago | Melbourne |
| Myrtle Beach | Newark | Washington | |
---
Route Map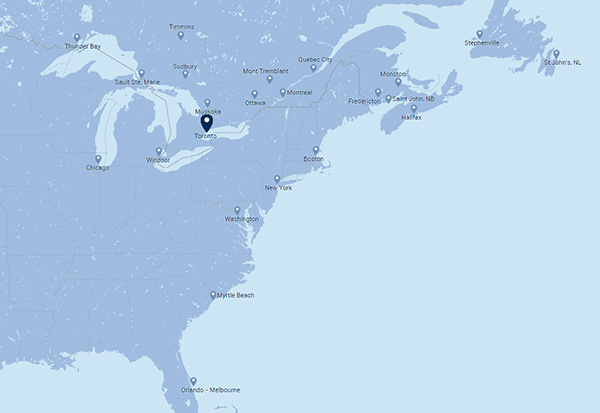 ---
Baggage
Carry-on Baggage
Carry-on baggage allowances vary according to the ticket fare purchased.
Basic fare passengers are only permitted to bring one personal item, and any other items would be classed as checked baggage. The personal item should have a maximum size of 43cm x 16cm x 33cm (17 in x 6 in x 13 in) and maximum weight allowance of 9kg (20 lb) per bag. Examples of the personal item include a handbag/purse, briefcase, laptop computer, camera bag, or small garment bag.
Standard, flexible and freedom fare passengers are permitted to bring one personal item, alongside what is classed by the airline as a 'standard article'. The 'standard article' should have a maximum size of 40cm x 23c, x 55cm (16 n x 9 in x 22 in) and a maximum weight of 9kg (20 lb) per bag. Examples of the standard article include a backpack, duffel bag, pet carrier, or cabin suitcase.
Checked Baggage
Fees for booking additional checked baggage are dependant on the fare the passenger has purchased, alongside whether the passenger chooses to book their baggage online or at the airport. It is recommended that checked luggage is ordered online, as fees are cheaper.
Freedom fares include two free checked bags, with the third and additional bags available to carry at a chargeable rate.
The maximum size allowance is 158cm (62 in) total length per bag and maximum weight allowance of 23kg (50 lb) per bag. Due to Health and Safety regulations, no individual item can weight over 32kg (70 lbs).
If passengers want to buy excess baggage, it can be done in the booking process. Check out our guide on 'How to Book Baggage' if unsure or contact us for more information.
---
Economy Class
Economy Facilities
Enjoy hot and cold beverages onboard as well as snacks. A Porter Airlines magazine is available to keep you entertained.
What are the seats like?
Economy Class has 68 standard seats with a 32-inch pitch.
---
Premium Economy
Premium Economy Facilities
Onboard you can be the first to enjoy complimentary hot and cold beverages as well as snacks. Premium Economy Passengers can sit closer to the front for a quicker exit. Be inspired with spending your time reading the Porter airlines magazine.
Prior to boarding: Passengers will gain access to Porter airlines lounge enjoying complimentary hot and cold beverages and snacks. With free Wi-Fi available.
What are the seats like?
The airline has six premium seats in a 2-2 configuration. With the Premium Economy class, you enjoy extra legroom with 34-inch pitch seats.
---
Check-In
Online Check-In
Passenger can check-in for their flight by visiting the Porter Airlines online check-in page and entering their booking confirmation number and last name. Online check-in is available from 24 hours prior to flight departure time.
Airport Check-In
Passengers can also check-in at the airport check-in desks. Once at the airport of departure, passengers must look for the Porter Airlines desk and present the airline check-in agents with the relevant travel documents. Airport check-in closes 30 minutes before scheduled flight departure time for domestic flights and 60 minutes before scheduled flight departure time for international flights. However, it's recommended that passengers arrive well in advance of check-in closing times to allow for plenty of time for check-in, baggage drop, security and boarding.
---
In-Flight Entertainment & WIFI
Porter Airlines doesn't have in-flight entertainment or WIFI installed on any of its flights. As entertainment, the airline provides each passenger with the latest copy of its in-flight magazine, re:porter. re:porter is written and published once every quarter and gives destination inspiration as well as lots of other fun and insightful articles.
---
Food and Drink
The airline gives complimentary food and drinks on all of its flights, regardless of which cabin passengers are flying in.
Passengers can indulge in a selection of snacks, as well as enjoy a range of beverages, from hot coffees to cold juice and even beer and wine! Unlike many other airlines in the region, drinks are served in real glassware.
---
Codeshare Agreements
It has a codeshare agreement with South African Airways and Qatar Airways.
---
Interline Agreements
Porter Airlines launched in 2006 and has grown to become one of the leading airlines in flying in out and out of the country, thanks to its interline agreements with nearly 50 airlines across the world. Thanks to these interline agreements, passengers can book connecting flights to Toronto via the US on Porter Airlines and many other worldwide airlines from various places across the world, with both flights all under the same itinerary.
---
Hub Airport
Billy Bishop Toronto City Airport
Billy Bishop Toronto City Airport is a small regional airport located on the Toronto Islands in Toronto, Ontario, Canada. In 2016, it was ranked Canada's ninth busiest, Ontario's third-busiest airport by passenger numbers and the sixth-busiest Canadian airport that serves the U.S. The airport's name honours Billy Bishop, the Canadian World War I flying ace and World War II Air Marshal. The airport first opened in 1939.
Billy Bishop Toronto City Airport is the hub airport for both Porter Airlines and FlyGTA.
---
Alternative Airlines to Porter Airlines
---
Pay for Porter Airlines with PayPal
You can pay for your flights with PayPal and Alternative Airlines. Use PayPal on flights with over 600 airlines!