Seaborne Airlines Reservations with Alternative Airlines
Make a Booking and Find Some Amazing Deals
---
About
Seaborne Airlines offers domestic seaplane and landplane between the British Virgin Islands, Puerto Rico, Martinique, Dominica, Guadeloupe, St Kitts Nevis, St Maarten, and three stations in the Dominican Republic: La Romana, Punta Cana, Santiago de los Caballeros and Santo Domingo. Also, the newest addition to Seaborne Airline's route is Coix, San Juan, Punta Cana and St. Maarten. For other airlines operating flights to the British Virgin Islands please see Vi Airlink and flights around the Caribbean.
In March 2017, Seaborne Airlines and Vieques Air Link announced a distribution partnership and codeshare agreement which will see both airlines opening new destinations to their respective travellers. Seaborne Airlines will host Vieques Air Link's scheduled services, allowing passengers to have new destinations to explore. This is after announcing the codeshare partnership with Delta Aor Lines.
---

Destinations
| COUNTRY | CITY | AIRPORT |
| --- | --- | --- |
| Anguilla | The Valley | Clayton J. Lloyd International Airport |
| Antigua and Barbuda | St. John's | VC Bird International Airport |
| British Virgin Islands | Tortola | Terrance B. Lettsome International Airport |
| Dominica | Roseau | Melville Hall Airport |
| Dominican Republic | Santiago de los Caballeros | Cibao International Airport |
| Puerto Rico | San Juan | Luis Munoz Marin International Airport |
| Saint Kitts and Nevis | Nevis | Vance W. Amory International Airport |
| Saint Kitts and Nevis | Basseterre | Robert L. Bradshaw International Airport |
| Sint Maarten | Philipsburg | Princess Juliana International Airport |
| U.S. Virgin Islands | Saint Croix | Henry E. Rohlsen International Airport |
| U.S. Virgin Islands | Saint Thomas | Cyril E. King Airport |
---
Route Map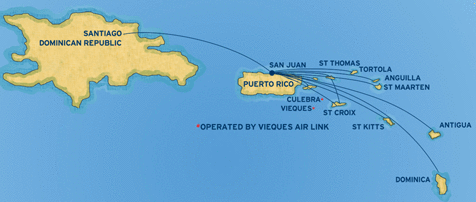 ---
Baggage
Carry-on Baggage
Seaborne Airlines allow one small carry-on bag and one personal item per passenger.
The carry-on bag must not exceed the overall dimensions of 45 inches as it needs to fit comfortably within the sizer.
Personal items must not exceed 37 inches and must fit under the seat.
Checked Baggage
Checked bags must not exceed 50 lbs and 62 linear inches.
Seaborne Airlines offer a discounted rate for checked luggage for passengers belonging to the corporate frequent travel program. The rates of bags differ when flying internationally and domestically, increased with each consecutive bag. Please contact Alternative Airlines' expert customer service team for more information regarding the pricing of additional baggage.
---
Check-In Information
Online Check-In
Online check-in for Seaborne Airlines flights is available via Silver Airways' website.
Airport Check-In
For domestic flights with Seaborne Airlines, you can check in 48 hours up to 60 minutes before the scheduled departure time. For international flights with the airline, you'll need to check in from 48 hours up until 90 minutes before takeoff.
---

Fleet
As of December 2020, Seaborne Airlines' fleet consists of 2 de Havilland Canada DHC-6 Twin Otters that operate seaplane services. Each aircraft can seat up to 15 passengers. Both of these aircraft are leased from Kenn Borek Air and are equipped with Wipline 13000 floats.
---

Airline Alliance
The airline is not a member of any airline alliance. However, it does have codeshare agreements with American Airlines, JetBlue, Delta Air Lines, Vieques Air Link and Silver Airways (parent company).
Seaborne Airlines also has interlining agreements with Hahn Air and United Airlines.
---

Hub Airport
Luis Muñoz Marín International Airport
Luis Muñoz Marín International is one of the busiest airports in the Caribbean and it is located in Carolina, Puerto Rico.
Other airlines which fly to and from Luis Muñoz Marín International include Condor, Jetblue, WestJet, Norwegian Air Shuttle, LIAT, Copa Airlines and Air Europa.
---
Alternative Airlines to Seaborne Airlines
Please click on the logos below to find out more about airlines that fly similar routes to Seaborne Airlines:
---
Travelling with pets
The airline accepts domestic pets for transportation but they will have to be accepted as checked baggage. Please contact our customer service team if you are travelling with pets and they will happily proceed with the request for you.
---
News
16th August 2022
US Virgin Islands ending Seaborne Airlines' exclusivity
Silver Airways, the parent company of Seaborne Airlines, has approached the Port Authority of the US Virgin Airlines regarding the renewal of its exclusive contract however the VIPA board has agreed that exclusivity of the airline on US Virgin Island waters will no longer be an option. This creates competition for Seaborne Airlines alongside other airlines operating seaplane routes in the region.
28th August 2019
Seaborne Airlines' reservation system merging with Silver Airways
From the end of August 2019, it was announced that reservations and check-ins for flights with Seaborne Airlines would now need to be done through Silver Airways, after Seaborne's reservation system was successfully integrated with Silver Airways'.
10th January 2018
Silver Airways to acquire Seaborne Airlines
Fort Lauderdale-based regional carrier Silver Airways has signed an agreement to purchase Puerto Rico carrier Seaborne Airlines, which filed for bankruptcy protection on 8 January.