Search & Buy Seaborne Airlines Flights
Select your payment method to view total prices including any payment fees:
Airlines will always try to sit children with their parents (subject to check-in)
Some airlines will allow travel for unaccompanied minors. Please email us to check.
The fare is based on the child's age on the date of travel.
More detailed information can be found here Traveling with children
Most airlines will let infants travel with their parent(s) for free. However some airlines will charge up to 10% of the adult ticket price. Click on 'Price Breakdown' to find out more.
If you are pregnant, but due before the flight departure date, please contact us once your baby is born and has a name. We can then add him/her to your ticket.
Infants will not be given a seat. The airlines expect parents to travel with them on their lap.
Airlines regard infants as being under 24 months old.
The fare is based on the child's age on the date of travel.
More detailed information can be found here Traveling with children
Buy
Seaborne Airlines

Flights
Seaborne Airlines Reservations with Alternative Airlines
Make an Seaborne Airlines Booking and Find Some Amazing Deals
---
About Seaborne Airlines
Seaborne Airlines offers domestic seaplane and land plane between British Virgin Islands, Puerto Rico, Martinique, Dominica, Guadeloupe, St Kitts Nevis, St Maarten, and three stations in the Dominican Republic: La Romana, Punta Cana, Santiago de los Caballeros and Santo Domingo. Also the newest addition to Seaborne Airline's route is Coix, San Juan, Punta Cana and St. Maarten. For other airlines operating flights to the British Virgin Islands please see Vi Airlink.
In March 2017, Seaborne Airlines and Vieques Air Link announced a distribution partnership and codeshare agreement which will see both the airlines opening new destinations to their respective travellers.Seaborne Airlines will host Vieques Air Link's scheduled services, allowing passengers to have new destinations to explore.
---
Seaborne Airlines Baggage
Carry-on Baggage
Seaborne Airlines allow one small carry-on bag and one personal item per passenger.
The carry-on bag must not exceed overall dimensions of 45 inches as it needs to fit comfortably within the sizer.
Personal items must not exceed 37inches, and must fit under the seat.
Checked Baggage
Checked bags must not exceed 50 lbs, and 62 linear inches.
Seaborne Airlines offer a discounted rate for checked luggage for passengers belonging to the corporate frequent travel program. The rates of bags differs when flying internationally and domestically, increased with each consecutive bag. See this page for a breakdown of all the costs.
---
Seaborne Airlines Check-In Information
Online Check-In
Seaborne Airlines do not currently offer online check-in for their flights.
Airport Check-In
Seaborne Airlines ask passengers to check in at least 2 hours prior to flying. The check-in desk will close 45 minutes prior to departure.
---
Alternative Airlines to Seaborne Airlines
Please click on the logos below to find out more about airlines that fly similar routes to Seaborne Airlines:
---

Seaborne Airlines Hub Airport
Luis Muñoz Marín International Airport
Luis Muñoz Marín International is one of the busiest airports in the Caribbean and it is located in Carolina, Puerto Rico.
Other airlines which fly to and from Luis Muñoz Marín International include: Condor, Jetblue, WestJet, Norwegian Air Shuttle, LIAT, Copa Airlines and Air Europa.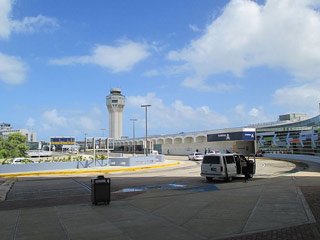 Photo Attribution: Mattes
---

Seaborne Airlines Most Popular Destinations
Anguilla
Antigua
Culebra
Dominica
Nevis
San Juan
St. Croix
St. Kitts
St. Maarten
St. Thomas
Tortola
Vieques
Santiago de los Caballeros
---

Seaborne Airlines Fleet
Seaborne Airline's fleet currently consists of 7 Saab340Bs and 2 Twin Otter Seaplanes
The Saab340B has a seat capacity of 34, whereas the Twin Otter Seaplane has a capacity of 15.
---
Seaborne Airlines News
10th January 2018
Silver Airways to acquire Seaborne Airlines
Fort Lauderdale-based regional carrier Silver Airways has signed an agreement to purchase Puerto Rico carrier Seabourne Airlines, which filed for bankruptcy protection on 8 January.
"As Seaborne filed for reorganisation under Chapter 11, Silver Airways entered into an agreement to acquire Seaborne," Silver chief executive Steve Rossum says in a statement to FlightGlobal.
"This will allow us to fully capture the benefits of Seaborne's business and its people, including the synergies of our Saab fleets, Seaborne's route network and our respective airline partners, and will allow us to continuing growing," Rossum says.
"Silver Airways, with the support of our owner Versa Capital, has been committed to a growth strategy of building a dominant network in the Southeast US, the Bahamas and the Caribbean," he adds.
Private equity company Versa Capital Management owns Silver and is majority owner of Seaborne, Silver said in August 2017.
Seaborne "commenced a voluntary reorganisation proceeding… in order to implement new financing and a sale to affiliates ofSilver Airways," Seaborne says on its website. "The company will continue its business without interruption, including all existing flight operations in Puerto Rico, the US Virgin Islands and throughout the Caribbean," Seaborne says.
Seaborne also secured a $4.2 million loan and "concurrently entered into a purchase agreement… to sell substantially all of its business and assets toSilver Airways," it adds. "This will facilitate a combination between Seaborne and Silver Airways, creating the industry's leading regional carrier in the Caribbean, Florida and the Bahamas."
The acquisition remains subject to court approval and other bids, Seaborne says.
Seaborne parent, Delaware-based Sea Star Holdings, filed Seaborne's bankruptcy paperwork in UnitedStates Bankruptcy Court for the District of Delaware.
Both Silver and Seaborne operate fleets of Saab 340Bs. Silver primarily flies routes within Florida and from Florida to the Bahamas, and Seaborne primarily operates from San Juan.
The acquisition news follows an August announcement from Silver saying it was negotiating "commercial cooperation including potentially a combination" with Seaborne.
At that time Silver also announced it signed a commitment to purchase 20 46-seat ATR 42-600s, with options to convert to the larger 70-seat ATR 72-600.
18th May 2017
Seaborne Airlines and Vieques Air Link, 2of Puerto Rico's leading airlines, has agreed to a codeshare agreement.
Under this alliance, both airlines open new destinations to their respective customers, the airlines said in a statement released today.
Seaborne Airlines will host Vieques Air Link's scheduled itineraries on their reservation system. With this addition, customers have new destinations to explore with seamless connections, the airline said, adding that the new destinations for Seaborne include: Culebra (CPX) and Vieques (VQS) .
The airlines said that Vieques Air Link customers will also benefit from this partnership with better connections throughout the Caribbean and stateside using the Luis Muñoz Marin International Airport in San Juan (SJU) where Seaborne has interline agreements with American Airlines, Delta Air Lines, JetBlue, and United Airlines among others. Vieques Air Link Customers flying on Seaborne will enjoy the benefit of traveling on a single ticket, which allows for one-stop check-in, baggage transfers, and convenient connections in San Juan.
"This agreement combines Seaborne Airlines' experience serving exciting Caribbean destinations with Vieques Air Link established roots in the market. Booking, ticketing and itinerary will be more convenient than ever before, said Ben Munson, CEO of Seaborne Airlines. "I'm confident that our customers, especially Puerto Rico residents, will all benefit as a result of this agreement." Munson Added.
"Now our customers will benefit from direct transfers using the San Juan International SJU Airport," said Carlos Rodriguez, president and general manager of Vieques Air Link. "This connectivity will bring convenience and flexibility to all tourism and residents as well. The combination of two of Puerto Rico's leading airlines is the beginning of a comprehensive Caribbean routes coverage like no other in the airline industry."
Initially, Seaborne will place its 'BB' designator code on Vieques Air Link routes allowing customers to reach more destinations on a single itinerary.
May 2017
Seaborne Airlines announces daily flights from Puerto Rico
Seaborne Airlines announced it had launched daily flights out of San Juan,Puerto Rico with the main purpose of driving prices lower on that critical route ahead of the busy Caribbean travel period normally experienced in June through August. The daily flights by Seaborne commenced on May 5 and will run for the rest of the year. Prior to this Seaborne used to service St. Maarten 4 times a week in the high season and three times a week in the low season. Now they're going from 3 to 7 flights in the low season which will drive more Caribbean traffic to the destination.
Added destinations will include Culebra and Vieques
---