Airlines will always try to sit children with their parents (subject to check-in)
Some airlines will allow travel for unaccompanied minors. Please email us to check.
The fare is based on the child's age on the date of travel.
More detailed information can be found here Traveling with children
Most airlines will let infants travel with their parent(s) for free. However some airlines will charge up to 10% of the adult ticket price. Click on 'Price Breakdown' to find out more.
If you are pregnant, but due before the flight departure date, please contact us once your baby is born and has a name. We can then add him/her to your ticket.
Infants will not be given a seat. The airlines expect parents to travel with them on their lap.
Airlines regard infants as being under 24 months old.
The fare is based on the child's age on the date of travel.
More detailed information can be found here Traveling with children
Ripple (XRP) Flights
Cancellation Protection
Protects
Trusted Choice
65,000 happy customers
Rated 4.5 Stars. Based on 3,581 service ratings over the past year
Dedicated customer service team on hand to help
Secure payments
Cancellation Protection
Protects
Trusted Choice
65,000 happy customers
Rated 4.5 Stars. Based on 3,581 service ratings over the past year
Dedicated customer service team on hand to help
Secure payments

Buy Flights

using Ripple
Alternative Airlines allows you to search for flights from over 650 different airlines and pay with Ripple (XRP). Wherever you'd like to travel to and from, we have a range of niche and big international airlines for you to purchase flights on. If you have flexibility with regards to your dates for your next trip, we'll even show you the cheapest day to fly with our best fare finder. In addition to this, we have a fully committed customer service team who are always on hand and ready to help with any questions or queries that you might have.
About Ripple
Ripple is known as a type of cryptocurrency also known as XRP, and a type of money that is completely virtual, but it is also a payment platform, allowing for fast and cheap transactions. Ripple was first released in 2012, and is decentralised so is not controlled by banks or government.
XRP is Ripple's currency, and its main purpose is to represent the transfer of currency/value across the Ripple Network. Whether you want to transfer USD to EUR, or Bitcoin to JPY, XRP allows for this.
Unlike Bitcoin and Ethereum, Ripple uses its own technology, which is known as the Ripple protocol consensus algorithm (RPCA).
Ripple can handle much faster than the big cryptocurrencies currently on the market as it can handle 1,700 transactions per second.
Airlines that accept Ripple
Alternative Airlines accept Ripple as a flight transaction on over 600 airlines through our website. Not many airlines out there offer Ripple as payment on their site but it is all possible to book your flights using Ripple at Alternative Airlines.
Buy flight tickets and pay using Ripple on airlines such as American Airlines, Delta, Southwest, Frontier, Spirit, Allegiant Air, Alaska Airlines, United Airlines, JetBlue, Sun Country Airlines, Air Canada, British Airways, easyJet, Qantas and many more airlines around the world.
How do I pay for flights with
Ripple?
Follow these easy steps to buy flights with Ripple.
STEP
1
Select the destinations and dates you'd like to travel on and fly to and click 'search flights'.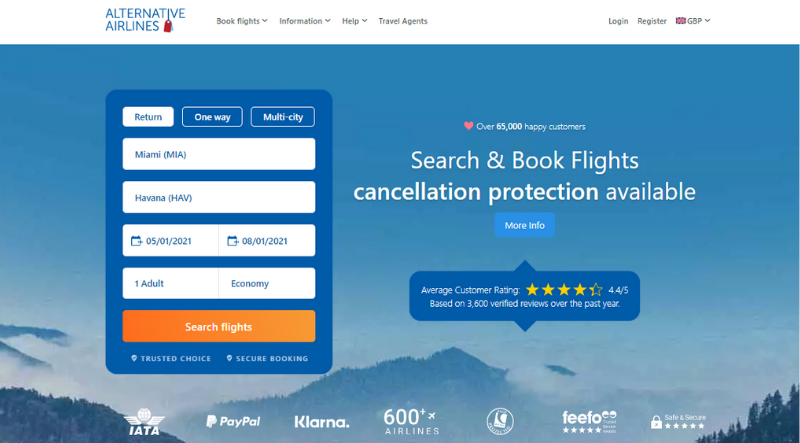 STEP
2
You will be given results of the available flights for the dates and destinations that you've chosen.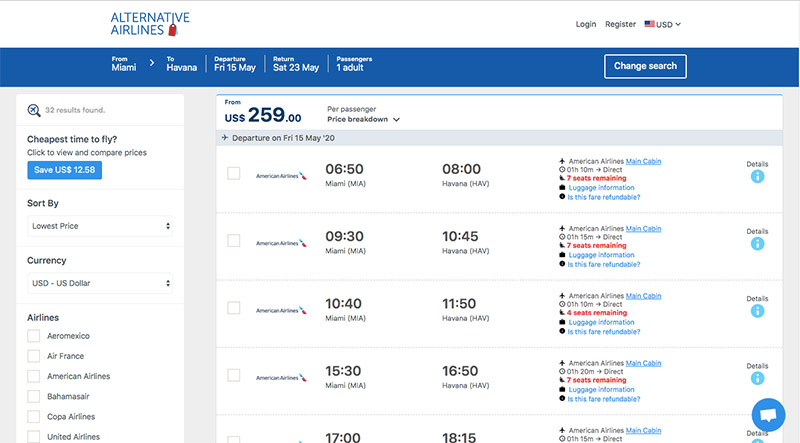 STEP
3
Select the flight(s) you'd like to buy and confirm your selection.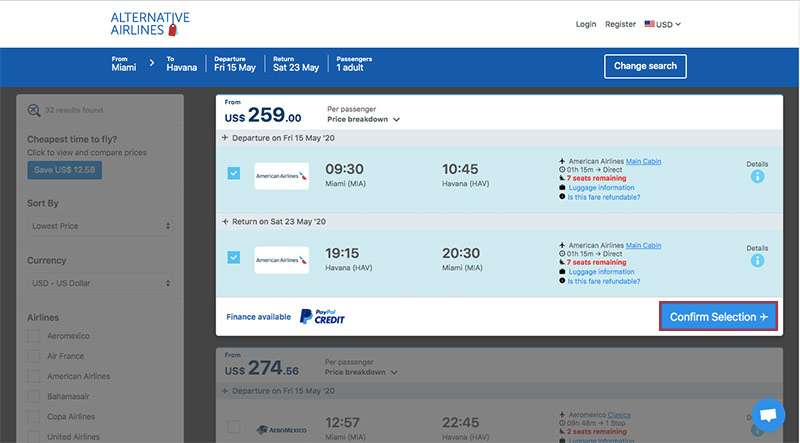 STEP
4
After inputting the passenger information, you'll need to select your payment method. Select 'cryptocurrency payment' and click on 'Ripple' as your payment method.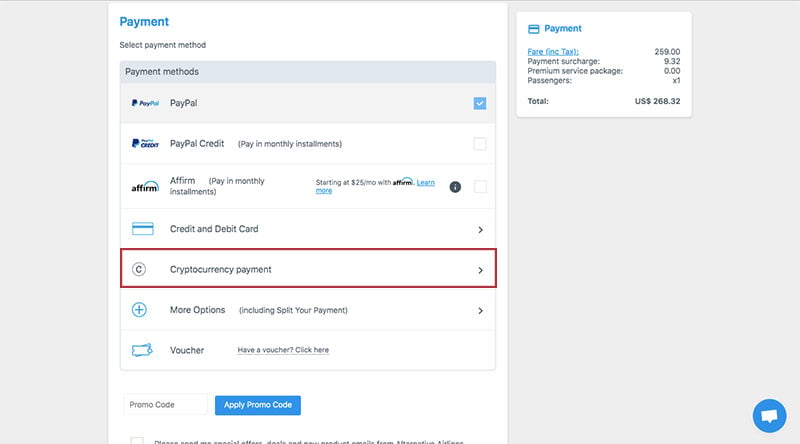 STEP
5
Scroll down and click on 'continue to payment'.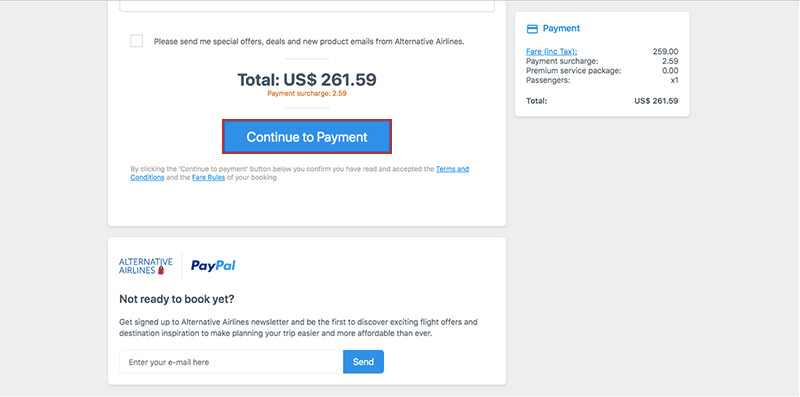 STEP
6
On the next page, you can review all your flight information and prices. You'll also be given the ability to change the payment method if you selected an incorrect payment or have just changed your mind.
If you're happy with all the information, you will then need to click 'pay now & book your flights'.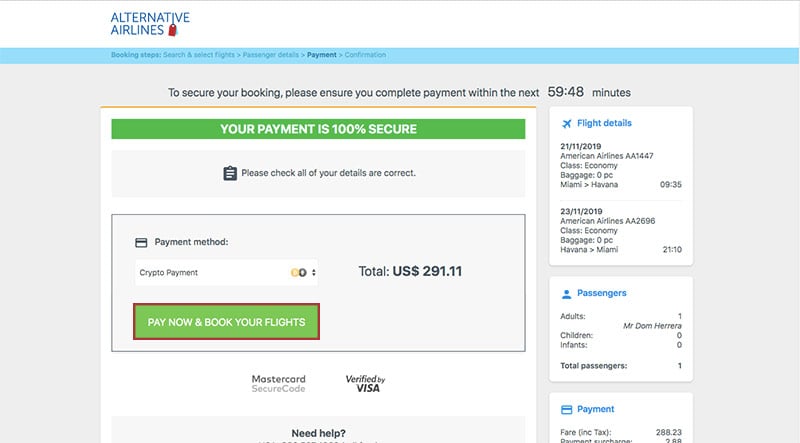 STEP
7
You'll now be able to complete your flight payment using Ripple with Crypto.com. Select Ripple as the cryptocurrency that you want to pay with and follow the instruction on-screen to finalise the payment.
Once has been made, you'll be taken to the confirmation page and a receipt will be sent to your email address.
Your e-ticket will be sent to you within 12 hours.
Ripple (XRP) for Flights
FAQs
Which flights accept Ripple?
When using Alternative Airlines to pay for flights, you will be able to search over 650 different airlines and use XRP to pay for any route that you wish to purchase. In effect, this means that there are 650 airlines that accept Ripple as payment when using Alternative Airlines.
Can I use Ripple for travel?
Absolutely, you can use Ripple to book travel with Alternative Airlines. However, there are not a lot of places that accept Ripple in-person if you're thinking about using it whilst travelling. Though, there are a number of places that accept other cryptocurrencies in person. If you want to find out more about them, read our blog on the most crypto-friendly destinations.
How do I pay for flights with Ripple?
Paying for your Ripple flights is simple and all you need to do is to first choose the flight that you want to buy at Alternative Airlines and selecting 'cryptocurrency'. From then you'd need to select 'Ripple (XRP)' at checkout. After that, you need to simply follow the steps on-screen in order to connect your crypto wallet, access your XRP and confirm your flight. Once your payment has been confirmed, we will then instantly send over to you your e-ticket.
How will I know if my flight transaction has been a success?
Your flight purchase will show almost instantly under your 'transaction summary' section labelled 'Alternative Airlines' which you'll be able to find in your Ripple Dashboard.
How long will my Ripple flight purchase take to complete?
Ripple transactions normally take from 3-5 seconds which is faster than Bitcoin which usually takes around 10 minutes to an hour and Etheruem which can process around 15 seconds to 5 minutes. Until then flight transactions will show as 'pending'. If you are having problems in finding your flight transaction, you can contact us by email and we'll be more than happy to assist.
How do I pay for flights with Ripple?
Those that have found their chosen flights through Alternative Airlines and after completing their details can then select 'Cryptocurrency payment' and 'Ripple' at the checkout. Depending on the type of currency that you're searching with, you'll be able to make your payment through Crypto.com.
What's the currency code for Ripple?
The currency code for Ripple is XRP.
What are some of the other cryptocurrencies I use to buy flights in?
With Alternative Airlines you can book your flights in a number of virtual currencies. This includes Stellar, which was developed by the founders of Ripple in 2014. Other cryptocurrencies that you can book with include Bitcoin, Dash, Litecoin, Ethereum, CRO, USDT and many more. Find the other cryptocurrencies you can use to book your flights tickets and also check out our blog on the reasons to buy flights with cryptocurrencies.
I have some other queries about paying for my flights using Ripple, who can I speak to?
With Alternative Airlines, the Customer Service team are always on hand and ready to help you with your Ripple flight question and you can contact us by using our contact us page.