Search & Buy Air India Express Flights
Airlines will always try to sit children with their parents (subject to check-in)
Some airlines will allow travel for unaccompanied minors. Please email us to check.
The fare is based on the child's age on the date of travel.
More detailed information can be found here Traveling with children
Most airlines will let infants travel with their parent(s) for free. However some airlines will charge up to 10% of the adult ticket price. Click on 'Price Breakdown' to find out more.
If you are pregnant, but due before the flight departure date, please contact us once your baby is born and has a name. We can then add him/her to your ticket.
Infants will not be given a seat. The airlines expect parents to travel with them on their lap.
Airlines regard infants as being under 24 months old.
The fare is based on the child's age on the date of travel.
More detailed information can be found here Traveling with children
Buy
Air India Express

Flights
Air India Express Reservations with Alternative Airlines
Make an Air India Express Booking and Find Some Amazing Deals
---
About Air India Express
Air India Express is an Indian low-cost carrier airline based in Kochi, India. The airline is a subsidiary of the airline Air India and operated by Air India Charters Limited (ACL). The airline flies to 29 destinations within Asia, Southeast Asia and the Middle East with 550 flights per week.
Air India Express was founded in 2005 and launched 3 flights between Thiruvanathapuram, Kozhikode and Kochi. The airline was launched as a low-cost carrier in order to provide convenient connectivity to short-haul international routes, in the Middle East and Southeast Asia for the Indian expatriate community. As it is a low-cost carrier, the airline operates point-to-point flights without any hub. There is also an Air India Express Mobile App to amend and modify bookings and passengers in-flight services.
Is Air India Express part of Air India?
Air India Express is a wholly owned subsidiary of Air India.
---
Air India Express Baggage
Carry-on Baggage
Passengers are permitted 1 x 7kg of hand luggage for their Air India Express flights. The dimensions of this item must not exceed the combined dimensions of 115cm (L+W+H).
Checked Baggage
Air India Express designate baggage allowances depending on the route travelling:
Gulf to India - 20/30/40kgs (will be based on the fare purchased)
India to Gulf - 20kgs
Singapore to India - 20/30kg
India to all other international destinations - 20kg
Domestic flights - 25kg
The sum of the combined dimensions must not exceed 62inches (158cm). This is calculated by adding the length, breadth and height.
---
Air India Express Check-In Information
Online Check-In
Air India Express do not currently offer passengers the ability to check-in for their flights online.
Air India Express Airport Check-In
Passengers must visit the Air India Express check-in counter at the airport to complete this process. This will open 3 hours before scheduled departure, and close 1 hour prior, unless otherwise stated on the ticket.
---
Air India Express Food
Air India Express Meal Options
Air India Express does not provide any meals free of charge, but provide a complimentary snack box onboard their flights. In addition, passengers can purchase additional snacks or a hot meals and fruits in advance of flying. Meals must be preordered at least 24 hours before flying, by contacting Air India Express or via the 'Manage my Booking' section of the website. Meals available to purchase include breakfast, both vegetarian and non-vegetarian, hot lunches and dinners including Indian inspired cuisine, and also sandwiches and snacks such as chicken dishes and fruit.
Air India Express Special Dietary Requirements
Air India Express do not offer specific meals for and dietary requirements, as there is no full meal provided on their flight. Passengers can check the meal's ingredients when ordering to see if they are suitable for them. Alternatively, passengers can bring their own food with them on the plane.
Air India Express Drinks & Alcohol
Air India Express provide passengers complimentary tea/coffee and water when a meal is ordered. In addition, passengers can purchase drinks from the drinks service during their flight.
---
Alternative Airlines to Air India Express
Please click on the logos below to find out more about airlines that fly similar routes to Air India Express:
---
Air India Express Fleet
Boeing 737-800
---
Air India Express Destinations
| | | | | | | |
| --- | --- | --- | --- | --- | --- | --- |
| | | | Bahrain | | Manama | |
| | | | India | | Amritsar | |
| | | | | | Bangalore | |
| | | | | | Chandigarh | |
| | | | | | Chennai | |
| | | | | | Coimbatore | |
| | | | | | Delhi | |
| | | | | | Jaipur | |
| | | | | | Kochi | |
| | | | | | Kozhikode | |
| | | | | | Lucknow | |
| | | | | | Madurai | |
| | | | | | Mangalore | |
| | | | | | Mumbai | |
| | | | | | Pune | |
| | | | | | Thiruvananthapuram | |
| | | | | | Tiruchirappalli | |
| | | | | | Varanasi | |
| | | | | | Vijayawada | |
---
Air India Express Route Map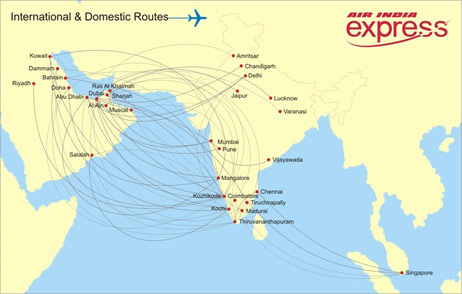 ---
Economy Class
As a low-cost carrier, Economy Class is the only cabin class that Air India Express offers.
Economy Class Facilities
Economy Class provides a good level of service with the option to order from the airline's inflight menu. The airline doesn't provide inflight entertainment or Wi-Fi.
Economy Class Seating
Economy Class seats are standard and comfortable. The seats are set out in a 3 x 3 formation and each seat has 29–30 inches of seat pitch and is 18 inches wide.
---
Premium Economy
Air India Express doesn't have a Premium Economy Class.
---
Business Class
Air India Express doesn't offer a Business Class cabin.
---
First Class
Air India only has an Economy Class cabin and therefore doesn't offer First Class.
---
Air India Express Hub Airport
Cochin International Airport
Cochin International Airport is an international airport located in Kochi, Kerala, India. As Kerala's largest and busiest airport, 2017 saw the airport handle around 10.2 million passengers from nearly 69 thousand aircraft.
In 2015, Cochin International Airport because the world's first fully solar powered airport, and as a result has received a 'Champion of the Earth' award by the United Nations.
The airport is the hub for Air India Express, but also a focus city for IndiGo, Air India and Spice Jet.
---
Air India Express Payment Plans
You can buy Air India Express flights and pay later with Alternative Airlines. If you are flying from the UK and returning, choose Fly Now Pay Later and pay off your Air India Express flights in instalments. You can also make an Air India flight booking and pay back instalments. See all the Alternative Airlines flight finance plans on offer.
---
News
29th June 2018
Air India Express to fly four times a week to Israel
Due to the rise in tourism from Israel to India, the parent company of Air India Express, have increased its frequency of flights from Delhi - Tel Aviv from Three to four days a week. This new growth will be implemented from July 14 this year. Air India will now fly a 256-seater Boeing 787 Dreamliner every Saturday, as well as the already scheduled Tuesdays, Thursdays and Sundays. El Al Israel operates flights between Mumbai and Tel Aviv so there may be hints of increased competition for the Israeli airline.The ministry said another Israeli airline 'Arkia' too has also shown interest to operate direct flights between Israel and India to cater to the significant rise in the air traffic volume between the two countries. The flight will take just over 7 hours.
14th May 2018
Air India records 20% growth in revenue
In February, the civil aviation ministry said Air India has been "consistently improving" its overall performance and more than doubled its operating profit to Rs 298.03 crore in 2016-17.
India has recorded a 20 per cent growth in revenue in March-April 2018 and has embarked on a route analysis exercise, focussing on increasing flying hours of each of its aircraft, to add more trips, the airline's chairman-cum-managing director, Pradeep Singh Kharola, said.
The airline is focussing on improving the operational efficiency both in the domestic and international sectors even as it is buoyed over the load factor, on time performance and revenue growth, Kharola told PTI. "During March-April, the revenue has increased by about 20 per cent as compared to the same period last year at roughly about Rs 3,000 crore, though expenses continue to remain high," he said, adding that the airline has benefitted from the overall growth in the aviation market.
He pinned high hopes on international routes, generating 70 per cent of Air India's total revenue, stating that the new destinations such as Tel Aviv is giving good returns to the carrier. The increase of frequency to the San Francisco route to nine days a week is expected to give the airline Rs 90 crore a month. "We are focussing on improving on the operational efficiency. We are doing our route analysis and all, finding out which are the more yielding routes and we are focussing on those routes.
"At the same time, we want to increase the flying hours of each aircraft, we are trying to push the number of hours so that with the same aircraft we can do more trips," Kharola said. According to the Directorate General of Civil Aviation, Air India had a market share of 13.4 per cent in March 2018. With a fleet of over 150 aircraft, Air India currently boasts of over 2,500 international prime-time slots per week in 43 destinations and 3,800 domestic slots in 54 destinations.
Kharola, however, did not elaborate about the network analysis exercise or the new routes the airline is eyeing, especially in the international sector. However, he hinted that the African continent promises to hold a better future for the airline. In February, the civil aviation ministry said Air India has been "consistently improving" its overall performance and more than doubled its operating profit to Rs 298.03 crore in 2016-17.
During the same period, the airline's net loss widened to Rs 5,765.16 crore. In 2015-16, Air India had an operating profit of Rs 105 crore, while the net loss stood at Rs 3,836.77 crore. The ailing airline has been put on the block with the government proposing to divest 76 per cent of its stake in the airline.
9th March 2018
Air India Express provides priority boarding to 260 passengers for international women's day
Air India Express flew over 260 women passengers with a smile on their face due to a treat in favour of International Woman's day. All women passengers flying out of Dubai and Sharjah Airport were provided with priority check-in, priority seats and priority boarding. As well as this, the airline also operated with an all-women crew across the globe, including UAE and India.
"Four Air India Express flights from Dubai to Mangalore, Delhi, Kochi and Mumbai were operated by all women commanders and cabin crew", said Saket Saran, the Country Manager of Air India and Air India Express. The Air India Express flight Dubai to Kochi was operated by cockpit crew, captains Chameli Krottapalli and Gangurde Manjiri assisted by cabin crew Surya Sudhan, Amala Johnson, Lethika Rajand Anisha K.A. He added, "The flights operated out of Terminal 2 Dubai Airport, were headed by a lady airport manager Priya Kannan. We decided to make it a memorable occasion for all the women flyers." Saran added, "Instead of offering lady passengers a conventional rosebud, women travellers were also treated to a specially designed greeting card and a pack of chocolates. " Similar arrangements were made for women passengers travelling on Air India Express flights from Sharjah.