Bassaka Air Reservations with Alternative Airlines
Make a Bassaka Air Booking and Find Some Amazing Deals
---
About Bassaka Air
Bassaka Air Limited is a passenger airline in Cambodia with its headquarters in Phnom Penh. It started operations in 2014 and has 3 Airbus A320 in its fleet. Bassaka Air flies to the following destinations Changsha, Hangzhou, Macau, Phnom Penh, Qingdao, Siem Reap and Xian.
---
Bassaka Air Fleet
The Bassaka Air currently includes two Airbus A320-200 aircraft.
---
Bassaka Air Destinations
Bassaka Air flies to Changsa, Hangzhou, Macau, Phnom Penh, Qingdao, Siem Reap and Xian.
---
Bassaka Air Baggage Allowance
Carry-on Baggage
Passengers are permitted one peice of carry-on luggage weighing no more than 7kg. No liquids over 100ml are pemitted in hand luggage.
Checked Baggage Allowance
For Business Class passengers, the maximum weight limit is 30kg. For Economy passengers the maximum weight limit is 20kg.
---
Economy Class
Economy Class is one of two cabin classes that the airline offers.
Economy Class Facilities
The airline's in-flight service is carried out by its skilfull cabin crew, who are on hand to help with anything that the passengers might need.
Even on shorter flights of under 30 minutes, the airline will make sure to offer a drink to each passenger before landing.
There is no in-flight entertainment onboard flights.
Economy Class Seats
Economy Class offers comfortable seats with legroom. On long-haul flights, a personal TV is fitted to each seat.
---
Business Class
With Business Class, passengers can enjoy extra space in the cabin, for a little extra price. The Business Class cabin on Bassaka Air flights on similar to what you would expect from Premium Economy on most other airlines.
Business Class Facilities
The Business Class experience is very similar to Economy Class. However, passengers are seated in larger, more comfortable seats in an exclusive section of the cabin. This allows for a more relaxed journey and quicking boarding and disembarkation.
What are Business Class Seats Like?
Business Class seats are set out in a 2 x 2 configuration, giving each passenger an extra half seat more width when compared to Economy Class on the same aircraft.
---
Bassaka Air Hub Airport
Phnom Penh International Airport
Bassaka Air is based at Phnom Pen International Airport which serves Phnom Penh, the capital of Cambodia. Other airlines that operate out of the airport include JC International Airlines, Cambodia Angkor Air, and Spring Airlines.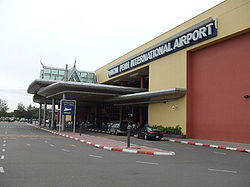 Photo credit: Chikumaya
---
Alternative Airlines to Bassaka Air
Please click on the logos below to find out more about airlines that fly similar routes to Bassaka Air: