Cambodia MJ Airlines Reservations with Alternative Airlines
Make a Cambodia MJ Airlines Booking and Find Some Amazing Deals
---
About
Cambodia MJ Airlines is a start-up scheduled carrier that is expected to begin operating services in 2019. The airline will be based out of Phnom Penh Pochentong International Airport (PNH) and is expected to offer domestic flights throughout Cambodia.
---
Hub airport
Cambodia MJ Airlines is based at Phnom Penh Pochentong International Airport (PNH) which is one of the main airports serving the cityof Phom Penh. The airport has two terminals — one for international flights and one for domestic flights. Due to Cambodia MJ Airlines' flight network, the airline is expected to operate solely from the domestic terminal. Phnom Penh Pochentong International has the capacity for 5 million passengers per year.
Phnom Penh Pochentong International recently underwent an airport expansion which saw the airport add a new area for VIP passengers. The expansion also saw an additional 3 aerobridges added to the existing 4 aerobridges that were originally built in 2003. The airport has a number of food facilities for passengers to dine at, including Cambodia's very first Starbucks coffee chain. Phnom Penh Pochentong also serves a number of global and regional airlines, including Emirates, Cambodia Airways, Lanmei Airlines, Vietnam Airlines, JC International Airlines, Cambodia Angkor Air, AirAsia Cambodia and Cambodia Bayon Airlines.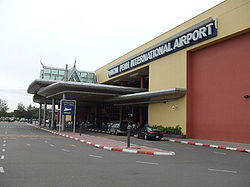 ---
News
27th August 2018
Cambodia MJ Airlines looking at early 2019 launch latest
Cambodian carrier, Cambodia MJ Airlines, recently released in a statement that it's in the second phase of its AOC drive and that it's proposed launch of a late 2018/early 2019 launch is on track. The airline plans to operate services from Cambodia throughout SouthEast Asia, as well as focusing on select cities in China.