Lanmei Airlines Reservations with Alternative Airlines
Make a Lanmei Airlines Booking and Find Some Amazing Deals
---
About
Lanmei Airlines is a Cambodian airline that is based at Phnom Penh International Airport (PNH) that offers domestic and short-haul international flights. The airline flies to more than 20 destinations across East Asia, with a particular focus in China, where more than half of its route network is focused on.
The airline launched in 2016, with the goal to become the leader in aviation and tourism in Cambodia. In 2017, the airline completed its first day of operations, with flights from Phnom Penh to both Hanoi and Ho Chi Minh City.
The airline's logo resembles a peacock spreading its tails. Lanmei Airlines chose this design as it symbolises a propitious totem in both oriental and western culture. The six spread feathers that make up the wings in the logo represent the six Greater Mekong River countries. The logo also looks like a rotating aircraft engine, implying to supply new and steady thrust to these destinations and the other destinations that it serves.
---
Fleet
Lanmei Airlines' fleet consists of entirely Airbus aircraft. The airline uses aircraft that are within the A320 family, A320-200 and the A321-200. Overall, the airline has between 5–10 aircraft within its fleet.
---
Destinations
Domestic
| CITY | AIRPORT |
| --- | --- |
| Phnom Penh | Phnom Penh International Airport (PNH) |
| Siem Reap | Siem Reap International Airport (REP) |
| Sihanoukville | Sihanouk International Airport (KOS) |
International
COUNTRY
CITY
AIRPORT
China
Changsha
Changsha Huanghua International Airport (CSX)
Guangzhou
Baiyun International Airport (CAN)
Guiyang
Guiyang Longdongbao International Airport (KWE)
Huangshan
Huangshan Tunxi International Airport (TXN)
Jieyang
Jieyang Chaoshan International Airport (SWA)
Meizhou
Meixian Airport (MXZ)
Nanjing
Nanjing Lukou International Airport (NKG)
Nanning
Nanning Wuxu International Airport (NNG)
Ordos
Ordos Ejin Horo Airport (DSN)
Qinhuangdao
Qinhuangdao Beidaihe Airport (BPE)
Shantou
Jieyang Chaoshan International Airport (SWA)
Shenyang
Shenyang Taoxian International Airport (SHE)
Shenzhen
Shenzhen Bao'an International Airport (SZX)
Shijiazhuang
Shijiazhuang Zhengding International Airport (SJW)
Tianjin
Tianjin Binhai International Airport (TSN)
Wuhan
Wuhan Tianhe International Airport (WUH)
Xi'an
Xi'an Xianyang International Airport (XIY)
Yichang
Yichang Sanxia Airport (YIH)
Hong Kong
Hong Kong
Hong Kong International Airport (HKG)
Macau
Macau
Macau International Airport (MFM)
Thailand
Bangkok
Suvarnabhumi Airport (BKK)
---
Baggage
Carry-on Baggage
Lanmei Airline's baggage policy is that passengers are entitled to one free item of carry-on baggage. This baggage must weigh no more than 7 kg and be no larger than the dimensions of 55 cm x 40 cm x 20 cm (21.6" x 15.7" x 7.8").
As well as the carry-on bag, passengers are allowed one free personal item. This bag can be no larger than 40 cm x 30 cm x 10 cm (15.7" x 11.8" x 3.9").
Checked Baggage
Passengers are entitled to 20 kg of free checked baggage on the Bangkok route and 15 kg of free checked baggage on all other routes.
If the free checked baggage allowance isn't sufficient, passengers can purchase excess baggage.
---
Check-In Information
Online Check-In
Passengers can check in online via the Lanmei Airlines online check-in page. Passengers will need their flight information to complete check-in. Once checked in, passengers can choose to either print their boarding pass or send an electronic boarding pass to their phone. Online check-in opens 20 hours before the scheduled flight departure time and closes two hours before.
Airport Check-In
Passengers can check-in at the airport by visiting one of the check-in counters or using the self-service check-in kiosks. Although the check-in times differ depending on the airport of departure, check-in usually opens two or three hours before the scheduled departure time and closes 40 or 60 minutes before.
---
Economy Class
Economy Class is currently the only cabin class offered onboard Lanmei Airline's aircraft. It provides a low-cost and simple yet comfortable flying option.
The cabin crew are readily available to attend to the passengers' needs and assist them with anything upon request.
Seats are set out in a 3 x 3 configuration and give standard legroom and width for an Airbus narrow-body plane.
---
In-Flight Entertainment
There's no in-flight entertainment system on any of the Lanmei Airline's flights. The airline does provide passengers with a copy of its in-flight magazine, which can be found in the back pocket of each seat.
---
WIFI
There's no WIFI network onboard Lanmei Airlines flights.
---
Food
Passengers can choose to purchase a selection of food and drinks from the airline's in-flight menu. The airline provides a selection of sweet and savoury light snacks and alcoholic and non-alcoholic drinks that are available to purchase once in-flight.
Alternatively, if passengers would like a hot meal, they can pre-order a meal online directly with the airline before the flight. This must be done at least 24 hours before the scheduled flight departure time.
---
Frequent Flyer
Lanmei Club
Lanmei Club rewards frequent flyers with 'Lanmei Coins', which can be used to redeem flights, purchase upgrades and buy products from the Lanmei Mall.
Lanmei Club is split into four different membership levels:
Ordinary Card
Silver Card
Gold Card
Platinum Card
Each membership level offers a different set of benefits. Passengers can climb up to higher-tier memberships by earning the required amount of coins for that level of membership. Take a look at the benefits and requirement for each level of membership on the table below.
-
ORDINARY CARD
SILVER CARD
GOLD CARD
PLATINUM CARD
Requirement
0 flying sectors
20 qualifying sectors
(valid for 12 months)
40 qualifying sectors
(valid for 12 months)
60 qualifying sectors
(valid for 12 months)
Priority to reservations
x
x
Priority to the waitlist for reservation
x
x
Free seat selection
x
x
Priority check-in
x
x
x
x
Free increased baggage allowance
+5 kg
+10 kg
Priority boarding
x
x
x
x
Priority baggage claim
x
x
Free in-flight meal
x
x
In-flight welcoming
x
x
---
Airline Alliance
Lanmei Airlines isn't part of an airline alliance at this time.
---
Hub Airport
Phnom Penh International Airport
Phnom Penh International Airport is an international airport in Cambodia and is the hub airport for Lanmei Airlines. The airport is the biggest and busiest airport in Cambodia and is the main gateway to the country.
Lanmei Airlines has used Phnom Penh International as its hub airport since it launched flights in 2016. While it doesn't serve every destination within its route network from Phnom Penh, the airline flies to most countries from the airport.
This airport is also the hub for Bassaka Air, Cambodia Airways, JC International Airlines and Cambodia Bayon Airlines. Additionally, the airport serves as a destination for other airlines such as Vietnam Airlines, Emirates, Citilink and Qatar Airways.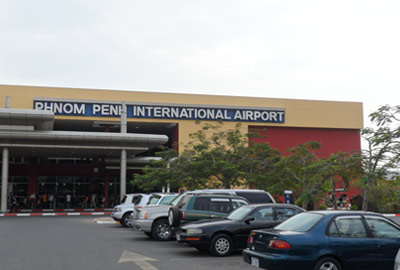 Credit: Mauricio Pineda on Wikimedia Commons
---
Alternative Airlines to Lanmei Airlines
Please click on the logos below to find out more about airlines that fly similar routes to Lanmei Airlines:
---
FAQ's
Who owns Lanmei Airlines?
Lanmei Airlines, founded in 2016, has appointed Li Kun as the airline's chairman and chief executive officer.
Is there Wi-Fi on board Lanmei Airline's flights?
No, currently Lenmei Airlines don't offer Wi-Fi on board its aircraft.
Is baggage free with Lanmei Airlines?
When flying with Lanmei Airlines, passengers are entitled to one free carry-on bag as well as one free personal item. Passengers may also check in one free bag weighing no more than 15kg on most routes and 20kg on the Bangcock route.
---
News
21st June 2019
Lanmei adds China route
Lanmei Airlines will start a new service linking Sihanoukville a port on Cambodia's southern coast and Shenyang in China. The new service is due to launch 25 June using an Airbus A320 for a single flight every Tuesday.
27th May 2019
Lanmei Airlines adds a service to Nanchang
Lanmei Airlines has today announced that they will launch a new service to Nanchang in China, from Sihanoukville in Cambodia. This service is expected to run 3 times weekly, starting 1st June 2019.