Looking to buy flights on finance? If you're looking to split the cost of your flights, we have lots of payment plan options, including Klarna, Affirm, AfterPay, and Sezzle.
Find out more about all our finance options
---
Buy Cheap Flights using GrabPay

Search and book flights with hundreds of airlines then checkout with GrabPay.
Alternative Airlines makes it easy to find the flights you're after. Browse for your perfect flights from hundreds of global airlines. We offer over 25 payment options, over 160 currencies, including GrabPay (via GrabPay Card).
GrabPay is a quick and convenient way to pay for your flights. GrabPay is a one-app solution to make it easier than ever to manage your online and in-store purchases. It's a mobile wallet that you can trust, and take everywhere with you. With GrabPay, you can travel freely - no matter where you are, you can pay for your purchases without having to find your payment card. Through GrabPay's partnership with Mastercard, the virtual card is accepted by millions of online and in-store shops around the world.
Use your GrabPay card through Mastercard to pay for your flights through Alternative Airlines today.
---
How to buy flights with GrabPay
It's easy to sign up and use GrabPay's GrabPay Card, a prepaid Mastercard. You simply need to download the app, then link your debit or credit card to your GrabPay account. Then head to the Alternative Airlines website to begin searching for flights. Choose from hundreds of airlines around the world. Once you've found the flights you're after, you proceed to checkout, and select 'Mastercard' as your chosen payment option.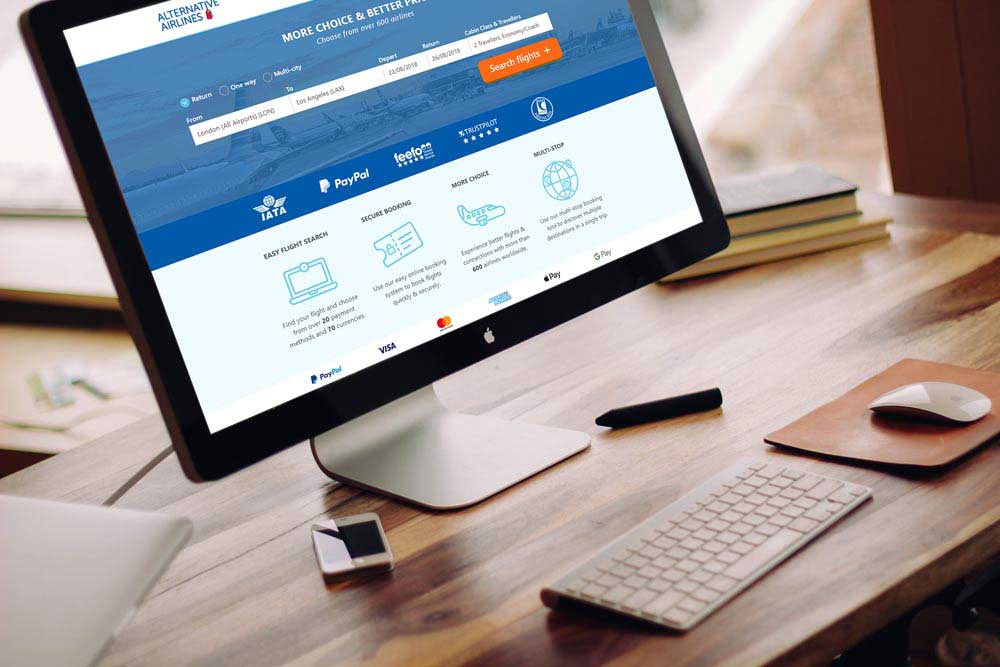 1

Use the search bar at the top of the page to begin searching for flights. Choose from over 600 global airlines! Simply enter your departure city, airport, or country, and the same for your arrival destination, along your dates of travel and passenger number.

2

Once you've found the right flights for you, you can proceed to checkout.

3

Enter your passenger details, then select 'Mastercard' as your payment method.

4

We will send you your e-ticket once your booking is confirmed.
---
Grabpay & Flights
GrabPay offers seamless convenience. No matter where in the world you're booking, whether you're already on the road, you can checkout securely and quickly. Making a group booking? Within the app, you can also transfer funds to others. GrabPay makes it easy to manage your spending, sending you instant payment notifications and a detailed transaction history.
Pay safely online with GrabPay
With GrabPay, all your personal information is kept safe. Using advanced technology, all your payment transactions and history are encrypted and made safe with 24/7 fraud detection.
Accumulate and spend reward points
One of the best benefits is that you can earn GrabRewards points every time you make purchases using GrabPay. The more you spend, the more rewards you'll accumulate. These points can be redeemed for discounts of your future purchases, including Grab rides or GrabFood orders. You can also redeem these points with some of GrabPay's partners.
Enjoy exclusive deals
GrabPay also offers lots of exclusive deals. If you're looking to save money, then keep your eyes peeled. When you're shopping, pay attention, because GrabPay may be offering an exclusive discount deal.
---
FAQs
Is GrabPay the same as GrabPay Wallet?
GrabPay is a collection of cashless payment methods, including your debit/credit cards and Grabpay's partner wallets, such as PayPal. GrabPay Wallet is a mobile wallet that has a balance that you can top up and use against your purchases.
What can GrabPay be used for?
GrabPay can be used to make in-store or online purchases with stores around the world. With GrabFood, you can order food deliveries online. Grabrides make it super quick to travel around. And now, with Alternative Airlines, you can book your flights online and pay using GrabPay.
How do I keep track of my GrabPay purchases?
Users can opt-in to receive daily emails, which detail all transactions made using your GrabPay Wallet. With GrabPay, it's easy to manage your spending. Sign into the app to see all your purchases in one place.
Can I use GrabPay to pay for domestic flights within the US?
Yes! You can buy domestic U.S flights with Alternative Airlines as we offer flights from over 600 airlines including Sun Country Airlines, Allegiant Air, Southwest Airlines, Spirit Airlines, Delta Air Lines and many more. Start searching for your next flight using our search form on the top of the page.
Is GrabPay available for flights outside of the US?
Yes, this payment option is also available with any of the airlines available to book through Alternative Airlines.