Search & Buy Aeromar Flights
Let's fly!

Select your payment method to view total prices including any payment fees:
Airlines will always try to sit children with their parents (subject to check-in)
Some airlines will allow travel for unaccompanied minors. Please email us to check.
The fare is based on the child's age on the date of travel.
More detailed information can be found here Traveling with children
Most airlines will let infants travel with their parent(s) for free. However some airlines will charge up to 10% of the adult ticket price. Click on 'Price Breakdown' to find out more.
If you are pregnant, but due before the flight departure date, please contact us once your baby is born and has a name. We can then add him/her to your ticket.
Infants will not be given a seat. The airlines expect parents to travel with them on their lap.
Airlines regard infants as being under 24 months old.
The fare is based on the child's age on the date of travel.
More detailed information can be found here Traveling with children

Buy
Aeromar

Flights

Aeromar Reservations with Alternative Airlines
Flights around Mexico
Make an Aeromar Booking and Find Some Amazing Deals
---
About Aeromar
Aeromar is the self-styled "Executive Airline of Mexico" with its primary base in the noisiest city in Latin America. Aeromar of Mexico is a great choice for travellers wishing to explore Mexico within a short time limit. From its hub in Mexico City, it connects to around 22 other airports in this exciting country. These include Campeche, Cancun, Colima, Lazaro Cardenas, Manzanillo, Merida, Minatitlan, Monterrey, Morelia, Oaxaca, Poza Rica, Puebla, Queretaro, Reynosa, San Luis Potosi, Tepic, Tuxtla Gutierrez, Villahermosa, Xalapa and Zacatecas.
Aeromar operates scheduled services in Mexico and international services to the USA. Aeromar's main base is at Mexico City International Airport. Aeromar Airlines' fleet consists of ATR 42s and ATR 72s. Aeromar is a privately owned Mexican company founded in 1987 and now operates an average of 100 daily flights with on-time performance above 93%. Aeromar is IOSA-certified. Aeromar has a private airport lounge called Salon Diamante. Aeromar has codeshare agreements with United Airlines and Aeromexico and previously had codeshare agreements with Mexicana and Iberia.
---
Aeromar Fleet
The current Aeromar fleet includes two ATR 42-300s, five ATR 42-500s, two ATR 42-600s and seven ATR 72-600s.
---
Aeromar Frequent Flyer Program
Aeromar participates in the United Airlines MileagePlus program, despite not being a member of Star Alliance, of which United is currently a member. This alliance allows passengers "Through Check-In", meaning that passengers can check-in (including baggage) from their origin to the final destination. Passengers can earn miles in United Airlines MileagePlus and can be redeemed in Mexico and more than 1,250 destinations worldwide. Miles can be also used for hotel nights, car rental and dining.
In addition, Aeromar Airlines offers complimentary access to the Diamond Lounge for all ticketed passengers. While waiting for your flight, enjoy personalized services offered by the lounge crew. The amenities offered in the lounge include satellite television, a snack bar, wireless internet access, flight updates and an excellent customer service. The Diamond Lounge is located in Mexico City, McAllen, Victoria, Colima, Durango, Jalapa, Manzanillo, San Luis Potosi, Tepic and Piedras Negras.
---
Aeromar Baggage
Carry-on Baggage
Aeromar allows passengers to carry their personal items such as laptop as carry-on baggage (free of charge). The dimensions of the baggage should not exceed 22 x 38 x 65 cm while the weight should not be more than 10 kilos (22lbs).
Checked Baggage
For domestic routes, the luggage should not exceed 25 kg (55 lbs)/bag and 23 kg (50 lbs)/bag for international routes. When flying domestically, the luggage should not weigh more than 25 kg (55 lbs)/bag, while on international routes its should not be more than 23 kg (50 lbs)/bag. For every additional kilo (2lbs) on domestic routes, the airline charges a fee of $100 Mexican Pesos while that on international routes is the US $25. Check with the airline for more information on excess baggage fees.
---
Aeromar Check-in
Online Check-in
Aeromar online check-in opens 24 hours prior to departure and closes two hours prior.
Airport Check-in
Unaccompanied minors must check in at the Aeromar desk at the airport.
---
Aeromar Route Map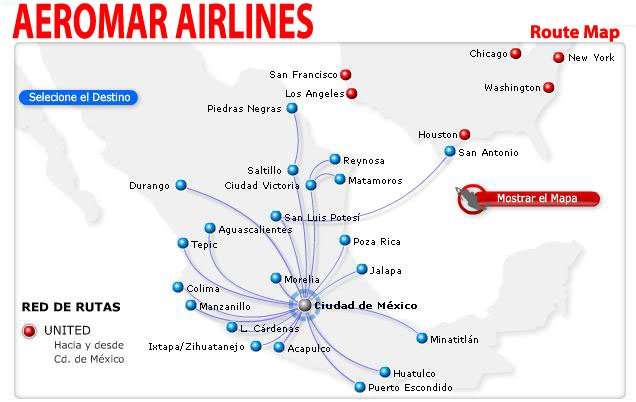 ---
Aeromar Popular Routes
Tepic

Tijuana
Colima

Tijuana
Morelia

Chicago
Tepic

Mexico City
Mexico City

Puerto Escondido
---
Aeromar Hub Airport
Mexico City International Airport
Mexico City International Airport officially Aeropuerto Internacional Benito Juárez (English: Benito Juárez International Airport) is a commercial airport that serves Greater Mexico City. It is Mexico's busiest and Latin America's second busiest airport by passenger traffic and it is both Mexico's and Latin America's busiest airport by aircraft movements.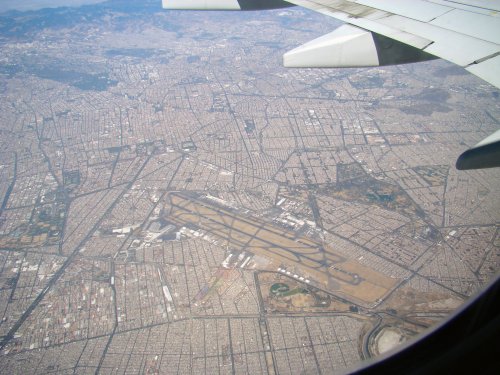 Photo credit: Norman L. Cullen
---
Aeromar News
27th April 2018
Aeromar increases the number of passengers they carry by 33%
The Mexican airline announced that in the first three months of 2018 it is carrying a third more passengers in comparison to the same period in 2017. This comes after the news that Aeromar transported 30% more passengers from 2016 to 2017.
This could be a result of Aeromar adding over 53 services to beach destinations in the final quarter of 2017, which were all additional routes on top of their existing schedule. CEO of Aeromar, Dieter Holtz, said that 2017 was a great success after the company successfully ventured into the tourism market.
4th March 2018
Aeromar may be being rebranded as Avianca Mexico
Hernán Rincón, CEO of Avianca, has said that his airline aims to expand its presence in Mexico and Argentina. "We have found a possible entrance to Mexico through Aeromar, which is an existing regional airline and has the most precious thing that Mexico has to offer: slots at Mexico City", he said. "At the moment we use interline and codesharing, but we want to go further. I do not know whether to buy, to ally or to merge. The idea is to convert that company into Avianca México", he said.
Last December, Andrés Fabre, the Director General of Aeromar, said that his airline will not become a low-cost or ultra-low cost airline, but will offer a different service, and that the name of the company will continue until the shareholders decide otherwise. However, it seems that Avianca will decide if Aeromar continues to maintain its own brand name.
2nd November 2017
Aeromar looks to strengthen position
A Peruvian-born British airline executive temporarily moved to Mexico City recently to boost a foreign fleet, and McAllen is part of his plan. Avianca, the national airline of Colombia and part of the Star Alliance Network, recently purchased a 49 percent stake in Aeromar, a Mexican airline. Aeromar's flight network is strictly domestic, but for one international route linking Mexico City and McAllen.
Aeromar's direct flight to the Mexican capital has been in operation for nearly five years, but Aeromar didn't start seriously marketing the route until two years ago. Ian Gillespie, an Avianca executive with 48 years experience in the airline business, lives in Sao Paulo, Brazil, but is stationed in Mexico City for the time being because of his new mission — integrating Aeromar into the Avianca flight network.
As far as McAllen goes, Aeromar is making a push, first targeting the holiday season. Aeromar is offering daily flights between McAllen and Mexico City for $168 one way and one free checked bag. Already, the offer is available for flights departing between Dec. 16 and Jan. 9, 2018. The daily flight departing McAllen during this stretch will be at 3:40 p.m., with the return flight departing Mexico City at 12:30 p.m. Flights on Aeromar also count toward the United Airlines Mileage Plus program, which has been the case in the past, but Aeromar now is actively promoting its United partnership. Gillespie plans to explore a possible code-sharing opportunity with United.
22nd September 2017
Aeromar increases Mexico City - Ixtepec service from October 2017
Aeromar starting next month is increasing operatins on Mexico City – Ixtepec route, currently served 5 times a week on weekdays. From 09OCT17, additional 3 weekly flights will be added, including new flight on Saturdays, and additional service during weekdays.

VW631 MEX0620 – 0820IZT AT7 x67
VW633 MEX1230 – 1425IZT ATR 6
VW635 MEX1740 – 1940IZT AT7 35

VW630 IZT0845 – 1035MEX AT7 x67
VW632 IZT1450 – 1640MEX ATR 6
VW634 IZT2005 – 2210MEX AT7 35
16th August 2017
Aeromar has begun domestic flights between Mexico City - Monclova
Launched 9 August, this becomes the latter airport's first scheduled service since the then-named Continental Airlines ended its route from Houston Intercontinental in September 2008. Operating at a 5 x weekly frequency, Aeromar will fly the 869-kilometre airport pair on its fleet of ATR 42-500s when referring to OAG schedules, although the first service was carried out by one of the airline's ATR 72-600s, as confirmed by Flightradar24.com data.
Andrés Fabré, MD of Aeromar, said that this route will exploit the potential of a highly industrial region, and recognised the coordinated work carried out between the State Government, Coahuila businessmen and of course the airline. With this launch, Aeromar is now operating 17 routes from Mexico City this summer, on up to 185 weekly flights.
1st August 2017
Aeromar stop service to Tuscan International Airport
Aeromar has stopped service at the Tucson International Airport effective Tuesday, Aug. 1, according to a release from the Tucson Airport Authority. The release cited "operational complexities" as a factor in the decision. TAA said, "It is too soon to speculate on when or if regularly scheduled international air service can be reinstated but even before this decision, the TAA and Visit Tucson were having positive discussions with other airlines regarding an expansion of routes into Mexico."
April 2017
Aeromar Lauches first flight to the Isthmus of Tehuantepec
In this first flight the company Aeromar brought to 36 passengers of a total of 48 places in one of its airplanes, which covered 75 percent of places. The same plane makes the return flight at 8:50 to Mexico City. Aeromar flights are on Mondays, Wednesdays and Fridays. The scheduled flight with a time of one hour 40 minutes arrived without problems due to the good weather prevailing in the area, one of the natural corridors with the strongest winds, reaching 200 kilometers per hour in the winter season.
March 2017
Aeromar announces 5 new domestic routes
Aeromar announced it will open five new routes in the country: Puerto Vallarta, Ixtepec, Culiacan, Cancun and Monclova before the end of the first half of this year. Aeromar expects to mobilise 40,000 passengers per month on more than 900 frequencies together. These new routes are part of the strategy to expand operations with the purchase of eight aircraft and the negotiation for investment by Grupo Synergy for $100 million dollars.
November 2016
Aeromar signed a contract for the purchase of 8 firm ATR 600 aircraft and the option for 6 additional ATR 72-600s
The ATR 42-600s will be configured with 48 seats and the ATR 72-600s will have a capacity of 72 passengers. With the introduction of these latest-generation turboprop aircraft, the airline will progressively replace and upgrade its current fleet, which today includes 9 ATR 42-500s, 4 ATR 42-300s and 2 ATR 72-600s.
November 2016
Brazil's Synergy Group to acquire up to 49% of Aeromar Airlines
Brazil's Synergy Group, parent firm to Colombia's Avianca, announced it will acquire up to 49% of Aeromar Airlines as it seeks to expand its market presence across Latin America. Aeromar currently operates four ATR42-300s, ten ATR42-500s, one ATR42-600, and two ATR72-600s on scheduled passenger flights to twenty-seven destinations across Mexico and Tucson in the United States.
---