Search and Buy Interjet Flights
Let's fly!

Select your payment method to view total prices including any payment fees:
Buy
Interjet

Flights

Book Flights Direct with Interjet and Alternative Airlines
Flights to and from Mexico
Make an Interjet reservation and find some amazing deals with discounted Interjet tickets at Alternative Airlines
---
Interjet is an international Mexican airline with scheduled services to Mexico, Central America, Caribbean, North and South America.
The airline flies to over 53 destinations in 8 countries, including 36 cities in Mexico.
From Benito Juárez International Airport (Mexico City) and Lic. Adolfo López Mateos International Airport (Toluca), the airline services include: Chicago, Dallas/FT, Worth, Houston, Las Vegas, Los Angeles, Miami, New York, Orlando/Sanford and San Antonio. Other international routes include Montréal, Canada, Havana, Santa Clara, Varadero, Cuba, Bogota, Colombia, Guatemala City, Peru, Lima, San Jose, Costa Rica and more.
The airline's fleet comprises of more that 77 aircraft, including 3 Airbus A320neos, 48 Airbus A320s, 4 Airbus A321S and 22 Superjet 100s.
Interjet was founded in 2005 and began operations in December of that year with 1 Airbus A320 aircrat.
By January 2010, the airline has increased their aircraft by 10 to replace many second-hand ones. Interjet took over the vacant slots of Aero California and established services to Mexico City International Airport in Mexico City.
---
Fare Types
Interjet offers three types of fares:
Light, Optima and Priority.
Light fares includes snacks and drinks and 2 pieces of carry-on baggage which together weigh maximum 10kg (22lbs).
The Optima are allows checked baggage of 25kg (55lbs), the ability to choose your seat, complimentary snacks and drinks, changes are free of change at the same rate.
Priority class allows 2 bags of 25kg (110lbs) with 2 pieces of carry-on baggage, the ability to choose your seat including first and second row with preferential check-in and boarding.
Interjet also offers Interjet Jetbook making your shopping and booking experience easier. Frequent destination passes offer multiple benefits that will allow passengers to save on each flight, schedule the dates of each trip according to your needs and make name or date changes without additional charge.
Acquire passes quickly and easily:
1. Enter or sign up for Club Interjet
2. Choose a national or international destination
3. Select 5, 10 or up to 15 round flights
4. Make your payment
Interjet have codeshare agreements with American Airlines, LATAM, LATAM Brasil, LATAM Chile and Iberia.
---
Destinations
Canada
Montreal
YUL
CYUL
Montréal–Pierre Elliott Trudeau International Airport
Toronto
YYZ
CYYZ
Toronto Pearson International Airport
Vancouver
YVR
CYVR

Vancouver International Airport

Colombia
Bogota
BOG
SKBO

El Dorado International Airport

Costa Rica
San José de Costa Rica
SJO
MROC

Juan Santamaría International Airport

Cuba
Havana
HAV
MUSC
José Martí International Airport
Santa Clara
SNU
MUVR
Abel Santamaría Airport
Varadero
VRA
MUVR

Juan Gualberto Gómez Airport

Guatemala
Guatemala City
GUA
MGGT

La Aurora International Airport

Mexico
Acapulco
ACA
MMAA
Acapulco International Airport
Aguascalientes
AGU
MMAS
Aguascalientes International Airport
resumes December 15, 2017
Campeche
CPE
MMCP
Campeche International Airport
resumes December 15, 2017
Cancún
CUN
MMUN
Cancún International Airport [Focus City]
Chetumal
CTM
MMCM
Chetumal International Airport
Chihuahua
CUU
MMCU
Chihuahua International Airport
Ciudad Obregón
CEN
MMCN
Ciudad Obregón International Airport
Ciudad Juárez
CJS
MMCS
Ciudad Juárez International Airport
Ciudad del Carmen
CME
MMCE
Ciudad del Carmen International Airport
Cozumel
CZM
MMCZ
Cozumel International Airport
Culiacán
CUL
MMCL
Culiacán International Airport
Durango
DGO
MMDO
Durango International Airport
Guadalajara
GDL
MMGL
Guadalajara International Airport [Focus City]
Hermosillo
HMO
MMHO
Hermosillo International Airport
Huatulco
HUX
MMBT
Bahías de Huatulco International Airport
Ixtapa/Zihuatanejo
ZIH
MMZH
Ixtapa-Zihuatanejo International Airport
La Paz
LAP
MMLP
La Paz International Airport
León/El Bajío
BJX
MMLO
Del Bajío International Airport
Los Mochis
LMM
MMLM
Los Mochis International Airport
Manzanillo
ZLO
MMZO
Playa de Oro International Airport
Mazatlán
MZT
MMMZ
Mazatlán International Airport
Mérida
MID
MMMD
Mérida International Airport
Mexico City
MEX
MMMX
Mexico City International Airport [Hub]
Minatitlán
MTT
MMMT
Minatitlán/Coatzacoalcos International Airport
resumes December 15, 2017
Monterrey
MTY
MMMY
Monterrey International Airport [Focus City]
Oaxaca
OAX
MMOX
Oaxaca International Airport
Palenque
PQN
MMPQ
Palenque International Airport
Puerto Escondido
PXM
MMPS
Puerto Escondido International Airport
Puerto Vallarta
PVR
MMPR
Licenciado Gustavo Díaz Ordaz International Airport
Reynosa
REX
MMRX
Reynosa International Airport
San José del Cabo
SJD
MMSD
Los Cabos International Airport
San Luis Potosí
SLP
MMSP
San Luis Potosí International Airport
Tampico
TAM
MMMT
Tampico International Airport
Tapachula
TAP
MMTP
Tapachula International Airport
Tijuana
TIJ
MMTJ
Tijuana International Airport
Toluca
TLC
MMTO
Toluca International Airport
Torreón
TRC
MMTC
Torreón International Airport
Tuxtla Gutiérrez
TGZ
MMTG
Tuxtla Gutiérrez International Airport
Veracruz
VER
MMVR
Veracruz International Airport
Villahermosa
VSA
MMVA
Villahermosa International Airport
Zacatecas City
ZCL
MMZC

Zacatecas International Airport

Peru
Lima
LIM
SPJC

Jorge Chávez International Airport

United States
Chicago
ORD
KORD
O'Hare International Airport
Dallas
DFW
KDFW
Dallas/Fort Worth International Airport
Houston
IAH
KIAH
George Bush Intercontinental Airport
Las Vegas
LAS
KLAS
McCarran International Airport
Los Angeles
LAX
KLAX
Los Angeles International Airport
Miami
MIA
KMIA
Miami International Airport
New York City
JFK
KJFK
John F. Kennedy International Airport
Orange County
SNA
KSNA
John Wayne Airport
Orlando
SFB
KSFB
Orlando Sanford International Airport
San Antonio
SAT
KSAT
San Antonio International Airport
---
Frequent Flyer Program
Passengers can benefit from Club Interjet Intertours frequent flyer program.
There are 3 options:
Club Interjet
Club Interjet Premium
Club Interjet Familiar
---
News
27th November 2017
2017 Was a Busy Year for Interjet
Mexican airline, Interjet, in conjunction with Mexico Tourism, Tourism Toronto, and Ontario Tourism, held a holiday event in Toronto last week. TravelPulse Canada sat down with Francisco Javier Porragas Torres, the airline's director of sales to learn how the airline, which now serves three Canadian cities; Montreal, Toronto and most recently, Vancouver, plans to work with Canadian agents.
Until recently, Interjet, Mexico's second largest airline, has been relatively unknown in Canada and certainly with consumers. But Porragas Torres intends to change that and travel agents are an important part of that process.
"We have two ways to work with agents; the first is via the GDS, Amadeus or Sabre." he said. "We just finished the implementation with Sabre and we are just finishing negotiations with TravelPort, which is very important here in Canada. And so in a couple of months, I'd say, TravelPort is going to be ready also."
Interjet is a member of BSP Canada/IATA, so agents with an Interjet Carrier Identification Plate (CIP) through BSP Canada can book and ticket through their GDS.
"And they [agents] can also have a user ID and sign into our web page and do sales through the web." he continued.
"And also we're going to be paying commissions to travel agents." Porragas Torres said. "We're going to be starting with four percent on air transportation, and we have another product, which is called Interjet Vacations, and the commission is going to be four per cent also."
1st November 2017
InterJet expands Los Angeles network from Nov 2017
Mexican low-cost carrier InterJet from late-Nov 2017 is expanding Los Angeles market, with new nonstop flights offered from Leon/Guanajuato, Los Cabos and Puerto Vallarta. Planned schedule as follow.

Leon/Guanajuato – Los Angeles eff 23NOV17 1 daily
4O870 BJX0700 – 0835LAX 320 D
4O871 LAX1825 – 2335BJX 320 x7
4O871 LAX1925 – 0035+1BJX 320 7

Los Cabos – Los Angeles eff 23NOV17 3 weekly
4O880 SJD1455 – 1630LAX 320 246
4O881 LAX1030 – 1355SJD 320 246

Puerto Vallarta – Los Angeles eff 24NOV17 4 weekly
4O890 PVR1605 – 1725LAX 320 135
4O890 PVR1705 – 1825LAX 320 7

4O891 LAX1000 – 1505PVR 320 135
4O891 LAX1055 – 1600PVR 320 7
16th October 2017
Interjet's Newest Aircraft Delivery Includes Six Tons of Humanitarian Aid for Mexico Earthquake Victims
Airline's A321's maiden flight arrives in Toluca, Mexico from Hamburg, Germany with more than six tons of relief supplies for victims of the recent, deadly earthquakes.
Interjet Airlines announced today it has added another Airbus A321 to its fleet, and as part of its maiden voyage to Toluca, Mexico, the aircraft delivered much-needed humanitarian supplies from Europe to the earthquake victims in Mexico.
"The arrival of our newest aircraft is truly a special delivery, because while it will allow us to offer more options for our customers, it also allows us the opportunity to make an immediate impact in the humanitarian effort to bring critical relief supplies and aid to the people who have suffered through one of the deadliest earthquakes in Mexico in the last 30 years," said José Luis Garza, Interjet's Chief Executive Officer. "Through these tragedies, we have seen the global community come together with great strength to help out our victims of these recent natural disasters and we're happy Interjet could help," he added.
The new A321 left the Airbus facilities in Hamburg, Germany carrying tents, inflatable mattresses, hammers, camping lamps, and waterproof tarpaulins. The Airbus Foundation, with the support of Aviation Capital Group, and GE Aviation/CFM, contributed to the delivery of the supplies, which were donated by Humedica, a non-governmental, German organization.
With the addition of this newest aircraft, the Interjet fleet grows to a total of 77 aircraft. The A321 is the largest aircraft of the A320 family, but also offers the lowest fuel consumption, emissions, and noise levels of its kind.
1st October 2017
Mexico's Interjet to incorporate Panasonic Avionics inflight systems
Mexico City-based Interjet has selected Panasonic Avionics Corporation's (Panasonic) innovative inflight entertainment (IFE) system and Wi-Fi connectivity service for its fleet of Airbus A320 and A321 aircraft. The initial aircraft will be delivered from Airbus in November 2017, and this A321 NEO aircraft will be the first Panasonic-equipped aircraft to be line fit with connectivity by the OEM.
Julio Gamero, Chief Commercial Officer of Interjet says: "At Interjet, we pride ourselves on delivering the very best experience to our guests. With this announcement, we will now offer our passengers a high definition theater-like entertainment experience with high-speed connectivity services that will keep them connected and productive. This is truly a fantastic milestone for Interjet, and we are very excited to once again partner with Panasonic."
Hideo Nakano, Chief Executive Officer of Panasonic Avionics Corporation, added: "Panasonic has provided Interjet with inflight entertainment (IFE) solutions since 2010 and this announcement is testament to the ongoing partnership. eXO provides a lightweight and fully integrated system that gives high-growth airlines like Interjet the opportunity to scale the technology as necessary. Combined with the powerful combination of broadband Wi-Fi and market leading inflight entertainment, Interjet will be able to enhance the onboard experience for its passengers."
Headquartered in Mexico City, Interjet serves over 11 million passengers each year with routes in Mexico as well as the United States, Canada and Central and South America providing air service to 54 destinations in eight countries. It operates a fleet of 76 aircraft and has revenue of more than 1 billion dollars per year. With Panasonic, Interjet will be able to offer a premium, connected entertainment experience across international markets and one of the most extensive domestic route structures available from Airlines in the region.
Panasonic's connectivity service will let passengers surf the web, send email, and use their favorite social media apps like Instagram, WhatsApp, and more over inflight broadband Wi-Fi.
eXO is one of the industry's most innovative overhead solutions. It features Panasonic's new large-format 12-inch 1080p retractable overhead monitors, and gives Interjet a path to deliver wireless streaming to passenger devices in the future . It creates a theater like experience allowing passengers to view high definition video content on large-format overhead screens.
28th September 2017
Interjet Signs Wi-Fi Deal With Panasonic
Mexico's Interjet will install Wi-Fi on its new Airbus-family aircraft deliveries, supplier Panasonic Avionics Corp. announced during the Airline Passenger Experience Association (APEX) Expo here. Interjet plans to take delivery of the first connected aircraft—an Airbus A321neo—in November, a Panasonic statement said. These aircraft will also feature overhead inflight entertainment (IFE) monitors.
September 2017
Interjet plans Vancouver launch in late-Oct 2017
Mexican low-cost carrier InterJet in the 4th quarter continues Canadian service expansion, which sees the airline launching service to Vancouver on 26OCT17. The airline will operate 4 weekly flights each on Cancun – Vancouver and Mexico City – Vancouver routing.

The following schedule is effective from 05NOV17, reflecting the end of daylight savings time.

Cancun – Vancouver
4O2860 CUN1600 – 2015YVR 320 x236
4O2861 YVR0550 – 1505CUN 320 x236

Mexico City – Vancouver
4O2850 MEX0035 – 0450YVR 320 x236
4O2851 YVR2130 – 0515+1MEX 320 x236
June 2017
Mexican low-cost carrier InterJet starting next month is increasing Mexico City – New York JFK operation, currently served 18 weekly.
From 15JUN17, the airline will increase service to 25 weekly, with new mid-morning departure from MEX.

Schedule for the new flight as follow.

4O2996 MEX0925 – 1525JFK 320 D
4O2997 JFK1640 – 2050MEX 320 D
In July 2011, Interjet made their first flight service to America and since then the airline has expanded their routes. Interjet flies to destinations including: Mexico, Colombia, Costa Rica, Cuba, Guatemala, Peru and the United States from its base in Cancun, Guadalajara, Mexico City, and Monterrey.
May 2017
Interjet annoucned it was to lease ten A320s from ACG
Interjet (4O, Toluca) will acquire ten A320 family aircraft from Aviation Capital Group (ACG) on long-term leases, with the first to be delivered in July 2017.
April 2017
Interjet announced it had taken delivery of its first Airbus A320neo
The airline is the first in Mexico to operate the A320neo powered by CFM Leap-1A engines. Interjet has another 34 A320neos on order. The airline is the third Mexican low-cost carrier to operate the A320neo, after Volaris and VivaAerobus.
ACG confirmed that the aircraft will come from its order book commitment with Airbus (AIB, Toulouse Blagnac). Interjet currently operates forty-five A320-200, three A320-200neo, and three A321-200 aircraft, as well as twenty-two SSJ 100-95s on flights throughout Mexico, as well as destinations in the United States, Guatemala, Cuba, Peru, Colombia, Costa Rica, and Canada.
---
Route Map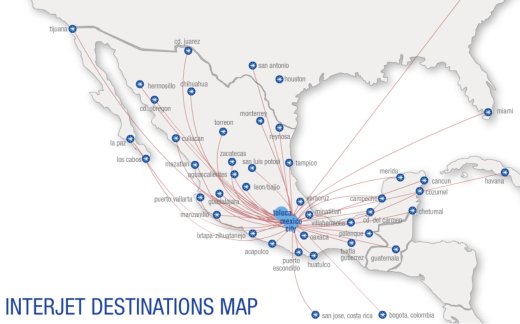 Popular Routes
Mexico

Havana
Mexico

Jan Hose
Miami

Mexico
Mexico

San Antonio
Mexico

Monterrey
Mexico

Los Cabos

---
The Fleet
Airbus A321neo
Airbus A320-200
---
Mexico City International Airport
HUB Airport
Mexico City International Airport is Mexico's busiest and Latin America's second busiest airport by passenger traffic. Mexico City International Airport is the hub airport for Aeromexico as well as Aeromar, Interjet and Volaris. The airport has two runaways and can handle nearly 40 million passengers every year.
Other airlines which fly to Mexico City International Airport include Air Canada, Air France, Avianca, American Airlines, Delta Airlines, Interjet, KLM, JetBlue airways, LAN Airlines and many others.

---
---
Book Flights with Interjet Airlines
Make an Interjet reservation and find some amazing deals with discounted Interjet tickets at Alternative Airlines. Interjet flies to many destinations, offering a cost effective and safe service to all its passengers. Let Alternative Airlines help find you cheap Interjet tickets and make reservations on Interjet today.
Browse the most popular Interjet flight routes to destinations within the South American region. Alternative Airlines can help you make reservations on Interjet. Use the following list of routes to help you plan your next flight. Interjet flights on Alternative Airlines to save big! Alternative Airlines is an online travel agency, specialising in booking lesser known airlines and remote destinations.
Alternative Airlines is an Online Travel Agency bonded by the International Air Transport Association (IATA). We specialise in finding the best available fares on the widest range of airlines and making them available to you online, with prices in the currency of your choice.
Alternative Airlines handles all your travel arrangements and payments, complete with ticketed confirmation. We do not direct you to other websites or service providers.
We help you through the process. This is what makes us Alternative Airlines.
Interjet is an international "high efficiency" airline with quality services at reasonable prices, providing services in eight countries. In the last 11 years, the airline has accomplished an extraordinary success and thanks to its business model, has increased its fleet to 76 aircraft carrying over 65 million passengers.
How to pay
You can pay for your flights with Interjet in the currency and payment method of your choice when booking through Alternative Airlines.
We accept PayPal making flight purchases with Interjet easy and more secure for customers. PayPal is one of the leading forms of online payment, with more than 169 million accounts worldwide.