Boutique Air Reservations with Alternative Airlines
Make an Boutique Air Booking and Find Some Amazing Deals
---
About Boutique Air
Boutique Air is an aviation company based in California, United States and offers charter and passenger services.
The airline was founded in 2007 as an aviation company before it began acquiring aircraft in 2012. The airline operated on-demand charters, air patrol services and pilot training. In 2013, Boutique Air received commuter air carrier authority from the United States Department of Transportation and it's first scheduled flight operated between Hawthorne Municipal Airport and McCarran International Airport in Las Vegas. Boutique Air flies a fleet of Pilatus PC-12 aircraft.
---
Destinations
Boutique Air primarily provides domestic flights in the USA. The airline flies to many destinations including Alliance, Cavern City, Albuquerque, Clovis, Dallas, Denver, Grant County, Los Angeles, Nashville, Oakland, Sky Harbour, Los Alamos County and many others.
| STATE | CITY | AIRPORT | IATA |
| --- | --- | --- | --- |
| Alabama | Muscle Shoals | Northwest Alabama Regional Airport | MSL |
| Arizona | Show Low | Show Low Regional Airport | SOW |
| Arizona | Phoenix | Sky Harbor International Airport | PHX |
| California | Merced | Merced Municipal Airport | MCE |
| California | Los Angeles | Los Angeles International Airport | LAX |
| California | Sacramento | Sacramento International Airport | SMF |
| Colorado | Alamosa | San Luis Valley Regional Airport | ALS |
| Colorado | Cortez | Cortez Municipal Airport | CEZ |
| Colorado | Denver | Denver International Airport | DEN |
| Colorado | Telluride | Telluride Regional Airport | TEX |
| Georgia | Atlanta | Hartsfield–Jackson Atlanta International Airport | ATL |
| Illinois | Chicago | Chicago-O'Hare International Airport | ORD |
| Maryland | Baltimore | Baltimore–Washington International Airport | BWI |
| Massachusetts | Boston | Boston Logan International Airport | BOS |
| Michigan | Ironwood | Gogebic-Iron County Airport | IWD |
| Minnesota | Minneapolis | Minneapolis/St Paul International Airport | MSP |
| Mississippi | Greenville | Mid Delta Regional Airport | GLH |
| Nebraska | Chadron | Chadron Municipal Airport | CDR |
| Nebraska | McCook | McCook Ben Nelson Regional Airport | MCK |
| New Mexico | Albuquerque | Albuquerque International Sunport | ABQ |
| New Mexico | Carlsbad | Cavern City Air Terminal | CNM |
| New York | Massena | Massena International Airport | MSS |
| Pennsylvania | Johnstown | Johnstown–Cambria County Airport | JST |
| Pennsylvania | Pittsburgh | Pittsburgh International Airport | PIT |
| Oregon | Pendleton | Eastern Oregon Regional Airport | PDT |
| Oregon | Portland | Portland International Airport | PDX |
| Tennessee | Nashville | Nashville International Airport | BNA |
| Texas | Dallas/Fort Worth | Dallas/Fort Worth International Airport | DFW |
| Texas | Houston | George Bush Intercontinental Airport | IAH |
| Texas | Victoria | Victoria Regional Airport | VCT |
---
Baggage
Checked Baggage
Passengers are permitted one piece of free luggage, which can either carry-on or checked into the hold. The dimensions of the one piece of carry-on or checked bag must not exceed 9 x 14 x 22 inches in size.
Carry-On Baggage
Passengers are permitted one personal item
The dimensions of the personal item must fit 9 x 10 x 17 inches. The personal item must be small enough to sit on the passenger's lap for flight's duration, as the aircraft cannot accommodate overhead or under-seat luggage storage. The total weight of a passengers free checked or carry-on luggage plus their personal item must not exceed 50lbs.
---
Check-In Information
Online Check-In
You can check in by visiting the online check-in page and entering your flight details. Web check-in on Boutique Air flights opens 24 hours before flight departure time and closes 45 minutes before. Passengers can choose to either print off their boarding pass or download it to their mobile.
Airport Check-In
You can check-in at the airport if you arrive at the Boutique Air check-in desks at least 45 minutes before your flight leaves.
---
Route Map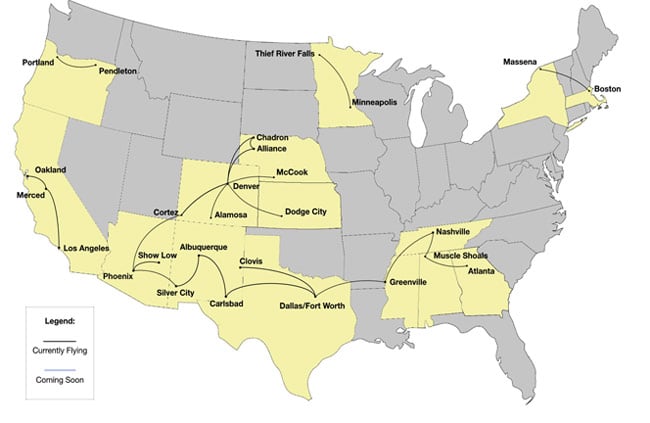 ---
Class Fares
Boutique Air prides itself in offering a first-class experience for the price of economy. Although there is only one standard class fare with this airline, the flying experience is truly luxury and relaxing.
On-board Facilities
The aircraft is designed to increase soundproofing, meaning that passengers are not disrupted by the engine sounds.
Facilities include power outlets, and an enclosed lavatory.
The total number of seats in the aircraft is typically between 8 and 9 passengers, meaning that the level of service from the staff is superior.
What are Seats Like?
Economy Class seats are made from leather and provide the ultimate comfort allowing you to arrive at your destination well-rested, meaning that passengers are not disrupted by the engine sounds. Seats are not pre-booked and are assigned at the time of boarding.
---
Fleet
Boutique Air flies a fleet of Pilatus PC-12 aircraft.
---
Frequent Flyer Program
MileagePlus
Thanks to Boutique Air's partnership with united Airlines, passengers can earn MileagePlus (United Airline's loyalty program) points on their travel on Boutique Air.
---
Airline Alliance
United Airlines and American Airlines
Boutique Air has a codeshare partnership with United Airlines. Boutique Air has a large presence in Denver, one of United's largest domestic hubs, and customers can now enjoy a seamless connection experience between the two airlines. Boutique Air also has an interline agreement with American Airlines.
Customers may be booked onto Boutique operated codeshare and interline flights when purchasing United or American Airlines flights; the tickets will be owned by United, by the actual flights will be operated by Boutique Air.
---
Special Services
Special assistance can be arranged for those who need additional services. It will be important to discuss this with the airline before you book to ensure your needs can be met. Please contact customer services before booking or at least 48 hours before your flight. Every effort will be made to make your experience as smooth and enjoyable as possible.
---
Alternative Airlines to Boutique Air
Please click on the logos below to find out more about airlines that fly similar routes to Boutique Air:
---
Hub Airport
San Francisco International Airport
San Francisco International Airport is located downtown San Francisco, CA, USA. As the largest airport in Northern California, it is also the seventh-busiest airport in all of the United States, and 24th busiest in the world by numbers of passengers. For example, in 2018 the airport saw nearly 57.8 million passengers through its doors.
Alaska Airlines and United Airlines also have hubs at this airport. There is also a number of other airlines who operate services from this airport including JetBlue, China Eastern Airlines, Air Canada and Air France.
---
News
31st May 2018
Boutique Air launch service between Massena and Boston
Boutique Air will begin flyinga service between Massena International Airport (MSS) and Boston Logan International Airport (BOS). The airline isto launch the service on 1st June 2018 and will fly three times a week between the two cities on the east of the USA. Boutique Air will carry passengers on the Piatus PC-12 aircraft and the flight is estimated to take 1 hour and 30 minutes, covering 262 miles.
13th April 2018
Boutique Favored To Replace Great Lakes At Prescott
Prescott, Arizona city officials are backing a bid from Boutique Airlines to replace air service lost at Prescott Municipal Airport (PRC) when Great Lakes ended its operations last month. Boutique was one of three carriers to submit bids to replace Great Lakes as Prescott's Essential Air Service (EAS) carrier. All three carriers are Part 135 operators.