Trusted Choice
Secure Booking
Airlines will always try to sit children with their parents (subject to check-in)
Some airlines will allow travel for unaccompanied minors. Please email us to check.
The fare is based on the child's age on the date of travel.
More detailed information can be found here Traveling with children
Most airlines will let infants travel with their parent(s) for free. However some airlines will charge up to 10% of the adult ticket price. Click on 'Price Breakdown' to find out more.
If you are pregnant, but due before the flight departure date, please contact us once your baby is born and has a name. We can then add him/her to your ticket.
Infants will not be given a seat. The airlines expect parents to travel with them on their lap.
Airlines regard infants as being under 24 months old.
The fare is based on the child's age on the date of travel.
More detailed information can be found here Traveling with children
Search & Book Flights

With Boutique Air
Cancellation Protection
Protects
Trusted Choice
65,000 happy customers
Rated 4.5 Stars. Based on 3,581 service ratings over the past year
Dedicated customer service team on hand to help
Secure payments
Cancellation Protection
Protects
Trusted Choice
65,000 happy customers
Rated 4.5 Stars. Based on 3,581 service ratings over the past year
Dedicated customer service team on hand to help
Secure payments
Buy
Boutique Air

Flights
Boutique Air Reservations with Alternative Airlines
Make an Boutique Air Booking and Find Some Amazing Deals
---
About Boutique Air
Boutique Air is an aviation company based in California, United States and offers charter and passenger services under the Essential Air Services program. Boutique Air flies to many destinations including Alliance, Cavern City, Albuquerque, Clovis, Dallas, Denver, Grant County, Los Angeles, Nashville, Oakland, Sky Harbour, Los Alamos County and many others.
Boutique Air was founded in 2007 and was originally an aviation company before it began acquiring aircraft in 2012. The airline operated on-demand charters, air patrol services and pilot training. In 2013, Boutique Air received commuter air carrier authority from the United States Department of Transportation. The airline's first scheduled flight operated between Hawthorne Municipal Airport and McCarran International Airport in Las Vegas. Boutique Air flies a fleet of Pilatus PC-12 aircraft.
---
Boutique Air Baggage
Passengers are permitted one personal item plus one of either 1 carry-on bag or 1 checked bag. The total of these two items must not exceed 50lbs.
The dimensions of the personal item must fit 9 x 10 x 17 inches. The dimensions of the carry-on or checked bag must not exceed 9 x 14 x 22 inches in size.
Checked Baggage
Under the health and safety laws at London Gatwick Airport, no bag will be allowed through checking if it exceeds 25kg.
---
Boutique Air Check-In Information
Online Check-In
You can check in by visiting the Boutique Air online check-in page and entering your flight details. Web check-in on Boutique Air flights opens 24 hours before flight departure time and closes 45 minutes before. Boutique Air passengers can choose to either print off their boarding pass or download it to their mobile.
Airport Check-In
You can check-in at the airport for Boutique Air flights if you arrive at the Boutique Air check-in desks at least 45 minutes before your flight leaves.
---
Route Map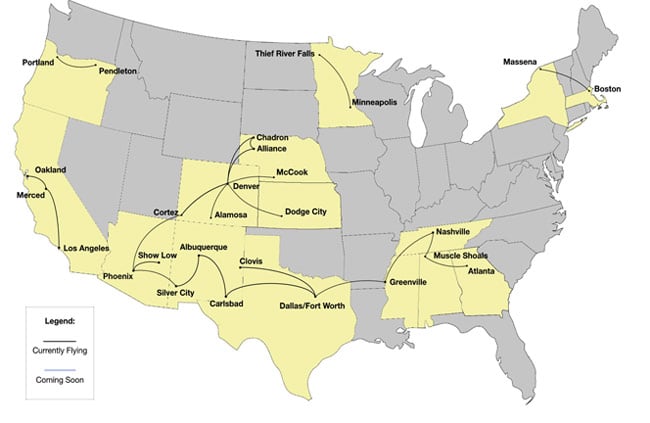 ---
Destinations
Boutique Air serves primarily domestic flights in the USA:
Muscle Shoals,
Alabama
Show Low,
Arizona
Phoenix,
Arizona
Merced,
California
Los Angeles,
California
Oakland,
California
Sacramento,
California
Alamosa,
Colorado
Cortez,
Colorado
Denver,
Colorado
Telluride,
Colorado
Atlanta,
Georgia
Dodge City,
Kansas
Baltimore,
Maryland
Boston,
Massachusetts
Minneapolis,
Minnesota
Thief River Falls,
Minnesota
Greenville,
Mississippi
Alliance,
Nebraska
Chadron,
Nebraska
McCook,
Nebraska
Albuquerque,
New Mexico
Carlsbad,
New Mexico
Clovis,
New Mexico
Massena,
New York
Johnstown,
Pennsylvania
Pittsburgh,
Pennsylvania
Pendleton,
Oregon
Portland,
Oregon
Dallas / Fort Worth,
Texas
Houston,
Texas
Victoria,
Texas
---
Economy Class
Boutique Air prides itself in offering a first-class experience for the price of economy. Although there is only one class fare with this airline, the flying experience is truly luxury and relaxing.
Economy Class Facilities
The aircraft is designed to increase soundproofing, meaning that passengers are not disrupted by the engine sounds.
The total number of seats in the aircraft is typically between 8 and 9 passengers, meaning that the level of service from the staff is superior.
What are Economy Class Seats Like?
Economy Class seats are made from leather and provide the ultimate comfort allowing you to arrive at your destination well-rested, meaning that passengers are not disrupted by the engine sounds.
---
Alternative Airlines to Boutique Air
Please click on the logos below to find out more about airlines that fly similar routes to Boutique Air:
---

Boutique Air Hub Airport
San Francisco International Airport
San Francisco International Airport is located downtown San Francisco, CA, USA. As the largest airport in Northern California, it is also the seventh-busiest airport in all of the United States, and 24th busiest in the world by numbers of passengers. For example, in 2018 the airport saw nearly 57.8 million passengers through its doors.
Alaska Airlines and United Airlines also have hubs at this airport. There is also a number of other airlines who operate services from this airport including JetBlue, China Eastern Airlines, Air Canada and Air France.
---
Boutique Air News
31st May 2018
Boutique Air launch service between Massena and Boston
Boutique Air will begin flyinga service between Massena International Airport (MSS) and Boston Logan International Airport (BOS). The airline isto launch the service on 1st June 2018 and will fly three times a week between the two cities on the east of the USA. Boutique Air will carry passengers on the Piatus PC-12 aircraft and the flight is estimated to take 1 hour and 30 minutes, covering 262 miles.
8th May 2018
Cortez to hold public forum on Boutique Air
The city of Cortez is holding a public meeting on Monday to gather residents' feedback on Boutique Air, which serves the Cortez Municipal Airport.Boutique Air has served as Cortez's sole airline provider since 2016, when the City Council approved a two-year Essential Air Service contract with the company. That contract will run out on Sept. 30, but Airport Manager Russ Machen said no other companies have submitted bids to replace Boutique. City Manager Shane Hale said Monday's forum will feature a presentation from Boutique's CEO, Shawn Simpson, as well as a chance for city residents to voice concerns about the airline's services.
Part of the meeting will focus on Boutique's plans to expand its Cortez services, Hale said. He said the company is considering the addition of two or three flights to Las Vegas per week. Right now, the airline only offers flights to Denver and Phoenix.
Simpson said in December that Cortez is one of his company's busiest airports. As of April, he said, most flights from the airport have been 70 to 80 percent full. But the airline has run into some turbulence since it started serving Cortez. After it dramatically increased its prices last summer, dropping the introductory fares that started at $59 for a ticket to Denver, Boutique's ticket sales in Cortez went down. In February, the airline had its highest number of cancellations for a single month since it started serving Cortez, which Simpson blamed on bad weather and mechanical problems.
Hale said Monday's meeting will include a question-and-answer session with Simpson, in which residents can offer feedback on Boutique's services.
Machen said the meeting won't affect the city's decision on whether to renew Boutique's contract, which he called "a done deal." But he said it will give residents an opportunity to learn more about the service."I'm hoping for a good turnout from the public, and a good exchange with the CEO so he can explain their plans for the future," he said.
23rd April 2018
Prescott, Arizona Pulls Support For Boutique Airlines
City officials in Prescott, Arizona, responding to community input, have told the U.S. Transportation Department (DOT) that they no longer support a bid from Boutique Airlines to provide short-term air service in the wake of Great Lakes Airlines' decision to stop flying. In an April 18 letter to DOT, Prescott Mayor Greg Mengarelli said the city rejects all three proposals it received for interim essential air service (EAS), citing "new information."
13th April 2018
Boutique Favored To Replace Great Lakes At Prescott
Prescott, Arizona city officials are backing a bid from Boutique Airlines to replace air service lost at Prescott Municipal Airport (PRC) when Great Lakes ended its operations last month. Boutique was one of three carriers to submit bids to replace Great Lakes as Prescott's Essential Air Service (EAS) carrier. All three carriers are Part 135 operators.
February 2018
Boutique Air exploring the option of Boston flights from Massena
Despite deliberating over the addition of Baltimore and albany flights, Boston may be the overall winner in an attempt to increase the number of passengers booking flights with Boutique Air. Boutique Air Chief Executive Officer Shawn Simpson said the number of passengers flying out of Massena wasn't as high as expected during the airline's first year of operation as Massena's Essential Air Service provider. For instance, he said, its planes are only 40 percent full for flights to Albany International Airport.
"Actual revenue is closer to half of what we expected," he told Town Council members during a special meeting on Wednesday."I wouldn't bid what we've done again. We've tried." Boutique Air began serving the Massena International Airport in mid-April 2017 when it took over as the town's new Essential Air Service provider. It replaced Cape Air, which had held the EAS contract in Massena for the previous eight years.
The airline offers direct daily flights betweenBaltimore-Washington International Airport, and to Albany International Airport twice a day. Some of the issues experienced by Boutique involve connectivity in Baltimore and Albany, according to Loretta Perez, who owns a travel agency in Massena. "You cannot come back from the West Coast to Baltimore and get back to Massena" without spending the evening, she said. "We cannot do a round trip to the West Coast." Mr. Simpson said Boutique Air is working alongside United Airlines, which has offered it space if it flies to Boston. Ms. Perez said she believes the airline's ridership would increase with non-stop flights to Boston. "That would be the best possible scenario," she said.
January 2018
Boutique Air commences operations between Dodge City and Denver
Dodge City Airport celebrated as Boutique Air made its first flight between Dodge City and Denver. The airline, which is based in San Fransisco had the route approved last November and the airport now sees the route as an essential addition to Dodge City's air space. Boutique air offers 18 round trip flights to the Mile High city each week, most of which occur on a week day.
May 2017
Boutique Air announced moving to Terminal 6 at LAX Airport
Boutique Air announced today that beginning on May 13th, its service will be moving from Terminal 3 to Terminal 6 at the Los Angeles International Airport. The location change is a result of Delta Airlines' relocation and ongoing modernisation of Terminal 3. New access to Terminal 6 will provide passengers with the opportunity to easily connect to a wider array of west coast destinations.
"The move to Terminal 6 will provide our customers with an overall better experience in LAX," said Boutique Air's CEO Shawn Simpson. "Our new gate is located near a variety of new dining and retail concessions with additional seating options for our passengers. There are also more security screening checkpoints, which should also speed up entry to the terminal."
Boutique Air operates a modern fleet of both Swiss-made Pilatus PC-12 aircraft and Beechcraft King Air 350 aircraft. With amenities designed to make the flying experience as comfortable as it gets, our aircraft features reclining leather seats in an executive configuration, power outlets, a pressurised cabin, enclosed lavatory, and a top speed of 300 mph.
Boutique Air is an FAA-certified air carrier providing both air charter and scheduled service. The airline currently services routes in Arizona, Alabama, California, Colorado, Georgia, Maryland, Minnesota, Mississippi, Nebraska, New Mexico, New York, Oregon, Tennessee, Texas, and Utah.
---