Trusted Choice
Secure Booking
Airlines will always try to sit children with their parents (subject to check-in)
Some airlines will allow travel for unaccompanied minors. Please email us to check.
The fare is based on the child's age on the date of travel.
More detailed information can be found here Traveling with children
Most airlines will let infants travel with their parent(s) for free. However some airlines will charge up to 10% of the adult ticket price. Click on 'Price Breakdown' to find out more.
If you are pregnant, but due before the flight departure date, please contact us once your baby is born and has a name. We can then add him/her to your ticket.
Infants will not be given a seat. The airlines expect parents to travel with them on their lap.
Airlines regard infants as being under 24 months old.
The fare is based on the child's age on the date of travel.
More detailed information can be found here Traveling with children
Search and book flights with
Air Panama
Buy
Air Panama

Flights
Air Panama Reservations with Alternative Airlines
Make an Air Panama Booking and Find Some Amazing Deals
---
About Air Panama
Air Panama is the second largest air carrier in Panama - surpassed only by Copa Airlines. The airline is based at Albrook Marcos A. Gelabert International Airport in Panama and flies to nineteen airports regularly - most of these are domestic, within Panama, as well as one regular scheduled route to Costa Rica and three to Colombia.
The airline was founded in 1980 as Parsa. In January 1999, the airline moved its headquarters to the new Albrook - Marcos A. Gelabert International Airport. In 2005, the airline changed its name to Air Panama.
Looking to book Air Panama flights?
It is easy to search and book Air Panama flights in English and with the support of our expert customer service team when you choose to book through Alternative Airlines, simply use the search form above to find the perfect flights for you.
---
Flights to the San Blas Archipelago with Air Panama
Air Panama is the only carrier flying to the beautiful, untouched islands in the San Blas. The airline flies to destinations in the Guna Yala region on the airfields of Achutupo (ACU), Corazon de Jesus (CZJ), El Porvenir (PVE), Malatupo (MPP), Playón Chico (PYC) and Puerto Obaldía (PUE). Most of these flights take place on very small, domestic aircraft that can only accommodate for about 20 passengers. Make sure you book well in advance and bear in mind that dates may be sporadic for less popular routes. Flights take no more than a couple of hours to reach the picturesque paradise of the San Blas.
---
About the San Blas
The San Blas archipelago of Panama comprises of 365 remote and stunningly beautiful islands and cays, of which only 49 are inhabited. They stretch all the way down from the north coast of the Isthmus of Panama all the way to the east of the Panama Canal.
The San Blas is an autonomous region primarily inhabited by the Guna, an indigenous people who live across Panama and Colombia. One of their main exports is coconuts, which until recently was considered the San Blas' major forms of currency.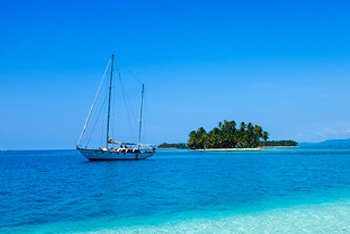 Image Credit: Aden, Flickr
---
Air Panama Baggage Allowance
Carry-On Baggage
Domestic flights: 1 piece per passenger is allowed for free of charge (max 4 kg).
International flights: 1 piece per passenger is allowed for free of charge (max 8kg).
Checked Baggage
Please not that passengers on the "E light" tariff are only permitted hand luggage, and have no free checked baggage allowance.
Domestic flights: Passengers are entitled to carry 14 kgs on flights within the Panamanian territory. When travelling on the David Route, passengers are permitted 30kg. High-value items, fragile items and electronics (computers, phones, cameras, camcorders, etc.) must not be included in hold luggage and instead put into hand luggage.
International flights: Passengers are entitled to check-in two pieces of hold luggage, with a combined weight of no more than 30kg. Passengers with a promotional rate are entitled to 23kg max.
Baggage allowance will be confirmed at the time of booking - if it is possible to add more baggage to your booking, this option will also be offered.
---
Check-In Information
Online Check-In
Online check-in is not currently available for Air Panama flights.
Airport Check-In
Passengers will need to check-in at the airport. Airport check-in closes three hours before scheduled flight departure time on international flights and one hour before scheduled flight departure time on domestic flights.
---
Air Panama Fleet
Air Panama's fleet is constantly adapting and changing but currently consists of the following aircraft:
Britten-Norman Islander - max passengers: 4
Cessna 208 Caravan - max passengers: 4
Cessna 182 - max passengers: 2
Fokker 50 - max passengers: 50
Fokker 100 - max passengers: 100
Piper PA-34 Seneca - max passengers: 4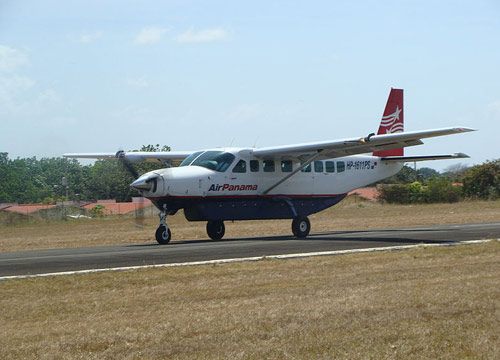 Image credit: Panamafly on Wikimedia
---
Economy Class
Economy Class is Air Panama's only cabin class. There are a number of different fare types available in Economy Class, named 'econo', 'econo plus' and 'premium'. These fares give different levels of flexibility in regards to changes and cancellations, but don't make a difference to the in-flight experience.
Economy Class Facilities
The airline provides a basic yet effective service has all you need to have an enjoyable flight.
The airline has an expertly trained cabin crew that is welcoming and friendly. The crew serve drinks and light snacks free of charge and attend to any other needs upon request.
Entertainment: There is no in-flight entertainment system on any of the airline's flights.
WiFi: There is no onboard WiFi available
Economy Class Seats
The seat you experience will depend on the aircraft you are flying on. For example, the Fokker 50 planes will have seats set up in a 2 x 2 formation, with a 32 inch pitch and 17inch seat width. On the Boeing 737-300, seats are arranged as 3 x 3, with a 31 inch pitch and 17 inches for the seat width.
---
In-Flight Meals
There is no meal service provided as flights are short-haul. However, snacks and cold drinks are served, depending on the aircraft and route being operated. Passengers are welcome to bring their own snacks with them onto the aircraft.
---
Air Panama Destinations and Route Map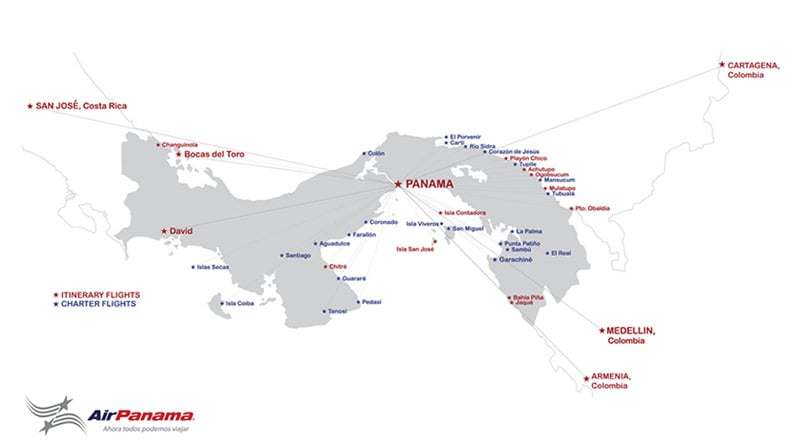 ---
Air Panama Destinations
Regular Domestic Destinations
| CITY | AIRPORT | IATA |
| --- | --- | --- |
| Panama City | Albrook Airport | PAC |
| David | David Airport | DAV |
| Changuinola | Changuinola Airport | CHX |
| Bocas del Toro | Bocas del Toro Airport | BOC |
| Panama City | Tocumen International Airport | PTY |
| Playón Chico | Playón Chico Airport | PYC |
| Isla Contadora | Contadora Airport | OTD |
| Achutupo | Achutupo Airport | ACU |
| Bahía Piña | Bahía Piña Airport | BFQ |
| Jaqué | Jaqué Airport | JQE |
| Mulatupo | Mulatupo Airport | MPP |
| Puerto Obaldia | Puerto Obaldia Airport | PUE |
| Chitré | Chitré Alonso Valderrama Airport | CTD |
| Isla San Jose | San José Airport | SIC |
| Ogobsucum | Ustupu-Ogobsucum Airport | OGM |
Seasonal Domestic Destinations
| CITY | AIRPORT | IATA |
| --- | --- | --- |
| Pedasi | Pedasí Airport | PDM |
| El Porvenir | El Porvenir Airport | PVE |
| Corazón de Jesús | Corazón de Jesús Airport | CZJ |
| Isla Viveros | San Miguel Airport | NMG |
| Sambú | Sambú Airport | SAX |
| Río Sidra | Río Sidra Airport | - |
| Garachiné | Garachiné Airport | GHE |
| Isla Secas | Isla Secas Airport | - |
| Isla Coiba | Isla Coiba Airport | - |
| Santiago de Veraguas | Ruben Cantu Airport | SYP |
| Aguadulce | Aguadulce Airport | - |
| Carti | Cartí Airport | CTE |
| La Palma | Miraflores Airport | - |
| Punta Patiño | Punta Patiño Airport | - |
| El Real | El Real Airport | ELE |
| Colón | Enrique Adolfo Jiménez Airport | ONX |
| Río Hato | Río Hato Airport | RIH |
| Tonosí | Tonosí Airport | - |
| Guararé | Augusto Vergara Airport | |
| Coronado | - | - |
| Río Sidra | - | - |
| Tupile | - | - |
| Mansucum | - | - |
| Tubualá | Tubualá Airport | TUW |
Regular International Destinations
COUNTRY
CITY
AIRPORT
IATA
Costa Rica
Armenia
El Edén International Airport
AXM
Colombia
Medellin
Jose Maria Cordova International Airport
JMC
Cartagena
Rafael Núñez International Airport
CTG
---
Hub Airport
Albrook International Airport
Albrook 'Marcos A.Gelabert' International airport is an airport located in Panama City and is the hub airport for Air Panama. The airline is the only airline to offer scheduled passenger services to and from the airport, with Arrendamientos Aéros also offering charter services from Albrook International.
The airport itself is small, with one terminal building. The runway doesn't stretch further than 230 metres. Albrook International is well-connected to Panama's public transport network, with regular connections to buses and the metro system.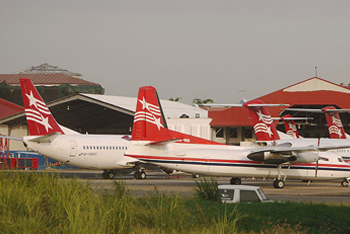 Image credit: Bernal Saborio, Wikipedia Commons
---
Airline Alliance
The airline is not part of an airline alliance.
---
Frequent Flyer Program
No frequent flyer program is available for Air Panama.
---
Special Assistance
Booking Special Assistance
The airline asks passengers to report any conditions at the time of booking, and request information about the airport of departure and final destination. This allows necessary services to be provided. Passengers can complete the special request form at the time of booking, or contact our customer service team.
Flying with Infants and Children
Infants under 2 years are considered infants and do not need their own seats. This must be made clear at the time of booking. But on international flights, babies will be charged 10% on the published fare. Infants who require seats must travel with a ticket (child rate), which is equivalent to 75% of the adult rate.
Flying with Pets
Animal transportation is charged at a rate of $ 5.00 for small animals and $ 10.00 for large animals. All animals must be within the weight of luggage allowed to the passenger. Only a guide or emotional support dog will be allowed in the cabin - pets will otherwise be transported in the hold or luggage storage area. Transportation of pets on international flights is not allowed.
---
Book Air Panama Flights in English
Choose Alternative Airlines to book your Air Panama flights in English. We provide a trusting service to give you peace of mind that all your details of your flight will be communicated in a language which suits you.
---
Alternative Airlines to Air Panama