Search and Buy Avianca Ecuador Flights with Alternative Airlines
Make an Avianca Ecuador Booking and Find Some Amazing Deals
---
About Avianca Ecuador
Avianca Ecuador, formerly known as AeroGal, is an Ecuadorian airline based in Quito with it's hub airport at Mariscal Sucre International Airport.
The airline operates passenger and cargo flights domestically within Ecuador, but also between the mainland and the Galápagos Islands, and between Ecuador and Peru (on behalf of Avianca Peru) and Colombia (on behalf of Avianca).
The airline is one of the 7 airlines which make up the Avianca group of nationally-branded airlines within Latin America.
AeroGal was originally established in 1986 but merged with Avianca and TACA in 2009. It kept its AergoGal branding until 2014 when it was renamed to Avianca Ecuador.
---
Avianca Ecuador Destinations
Primarily, Avianca Ecuador offers domestic flights to destinations around Ecuador. However, they also offer flights to other destinations in the region.
Domestic Destinations
| CITY | AIRPORT |
| --- | --- |
| Quito | Mariscal Sucre International Airport (UIO) |
| Baltra Island | Seymour Airport (GPS) |
| Cuenca | Mariscal Lamar Airport (CUE) |
| Guayaquil | Jose Joaquin de Olmedo International Airport (GYE) |
| Manta | Eloy Alfaro International Airport (MEC) |
| Nueva Loja | Lago Agrio Airport (LGQ) |
| Coca | Francisco de Orellana Airport (OCC) |
| San Cristobal Island | San Cristóbal Airport (SCY) |
International Destinations
| COUNTRY | CITY | AIRPORT |
| --- | --- | --- |
| Aruba | Oranjestad | Queen Beatrix International Airport (AUA) |
| Bolivia | Santa Cruz de la Sierra | Viru Viru International Airport (VVI) |
| Bolivia | La Paz | El Alto International Airport (LPB) |
| Colombia | Bogotá | El Dorado International Airport (BOG) |
| Colombia | Cali | Alfonso Bonilla Aragon International Airport (CLO) |
| Panama | Panama City | Tocumen International Airport (PTY) |
| Peru | Lima | Jorge Chávez International Airport (LIM) |
---
Avianca Ecuador Baggage
Carry-on Baggage
Hand baggage for each passenger has a maximum weight allowance of 10kg / 22 lbs, and a maximum dimensions of 55 x 25 x 25cm (22 x 10 x 10in). Please don't pack any prohibited items in your carry-on bag as this will be removed at disposed of at airport security. Prohibited items include any liquids over 100ml, explosives, sharp objects and illegal substances.
Checked Baggage
Bags in checked luggage can not exceed 158cm (62in) for the combined linear dimensions (length + width + height).
For domestic flights in Ecuador on the L fare, passengers are permitted 2 x 23kg (51lbs) of checked baggage.
For all other flights, passengers are permitted 1 x 23kg (51lbs) of luggage with Avianca Ecuador.
---
Avianca Ecuador Check-In Information
Online Check-in
Passengers can check in online for their Avianca Ecuador flights, which open 24 hours before flying and closes 3 hours before the scheduled departure time. For a quick and easy process at the airport check-in online and have your boarding pass printed or saved on your phone.
Airport Check-in
Passengers who have not checked in online must do so at the airport. Visit the Avianca check-in desk with your travel documents ready to proceed. You should do this at least 3 hours before your flight is due to depart. Please bear in mind that if you haven't checked in online you may be subject to extra fees for printing your boarding pass.
---
Avianca Ecuador Hub Airport
Mariscal Sucre International Airport
Mariscal Sucre International Airport (UIO) is the busiest airport in Ecuador and one of the busiest airports in South America. The airport is located in Tababela, Quito Canton, Pichincha and serves the region of Quito. Mariscal Sucre International Airport opened in February 2013, which was replaced by the 50 year old airport of the same name, which was named after the independence leader Antonio José de Sucre. The airport has a runaway with the length of 4,100m / 13,45ft.
From Mariscal Sucre International Airport (UIO), popular route destinations include Panama City, Bogotá, Madrid, Miami, Lima, Mexico City.
Mariscal Sucre International Airport is also a hub for Equal and LATAM Ecuador. Other airlines that fly from and to Mariscal Sucre International Airport include LATAM Airlines Ecuador, Boliviana de Aviacion, Copa Airlines, Delta Airlines, Iberia, KLM, United Airlines, Aerolineas Argentinas and Starblue Airlines when it launches.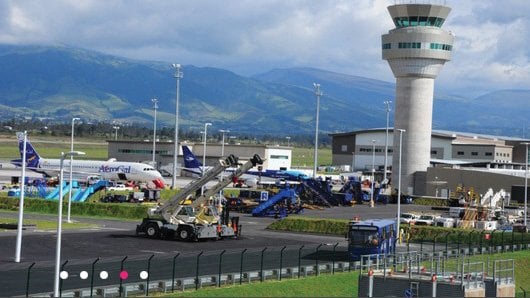 ---
Avianca Ecuador Class Information
Economy Class
Economy class passengers can choose their fare purchase, which ranges with baggage allowances, changes to tickets, LifeMiles collection and seat selection.
Passengers also get access to the inflight entertainment, as well as food and drink (depending on the duration and time of your flight)
Premium Economy
There is currently no premium economy fare on Avianca Ecuador flights.
Business Class
Passengers with an economy class ticket can enter an auction for a chance to upgrade to the executive or business class. The business class includes more baggage, priority boarding, a VIP lounge and premium food and drink service on board.
First Class
There is no first class within the Avianca Ecuador cabin. Upgrade to Executive class for a premium flying experience.
---
Avianca Ecuador Fleet
Avianca Ecuador's fleet currently consists of only Airbus models, although historically it has had different Boeing aircraft. The following is correct as of August 2022.
| AIRCRAFT | IN SERVICE | ORDERS |
| --- | --- | --- |
| Airbus A319-100 | 1 | / |
| Airbus A320-200 | 6 | / |
---
Alternative Airlines to Avianca Ecuador
Please click on the logos below to find out more about airlines that fly similar routes to Avianca Ecuador:
---
Avianca Ecuador In-Flight Entertainment
Avianca provides its passengers with onboard entertainment, from movies and TV shows to games and music. Keep up with the latest movies on-board with Avianca. Passengers can also enjoy the in-flight magazine, or bring their reading material with them onto the plane.
---
Avianca Ecuador Food
The airline provides food on flights which are long enough, with some meals including a starter, hot main and dessert. There are also additional snacks served on flights which are longer than 5 hours.
Special Meals
Passengers who require a special meal for dietary, medical or religious reasons can request one by contacting the airline in advance. The meals available are baby meal, child's meal, low-calorie meal, low-fat meal, low sodium meal, diabetic meal, gluten-free meal, lactose-free meal, bland meal, seafood meal, raw vegetable meal, Indian meal, Kosher meal, Muslim meal, a vegetarian meal, Asian vegetarian, Oriental vegetarian, vegetarian Jain, Lacto-Ovo vegetarian and fruit platter.
---
Avianca Ecuador WiFi
On some flight services with Avianca, there will be in-flight WiFi available. There are different plans available to purchase, which vary in price depending on the duration and what the plan includes. For example, there is a social media and email plan, a browsing plan and an all-inclusive plan.
---
Avianca Ecuador Frequent Flyer
The frequent-flyer program is called LifeMiles, where members can earn and redeem miles. Passengers can earn miles with each qualifying flight they purchase on Avianca, Iberia or Aeromexico, and when enough have been collected, they can be exchanged for rewards. There are currently three grades of this membership; Silver, Gold and Diamond.
---
Avianca Ecuador is part of the leading global network, Sky Alliance. It currently has 27 member airlines and was founded in 1997 with the five founding airlines: Scandinavian Airlines, Thai Airways International, Air Canada, Lufthansa and United Airlines. The alliance has grown considerably now to airlines which fly to 1,321 airports and 193 countries, carrying 637 million passengers every year.
---
Avianca Ecuador Special Services
Passengers should contact the airline as soon as possible after booking to inform them of any special assistance that may be required. For tips and guidance about special services on planes and at airports, see our guide here.
Flying with Pets
Avianca Ecuador accepts pets as a cabin or checked luggage, for a fee and providing they meet the national standards. Contact the airline directly for more information or to request this service, or look at our tips and guide on travelling with animals.
Unaccompanied minors
Avianca Ecuador provides a paid unaccompanied minor service for most routes. This must be arranged well in advance of flying, with the airline directly.
---
FAQ's
Who owns Aerogal Avianca Ecuador?
The parent groups of Aerogal Avianca Ecuador include Avianca, Avianca Group, Avianca El Salvador and Synergy Group. Aerogal Avianca Ecuador was renamed as Aviance Ecuador when the integration began with Avianca Holdings S.A. in October 2010. The rebrand opened the opportunity to increase sales and fleet size.
Can I buy Avianca Ecuador flights on finance?
Yes! When you book Avianca Ecuador flight tickets with Alternative Airlines you can spread the cost of your flight fare over time. We have a range of payment plan providers on our site that let you split the cost of your flight in instalments. Payment plan providers include, Tendopay, Klarna, Tabby, Clearpay, and Afterpay. Please note that the payment provider available to you will depend on the country you reside in.