Search & Book Aerogal Avianca Ecuador Flights
Book
Aerogal Avianca Ecuador

Flights

Book Direct with Avianca Ecuador and Alternative Airlines

Avianca Ecuador, formerly known as AeroGal, is an airline based in Quito, Ecuador.

The airline operates passenger and cargo flights within Ecuador, between the mainland and the Galápagos Islands, and between Ecuador and Peru (on behalf of Avianca Peru) and Colombia (on behalf of Avianca). It is one of the seven nationally branded airlines (Avianca Peru, Avianca Honduras, etc.) in the Avianca Holdings group of Latin American airlines.At the present time they have 1 daily flight from Quito to Baltra, in addition to 6 weekly flights from Quito and 5 from Guayaquil to San Cristobal.

This is a trip of a life time, and Avianca Ecuador (Aerogal) provides an excellent service for its passengers.
---
Route Map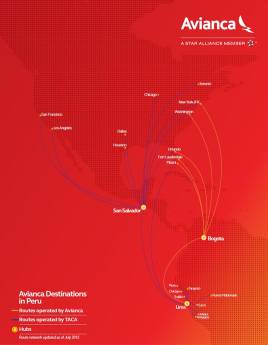 Popular Routes
Quito

New York
New York

Guayaquil
Quito

Miami
Guayaquil

Los Angeles
Guayaquil

Galapagos Islands

---
The Fleet
---
Mariscal Sucre International Airport
HUB Airport
Mariscal Sucre International Airport is the busiest airport in Ecuador and one of the busiest airports in South America..Airlines that fly from and to Mariscal Sucre International Airport include CopaAirlnes,Delta Airlines, Iberia ,KLM, United Airlines and Aerolineas.


Star Alliance is one of the leading global airline network, which has 27 member airlines. Star Alliance was founded in 1997 with the five founding airlines: Scandinavian Airlines, Thai Airways International, Air Canada, Lufthansa and United Airlines. The alliance has grown considerably now to airlines which fly to 1,321 airports and 193 countries, carrying 637 million passengers every year!
---



---
Book Flights with Avianca Ecuador
Make an Avianca Ecuador reservation and find some amazing deals with discounted Avianca Ecuador tickets at Alternative Airlines. Avianca Ecuador flies to many destinations worldwide, offering a cost effective and safe service to all its passengers. Let Alternative Airlines help find you cheap Avianca Ecuador tickets and make international and domestic flight reservations on Avianca Ecuador today.
Browse the most popular Avianca Ecuador flight routes to cities worldwide. Alternative Airlines can help you make reservations on Avianca Ecuador for international flights to lots of destinations. Use the following list of routes to help you plan your next flight. Book Avianca Ecuador flights on Alternative Airlines to save big! Alternative Airlines is an online travel agency, specialising in booking lesser known airlines and remote destinations.
Aerogal Merges with Avianca Aerogal was based in Quito and operated domestic flights in Ecuador. It was also the main provider of flights to the Galapagos Islands. Internationally Aerogal flew to Medellin and Bogota in neighbouring Colombia and from December '08 to Miami in the USA. In 2009, AeroGal merged with the Colombian airline Avianca, and with VIP Ecuador in 2012. Avianca currently owns 81% of the airline. Despite the purchase by Avianca, AeroGal continued using its own identity until 2014, and will continue to operate in Ecuador. In 2014 the airline was renamed Avianca Ecuador. Aerogal Flights to Galapagos Aerogal's main function was to connect the capital of Ecuador with the fascinating islands of the Galapagos (airports: Baltra and San Crisobal). However, it also had developed a network of domestic destinations: flights to Guayaquil, Quito, Manta, and flights to Cuenca. International services operated to Medellín and Bogotá, Colombia, from Guayaquil and Quito and from December 2008 operated a Quito-Guayaquil- Miami flight on Sunday and Monday. The new flights were timed so as to allow excellent connections in Miami for passengers travelling from London and other European airports. In fact the Miami connection offered the shortest total journey time from London to Guayaquil of 15h 30 mins (December 2008). Going forward Aerogal believed it could remain the best Ecuadorian carrier by offering the highest levels of customer service and being recognised as an innovative, go ahead airline. Aerogal operated an all Boeing fleet of 15 aircraft: a 727-200, twelve 737's and two 757-200. One of the 757 aircraft also operated on the Miami service. The airline of Ecuador and the Galapagos Islands. The Galapagos Islands are a must-see in any one travellers lifetime and Avianca Ecuador (formally known as Aerogal) is a great way to get there. Avianca Ecuador (Aerogal) is also an active supporter of the World Wildlife Fund's Marine educational programme in the Galapagos, which creates awareness and promotes ecologically sound tourism. Aerogal was previously awarded the prestigious Sustainable Tourism Award by the IGTOA. At the present time they have 1 daily flight from Quito to Baltra, in addition to 6 weekly flights from Quito and 5 from Guayaquil to San Cristobal. This is a trip of a life time, and Avianca Ecuador (Aerogal) provides an excellent service for its passengers. This is one company that definitely deserves to be referred to as a responsible airline and we applaud their fantastic work in the conservation and protection of a group of islands that are becoming ever more vulnerable and fragile. The Galapagos are worth protection and thank you Aerogal for doing your bit! START: Modules Anywhere END: Modules Anywhere The Best of Both Aerogal and Avianca Aerogal has served passengers flying to, from and within the Ecuadorean market since 1986 and in 2014, it was announced that Aerogal would merge with Avianca, an important, fast growing airline grouping which holds the umbrella brand for seven carriers including Avianca of Colombia, TACA of Central America and Avianca Brazil. Aerogal's network is now operated under the brand name of Avianca, using aircraft branded in Avianca livery but maintains its own identity within the group as Avianca Ecuador. This web site is operated by Alternative Airlines, which is part of the Flight Directors Group based in the UK. Flight Directors was proud to work closely with AeroGal prior to the takeover and represented Avianca for nearly two decades in the UK market. As experts in booking flights on the airlines of Latin America we are pleased to able to recommend flying with AeroGal, particularly now it is strengthen by its association with Avianca, which is building into one of the world's most respected airlines. We continue to get good feedback from our passengers using Avianca Ecuador, who have sucessfully combined the professionalism of Avianca with the friendliness and customer care values always evident in the smaller airline, Aerogal. Bookings can still be made here on the network of services once operated by Aerogal. Where some of the routes have not been taken over by Avianca, we offer an alternative on a range of other carriers. Avianca is Latin America's longest established airline, and your flight is underpinned by decades of experience. New aircraft for AeroGal/Avianca Ecuador In May 2015 Avianca ordered 100 Airbus A320neo aircraft due for delivery in 2019. Part of this order is destined to renew the fleet of Aerogal/Avianca Ecuador. The order is the largest single order ever made in the history of Latin America aviation and it is clear that Avianca Ecuador is destined to be a major part of the success story being developed by the Avianca family of airlines
READ MORE