Search & Buy Boliviana De Aviación (BoA) Flights
Airlines will always try to sit children with their parents (subject to check-in)
Some airlines will allow travel for unaccompanied minors. Please email us to check.
The fare is based on the child's age on the date of travel.
More detailed information can be found here Traveling with children
Most airlines will let infants travel with their parent(s) for free. However some airlines will charge up to 10% of the adult ticket price. Click on 'Price Breakdown' to find out more.
If you are pregnant, but due before the flight departure date, please contact us once your baby is born and has a name. We can then add him/her to your ticket.
Infants will not be given a seat. The airlines expect parents to travel with them on their lap.
Airlines regard infants as being under 24 months old.
The fare is based on the child's age on the date of travel.
More detailed information can be found here Traveling with children
Buy
Boliviana De Aviación (BoA)

Flights
Boliviana de Aviación Reservations with Alternative Airlines
Make a Boliviana de Aviación Booking and Find Some Amazing Deals
---
About Boliviana de Aviación
Boliviana de Aviación (BoA), often referred to as Boliviana Airlines, is the flag carrier of Bolivia and is wholly owned by the country's government. This airline flies to many destinations including Buenos Aires, Salta, Cobija, Cochabamba, La Paz, Santa Cruz de la Sierra, Sucre, Tarija, Trinidad, Uyuni, Sao Paulo, Santiago, Medellin, Havana, Quito, Asuncion, Lima, Madrid, Miami and Caracas.
BoA is based at Jorge Wilstermann International Airport, from where it serves a network of 12 destinations. International flights include long-haul services to Miami and Madrid operate out of Viru Viru International Airport. The airline has a codeshare agreement with Iberia and their fleet, which is currently undergoing an expansion phase, currently consists of Boeing 737, Boeing 767 and Bombardier CRJ200.
---
Boliviana de Aviación Baggage
Travellers flying to Madrid and Miami are allowed to bring hand luggage with maximum weight of 10 kg and on domestic flights. To destinations such as Argentina and Brasil, hand luggage should not exceed 7 kg. Luggage allowance is limited to 32 kg for checked baggage.

In November 2014, the airline became a full member of the IATA and was awarded its first IOSA certificate. Also, in May 2014, the airline was awarded the Bolivian company of the year.

The on board experience on short and long haul destinations includes a free snack and beverage on national destinations and full menu on international flights with

breakfast, hot lunch and dinner food

for Economy class. Business Class passengers can choose from a personalised menu and service and special menu

.
---
Boliviana de Aviación Route Map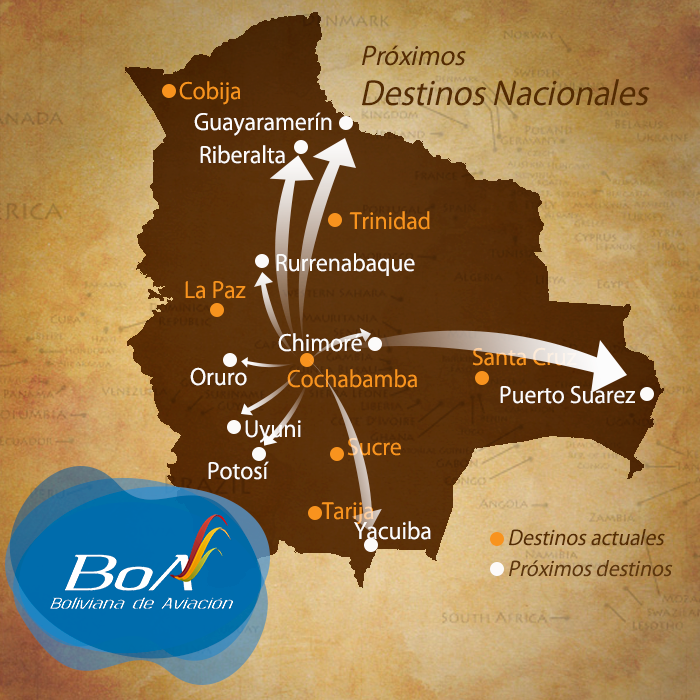 ---
Boliviana de Aviación Popular Routes
Cochabamba

Puerto Suarez
Cochabamba

Oruro
Santa Cruz

Sao Paolo
Buenos Aires

La Paz
Santa Cruz

Buenos Aires
Cochabamba

Trinidad
---
Boliviana de Aviación Fleet
The Boliviana de Aviación fleet includes Boeing 737-300, Boeing 767-300 ER, Boeing 737-700, Bombardier CRJ200 and Boeing 737-800 aircraft.
---
Boliviana de Aviación Hub Airport
Jorge Wilstermann International Airport
Jorge Wilstermann International Airport is an airport serving Cochabamba, a city in the Cochabamba Department of Bolivia. The facility is named in honour of Jorge Wilstermann, a respected Bolivian commercial aviator.
Airlines that fly from and to Jorge Wilstermann International Airport include Ecojet and Amaszonas.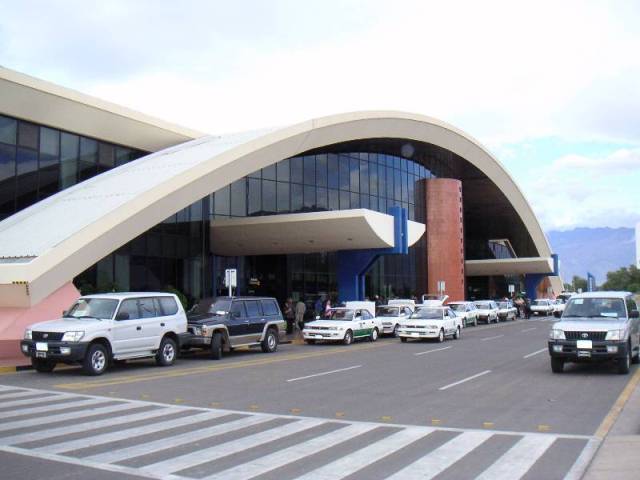 ---
Alternative Airlines to Boliviana de Aviación
---
Boliviana de Aviación News
15th January 2018
Bolivianan Airline to build maintenance centre
A modern aircraft maintenance centre will be built in Cochabamba, which will cost around 15 million dollars, as announced today by Ronald Casso, general manager of the state airline. It is hope the project will be finished and up and running in 2019. Currently, aircraft are having to be sent to central and northern American countries for maintenance procedures, which is a very timely and costly process. Since commencing operations in 2009, the airline has quintupled its net worth, with a market monopoly in Bolivia. As well as flying to 9 unique destinations it covers international routes too.
December 2017
Bolivian Airline announced it had cancelled flights Buenos Aires
The airline announced it had cancelled flights to the Argentine city of Buenos Aires due to a national strike in that country. BoA, whose commitment is to the safety of its passengers, is making arrangements to replenish the affected flights for tomorrow, Tuesday, December 19.
May 2017
BoA signed a strategic cooperation agreement with Alas Uruguay
BoA signed a strategic cooperation agreement with Alas Uruguay which involves the formation of a loose 'alliance' involving the sale of tickets and the pooling of resources especially spare parts. BoA will also assist the struggling Uruguayan start-up to assess its longterm viability prospects. Concerns about Alas Uruguay's longterm prospects have also been raised given the imminent launch of Amaszonas del Uruguay (5Q, Montevideo), which is backed by another prominent Bolivian operator, Amaszonas (Z8, La Paz El Alto).
March 2017
Bolivian Airline announced it will spend $15 million to increase its narrow and wide-body fleets
Boliviana announced it will spend $15 million to increase its narrow and wide-body fleets ahead of plans to expand its South American and Caribbean footprint. BoA will acquire two CRJ-200s, one B737-300, one B737-800, and two B767-300(ER)s.
The aircraft will be mainly used on domestic as well as regional flights including Salta and Buenos Aires Ezeiza in Argentina, and São Paulo Guarulhos in Brazil. BoA currently operates eleven B737-300s, four B737-700s, two B737-800s, three B767-300(ER)s, and two CRJ200(LR)s on flights through Bolivia as well as to Argentina, Peru (Iquique), Brazil, Spain, and the United States.
BoA plans to add service to Lima Int'l and Cancún in Mexico. In addition, it plans to begin, in mid-2017, the process of securing the requisite international permits needed to consolidate a project that began in 2016 - the launch of regular flights to Punta Cana (Dominican Republic) and Havana Int'l (Cuba).
Bolivana Airlines is one of the fastest-growing and largest airlines in Bolivia and has been in operation for 5 years carrying more than 6 million passengers. In October 2015, they announced that the airline's nascent subsidiary BoA Regional will launch domestic operations following the delivery of its maiden aircraft. BoA Regional is planning on operating four 'fifty-seater' aircraft.