Ecojet Tickets and Reservations with Alternative Airlines
Make a Booking and Find Some Amazing Deals
---
About
Ecojet (Línea Aérea Ecojet S.A) is a Bolivian Airline which provides scheduled passenger flights. The airline is based at Jorge Wilstermann International Airport (CBB), Cochabamba and flies solely domestic flights around Bolivia.
The airline was founded in 2013 and began services with two 93 seater Avro RJ85 aircraft and just a single flight from Cochabamba and Sucre. By 2014, the airline increased its fleet and destinations significantly, offering flights to most major areas of Bolivia.
Today, the airline flies to many destinations within Bolivia and is one of the top choices for flying around the country.
---
Destinations
Ecojet offers flights to several destinations within Bolivia. This includes Cobja, Cochabamba, Guayaramerin, La Paz, Riberalta, Santa Cruz, Sucre, Tarija and Trinidad.
---
Baggage
Carry-On Baggage
Passengers are allowed one piece of free carry-on baggage that must not exceed 5 kg in weight or 35 cm (13.7") x 30 cm (11.8") x 25 cm (9.8").
Checked Baggage
Adult passengers one item of checked baggage with a maximum weight of 15kg. This baggage must fit within the dimensions of 95 x 75 43 cm (h x w x d).
Child passengers (aged 2—12) one item of checked baggage with a maximum weight of 10kg. This baggage must fit within the dimensions of 95 x 75 43 cm (h x w x d).
Any baggage that exceeds these weight and size limitations will be subject to an excess baggage charge.
Additional baggage is available to pre-purchase with Ecojet. Please contact us for more information.
---
Economy Class
The airline is dedicated to providing value for money, and only offers standard economy seating. The dedicated and hard-working cabin crew will ensure you are comfortable for duration of your flight. On-board snacks are available to purchase. Ecojet has modern fast check-in equipment, which is installed at the airports that it flies to with the highest passenger traffic.
Seats
The aircraft has a maximum of 144 passengers. Enjoy padded seating in a 3 x 3 formation.
---
In-Flight Entertainment
Due to short flight times, Ecojet doesn't have an in-flight entertainment system. However, passengers are given magazines and other reading materials, subject to availability.
---
Food
Passengers can order food and drink once in-flight, with a choice of light snacks and hot and cold beverages. Refreshments must be paid for during the flight and cannot be pre-ordered
---
Route Map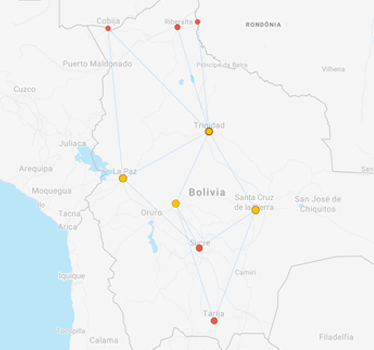 If you would like to learn more about flying domestically within Bolivia, visit our 'Domestic Bolivian Flights' page.
---
Hub Airport
Jorge Wilstermann International Airport
Jorge Wilstermann International Airport (CBB) is a high elevation international airport serving Cochabamba, the capital of the Cochabamba Department of Bolivia. As well as EcoJet, Amaszonas and Boliviana de Aviación use the airport as a base.
Ecojet has used the airport as its hub since it launched in 2013, with its first-ever flight departing from Jorge Wilstermann International and arriving at Alcantarí International Airport (SRE).
---
Alternative Airlines to Ecojet
Please click these logos below to discover airlines which fly similar routes to Ecotjet:
---
Book Ecojet Flights in English
Make an Ecojet reservation in English when you buy Ecojet flights at Alternative Airlines. We offer a quick, easy and secure flight booking experience which is completely in English from start to finish. Booking flights with non-English airlines can lead to misunderstandings between the passengers and the airline. Book Ecojet flights in English at Alternative Airlines and with full confidence.