Search & Buy TACA Airlines Flights
Let's fly!

Select your payment method to view total prices including any payment fees:
Flying with children
Airlines will always try to sit children with their parents (subject to check-in)
Some airlines will allow travel for unaccompanied minors. Please email us to check.
More detailed information can be found here Travelling with children

Buy
TACA Airlines

Flights

TACA Airlines Reservations with Alternative Airlines
Flights to and from El Salvador
Make a TACA Booking and Find Some Amazing Deals
---
About Taca Airlines
Taca Airlines merged with Avianca in 2013. Now, all TACA Airlines flights are operated under the Avianca name, as Avianca El Salvador.
TACA Airlines, sometimes referred to as TACA Airlines International, was the name for Avianca El Salvador, part of the Avianca family. It is one of Avianca's seven nationally branded airlines, the brand of which has been in operation for 75 years. TACA owned and operated five other airlines in Central America, and its name was originally an acronym meaning Transportes Aéreos Centroamericanos (Central American Air Transport), but this was changed to Transportes Aéreos del Continente Americano(Air Transport of the American Continent), reflecting its expansion to North, Central, South America and the Caribbean. TACA merged into Avianca in 2013, however, before this, it was considered the second oldest continuously operating airline brand in Central America behind Cubana de Aviación. The merger between TACA and Avianca started in 2009 and for four years, the airline operated as AviancaTACA Holdings, until in 2013 when the merger completed and the airline began operating as Avianca. Now as Avianca El Salvador, TACA airlines now fly to 27 destinations across North, Central and South America including but not limited to: Belize City, Bogota, Cali, Medellin, San Jose, Havana, Guayaquil, Quito, Guatemala City, Tegucigalpa, Mexico City, Lima, Boston, Dallas, Houston, Los Angeles, Miami and San Francisco.
---
TACA Subsidiaries
TACA was made up of seven different airlines that all operated from Central America and South America. These airlines were TACA International Airlines, Aviateca, Regional, Lacsa, Isleńa Airlines, TACA Peru and TACA Regional.
---
Alternative Airlines to TACA Airlines
Please click on the logos below to find out more about airlines that fly similar routes to TACA Airlines:
---
TACA Airlines Hub Airport
Monseñor Óscar Arnulfo Romero International Airport
TACA airlines was based at Monseñor Óscar Arnulfo Romero International Airport. TACA operated the airport's first ever flight with a service from El Salvador to Guatemala City. Monseñor Óscar Arnulfo Romero International Airport is one of the busiest airports in all of South America and has been in an expansion period since 2014. When the airport has been fully expanded in 2032, it's estimated to be able to carry 6.6million passengers per year. Since TACA Airlines merged with Avianca and became Avianca El Salvador, the airline has continued to use Monseńor Óscar Arnulfo Romero International Airport as its hub airport.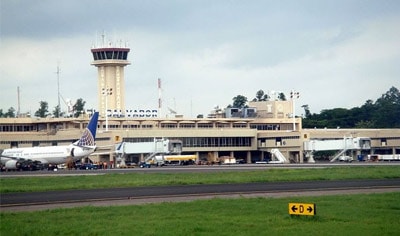 Credit: Mauricio G. Campos
---
TACA Airlines Destinations
Here are the TACA Airlines destinations, which are now operated by Avianca El Salvador:
| | | | | | | |
| --- | --- | --- | --- | --- | --- | --- |
| | | | Belize | | Belize City | |
| | | | Colombia | | Bogota | |
| | | | | | Cali | |
| | | | | | Medellin | |
| | | | Costa Rica | | San Jose | |
| | | | Cuba | | Havana | |
| | | | Ecuador | | Guayaquil | |
| | | | | | Quito | |
| | | | El Salvador | | San Salvador | |
| | | | Guatemala | | Guatemala City | |
| | | | Honduras | | Roatan | |
| | | | | | San Pedro Sula | |
| | | | | | Tegucigalpa | |
| | | | Mexico | | Cancun | |
| | | | | | Mexico City | |
| | | | Nicaragua | | Managua | |
| | | | Panama | | Panama City | |
| | | | Peru | | Lima | |
| | | | United States | | Boston | |
| | | | | | Chicago | |
| | | | | | Dallas | |
| | | | | | Houston | |
| | | | | | Los Angeles | |
| | | | | | Miami | |
| | | | | | Newark | |
| | | | | | New York City | |
| | | | | | Orlando | |
| | | | | | San Francisco | |
| | | | | | Washington, D.C. | |
---
About Avianca (formely TACA Airlines)
Avianca has been the national carrier of Colombia since 1919 and is part of the Synergy Group that incorporates Ocean Air (Brazil) and VIP (Ecuador). Avianca flies to many destinations in Colombia including: Armenia, Barrancabermeja, Barranquilla, Bogota, Bucaramanga, Cali, Cartagena, Cucuta, Florencia, Ibague, Leiticia, Manizales, Medellin, Monteria, Neiva, Pasto, Pereira, Popayan, Riohacha, San Andres, Santa Marta, Tumaco, Valledupar, Villavicencio and Yopal.
---
Avianca Subsidiaries
---
TACA Airlines Check-In
TACA Airlines, now Avianca, offers both online and airport check-in. For full check-in information, visit the check-in information found on the Avianca page.
---
TACA Airlines Baggage
For full information on TACA Airlines Baggage, please visit the baggage section on the Avianca page.
---
TACA Airlines News
31st May 2018
Avianca launches two routes to Chicago
You can now make Avianca reservations to and from Chicago. As a Latin American airline, this move may have been influenced by the growing hispanic community in the region. Avianca plans to commence nonstop routes this autumn from Chicago's O'Hare International Airport to two Latin American destinations: Bogota, Colombia, and Guatemala City, Guatemala. These will be the 114th and 15th routes added to O'Hare in 2018. The flights from Bogotá to Chihcago will run four times a week and will be Chigos first non-stop connection to the Colombian capital.
2nd May 2018
Avianca launch two new routes to the USA
Avianca will fly two new routes this summer, flying to both Orlando, Florida, and Boston, MA. The Colombian carrier will begin a service between San Jose, Costa Rica and Orlando starting August 2nd. The flight will run three times a week, both ways, with a stopover in Guatemala. Additionally, the airline will also fly between El Salvador and Boston four times a week, this service will start from August 17th.
17th April 2018
Avianca airlines to launch flights to Germany
Avianca, the flag carrier of Colombia, has announced that it will be landing in Germany on November 17. The company will operate five times per week from Munich to Bogota, Colombia's capital city, and it will offer the opportunity to connect the Bavarian city with more than 20 destinations in Colombia and more than 60 in Latin America. "In Avianca, we want to connect travellers from Europe with Latin America and offer them an exceptional experience in terms of service, connectivity and comfort. We will offer our customers more than 100 destinations in The Americas and the possibility to connect with 192 countries in the world through our Star Alliance membership" said Hernan Rincon, Avianca CEO.

"Colombia is improving its connections with the world every day. The new Avianca's route Munich-Bogota will be the first direct flight which connects Bogota, a strategic capital city for business and tourism in Latin America, with the south of Germany. Certainly, it will increase the opportunities for German travellers to visit Colombia and also will ease the connections for people from neighbouring countries such as Austria, Switzerland and Czech Republic" said Felipe Jaramillo ProColombia president
---
Book TACA Flights with Alternative Airlines
Alternative Airlines is an Online Travel Agency bonded by the International Air Transport Association (IATA). We specialise in finding the best available fares on the widest range of airlines and making them available to you online, with prices in the currency of your choice.
Alternative Airlines handles all your travel arrangements and payments, complete with ticketed confirmation. We do not direct you to other websites or service providers.
We help you through the process. This is what makes us Alternative Airlines.
Browse for flights, find some amazing deals, make a reservation and pay in the currency of your choice today with Alternative Airlines.
Let Alternative Airlines help find you the best prices and make international and domestic flight reservations with us today.
Join the Alternative Airlines Members Club and get £100.00 back on your 5th booking with Alternative Airlines. You will have insight to many benefits and exclusive deals on over 650 airlines. Click on the Members section on the Alternative Airlines website for more information and join today.
We are open every day from 8am until 8pm (UK local time).
Book TACA Routes
Enjoy Great Fares with Avianca TACA