Avianca Argentina Reservations with Alternative Airlines
Make an Avianca Argentina Booking and Find Some Amazing Deals
---
About
Avianca Argentina is an Argentinian airline that operates domestic flights throughout Argentina. Although the airline operates commercially under Avianca through a license agreement, the airline is not actually part of the Avianca Holdings group and is an independent airline. The airline is primarily based at Aeroparque Jorge Newbery (AEP) from which it flies a number of routes, including Mar del Plata, Rosario and Santa Fe. Although it currently only operates domestic services, the airline plans to fly internationally in the next couple of years.
Avianca's fleet consists of a number of ATR 72-600 aircraft. The aircraft interior is decorated with a modern design and includes ergonomic seats and an LED-illuminated passenger cabin. The technology within the cockpit is state of the art, incorporating the latest systems with MPC equipment which brings the highest level of flight safety and operational capacity. Passengers are given a complimentary snack and drink included (with gluten-free options) with the price of the ticket, although in-flight services do vary depending on which route you're flying.
---
Baggage
Carry-on Baggage
Passengers are entitled to one item of free carry-on baggage per person. The baggage must not exceed the maximum weight of 6kg and must fit within the dimensions of 40cm x27cm x 30cm. If you bring carry-on baggage that doesn't comply with the carry-on baggage rules, your item of baggage will have to be checked.
Checked Baggage
Passengers are entitled to one item of free checked baggage per person. The baggage must not exceed the maximum weight of 15 kg.
Excess Baggage
Excess baggage is available to purchase for a fee. Passengers can purchase up to two additional pieces of baggage. These are split into three categories — standard baggage (15kg), heavy baggage (23kg) and extra heavyweight baggage (32kg).
Prohibited Items
The airline identifies the following items as prohibited items. They can't be carried in your carry-on or checked baggage:
Weapons or replicas of weapons
Pointy or sharp objects
Explosive or flammable substances
Chemical and toxic substances
---
Check-In Information
Online Check-In
Passengers can check in online from the Avianca website. This service is open 48 hours before your flight
Airport Check-In
Passengers who have not checked in online must check in at the airport. Please ensure you arrive with plenty of time to enable enough time to check in, as the check-in counters will close 1 hour before the scheduled flight departure.
---
Destinations
Current Destinations
Buenos Aires, Argentina
Mar del Plata, Argentina
Reconquista, Argentina
Rosario, Argentina
Santa Fe, Argentina
Future Destinations
Cordoba, Argentina
Mendoza, Argentina
Salta, Argentina
Resistencia, Argentina
Villa Maria, Argentina
Sunchales, Argentina
Tandil, Argentina
Concordia, Argentina
---
Economy Class
Economy Class is Avianca Argentina's only cabin class. The airline offers a stripped-back and simple service that keeps passengers comfortable and relaxed on domestic flights within Argentina.
Economy Class Facilities
Passengers have the option to purchase snacks and drinks in-flight, which are served by the airline's expertly trained cabin crew.
There's no in-flight entertainment system onboard the flight. However, the airline may provide passengers with a copy of its in-flight magazine.
Economy Class Seats
Seats are set out in a 2 x 2 configuration. There are a total of 68 seats in each aircraft. Seats are standard with 17 inches of width and 30 inches of pitch.
---
Special Assistance
Wheelchair Assistance
Avianca Argentina has a priority team who serves passengers who use wheelchairs. You must inform the airline that you need wheelchair assistance at the time of booking your ticket in order for the airline to guarantee that the required assistance will be available for you. The airline has the capacity for one passenger wheelchair per person. Wheelchairs with motors and dry, gel, wet or spillable batteries will have to be analysed by the airline staff in order to determine that they will be able to transport the wheelchair and that it complies with the airlines' safety regulations.
Hearing and Visual Assistance
Airline staff are on hand to assist those who need hearing and visual assistance from the moment you want to check in to after you land.
Cognitive and Developmental Disabilities
The airline has a team who are fully trained to assist those with cognitive and developmental disabilities. The team will help to board and disembark these passengers, as well as help with connections if the passenger is not flying a direct route.
---
Alternative Airlines
Please click on the logos below to find out more about airlines that fly similar routes:
---
Avianca Argentina Fleet
Avianca Argentina's current fleet consists of the ATR 72-600 aircraft which has a capacity of handling 70 passengers. Avianca Argentina has another 10 orders of the ATR 72-600 aircraft.
---
Frequent Flyer Program
LifeMiles
The frequent flyer programme of Avianca Argentina is called LifeMiles. Earn points when you fly with Avianca Argentina or any of the Star Alliance member airlines. With LifeMiles you can turn your points into trips, hotels and more. There are 4 tiers within Avianca Argentina's frequent flyer programme: Red Plus, Silver, Gold and Diamond.
---
Hub Airport
Aeroparque Jorge Newbery
Aeroparque Jorge Newbery (AEP) is an international airport based in the Palermo neighbourhood, Buenos Aires, Argentina. It is the main hub for domestic flights from Buenos Aires but also operates flights to Uruguay, Bolivia, Brazil, Chile and Paraguay. The airport has been named Argentina's busiest airport of the year, with 2017 seeing the airport handle almost 13.8 million passengers. This airport is also the hub for Norwegian Air Argentina, other airlines to fly to/from this airport include LATAM Brazil, LATAM Chile and Paranair.
---
Route Map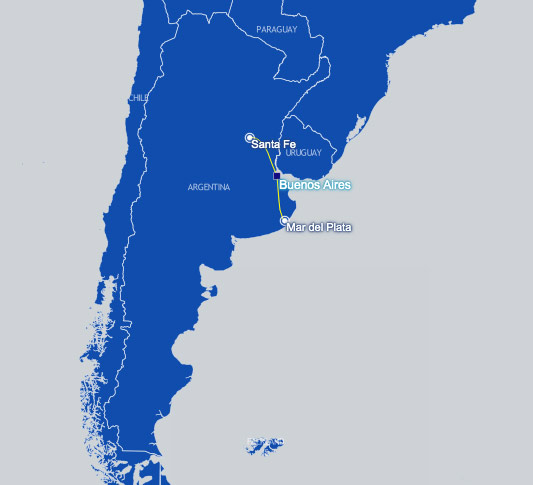 ---
Avianca Argentina FAQs
Why should I book Avianca Argentina flights with Alternative Airlines?
There are a number of reasons as to why you should Avianca Argentina flights with Alternative Airlines. When you book flights through Alternative Airlines you can apply filters to your flight search to narrow down and find the perfect flight for you. You can then pay for your Avianca Argentina flight ticket using any of the 40+ payment options including Buy Now Pay Later payment methods that let you spread the cost of your ticket up and pay later over time, as well as cryptocurrencies (so you can pay for flights with Bitcoin and Ethereum).
Why does Avianca Argentina fly to?
Aviana Argentina flies to a number of destinations across Argentina including Buenos Aires, Mar del Plata, Reconquista, Rosario and Santa Fe. Avianca Argentina also flies to Punta Del Este in Uruguay.