AirZena Reservations with Alternative Airlines
Make an Airzena Airlines Booking and Find Some Amazing Deals
AirZena has rebranded as Georgian Airways. Visit the Georgian Airways page to search for flights on the airline.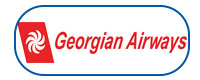 ---
About
AirZena Georgian was the previous name for Georgian Airways, the privately-owned flag carrier of Georgia. The airline is based in Tsibili, connecting this capital city with Europe and Asia. As Airzena, the airline offered flights to Amsterdam, Athens, Frankfurt, Kiev, Moscow, Paris, Prague, Tel Aviv and Vienna, all from Tsibilli.
The airline was founded in 1994, initially offering only charter flights to several destinations across Europe, the Middle East and other parts of Asia. In 1999, the airline merged with Air Georgia ;and became one airline and the national carrier of Georgia. It was officially known as Airzena Georgian Airlines, however, many referred to it simply as Airzena.
The airline offered both Economy Class and Business Class on all flights, with 96 Economy seats and 16 Business seats available on each flight.
In 2004, the airline rebranded completely, dropping the Airzena name and changing to Georgian Airways, which is what it's still known as today.
---
Fleet
At the time that rebranded, Airzena's fleet consisted of three Boeing 737-500 aircraft and two AN-2 aircraft.
---
Baggage
Carry-on Baggage
As Airzena, passengers in Economy Class were permitted one item of baggage weighing a maximum of 8 kg. Passengers in Business Class were permitted two pieces of carry-on baggage weighing 8kg each.
Checked Baggage
Passengers were allowed a maximum of 20 kg in Economy Class and 20 kg in Business Class.
---
Hub Airport
Tbilisi International Airport
Formerly known as Novo Alexeyevka, Tbilisi International Airport is the main international airport in Georgia. The airport is located 17km southeast of the nation's capital and served by airlines such as Turkish Airlines, Aeroflot, Air Astana, Qatar and Saratov Airlines before they ceased flying operations.