Please be aware: we don't accept payments through Stripe or Klarna on flights departing from and/or arriving at destinations within Cuba, Iran, North Korea, Syria or the Crimea Region.
Iran Air Reservations with Alternative Airlines
Make an Iran Air Booking and Find Some Amazing Deals
---
About
Iran Air is the national carrier of Iran and has been the pride of the nation since it was first established in 1946. Now 100% owned by the Iranian Government, the airline was and remains the main Iranian owned international carrier bring passengers into Tehran's modern Imam Khomeini International Airport.
The airline, which is based in the capital city, Tehran has operating bases at both of Tehran's busy airports. Iran Air's International flights depart from the newer of the two airports, the Tehran Imam Khomeini International Airport whilst domestic services use the older Mehrabad Airport. which is also the home of the Headquarters building of IranAir.
Unfortunately, Alternative Airlines is not able to ticket Iran Air. Please see below for airlines that fly similar routes.
---
Alternative Airlines to Iran Air
Please click on the logos below to find airlines that fly similar routes to Iran Air:
---
Fleet
Iran Air's current fleet includes Airbus A300B2-200, Airbus A300B4-200, Airbus A310-300, Airbus A310-300, Airbus A320-200, Airbus A321-200, Airbus A330-200, ATR 72-600 and Fokker 100 aircraft.
Iran Air leases a number of its aircraft from the Ukranian charter airline, Bukovyna Airlines.
---
Destinations
Domestic Destinations
| CITY | AIRPORT | IATA |
| --- | --- | --- |
| Abadan | Abadan International Airport | ABD |
| Ahwaz | Ahvaz International Airport | AWZ |
| Arak | Arak Airport | AJK |
| Ardabil | Ardabil Airport | ADU |
| Bandar Abbas | Bandar Abbas International Airport | BND |
| Bandar Lengeh | Bandar Lengeh Airport | BDH |
| Birjand | Birjand International Airport | XBJ |
| Bushehr | Bushehr Airport | BUZ |
| Chabahar | Chabahar Konarak Airport | ZBR |
| Dezful | Dezful Airport | DEF |
| Gorgan | Gorgan Airport | GBT |
| Hamadan | Hamadan International Airport | HDM |
| Ilam | Ilam Airport | IIL |
| Iranshahr | Iranshahr Airport | IHR |
| Isfahan | Isfahan International Airport | IFN |
| Jahrom | Jahrom Airport | JAR |
| Kerman | Ayatollah Hashemi Rafsanjani Airport | KER |
| Kermanshah | Kermanshah Airport | KSH |
| Khorramabad | Khorramabad Airport | KHD |
| Khoy | Khoy Airport | KHY |
| Kish | Kish International Airport | KIH |
| Lamerd | Lamerd Airport | LFM |
| Lar | Larestan International Airport | LRR |
| Mashhad | Mashhad International Airport | MHD |
| Noshahr | Noshahr Airport | NSH |
| Parsabad | Parsabad-Moghan Airport | PFQ |
| Qeshm | Qeshm International Airport | GSM |
| Ramsar | Ramsar International Airport | RZR |
| Rasht | Rasht Airport | RAS |
| Sanandaj | Sanandaj Airport | SDG |
| Sari | Dasht-e Naz Airport | SRY |
| Shahroud | Shahroud Airport | RUD |
| Shiraz | Shiraz International Airport | SYZ |
| Tabriz | Tabriz International Airport | TBZ |
| Tehran | Tehran Imam Khomeini International Airport | IKA |
| Urmia | Urmia Airport | OMH |
| Yazd | Shahid Sadooghi Airport | AZD |
| Zahedan | Zahedan Airport | ZAH |
| Zanjan | Zanjan Airport | JWN |
International Destinations
COUNTRY
CITY
AIRPORT
IATA
Austria
Vienna
Vienna International Airport
VIE
Azerbaijan
Baku
Heydar Aliyev International Airport
GYD
France
Paris
Paris Charles de Gaulle International Airport
CDG
Georgia
Tbilisi
Tbilisi International Airport
TBS
Germany
Cologne Bonn
Cologne Bonn Airport
CGN
Frankfurt
Frankfurt am Main International Airport
FRA
Hamburg
Hamburg Airport
HAM
India
Mumbai
Chhatrapati Shivaji Maharaj International Airport
BOM
Iraq
Baghdad
Baghdad International Airport
BGW
Najaf
Al Najaf International Airport
NJF
Italy
Milan
Milan Malpensa Airport
MXP
Rome
Leonardo da Vinci–Fiumicino Airport
FCO
Kuwait
Kuwait City
Kuwait International Airport
KWI
Lebanon
Beirut
Beirut–Rafic Hariri International Airport
BEY
Netherlands
Amsterdam
Amsterdam Airport Schiphol
AMS
Pakistan
Karachi
Jinnah International Airport
KHI
Qatar
Doha
Hamad International Airport
DOH
Russia
Moscow
Sheremetyevo International Airport
SVO
Saudi Arabia
Jeddah
King Abdulaziz International Airport
JED
Medina
Prince Mohammad bin Abdulaziz International Airport
MED
Sweden
Gothenburg
Göteborg Landvetter Airport
GOT
Stockholm
Stockholm Arlanda Airport
ARN
Turkey
Ankara
Esenboğa International Airport
ESB
Denizli
Denizli Çardak Airport
DNZ
Isparta
Süleyman Demirel Airport
ISE
Istanbul
Istanbul Airport
ISL
Izmir
Izmir Adnan Menderes Airport
ADB
UAE
Dubai
Dubai International Airport
DXB
United Kingdom
London
London Heathrow International Airport
LHR
---
Baggage
Carry-on Baggage
Customers are permitted one piece of carry-on baggage with a maximum weight of 5kg and not exceeding 50cm x 30cm x 20cm dimensions.
Checked Baggage
The Iran Air checked baggage allowance is 30kg for adults in Economy Class and 40kg for adults in Homa Class.
---
Check-In
Online Check-In
Online check-in isn't available on Iran Air flights.
Airport Check-In
Passengers must check-in at the airport of departure for their flight. Iran Air recommends that passengers arrive three hours prior to the departure time on international flights and 90 minutes before the flight departure time on domestic flights.
---
Economy Class
The Economy Class cabin offers a great-value service. Food and drink is served but depends on the flight route.
Seats
On short-haul flights, Economy class seats are set out in a 3 x 3 or 2 x 2 formation. On average, seat pitch is 31" and the seat width is 18". On select flights, seats have a built-in seatback screen, which can be used for in-flight entertainment, subject to availability.
On long-haul flights, seats are usually set out in a 2 x 4 x 2 or 3 x 4 x 3 formation.
---
Business Class
Business Class is Iran Air's most premium cabin class, with a dedicated Business Class service. Passengers are treated to complimentary food and drink on all Business Class flights. Each seat has
Seats
On short-haul flights, Business Class seats are set out in a 2 x 2 configuration. Each seat has a built-in touch screen monitor with a USB power port. Seat pitch is 38" and seat width is 21".
On long-haul flights, Business Class seats are set out in a 1 x 2 x 1 or 2 x 2 x 2 ;formation. Depending on the aircraft flown on, seats may have touch control, an in-flight entertainment system and international power and USB sockets
---
In-Flight Entertainment
In-flight entertainment is available on select flights and includes a range of movies, television shows and music.
---
WIFI
There's no WIFI network on Iran Air flights.
---
Food
Hot food, snacks and drinks are offered to passengers on all flights over one hour.
---
Frequent Flyer
SkyGift
SkyGift is Iran Air's frequent flyer program that rewards passengers that regularly fly on Iran Air. The airline allows passengers to collect points every time they fly on the airline and use those points to gain advantages such as booking flights on Iran Air and its interline airline partners, airport lounge access, free baggage, priority baggage and seat confirmation.
---
Airline Alliance
Iran Air isn't a member of an airline alliance at this time.
---
Hub Airport
Tehran Imam Khomeini International Airport
One of Iran Air's airport hubs is Tehran Imam Khomeini International Airport in Tehran. It is located 30km away from the city and serves around 8 million passengers per year. Some of the airlines that operate out of the airport include Alitalia, China Southern Airlines, Wings of Lebanon, Mahan Air and Turkish Airlines.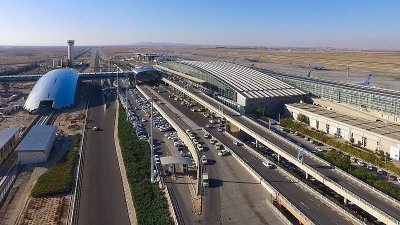 Photo credit: Imam Khomeini Airport City
---
Buy Iran Air Flights in English
Flying to Iran? Find your Iran Air flights in English with Alternative Airlines. We offer our customers a safe and secure booking service in English when booking their Iran Air flight. We also have an excellent English speaking customer service team to help you with anything you need to know about your Iran Air booking.