Search and Buy Wings Of Lebanon Flights with Alternative Airlines
Make a Wings Of Lebanon Booking and Find Some Amazing Deals
---
About Wings Of Lebanon
Wings of Lebanon is a privately held Lebanese airline, owned by the Nakhal group. The airline was established and begun operations in 2007, operating leisure, pilgramage, sports and other charter flights mainly to destinations in Europe, Asia and Africa. In July 2016, the business model for the airline changed from pure charter operations to also include seasonal scheduled international passenger services. As of January 2019, Wings of Lebanon is IOSA certified.
The airline is based at Beirut Rafic Hariri International Airport. The airline hopes to provide the best and friendliest customer service, whilst still focusing on a safe and reliable service.
---
Wings Of Lebanon Fleet
The airline currently only has one aircraft in its fleet (as per the table below - correct of August 2019). Historically, the airline has included other Boeing 737 planes, historically having up to 4 planes in its fleet.
| AIRCRAFT | IN SERVICE | ORDERS |
| --- | --- | --- |
| Boeing 737-700 | 1 | / |
---
Wings Of Lebanon Destinations
Wings of Lebanon operates seasonal routes to the following destinations.
| COUNTRY | CITY | AIRPORT | IATA |
| --- | --- | --- | --- |
| Georgia | Tbilisi | Tbilisi International Airport | TBS |
| Germany | Berlin | Berlin Schönefeld Airport | SXF |
| Greece | Corfu | Corfu International Airport | CFU |
| Greece | Mykonos | Mykonos Airport | JMK |
| Lebanon | Beirut | Rafic Hariri International Airport | BEY |
| Sweden | Stockholm | Stockholm Arlanda Airport | ARN |
| Turkey | Antalya | Antalya Airport | AYT |
| Turkey | İzmir | İzmir Adnan Menderes Airport | ADB |
---
Wings Of Lebanon Baggage
Carry-on Baggage
Passengers are permitted one item of carry-on baggage, free of charge. This item must not exceed 7kg in weight.
Checked Baggage
Passengers are also allowed one free bag of checked luggage, weighing either 23kg or 30kg (depending on the fare rules). Please check your booking confirmation for your personal checked baggage allowance, to avoid excess baggage charges.
---
Wings Of Lebanon Check-In Information
Online Check-in
There is currently no online check-in services offered by this airline.
Airport Check-in
Passengers must arrive at the airport early enough to allow time for check-in, security and time to get to the boarding gate.
The check-in counters open 3 hours before the flight is due to depart, and will close 60 minutes before departure.
---
Wings Of Lebanon Hub Airport
Beirut - Rafic Hariri International Airport
Beirut–Rafic Hariri International Airport is located 9 kilometres (5.6 mi) from the city centre in the southern suburbs of Beirut, Lebanon. It is the only operational commercial airport in the country. It is the hub for Lebanon's national carrier, Middle East Airlines (more commonly known as MEA). It is also the hub for the Lebanese cargo carrier, as well as Wings of Lebanon.
It is the main point of entry into the country along with the the coastal port of Beirut. The airport is managed and operated by the Directorate General of Civil Aviation (DGCA). The DGCA is also responsible for operating air traffic control (ATC) at the airport as well as controlling Lebanon's airspace. Maintenance and general upkeep duties ranging from cleaning the terminal to de-rubberising the runways are the responsibility of Middle East Airports Services (MEAS), which is a wholly owned subsidiary of the national carrier, Middle East Airlines.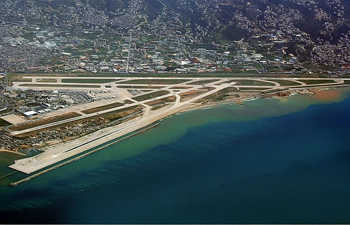 ---
Wings Of Lebanon Class Information
Economy Class
There is currently only one class operating on Wings of Lebanon planes, which is economy.
Passengers can enjoy comfortable plane chairs, with its 3 x 3 formation with an aisle in the middle allowing for plenty of personal space onboard. Passengers receive a warm welcome from the cabin crew, with the hospitality continuing throughout the duration of your flight.
Premium Economy
There is currently no premium economy service onboard this airline.
Business Class
Business Class is not yet provided by Wings of Lebanon.
First Class
First Class is not currently available with this airline.
---
Alternative Airlines to Wings Of Lebanon
Please click on the logos below to find out more about airlines that fly similar routes to Wings Of Lebanon:
---
Wings Of Lebanon In Flight Entertainment
Wings of Lebanon do not currently provide any in-flight entertainment onboard their planes. Read our blog here for ideas of how to pass time on flights without any in-flight entertainment.
---
Wings Of Lebanon Food
Passengers receive free meals and refreshments onboard most flights and routes.
---
Wings Of Lebanon WiFi
Wings of Lebanon do not currently provide any WiFi services onboard their flights, either free or paid.
---
Wings Of Lebanon Frequent Flyer
This airline does not yet have a frequent flyer programme.
---
Wings Of Lebanon Airline Alliance
Wings of Lebanon is not currently part of any official airline alliance. However, they have a strategic partnership with tour operator Nakhal, who operate in Lebanon.
---
Wings Of Lebanon Special Services
Unaccompanied Minors
The airline allows unaccompanied minors to travel with them, if aged 5 to 12 years old. Please contact the airline directly for more information on this.
Pregnant Women
Pregnant women are allowed to travel up to their 34th week of pregnancy when travelling with a fit to travel certificate from doctor or gynaecologist. Passengers who are 34 to 36 weeks pregnant are allowed to travel only when they have a fit to travel certificate from a specialist aviation doctor.
Passengers requiring mobility assistance
Passengers who require assistance should contact the airline at least 48 hours prior to departure. The airline can arrange special assistance during your journey, including both airport and plane assistance.
Passengers travelling with a wheelchair
Passengers can request a wheelchair service for their flight or airport experience. This should be requested as early as possible, either at the time of booking or shortly afterwards.
Transporting live animals
Wings of Lebanon are happy to transport live animals onboard (Cats and Dogs), as long as they comply with the country regulations permit. They should be securely locked in cages and not weigh more than 7kg (cage and animal).
---
Wings Of Lebanon News
30th April 2018
Wings of Lebanon's European ban to be lifted
In 2015, Wings of Lebanon was blacklisted by the European Commission, preventing the airline from flying within the European airspace. Following a revision of the blacklist on 14th June 2018, Wings of Lebanon remains as one of the airlines that are banned from Europe and Wings of Lebanon don't know why.
Speaking on the matter, Director General of Wings of Lebanon, Miran Farid, stated that he believes there's no reason why Wings of Lebanon should remain on the blacklist, the airline has invited the European Commission to do an inspection of the airline, but apparently they've declined. Farid added that although Wings of Lebanon were not taken off the blacklist in the recent revision, the airline is in talks to get a thorough inspection in November this year and remain confident that they'll be allowed to fly within Europe in 2019.
---