YanAir Reservations with Alternative Airlines
Make a YanAir Booking and Find Some Amazing Deals
---
About
Founded in 2012, YanAir is a regional airline from Ukraine with Kyiv International Airport (Zhuliany) as its hub. The airline serves a number of different routes across Europe, including links to Armenia, Bulgaria, Georgia, Israel, Montenegro and Ukraine.
---
YanAir Fleet
The airline's passenger fleet comprises of entirely Boeing aircraft. The airline uses Boeing 737-300 and Boeing 737-400 models.
---
Destinations
Domestic Destinations
Kiev
Odessa
International Destinations
Batumi
Krakow
Kiev
Odessa
Tbilisi
Tel Aviv
Yerevan
---
YanAir Baggage
Carry-on Baggage
Carry-on baggage is free for passengers, but must not exceed the 7 kilogram weight limit. The baggage must be the correct dimension to fit either under your seat or in the overhead bin inside the aircraft.
Checked Baggage
Passengers are entitled to checked baggage with a maximum weight of 23 kilograms per passenger.
---
YanAir Check-in
Online Check-In
Online check-in is not currently available.
Airport Check-In
In general, the airline's airport check-in desks will open 3 hours before the scheduled departure time. Always check your travel itinerary before your flight for check-in details. Airport check-in can be completed by visiting a check-in agent and the check-in desk at the airport of departure.
---
Book YanAir Flights in English
Flying to Ukraine? Find YanAir flights in English with Alternative Airlines. We provide you with a safe and secure booking service in English and you can even book with Paypal!
---
Alternative Airlines to YanAir
Please click on the logos below to find out more about airlines that fly similar routes
---
Hub Airport
Kyiv International Airport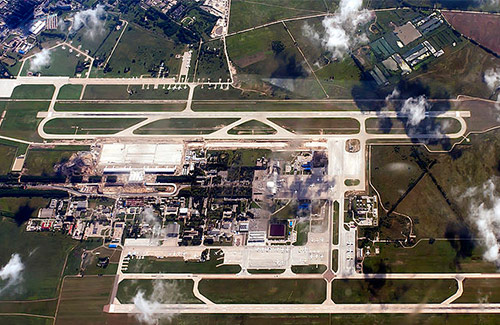 Kyiv International Airport is one of two international airports in Kiev and the hub airport for YanAir. It's located just outside the city centre and facilitates passenger flights, as well as being a major European hub for business flights. The airport was created in 1923 as a military base, which makes it the elder of the two airports serving Kiev. Kyiv International's airport terminal was built, with Aeroflot being the first airline to fly out of the airport.
The airline has used Kyiv International Airport as its hub since its inception in 2012. Other airlines that fly to and from Kyiv International Airport include Motor Sich Airlines, Pegasus Airlines, Ernest Airlines, Buta Airways and Belavia.
---
News
9th January 2019
YanAir leases aircraft to Air Moldova
The Ukranian carrier has given one of its Airbus A321-100 aircraft to Air Moldova on a wet-lease contract. The aircraft was taken from Kiev to Chisinau last week and has already started flying for the Moldovan airline. This was the airline's only Airbus aircraft. The airline now solely operates services using Boeing aircraft.
September 2016
YanAir wet-lease to Jubba Airways
Jubba Airways have wet-leased their A321-100 to YanAir. It was previously used on flights to Nairobi Jomo Kentatta, Mogadishu, Dubai International and Hargeisa.