Search and Buy Motor Sich Airlines Flights
Make an Motor Sich Airlines Booking and Find Some Amazing Deals
---
About Motor Sich Airlines
Motor Sich Airlines of the Ukraine is a subsidiary of the mighty organisation of the same name that manufactures a wide range of aeroplane engines. Motor Sich is based in the home town of its parent company, Zaporozhye in south-central Ukraine.
---
Check-In
Online Check-In
Online check-in on the website of the airline starts 23 hours before the scheduled departure and ends 120 minutes before the scheduled departure. Acceptance of baggage of passengers who checked in on the website of the airline begins at the check-in desk of the airport 90 minutes and ends 40 minutes before the scheduled departure.
Check in at the airport.
If you're checking in at the airport, please allow a reasonable amount of time to check-in to make sure you make you avoid missing your flight. Check-in of passengers of the following categories is carried out only at the check-in desk of the airport:
Passengers with infants travelling without a separate seat;
Passengers requiring special assistance;
Passengers travelling with animals.
---
Economy Class
The airline offers short-haul regional flights using aircraft equipped with only economy-class cabins.
Economy Class Facilities
On all flights, regardless of the length of the flight, passengers are provided with cold snacks as well as hot and cold drinks. Sit and enjoy the in-flight magazine while flying.
Economy Class Seating
The airline is low-cost, but offers comfortable seating with padded headrests and fold-down trays. There are cotton curtains on the windows and overhead storage.
---
Destinations
Numerous flights are in operation across Ukraine and Belarus. Destinations include: Minsk, Lviv, Odessa, Kiev, Uzhhorod, and Zaporizhia.
From June 2019 the airline will also start to operate limited flights from Zaporizhia International Airport, in Ukraine, to Burgas International Airport, in Bulgaria.
---
Route Map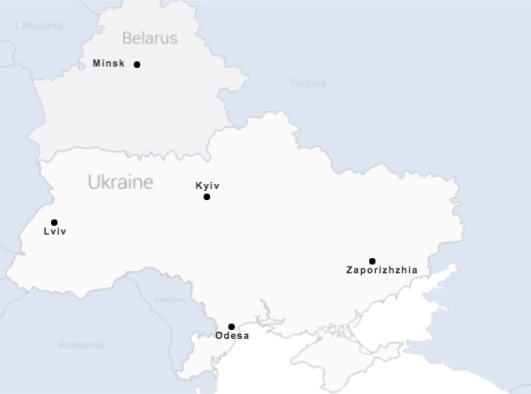 ---
Hub Airport
International Airport Zaporizhzhya
Zaporizhia International Airport is the international airport that serves Zaporizhia, Ukraine one of three airfields around the city. Other airlines that fly to Zaporizhia inclue Bravo Airways, Bukovyna Airways, Pegasus Airlines, and Turkish Airlines.
---
Popular Routes
Zaporizhia

Minsk
Kiev

Zaporizhia
Kiev

Lviv
Odessa

Kiev
Lviv

Uzhhorod

---
The Fleet
Antonov An-12 AN-12BK
Antonov An-140
Antonov An-24RV
Yakovlev Yak-40
Antonov An-74 AN-74TK-200
Alternative Airlines