Airlines will always try to sit children with their parents (subject to check-in)
Some airlines will allow travel for unaccompanied minors. Please email us to check.
The fare is based on the child's age on the date of travel.
More detailed information can be found here Traveling with children
Most airlines will let infants travel with their parent(s) for free. However some airlines will charge up to 10% of the adult ticket price. Click on 'Price Breakdown' to find out more.
If you are pregnant, but due before the flight departure date, please contact us once your baby is born and has a name. We can then add him/her to your ticket.
Infants will not be given a seat. The airlines expect parents to travel with them on their lap.
Airlines regard infants as being under 24 months old.
The fare is based on the child's age on the date of travel.
More detailed information can be found here Traveling with children
Buy Delta Multi City Flights
Cancellation Protection
Protects
Trusted Choice
Rated 4.5 Stars. Based on 3,581 service ratings over the past year
Dedicated customer service team on hand to help
Secure payments
Cancellation Protection
Protects
Trusted Choice
Rated 4.5 Stars. Based on 3,581 service ratings over the past year
Dedicated customer service team on hand to help
Secure payments
Buy Delta Multi City Flights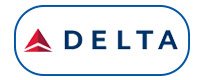 Delta Air Lines, otherwise known as Delta, is a major airline in the US and one of the world's oldest airlines in operation. With 9 hubs across the US, the airline operates over 5,400 international and domestic flights on a daily basis, serving over 300 destinations including New York, Los Angeles, London, Paris, Madrid, Stockholm and Tokyo.
Fancy visiting multiple cities across the US and need to be as flexible as possible? With Alternative Airlines, booking multi-city Delta flights couldn't be easier - whether you're flying from Seattle to Las Vegas, staying for a few days before moving on to Atlanta, and finishing your trip in Detroit, for example - you'll be able to book and manage your flights all in one place. This guide explains how to use our multi-city search and booking tool to easily plan your multi-stop Delta flights across the US and internationally.
Use our search form to find and book multi-city flights with Delta Air Lines.
---
1. How to Book Delta Multi-City Flights
2. Why Book Multi-City Flights Within the US
3. Popular Multi-City Stops Within the US
4. Why Book International Multi-City Flights with Delta
---
How to Book Multi-City Flights with Delta
Here at Alternative Airlines, we have developed a tool allowing you to search and book multiple flights at the same time. You'll also be able to manage all of your flights in one place and add extras such as seat selection and baggage.
Ready to begin?
1. Firstly, select the 'multi-city' option on the search form at the top of the page. From here, you'll be able to enter the dates and destinations you require for your trip. Hit 'Search Flights'.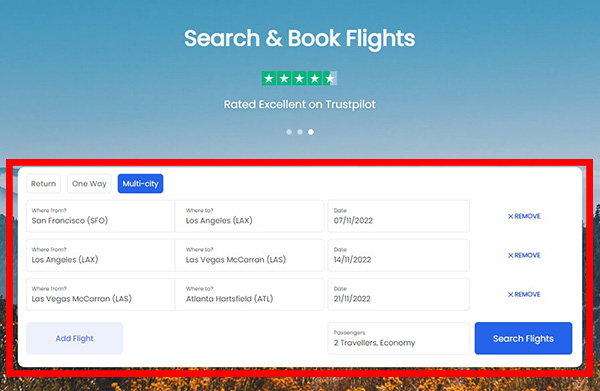 2. Using the airline filter, you can select any of your preferred airlines (for example, 'Delta'). Browse the search results and select the Delta flights that are most suitable to you. You'll always be able to amend your search to compare alternative routes.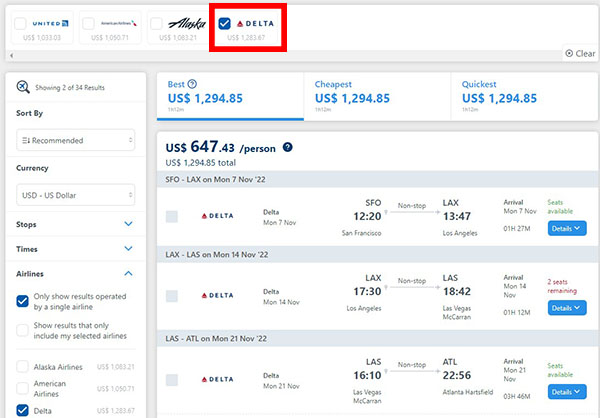 3. Once you've found your perfect combination of flights, you can book them all in one quick, easy and secure transaction.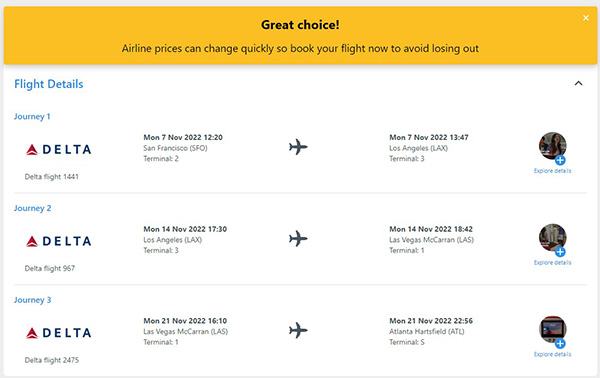 ---
What are Multi-City Flights?
Multi-city flights, otherwise known as 'multi-stop' flights, mean you fly between two or more cities/destinations in one trip. For example, perhaps you want to immerse yourself in the most popular cities the US has to offer - you'll start in sleepless New York, venture off to sunny Orlando, explore Los Angeles on the West Coast, and end your trip in San Francisco. While a connecting flight or layover means you stop in multiple destinations, you won't be able to fully explore the cities you land in - this is what makes multi-city flights with Delta an easy and flexible option where you can make the most out of your trip.
Why Book Multi-City Flights in the US?
The US has a lot to offer - why visit one city when you can visit multiple all in one trip? From vibrant cities to world-famous national parks, you'll want to make the most of your trip, whether you're flying in from the UK, Europe or Asia.
Popular Multi-City Stops within the US
Take a look at the most popular multi-city routes in the US:
San Francisco ✈ to Los Angeles ✈ to Las Vegas
New York ✈ to Orlando ✈ to Miami
Seattle ✈ to Denver ✈ to Atlanta
San Diego ✈ to Salt Lake City ✈ to New York
---
Why Book International Multi-City Flights with Delta?
As well as multi-city flights within the US, Delta also offers multi-city stops within Europe and Asia through its SkyTeam alliance partners, including Air France and Aerolíneas Argentinas.
For example, you can begin your journey in New York, fly to Paris, the city of love, before moving on to Madrid in sunny Spain, all through Delta and operated by Air France. Or perhaps you fancy a multi-city trip across South America? Flying with Aerolíneas Argentinas, another SkyTeam alliance partner alongside Delta, makes this possible - start from Delta's hub airport in Atlanta and venture to Sao Paulo before making your final stop in Buenos Aires.
Popular International Multi-City Stops with Delta
New York ✈ to Paris ✈ to Madrid
Atlanta ✈ to Sao Paulo ✈ to Buenos Aires
---
Multi-City Flights with Delta
FAQs
How can I book Delta multi-city flights?
With Alternative Airlines, we make booking multi-city flights with Delta a quick and easy process. Using our multi-city booking tool, you can freely browse any combination of flights that suit your needs. You can sign into your Alternative Airlines account at any time to manage all your bookings.
Can I pay in instalments when booking multi-city flights?
Yes! When booking with Alternative Airlines, you can pay for multi-city flights over time. Whether you're booking with Delta or any other combination of the 600+ airlines we ticket, you can book flights today and spread the cost out over time using our payment plan options, including Afterpay, Klarna and Affirm.
Find out more about booking Delta Air Lines flights and paying in instalments.