Search and Buy FlyBosnia Flights with Alternative Airlines
Make a FlyBosnia Booking and Find Some Amazing Deals
---
About FlyBosnia
Founded and registered in 2017, FlyBosnia is a new airline and is based in Bosnia & Herzegovina, at Sarajevo International Airport (SJJ). This new national flag carrier of Bosnia and Herzegovina operates weekly medium-haul services to several destinations in Europe and within the Middle East, with a long-term plan to expand this network to more airports and countries. The airline's slogan is 'Fly to experience', and also aims to become a fully sustainable airline.
The airline obtained its AOC license in January 2019, and flew its first-ever flight in June 2019 with a service between Sarajevo and Kuwait.
Although the airline focuses on scheduled flights, they also offer charter flights as part of its partnerships with tour operators.
Looking to book flights in Bosnia and Herzegovina? Alternative Airlines is an online flight search and booking site that makes it easy to find the right flights for you. You can pay using the currency of your choice, whether thats USD, Euros, or Bosnia and Herzegovina Convertible Mark.
---
FlyBosnia Fleet
| AIRCRAFT | IN SERVICE | ORDERS |
| --- | --- | --- |
| Airbus A319-100 | 1 | 2 |
---
FlyBosnia Destinations
Domestic Destinations
| CITY | AIRPORT |
| --- | --- |
| Sarajevo | Sarajevo International Airport (SJJ) |
International Destinations
| COUNTRY | CITY | AIRPORT |
| --- | --- | --- |
| Bahrain | Manama | Bahrain International Airport (BAH) |
| Italy | Rome | Rome Fiumicino Airport (FCO) |
| Kuwait | Kuwait City | Kuwait International Airport (KWI) |
| Saudi Arabia | Gassim | Prince Nayef bin Abdulaziz International Airport (ELQ) |
| Saudi Arabia | Jeddah | King Abdul Aziz International Airport (JED) |
| Saudi Arabia | Riyadh | King Khalid International Airport (RUH) |
| Tunisia | Monastir | Monastir Habib Bourguiba International Airport (MIR) |
| United Kingdom | London | London Luton Airport (LTN) |
---
FlyBosnia Baggage
Carry-on Baggage
Passengers are permitted one item of hand luggage each. This must not exceed 56 x 36 x 23cm in size, and 7kg in weight. This allowance is currently the same for all fares purchased.
In addition, passengers are allowed one small personal item onboard the flight with them. This includes items such as a coat, blanket, reading material, children's food, a duty-free item or a pair of crutches.
Checked Baggage
Passenger's checked baggage allowance is dependent on the ticket fare purchased.
Passengers with a 'Light' ticket are not permitted any free checked luggage.
Passengers with an 'Opti' ticket are permitted up to 15kg of checked baggage.
Passengers on the 'Advantage' fare are allowed up to 25kg of checked luggage.
Max dimensions of any item of checked baggage are 149.9 x 119.4 x 171.5cm
---
FlyBosnia Check-In Information
Online Check-in
Passengers can check-in online via the airline's website or alternatively on the Flybosnia mobile app. This is currently only available for certain routes, and will open 48 hours before your flight, ending 3 hours before.
Airport Check-in
If passengers have not been able to check-in for their flight online, they can do so at the airport check-in counters. This will usually open 2 hours before the flight is due to depart and close 40 minutes before.
---
FlyBosnia Hub Airport
Sarajevo International Airport
Sarajevo International Airport, also known as Butmir Airport, is Bosnia and Herzegovina's main international airport. Located just outside the city of Sarajevo, this airport served over 1 million passengers in 2018.
This airport also runs services for airlines such as Turkish Airlines, Lufthansa, Air Serbia( previously Jat Airways) and Qatar Airways.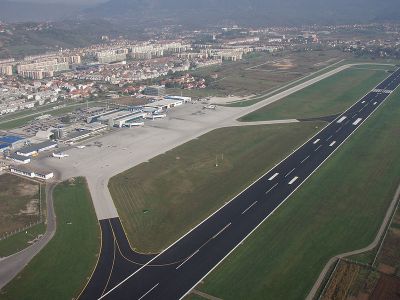 Photo credit: Eao-be
---
FlyBosnia Class Information
Economy Class
There is currently only economy class onboard FlyBosnia aircraft. This offers a basic flight, with great and friendly service from the cabin crew and also comfortable seats.
Passengers can personalise their flight experience by added extras, such as the different fare types which offer increased baggage and ticket flexibility, or by selecting a seat to one with more legroom or an exit-row seat.
Premium Economy
There is no premium economy service available on FlyBosnia. Purchase an Advantage fare, and select a seat with extra legroom for a premium economy experience.
Business Class
There is not yet any business class facilities for FlyBosnia flights.
First Class
There is no First Class cabin on this airline yet.
---
Alternative Airlines to FlyBosnia
Please click on the logos below to find out more about airlines that fly similar routes to FlyBosnia:
---
FlyBosnia In-Flight Entertainment
There are no in-flight entertainment services currently onboard FlyBosnia flights. Passengers can bring their own devices in their cabin luggage for entertainment onboard.
---
FlyBosnia Food
Food and drinks are not included in the price of your ticket. Snacks and confectionery can be purchased on board the flights, where there is enough time for trolley service.
---
FlyBosnia WiFi
FlyBosnia does not yet provide any WiFi services onboard its flights.
---
FlyBosnia Frequent Flyer
There is no frequent flyer programme associated with FlyBosnia.
---
FlyBosnia Airline Alliance
FlyBosnia is not part of any airline alliance or codeshare agreements.
---
FlyBosnia Special Services
Passengers can request any special services when booking with us, by entering in any requests into the text box on the passenger details page. We will do our best to pass on these requests to the airline directly. Alternatively, you should phone the airline directly to tell them of any additional services you may require, such as wheelchair assistance.
---
FlyBosnia News
5th March 2019
FlyBosnia signs deal for three A319s
The Sarajevo-based start-up FlyBosnia has signed a Letter of Intent for the acquisition of an additional three Airbus A319 aircraft, which will bring its fleet size to a total of four. The Saudi-backed carrier noted the jets will be gradually delivered "over the coming quarters". The company said, "These aircraft will enable FlyBosnia to progressively expand its destination network as it builds up to a planned eight-member fleet by 2023".
---