Book Flights to London Heathrow Airport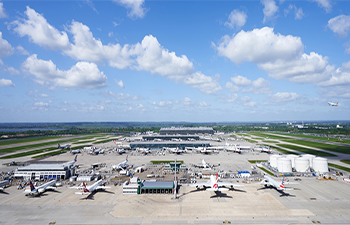 Search and book flights to London Heathrow International Airport (IATA: LHR) with Alternative Airlines. We ticket 600+ airlines, including all major carriers. So, no matter where you are flying from, we can guarantee that you'll find the right flights for you. London Heathrow is a major airport serving the city of London, so if you're planning a trip to visit the capital of the UK, flying into Heathrow will be the easier and most convenient option if flights from your departure location are available.
Where is Heathrow? The airport is located 14 miles (23 km) west of Central London
Why fly to Heathrow? Heathrow Airport is the second busiest international passenger traffic airport in the world as well as Europe's busiest passenger traffic airport and the seventh busiest airport in the world by passenger traffic. In 2018, it handled a record-breaking 80.1 million passengers, as well as having 480,339 aircraft movements. London Heathrow is the primary hub for British Airways and the primary operating base for Virgin Atlantic.
Use the search form at the top of the page to begin looking for flights to Heathrow.
Enter your departure airport and city and enter 'London Heathrow' as your arrival airport.
---
Buy Now, Pay Later
Did you know, when you book flights with Alternative Airlines you can spread the cost over time? No matter which airline you fly with, whether that's British Airways, Norwegian, Qatar, Asiana Airlines, or any of the 600+ airlines that we ticket, and pay weekly, biweekly or monthly. That's right, any flight to London Heathrow or any other destination, you can book today and spread the cost.
Our Buy Now, Pay Later and longer term financing options include Klarna, Affirm, Zip, Laybuy, Afterpay and more.
Find out more about all our pay later payment options

---
Why Fly to Heathrow?
Fly and from Heathrow for a premium travel experience. Heathrow Airport is full of facilities and services that offer passengers ease and comfort at every 5 square miles. Each terminal functions as a small shopping centre and it also offers services for business travellers and families.
Facilities Include:
A variety of dining and shopping options available from popular high street cafe restaurants, upmarket bistros, and luxury and designer shops.
Free WiFi Internet Access
Accessible facilities for disabled passengers
Nursing Room
Shower Rooms
Wellness Spa
Business Services with workstations and internet access
Dressing Rooms
Children's Play Area
Free drinking water dispenser
Baggage Carts
ATMs
Currency Exchange
Lounges Include:
Plaza Premium Lounges (Terminal 2, 3,4 and 5): first class service with high-quality food, beverages, WiFi, shower rooms, private rooms, spa and massage.
Club Aspire Lounge (Terminal 3): Available facilities include a wide menu of food and drinks, business and resting zones, free WiFi and charging points.
The House Lounge (Terminal 4): offers A la carte dining with waiter service, unlimited WiFi, Showers, Prayer rooms, Airside view, Newspapers and magazines.
Aspire Lounge (Terminal 5): passengers can enjoy a luxury food menu, WiFi, Showers, air conditioning, TV. Passengers can also enjoy alcoholic and non-alcoholic beverages, unrivalled views, magazines and newspapers.
---
Find out More About London Heathrow Airport
The Terminals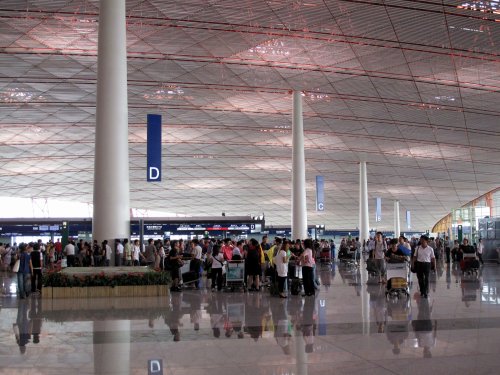 Terminal 2
Terminal 2 is the airport's newest terminal officially known as the Queen's Terminal which was opened on in June 2014. The terminal has a satellite pier, a 1,340-space car park, an energy centre and a cooling station to generate chilled water. There are also 52 shops and 17 bars and restaurants.
Terminal 3
Terminal 3 opened as the Oceanic Terminal on 13 November 1961 and was renamed Terminal 3 in 1968. As of 2013, Terminal 3 has an area of 98,962 m2 and in 2011 it handled 19.8 million passengers on 104,100 flights. This terminal accommodates the Airbus A380 superjumbo; Emirates and Qantas.
Terminal 4
Terminal 4 opened in 1986 and is located south of the southern runway. The terminal has a floor area of 105,481 ;m2 and is home to the SkyTeam alliances construction began in 2004 and finished in February 2008 and it is also the largest terminal with a floor space measuring 1,713,000m2, making it the second-largest passenger terminal in the world. Most flights that go to Terminal 4 are flights coming from Asia and North Africa, as well as a few flights to Europe. It accommodates the Airbus A380 and airlines such as Etihad Airways, Korean Air, Malaysia Airlines and Qatar Airways.
Terminal 5
Terminal 5 is situated between the northern and southern runways and was opened by Queen Elizabeth II on March 2008. British Airways and its partner Iberia have exclusive use for this terminal. The main terminal building (Concourse A) has an area of 300,000 square metres while Concourse B covers 60,000 square metres. In total it has 60 aircraft stands and capacity for 30 million passengers annually including more than 100 shops and restaurants. The terminal has a 3,800 space multi-story car park.
Terminal 1
Terminal 1 first opened in 1968, before terminal 5 opened Terminal 1 was British Airways base for domestic and European flights. It was also the main base for Star Alliance. However, Terminal 1 closed in June 2015 and the site is being used as an extension for Terminal 2.
---
Airlines that Fly to Heathrow International Airport
The following table consists of all the airlines that fly passenger services from Heathrow Airport:
| | | | |
| --- | --- | --- | --- |
| Aegean Airlines | Aer Lingus | Aeroflot | Aeromexico |
| Air Algerie | Air Astana | Air Canada | Air China |
| Air France | Air Malta | Air Mauritius | Air New Zealand |
| Air Serbia | Alitalia | All Nippon Airways | American Airlines |
| Asiana Airlines | Austrian Airlines | Avianca | Azerbaijan Airlines |
| Beijing Capital Airlines | Biman Bangladesh Airlines | British Airways | Brussels Airways |
| Bulgaria Air | Cathay Pacific | China Eastern Airlines | China Southern Airlines |
| Croatia Airlines | Delta Airlines | EgyptAir | El Al |
| Emirates | Ethiopian Airlines | Etihad Airways | Eurowings |
| EV Air | Finnair | Flybe | Garuda Indonesia |
| Germanwings | Gulf Air | Hainan Airlines | Iberia |
| Icelander | Iran Air | Japan Air | Kenya Airways |
| KLM | Korean Air | Kuwait Airways | LATAM Brasil |
| LOT Polish Airlines | Lufthansa | Malaysia Airlines | Middle East Airlines |
| Oman Air | Pakistan International Airlines | Philippine Airlines | Qantas |
| Qatar Airways | Royal Air Maroc | Royal Brunei Airlines | Royal Jordanian |
| Scandinavian Airlines Ireland | | | |
| Saudia | Scandinavian Airlines | Shenzhen Airlines | Singapore Airlines |
| South African Airlines | SriLankan Airlines | Swiss International Air Lines | TAP Air Portugal |
| TAROM | Thai Airways | Tianjin Airlines | Tunisair |
| Turkish Airlines | United Airlines | Uzbekistan Airways | Vietnam Airlines |
| Virgin Atlantic | Vueling | | |
---
Top Destinations
The following table contains some of the popular and most-serviced destinations flying from Heathrow Airport:
| | | | |
| --- | --- | --- | --- |
| New York | Dubai | Dublin | Amsterdam |
| Los Angeles | Hong Kong | Frankfurt | Singapore |
| Madrid | Paris | Doha | Zurich |
| Singapore | Chicago | Mumbai | Newark |
---
How to get to Heathrow International Airport
By Road
Heathrow's 4 airport terminals can be accessed via nearby motorways and roads. The M4 motorway and A4 road can be used to access Terminal 2 and 3, whereas Terminal 4 and 5 can be accessed using the M25 motorway. There are drop-off and pick-up areas at all terminals and short and long-stay multi-storey car parks you can use to park your car at a cost.
By Public Transport
You can use the many train routes as well as the London underground in and around London. With Heathrow Express Line, the London Underground and the TfL Rail, you can travel from terminal to terminal or alternatively use the this you can use a shuttle service. In addition to this, there are many buses and couches that operate between the 4 airport terminals.
By Rental Car
You can rent a car from a wide selection of car hire providers such as Avis, Sixt, Europcar and Enterprise from a selection of vehicles that suit you well. The facility operates seven days a week