Search & Buy Africa World Airlines Flights
Airlines will always try to sit children with their parents (subject to check-in)
Some airlines will allow travel for unaccompanied minors. Please email us to check.
The fare is based on the child's age on the date of travel.
More detailed information can be found here Traveling with children
Most airlines will let infants travel with their parent(s) for free. However some airlines will charge up to 10% of the adult ticket price. Click on 'Price Breakdown' to find out more.
If you are pregnant, but due before the flight departure date, please contact us once your baby is born and has a name. We can then add him/her to your ticket.
Infants will not be given a seat. The airlines expect parents to travel with them on their lap.
Airlines regard infants as being under 24 months old.
The fare is based on the child's age on the date of travel.
More detailed information can be found here Traveling with children
Buy
Africa World Airlines

Flights
Africa World Airlines Tickets and Reservations with Alternative Airlines
Book Your Africa World Airlines Flight Tickets and Find Some Amazing Deals
---
About Africa World Airlines
Africa World Airlines (AWA) is a Ghanaian airline, which was incorporated as a joint venture in 2010 between Hainan Airlines, China-Africa Development Fund, SSNIT and SAS Finance Group. The airline received its Air Carrier License (ACL) from the Ghana Civil Aviation Authority (GCAA) in 2011, and commenced its first commercial flight in 2012. AWA's hub is located at Kotoka International Airport, near Accra, the capital of Ghana.
Africa World Airlines operates a fleet of Embraer ERJ-145LR aircraft, and has recently taken delivery of its 6th new and modern Embraer aircraft. The airline flies to a number of domestic destinations in Ghana destinations, such as Accra, Kumasi, Takoradi and Tamale, as well as a number of international destinations in countries including Nigeria, Liberia, and Sierra Leone.
The airline has stated that it hopes to expand its operations to Sierra-Leone and Cote d'Ivoire soon.
---
Baggage Allowance
Carry-on Baggage
Africa World Airlines allows one piece of cabin baggage and one personal item per passenger. All cabin bags must be able to fit in the overhead bin and weigh no more than 5kg. Passengers are advised to bring soft-sided baggage.
Checked Baggage
Economy passengers are entitled to one piece of checked baggage. Premium and Value passengers are permitted two bags, with a total weight of no more than 23kg.
Excess baggage fees: On Domestic routes, the cost for excess baggage (to be paid at the airport) is GH S5.00 Cedis per kilogram, and $3.00 USD per kilogram on International flights.
---
Check-In Information
Online Check-In
Africa world airlines are yet to offer online check-in on their flights. The airline is hoping to provide this service soon, but at the moment passengers need to continue to check-in at the airport.
Airport Check-In
Africa World Airlines recommends passengers arrive at the airport at least two hours and no later than 40 minutes prior to scheduled departure time. Passengers should present a valid, government issued ID - passports will be required for travel on all international flights.
---
Class Fares
The aircraft consists of a single cabin and two class fares: Economy and Premium Economy. The aircraft offer seating for up to 50 passengers. Passengers will be served by two Cabin Attendants.
Seat Selection
Seats cannot currently be pre-booked. Seat assignment will be conducted at the airport.
Economy Class
Economy seats are comfortable, designed for maximising comfort while reducing cost. Seat assignment will be conducted at the airport.
Premium Economy Class
On the Embraer 145 aircraft, port side seats, which are single row seats, will be allocated to Premium passengers.
Premium passengers who travel together will be assigned the first 2 rows of twin seats, and so forth.
---
On-Board Experience
Meals
There are no meals served on any of the airline's flights. However, complimentary hot beverages are provided on some routes. Snacks are served on all routes, which includes fresh fruits juice and croissants, biscuits and a choice of meat/fish pies. Please note that there are no special meal/snack options. Passengers with food intolerances or dietary needs are encouraged to bring their own snacks on-board.
Entertainment
An in-flight magazine is available. Passengers are encouraged to download entertainment onto their digital devices before boarding the plane.
WiFi
On-board WiFi is not currently available.
---
Africa World Airline's Destinations
Domestic Destinations
Africa World Airlines flies to many destinations including Accra (Kotoka International Airport), Kumasi (Kumasi Airport), Takoradi (Takoradi Airport), and Tamale (Tamale Airport). The following destinations are accurate as of September 2019:
| CITY | AIRPORT | IATA |
| --- | --- | --- |
| Accra | Kotoka International Airport | ACC |
| Kumasi | Kumasi Airport | KMS |
| Takoradi | Takoradi Airport | TKD |
| Tamale | Tamale Airport | TML |
| Wa | Wa Airport | WZA |
International Destinations
Accurate as of September 2019:
| COUNTRY | CITY | AIRPORT | IATA |
| --- | --- | --- | --- |
| Nigeria | Lagos | Murtala Muhammed International Airport | LOS |
| Nigeria | Abuja | Nnamdi Azikiwe International Airport | ABV |
| Liberia | Monrovia | Roberts International Airport | ROB |
| Sierra Leone | Freetown | Lungi International Airport | FNA |
---
Africa World Airline's Fleet
As of August 2019, the Africa World Airlines fleet includes eight Embraer ARJ-145LI aircraft, each with a maximum passenger capacity of 50 seats.
---
Africa World Airlines Hub Airport
Africa World Airlines is based at Kotoka International Airport which is the main airport that serves Accra, the capital of Ghana. Kotoka airport is the hub airport for Africa World Airlines, PassionAir Antrak Air, Arik Air and Starbow Airlines. Other airlines which fly to and from this airport include Air Burkina, Arik Air, Dana Air, Delta Air Lines, Ethiopian Airlines, KLM, Goldstar Airlines and Kenya Airways.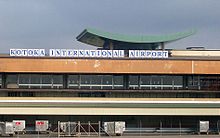 Image Credit: Wikipedia Commons
---
Frequent Flyer
The airline does not operate a frequent flyer program.
---
Airline Alliance
The airline is not part of an airline alliance program.
---
Codeshares
AWA has an interline partnership with Emirates, to provide a domestic and regional feed to their flights at Kotoka International Airport.
AWA also has a partnership with Ethiopian Airlines and ASKY, aimed at providing passengers with a seamless travel experience within the West African region.
Codeshare News
On the 27th October 2019, AWA started a new codeshare agreement with South Africa Airways, which will apply to flights between Accra – Kumasi, Accra – Lagos and Accra – Abuja. South African Airways will market the services of Africa World Airlines as the operating carrier.
As of October 2019, AWA and Brussels Airlines are in the process of concluding an interline partnership which will aim to connect passengers through their joint networks.
---
Special Assistance
Wheelchairs
Wheelchair assistance is available. Africa World Airlines provides wheelchairs to passengers who may need such assistance. This service will need to be requested when making your reservation reservation - simply add your request when asked, and we will pass this information on to the airline.
There is no charge for the transportation of wheelchairs and other assistance devices.
Please note that AWA is not equipped to transport medical oxygen, or other hazardous materials and/or contained gas, either in the cabin or as cargo or in the hold.
Travelling with Infants and Children
An infant (above 14 days and below the age of 2 years) can sit on the lap of an accompanying adult, with the aid of an extended seat belt. Passengers may choose to purchase a seat for an infant as long as a proper child restraint device is used.
Unaccompanied Minors
Unaccompanied minors are permitted, above the age of 6. AWA staff will assist the UM with checking-in, transfers and boarding. Please be aware of the airline's UM rules and policies before making your booking.
---
Alternative Airlines to Africa World Airlines
Please click on the logos below to find out more about airlines that fly similar routes to Africa World Airlines: