Accra to Kumasi flight information
Accra (ACC) ➡ Kumasi (KMS)
Accra to Kumasi is one of the most popular domestic routes within Ghana. The route connects Accra, the capital and largest city in Ghana, with Kumasi, the capital city of the Ashanti Region.
Which airlines fly between Accra and Kumasi?
Africa World Airlines is the most popular commercial airline to operate the route. The airline is the leading domestic airline within Ghana. Passion Air is the only other airline to also operate the route, although the airline's schedule is less regular.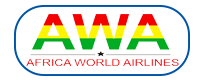 Route frequency: On average, there are 7+ flights per day between Accra and Kumasi
Ticket price: $35-100 single, $50-150 return
Flight time: 40 minute (direct)
Departure Airport: Fly from Kotoka International Airport (ACC), the international airport serving Accra, the capital of Ghana. The airport is the only international airport in Ghana, and is a primary hub for Africa World Airlines. ACC is just a 5-10 minute drive from the centre of the city.
Arrival Airport: Fly to Kumasi Airport (KSS) serves Kumasi, the capital of the Ashanti Region. The airport is located just 4 miles/6 kilometres from the city centre. Accra to/from Kumasi is the only route operated from the airport.