Air Arabia Maroc Tickets and Reservations with Alternative Airlines
Book Your Air Arabia Maroc Flight Tickets and Find Some Amazing Deals
---
About Air Arabia Maroc
Air Arabia Maroc is a scheduled low-cost airline and part of Air Arabia, based at Mohammed V International Airport in Casablanca. The airline is a subsidiary of Air Arabia, along with Air Arabia Egypt , Air Arabia Jordan and Air Arabia Abu Dhabi. The airline commenced operations in April 2009, flying from London Stansted to Casablanca, and now has a fleet size of 7 aircraft. Mohammed V International Airport in Casablanca is Air Arabia Maroc's hub airport. The airline was founded as a partnership between Air Arabia, Regional Air Lines and Ithmaar Bank.
Pay your way
When you book your Air Arabia Maroc flights through Alternative Airlines, you can choose to pay your way. Choose from over 160 currencies, including Moroccan Dirham, as well as over 25 payment methods to choose from, including m-pesa, tigo pesa, and Airtel.
---
Destinations
The airline operates both international and domestic routes. Popular destinations include: Brussels, London, Lyon, Malaga, Montepelier, Rabat, Agadir and Tangier.
---
Fleet
The airline's fleet includes seven Airbus A320-200 aircraft.
---
Baggage
Carry-on Baggage
The airline offers you the opportunity to only pay for the baggage you need. You can select checked baggage weight while booking or modifying your flight (20 Kg, 30 Kg or 40 Kg) with no limitation on the number of pieces. Pre-book your baggage allowance now and save up to 90% of baggage charges paid at the airport. The only baggage allowance available for purchase at the airport is 20 Kg, additional weight will be subject to excess baggage rates.
Checked Baggage
The airline offers you a free hand baggage allowance of 10 Kg. Hand baggage allowance per passenger must not exceed the mentioned weight and dimensions should not exceed 55cm x 40cm x 20cm (22in x 16in x 8in), including the handle, pockets and wheels. Infants under two years old are entitled to one standard-sized bag (for items an infant may require during the flight).
---
Check-in Information
Online Check-in
Passengers can check-in via the Air Arabia website. For passengers flying Sharjah, online check-in opens 24 hours prior to departure. For passengers flying from all other airports, online check-in opens 12 hours prior.
Airport Check-in
For passengers who wish to check in at the airport, check-in counters open three hours prior to flight departure and close one hour prior for Economy passengers and 45 minutes prior for Business Class passengers.
---
Economy Class
Economy Class is the airline only cabin class.
Economy Class Facilities
Onboard, passengers can order a range of hot and cold food from the airline's Sky café, which also includes a full drinks menu. Additionally, passengers can enjoy great shopping opportunities from the airline's onboard shop, 'Sky mall'. Passengers can order a range of gifts, including perfumes, colognes and jewellery from the Sky Mall.
The airline has an inflight entertainment system, from which a range of films, documentaries and television programmes are available to watch. For those that don't want to watch anything, each passenger is also given an inflight magazine.
What Are Economy Class Seats Like?
Economy Class seats are set out in a 3 x 3 formation. Each seat is 46 cm wide and has a seat pitch of 76cm. Seats are designed to give spacious legroom for all passengers.
---
Air Arabia Maroc Alliance
Air Arabia Maroc is part of the Arab Air Carriers organisation.
---
Frequent Flyer Program
Air Rewards is Air Arabia's frequent flyer program, with the goal of 'taking you further than you have ever been'. It costs you nothing to join and helps you save money on future trips. You can collect points on flights and services including meal selection, seat selection, baggage allowance, travel insurance and airport services. Air Rewards also offers you the chance to earn more by creating a Family Account which allows you to pool your Family's Points together in one account, thereby getting you to free flights faster.
---
Route Map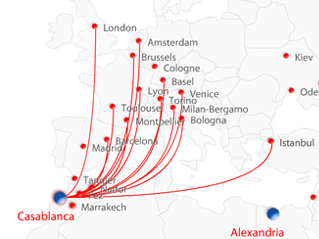 ---
Hub Airport
Fès–Saïs Airport
Fès–Saïs Airport serves as one of the hubs for Air Arabia Maroc. It is the airport serving the city of Fès in Morocco. In 2017, the airport served over one million passengers. Other airlines that operate out of the airport include Royal Air Maroc, Ryanair, TAP Air Portugal, TUI fly and Vueling.
---
Alternative Airlines
The following airlines operate similar routes: