Nesma Airlines Reservations with Alternative Airlines
Make a Nesma Airlines Booking and Find Some Amazing Deals
---
About Nesma Airlines
Nesma Airlines is a Saudi Arabian Airline that operates a variety of domestic and international flights. On international flights, Nesma Airlines operates as a full-service carrier, which means passengers have a choice of either flying business or economy class. On domestic flights, passengers are still treated well, receiving free hot and cold beverages, as well as snacks, in their economy class. Depending on the route and destination, other food and drink options may be available for purchase on board, in addition to a selection of pre-booked meals.
The airline commenced operations in June 2010 and flew on its first commercial route only a month later to the Slovenian capital, Ljubljana. The airline also operates a charter airline, carrying passengers to holidays in Egypt and Europe. In 2011, Nesma started operating scheduled domestic flights in Saudi Arabia to Tabuk and Taif. In 2016, it expanded its network to include flights between Jeddah, its new operational base, and Riyadh. There are now as many as 6 flights a day between the two destinations.
Nesma Airlines operated the first domestic commercial scheduled service since the fall of Saddam Hussein's regime from Baghdad to Basra with 100 passengers on 4 June 2005. On 6 November 2005, Nesma Airlines operated a flight from Baghdad to Tehran, Iran, for the first time in twenty-five years. The aircraft, as with the rest of the fleet, was operated on its behalf by Teebah Airlines of Jordan. In February 2017, after several years of planning, Nesma Airlines began flights to Minsk, Belarus. On 17 September 2017, Nesma Airlines landed in Vnukovo Airport in Moscow, Russia for the first time. This line was also opened by Ambassador Haidar Hadi and Transport Minister Kadhim Finjan Al Hammami was on the first flight.
---
Nesma Airlines Baggage
Carry-on Baggage
For reasons of safety and comfort, carry-on baggage is limited to a single bag weighing 7kg or less and should not measure more than 45 x 35 x 15 cm.
You may also carry on one small item, such as a camera, a small handbag, reading material, an umbrella or walking stick on your Nesma Airlines flight. For those flying with children or who require special assistance, different limitations apply.
Checked Baggage
Checked baggage cannot exceed 32 kg per piece. Nesma Airlines passengers are required to re-pack their baggage if the baggage weight exceeds the limitation per piece as the baggage over 32 kg will not be accepted and must be shipped separately as freight or cargo.
---
Nesma Airlines Destinations
Nesma Airlines flies to a number of destinations including:
Sarajevo International Airport, Bosnia and Herzegovnia
Cairo International Airport, Egypt
Abha Airport, Abha, Saudi Arabia Arar airport, Arar, Saudi Arabia
King Fahad International Airport, Dammam, Saudi Arabia
Hail Airport Base, Hail, Saudi Arabia
King Abdulaziz International Airport Base, Jeddah, Saudi Arabia
Jizan Airport, Jizan, Saudi Arabia
Al-Jawf Airport, Al-Jawf, Saudi Arabia
Prince Mohammad bin Abdulaziz Airport, Madinah, Saudi Arabia
Qaisumah Airport, Qaisumah, Saudi Arabia
Qassim Airport, Qassim, Saudi Arabia
Rafha Airport, Rafha, Saudi Arabia
King Khaled International Airport, Riyadh, Saudi Arabia
Tabuk Airport, Tabuk, Saudi Arabia
Taif Airport, Taif, Saudi Arabia
Turaif Airport, Turaif, Saudi Arabia
Yanbu Airport, Yanbu, Saudi Arabia
---
Economy Class
Economy Class is one of two cabin class onboard Nesma Airlines flights. The cabin is spacious and offers a relaxed journey.
Economy Class Facilities
During the flight, snacks and drinks are served.
There's no in-flight entertainment. However, the airline has an in-flight magazine that is given to each passenger.
Economy Class Seats
Economy Class seats are set out in either a 2 x 2 or 3 x 3 formation.
---
Business Class
Business Class is the airline's most premium cabin class. The service is carried out by the airline's friendly and attentive Business Class cabin crew.
Business Class Facilities
Passengers are given a free Business Class hot meal, as well as a choice of drinks and snacks on all flights.
There's no in-flight entertainment. However, passengers are given reading material for the flight, as well as an in-flight amenity kit to keep them relaxed and refreshed.
---
Nesma Airlines Hub Airport
Cairo International Airport
Nesma Airlines is based at Cairo International airport, which is located in Heliopolis, a town 15 km from the centre of Cairo. The airport is the busiest airport in Egypt and serves as the hub airport for Egyptair, Air Go Egypt and Nile Air.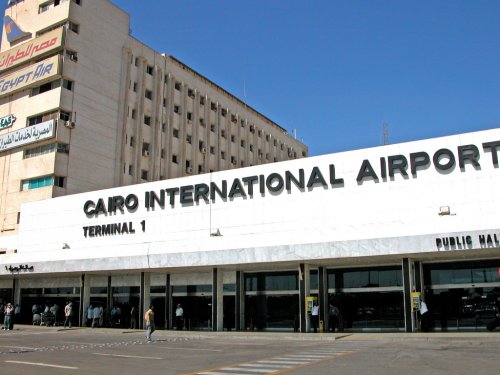 ---