Search & Buy Nile Air Flights
Let's fly!

Select your payment method to view total prices including any payment fees:
Airlines will always try to sit children with their parents (subject to check-in)
Some airlines will allow travel for unaccompanied minors. Please email us to check.
The fare is based on the child's age on the date of travel.
More detailed information can be found here Traveling with children
Most airlines will let infants travel with their parent(s) for free. However some airlines will charge up to 10% of the adult ticket price. Click on 'Price Breakdown' to find out more.
If you are pregnant, but due before the flight departure date, please contact us once your baby is born and has a name. We can then add him/her to your ticket.
Infants will not be given a seat. The airlines expect parents to travel with them on their lap.
Airlines regard infants as being under 24 months old.
The fare is based on the child's age on the date of travel.
More detailed information can be found here Traveling with children

Buy
Nile Air

Flights

Nile Air Reservations With Alternative Airlines
Make a Nile Air Booking and Find Some Amazing Deals
---
About Nile Air
Nile Air is an Egyptian airline based at Cairo International Airport which operates scheduled services to destinations in the Middle East, Egypt, Persian Gulf, Southern Europe and Africa.
The airline operates to the following destinations including Abha, Al Ain, Alexandria, Baghdad, Basra, Buraidah, Cairo, Hofuf, Istanbul, Hurghada, Jeddah, Istanbul, Jizan, Kuwait City, Sakakah, Ta'if, Tabuk, Yanbu, Sharm el-Sheikh, Port Sudan and many others. Nile Air is the second largest airline and the largest private airline in Egypt.
In 2013, Nile Air joined the Arab Air Carriers Organisation and the African Airlines Association in 2016 and received its AOC from the Egyptian Civil Aviation Authority permitting them to launch operations.
Nile Air is Egypt's leading private full service carrier operating scheduled services from Cairo and Alexandria to emerging airports in the region with a fleet of modern Airbus A320-200 aircraft.
Nile Air operates the largest and most modern fleet of Airbus A320-200 and Airbus A321-200 aircraft in Egypt. These modern Airbus aircraft were acquired to provide our guests, with the best onboard experience featuring state of the art design and technology and providing you with greater comfort, security, and efficiency during your journey. With the unique two-class product (business & economy class) and emphasis on regular upgrades to the aircraft interiors, the airline aims to provide our passengers with a superior flight experience.
---
Nile Air Baggage
Business Class: Offered 40kg of checked baggage on all flights to/from Egypt, Saudi Arabia, Kuwait, Sudan, United Arab Emirates and Iraq.
Economy Class: on the same flights are offered 30kg of checked baggage.
Unchecked baggage is 7kg and infants are entitled to 10kg of checked baggage.
Passengers with checked baggage exceeding the allowance will be liable to pay excess baggage fees.
---
Nile Air Check-In Information
Online Check-In
Nile Air doesn't offer online check-in yet, however, it's in the process of making web check-in available to all passengers.
Airport Check-In
Airport check-in is the only type of check-in that Nile Air offers. To check-in at the airport, visit one of the Nile Air check-in pages.
---
Nile Air Route Map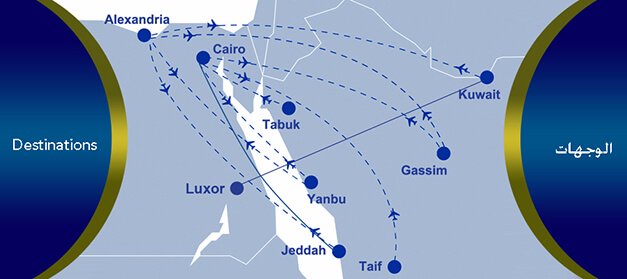 Nile Air Popular Routes
Cairo

Alexandria
Yanbu

Cairo
Jeddah

Alexandria
Alexandria

Basra
Baghdad

Cairo
Alexandria

Jizan
---
Nile Air Hub Airport
Cairo International Airport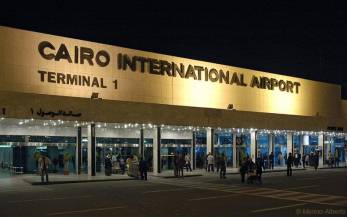 Cairo International Airport is the international airport of Cairo and the busiest in Egypt and serves as the primary hub for Egyptair. The airport also acts as a hub for Air Cairo, Air Go AMC Airlines, EgyptAir Express, Nesma Airlines, AlMasria Universal Airlines and soon to be SkyBird Airlines. The airport has three runaways and can handle nearly 18 million passengers every year.
Other airlines which fly to and from Cairo International Airport include Aeroflot, Alitalia, British Airways, Emirates, Gulf Air, Joon, Lufthansa, Middle East Airlines, Sudan Airways, Royal Falcon, Oman Air and Qatar Airways.
Alternative Airlines to Nile Air
---
---
Buy Discounted Nile Air Tickets at Alternative Airlines
---
Nile Air News
18th May 2018
Nile Air sign codeshare agreement with Turkey's leading low-cost carrier
Nile Ai
18th June 2018
Nile Air sign codeshare agreement with Turkey's leading low-cost carrier
Nile Air has struck a codeshare partnership with Pegasus Airlines. Nile Air, who are the biggest private airline in Egypt will operate a four-day weekly service that will fly between Istanbul Sabiha Gökçen Airport and Cairo Airport. Nile Air has already started flying the service for the Turkish Airline, flying the very first flight last Friday. Nile Air will use either its Airbus A320-200 or Airbus A321-200 aircraft to operate the service. Nile Air's fleet currently consists of all Airbus aircraft. It has two previously mentioned, as well as two additional Airbus A321neos on order.
28th April 2018
Egypt's Nile Air Preparing For IPO
Privately owned Egyptian carrier Nile Air is preparing for an initial public offering (IPO) later in 2018. Nile Air launched in 2011 and is now Egypt's second-largest independent airline. The full-service carrier operates five Airbus A320ceos and two A321ceos from Cairo and Alexandria to destinations in Africa, Europe, the Gulf and Middle East.
Speaking during a panel session at Aviation Africa here, Nile Air CEO Ahmed Aly said the airline is working toward an IPO
21st March 2018
Nile Air announces it is considering several avenues to ensure its continued growth
Nile Air, Egypt's largest privately owned airline, is exploring several avenues to ensure its continued growth in the challenging economic climate. The past year has seen a series of initiatives by Nile Air to cope with the difficult economic circumstances faced by the nation's airlines. And the pace of change is due to be maintained in 2018. 25% of Nile Air's flights are domestic services, however, their most extensive section of the route map is between Egypt and Saudia Arabia with 13 routes to 10 Saudi destinations.
Nile Air has expanded further afield with a new route to Istanbul and a second service to Port Sudan is the future. In addition, Nile Air has expaned by signing codeshare agreements with Flydubai and Pegasus Airlines of Turkey.
November 2018
Nile Air growth rate reaches 32%, flights regularity 92%
Chief Executive Officer of Nile Air Ahmed Ali said that the company's growth rate has reached 32 percent and the regularity of its flights is 92 percent.
He added that the company has not raised the prices of domestic flights after the decision by Egypt's Central Bank last year to devaluate the local currency. Prices have only increased on international flights, he clarified.
During a press conference held in Sharm el-Sheikh on the occasion of the company's purchase of a new Airbus A320-200 aircraft and announcing the company's future plan for strengthening domestic and foreign tourism, Ali said that the company organizes 500 flights per month to 7 countries, Saudi Arabia being the main one.
To encourage investment in Egypt, one of its airplanes has been decorated with the Egyptian flag accompanied by the words "Invest in Egypt," he said.
He also noted that the company is also currently seeking to open new routes to the African continent, motivated by the national orientation towards Africa, pointing out that flights are currently being operated to Port Sudan.
He pointed out that the company will honor the families of the martyrs of Friday's terrorist attack in North Sinai, which killed 310 people, without specifying how.
Since its establishment in 2006, Nile Air has intended to put 30 percent of its shares on the stock exchange. It plans to follow through on the intention next year, which would mean that the company would become the first private sector airline in Egypt to be listed on the stock exchange.
Ali went on to say that Nile Air recently inagurated a training academy for the airline which will contribute to developing education in the aviation sector.
Nile Air was established in 2006 and started operations as an Egyptian airline in 2010.
19th October 2017
Nile Air celebrates 1 millionth passenger of 2017
Egypt's largest private airline, Nile Air, just celebrated its one millionth passenger in the first nine months of 2017 this week, breaking new grounds as Egypt's leading private full-service carrier.

In just a few years since its foundation in 2006, the company has grown substantially to become the highest ranked airline in the Arab world in terms of growth, according to air travel intelligence company OAG. Additionally, the company still hopes to grow even more, covering more ground domestically and internationally.

In a press release on Sunday, Ahmed Ali, CEO of Nile Air, stated, "Welcoming our one millionth passenger onboard one of our flights this week is a testament to the continued contribution the airline is making to grow air transportation to, from and within Egypt.
We are proud to be Egypt's leading private airline, with the vision to develop Egyptian aviation while driving economic growth through tourism, business and internal investments. We would also like to thank our clients who continue to travel on Nile Air, and we reaffirm our commitment to providing exceptional quality and service to both Egypt and our passengers."
Nile Air runs its operations fleet of modern Airbus A320 and A321 aircraft from Cairo International Airport and Alexandria's Borg El Arab Airport, transporting its passengers to more than 20 destinations, with around 500 flights a month, both domestic and international.

Flight destinations within Egypt include Sharm El-Sheikh, Hurghada, Luxor and Aswan, while international flights are provided to Africa, the Middle East, the Arabian Gulf and Southern Europe.
June 2017
Nile Air annoucned it had purchased latest airbus planes A321neo
Nile Air company has requested to purchase the most recent single-aisle airbus planes, model A321neo. The company made the purchase request to the European manufacturing company for the model A321ceo in April, as an upgrade from A321neo. A321neo airbus will provide "new levels of comfort and longer flight time." The company's goal is to show their commitment to operation of the latest fleets of aircrafts from their Egyptian headquarters.
The airplane will contain 220 seats in business and economy cabins. The new flexibility and abilities of the A321neo will allow Nile Air increase and expand the company's flights to Europe, the Middle East and local destinations in Egypt.
The new plane is equipped with the latest amenities, including comfortable seats, advanced technology for entertainment and the latest technology in flying.
March 2017
Nile Air announced it was launching a new route connecting Cairo with the Saudi Arabian city of Ha'il from June 15th 2017
The new route complements Nile Air's existing and extensive network to Saudi Arabia, with services to eleven destinations in the Kingdom and offers its passengers a convenient access point to north-western Saudi Arabia. With the addition of this service, Nile Air will offer a total of 14 scheduled services between Egypt and Saudi Arabia, which solidifies its position as having the most extensive network of routes between both countries. The new three times weekly route will operate every Saturday, Tuesday and Thursday, starting from June 2017 to coincide with the start of the Summer travel season. In May 2017, Nile Air announced it had converted two orders for the A321-200ceo to the A321neo. It now has five A320ceo, one A321ceo and two A321neo on order.
September 2016
Latest figures showed Nile Air to be Egypt's fastest growing airline and the largest private airline based in the country
This summer, Nile Air operated 90% more flights when compared to last year, firmly indicating the airline's commitment to developing air travel to & from Egypt by attracting greater investment & tourism to the country. Nile Air is renown as the second largest independent airline in Egypt, with a network that spans across the Middle East, Africa, Gulf and Europe. Nile Air began operating in 2012 in order to enhance connection links in the North African region and to offer passengers a safe, enjoyable and pleasant experience with the best of true Egyptian hospitality. The new services will play an important role in developing tourism to Upper Egypt by offering Egyptians living in Cairo and international visitors, quick and conveniently scheduled flights to the historical cities. Services started from 2016 to coincide with the holiday season.
Nile Air is Egypt's leading private full service carrier which operates scheduled services from Cairo and Alexandria to emerging airports in the North-African region. The airline has dedicated staff to ensure the passengers' journeys are safe and comfortable. Nile Air has the highest on-time performance for all airlines in Egypt for 2015 and 2016, at over 90%, ensuring of guests arrive at their destination on time.
From 2016, Nile Air expanded it's networks by launching domestic services to the Ancient Egyptian cities of Thebes "Luxor & Aswan". Following the successful launch of the flights from Cairo to Sharm El-Sheikh and Hurghada this summer. Flights from Cairo and Luxor operate 3 times a week (Monday, Thursday and Friday). Flights from Cairo to Aswan will be connected 2 times per week (Monday and Friday).
---
Book Flights with Nile Air
Make an Nile Air reservation and find some amazing deals with discounted Nile Air tickets at Alternative Airlines. Nile Air flies to many destinations, offering a cost effective and safe service to all its passengers.
Let Alternative Airlines help find you cheap Nile Air tickets and make reservations on Nile Air today.
Browse the most popular Air Nile flight routes to destinations within the Egyptian region. Alternative Airlines can help you make reservations on Nile Air. Use the following list of routes to help you plan your next flight. Book Nile Air flights on Alternative Airlines to save big! Alternative Airlines is an online travel agency, specialising in booking lesser known airlines and remote destinations.
Alternative Airlines is an Online Travel Agency bonded by the International Air Transport Association (IATA). We specialise in finding the best available fares on the widest range of airlines and making them available to you online, with prices in the currency of your choice.
Alternative Airlines handles all your travel arrangements and payments, complete with ticketed confirmation. We do not direct you to other websites or service providers.
We help you through the process. This is what makes us Alternative Airlines.
Browse for flights, find some amazing deals, make a reservation and pay in the currency of your choice today with Alternative Airlines.
Let Alternative Airlines help find you the best prices and make international and domestic flight reservations with us today.
Join Alternative Airlines Members Club and get £100.00 back on your 5th booking with Alternative Airlines. You will have insight to many benefits and exclusive deals on over 450 airlines. Click on the Members section on the Alternative Airlines website for more information and join today.
We are open every day from 8am until 8pm (UK local time)