Airlines will always try to sit children with their parents (subject to check-in)
Some airlines will allow travel for unaccompanied minors. Please email us to check.
The fare is based on the child's age on the date of travel.
More detailed information can be found here Traveling with children
Most airlines will let infants travel with their parent(s) for free. However some airlines will charge up to 10% of the adult ticket price. Click on 'Price Breakdown' to find out more.
If you are pregnant, but due before the flight departure date, please contact us once your baby is born and has a name. We can then add him/her to your ticket.
Infants will not be given a seat. The airlines expect parents to travel with them on their lap.
Airlines regard infants as being under 24 months old.
The fare is based on the child's age on the date of travel.
More detailed information can be found here Traveling with children
Dubai International Airport
Cancellation Protection
Protects
Trusted Choice
65,000 happy customers
Rated 4.5 Stars. Based on 3,581 service ratings over the past year
Dedicated customer service team on hand to help
Secure payments
Cancellation Protection
Protects
Trusted Choice
65,000 happy customers
Rated 4.5 Stars. Based on 3,581 service ratings over the past year
Dedicated customer service team on hand to help
Secure payments
About Dubai–International Airport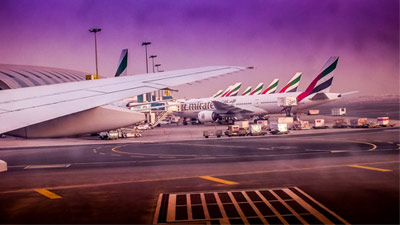 Dubai International Airport is the main airport in Dubai, UAE. The airport is one of the busiest airports in the world by passenger traffic, as well as for cargo.
Dubai International has more Airbus A380 and Boeing 777s aircraft flying from the airport than any other airport in the world. Because of this, the airport has the highest number of average passenger per flight in the world.
The airport is a hub for Emirates and flydubai, that both offer international flights from Dubai airport to all over the world.
Dubai International was built in the 1960s with the inaugural flight flying in 1996. The airport has undergone three major expansions since, with the opening of Terminal 2 in 1998, the opening of Terminal 3 ten years later, in 2008 and the opening of Concourse D (attached to Terminal 1) in 2016.
What is the airport code for Dubai International Airport?
The airport code for Dubai International Airport is DXB.
Airport Location
Dubai International Airport is located in the Al Garhoud district of Dubai. This is around 3 miles from Dubai centre. Dubai Airport is roughly a 5–10-minute drive away from Dubai city centre and a little further away from the hotels and resorts. The furthest away hotels and resorts will usually take no longer than an hour to reach.
Facilities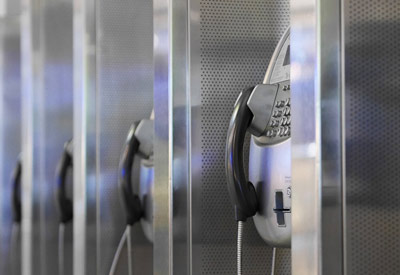 The airport has an award-winning concessions program, featuring more than 300 commercial venues to meet all passenger's shopping, dining and service needs.
Facilities Include:
Unlimited free high-speed WiFi
Currency exchange
Business centre
Baby care rooms
Baggage storage
Prayer rooms
Smoking lounges
Car hire
Showers
Emergency and medical services
Home check-in
VAT refund
Dining
Shopping
Lounges Include:
Al Majlis Lounge
Flat-screen TVs & WiFi
Customised menu and drinks
BMW transportation from lounge terminal and departure gate
Duty-free shopping area with a personal assistant
VIP parking
Prayer rooms
Personal assistance for airport procedures
Dubai International Business Class
High-speed WiFi
Spacious luggage area
Showers
Sleeping room
Smoking room
Dubai International First Class
Luggage area
Work stations
High-speed Wi-Fi
Smoking room
Quiet room
Marhaba Lounge
Refreshments
Bar
Working area
Relaxation area
Ahlan Lounge
Food and drink
Bar
WiFi
TV screens
Smoking area
Newspapers & magazines
Spa (additional cost)
Emirates First & Business Class Lounge
Gourmet dining
Bar
Entertainment
British Airways Lounge
Food and drink
Business centre
TV screens
Lockers
Lufthansa Lounge
Sky Team Lounge
Refreshments
Bar
TV screens
Newspapers & magazines
Showers
Gulf Air Lounge
Buffet
Business services
Showers
Book Lounge Passes for Dubai International Airport
Did you know that you can buy lounge passes for Dubai International Airport with Alternative Airlines? You can purchase them for Ahlan Business Class Lounge at Terminal 1 Concourse D, Marhaba Lounge at Terminal 3 Concourse C, Terminal 1, Concourse D, Terminal 3 Concourse A, Terminal 3 Concourse B, Terminal 2, and Ahlan Lounge at B.
Runways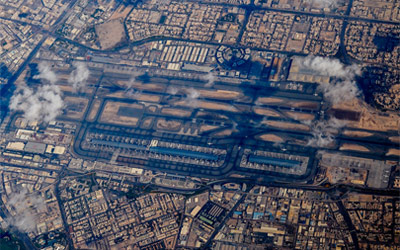 Credit: Umair Shaikh on Flickr
Dubai Airport has two runways — the southern runway 12R/30L and the northern runway 12L/30R The runways are situated closely together and are both 4,000 x 60m. Each runway has four instrument landing systems to help guide aircraft under poor weather conditions. The runways have gone under a few expansions and refurbishments over the years. Most recently, the southern runway undertook a complete resurfacing and lighting replacement to boost its safety. This was completed in May 2019.
Terminals
Dubai International is split into three terminals. All numbered chronologically — Terminal 1, Terminal 2 and Terminal 3. Terminal 2 is a standalone building. Whereas Termina 1 and Terminal 3 have concourses attached to the terminal. Each terminal facilitates a mix of international and domestic traffic.
Terminal 1
Terminal 1 is the original terminal of Dubai International. The terminal is attached to Concourse D (originally planned to be Terminal 4) which dramatically increased the capacity of the airport when it was built it was opened in 2016. The Terminal facilitates a number of different global airlines. With the opening of Concourse D, all airlines that flew out of Concourse A, B and C moved to Terminal 1 to allow Emirates to take over the other Concourses.
Terminal 2
Terminal 2 opened in 1998 and mainly facilitates flights to countries of southern and western Asia. The Terminal is also where flydubai is based. The Terminal underwent its first major refurbishment in 2010, where all facilities were improved and more space was created to better handle passenger traffic.
Terminal 3
Terminal 3 is the largest and newest terminal at Dubai International. The terminal was opened in 2016 and upon opening was the largest airport in the world by floor space. The terminal is attached to Concourse A, B and C.
The airport is partly underground and has multiple levels with an extensive selection of restaurants, lounges and other shopping opportunities,
Originally, Terminal 3 was used exclusively by Emirates. However, it is now used both by Emirates and Qantas, who have a codeshare agreement.
Concourse A, B and C all have three–five-star hotels within their respective buildings.
Airlines that fly to Dubai International Airport
Both Emirates and flydubai use Dubai International as its main hub.
Take a look at the table below to see a full list of airlines that fly to/from Dubai International.
| AIRLINE | COUNTRY FROM |
| --- | --- |
| Aeroflot | Russia |
| African Express Airways | Kenya |
| Air Algérie | Algeria |
| Air Astana | Kazakhstan |
| airblue | Pakistan |
| Air Canada | Canada |
| Air China | China |
| Air France | France |
| Air India | India |
| Air India Express | India |
| Ariana Afghan Airlines | Afghanistan |
| Azur Air | Russia |
| Azerbaijan Airlines | Azerbaijan |
| Badr Airlines | Sudan |
| Biman Bangladesh Airlines | Bangladesh |
| British Airways | England |
| Cathay Pacific | Hong Kong |
| Cebu Pacific | The Philippines |
| China Eastern | China |
| China Southern | China |
| Daalo Airlines | UAE |
| EgyptAir | Egypt |
| Emirates | UAE |
| Ethiopian Airlines | Ethopia |
| flynas | Saudi Arabia |
| Gryphon Airlines | USA |
| Gulf Air | Bahrain |
| GoAir | India |
| IndiGo | India |
| Iran Air | Iran |
| Iraqi Airways | Iraq |
| Jazeera Airways | Kuwait |
| Jubba Airways | Somalia |
| Karun Airlines | Iran |
| Kenya Airways | Kenya |
| Kish Air | Iran |
| KLM | Netherlands |
| Korean Air | South Korea |
| Kuwait Airways | Kuwait |
| Lufthansa | Germany |
| Mahan Air | Iran |
| Middle East Airlines | Lebanon |
| Nepal Airlines | Nepal |
| Norwegian | Norwegian |
| Oman Air | Oman |
| Pakistan International Airlines | Pakistan |
| Pegasus Airlines | Turkey |
| Philippine Airlines | The Philippines |
| Qeshm Airlines | Iran |
| Royal Brunei Airlines | Brunei |
| Royal Jordanian | Jordan |
| RwandAir | Rwanda |
| S7 Airlines | Russia |
| SalamAir | Oman |
| Saudia | Saudi Arabia |
| Sichuan Airlines | China |
| Singapore Airlines | Singapore |
| Smartwings | Czech Republic |
| SpiceJet | India |
| SriLankan Airlines | SriLanka |
| Swiss | Switzerland |
| Syrian Air | Syria |
| Thai Airways | Thailand |
| Transavia | Netherlands |
| Turkish Airlines | Turkey |
| Turkmenistan Airlines | Turkmenistan |
| Ukraine International Airlines | Ukraine |
| Ural Airlines | Russia |
How to get to Dubai International Airport
By driving
Dubai Airport terminals are accessed via Airport road if travelling from the south of Dubai centre. This is on the east of Dubai creek. If travelling from the north of Dubai, the terminals can be accessed via Al Quds Street.
Rental cars are available at the airport and the airport has a large parking facility at each terminal.
By taxi
Dubai taxis are cream (with pink trim for female drivers) and can be flagged down on the road.
Alternatively, you can ask the place that you're staying at for a taxi number. Or, contact +971 (0) 4 208 0808 to order a taxi independently.
By metro
Dubai's metro system has two different lines — the red line and the green line.
The red line stops at terminal 1 and terminal 3 and is the bigger line of the two. The green line is smaller and doesn't stop at the airport terminals. However, if travelling on the green line, you can use the interchange stations at Union or Burjuman to change onto the red line.
The metro runs from 5.50am–12am seven days a week. On Thursday it opens at 5.30am and on Thursday & Friday it closes at 1am.
Metro service doesn't start until 1pm on Friday.
By bus
There are a number of different routes that stop at Dubai airport. Once at the airport, there are shuttle buses that drive between each termina. Bus routes that travel from the city to the airport include:
F1 route
F2 route
F3 route
F4 route
F5 route
F6 route
F7 route
F8 route
F9 route
F10 route
F11 route
F13 route
F29 route
F30 route
F31 route
F32 route
F33 route
F37 route
F48 route
F999 route