Firefly Reservations with Alternative Airlines
Make a Reservation and Find Some Amazing Deals
---
About
Firefly is a Malaysian Airline that is based out of both Sultan Abdul Aziz Shah Airport and Penang International Airport. The airline operates both domestic scheduled service within Malaysia and international flights across Southeast Asia.
The airline is a full subsidiary of Malaysia's national carrier, Malaysia Airlines and was created with the goal to offer point-to-point flights throughout Southeast Asia. The airline has a twin hub strategy with flights flying from Subang Sultan Abdul Aziz Shah Airport and Penang. Despite being owned entirely by Malaysia Airlines, Firefly operates with a separate management team, crew and fleet.
Firefly launched flights in 2007, with its inaugural flight flown between its hub at Penang (HEN) and Kota Bharu (KBR).
---
Destinations
Firefly flies to many destinations across Malaysia and the rest of Southeast Asia, including to Ipoh, Kota Bharu, Penang, Medan, Singapore, Krabi, Phuket and more.
Domestic Destinations
| CITY | AIRPORT |
| --- | --- |
| Alor Setar | Sultan Abdul Halim Airport (AOR) |
| Johor Bahru | Senai International Airport (JHB) |
| Kota Bharu | Sultan Ismali Petra Airport (KBR) |
| Kuala Terengganu | Sultan Mahmud Airport (TGG) |
| Kuantan | Sultan Ahmad Shah Airport (KUA) |
| Langkawi | Langkawi International Airport (LGK) |
| Penang | Penang International Airport (PEN) |
| Subang | Subang Abdul Aziz Shah Airport (SZB) |

International Destinations
| COUNTRY | CITY | AIRPORT |
| --- | --- | --- |
| Indonesia | Banda Aceh | Banda Aceh International Airport (BTJ) |
| Singapore | Singapore | Seletar Airport (XSP) |
| Thailand | Phuket | Phuket International Airport (HKT) |
---
Route Map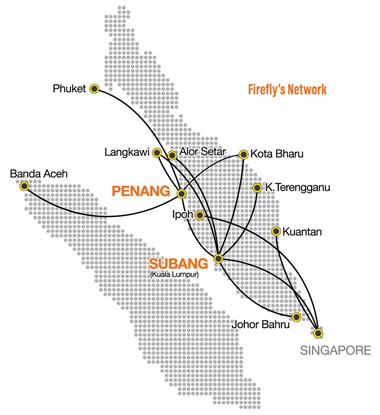 ---
Baggage
Carry-on Baggage
Passengers flying on Firefly are permitted one piece of free carry-on baggage, weighing a maximum of 7kg. This item must not exceed 56 x 36 x 23cm (22" x 14" x 9") in dimension.
Checked Baggage
Passengers are given 20kg of free checked luggage if they choose the FlyBasic fare and 30kg of free checked baggage if they choose the FlyPremier fare.
Bags which exceed this limit will be charged for excess baggage. Alternatively, passengers can purchase extra baggage online prior to flying in increments of 5 kg, 10k g and 15 kg.
---
Economy Class
Firefly's only cabin class is Economy Class. All passengers will have a standard seat in the aircraft and have the option to purchased food and drink once in-flight. Within Economy Class, there are two separate fares to choose from.
FlyBASIC
Passengers that purchase the FlyBASIC fare are given standard baggage (20kg) and have pre-allocated seating, which means passengers are given a seat rather than choosing it themselves.
FlyPREMIER
Passengers can choose to upgrade their fare to FlyPREMIER. On this ticket type, passengers will be able to bring with them more baggage (an extra 10 kg) and have a more flexible ticket wherein they have one free date or time change (up to twp hours before flying).
Not only do passengers in FlyPREMIER get an extra 10kg of checked luggage, but they also get priority baggage. Passengers that purchase the FlyPREMIER fare also have the option to get access to the SkyLounge at Subang Skypark Terminal (if flying from this airport).
Seats
Economy Class offers 30 inches of seat pitch. Passengers that check-in online or purchase the FlyPREMIER fare are able to select their seat free of charge and will have the option to select seats on the front row of the aircraft, which give more legroom.
---
In-Flight Entertainment
There's no in-flight entertainment but each passenger is given an in-flight magazine which they can read.
---
Food
The airline serves refreshments on board, typically snacks such as fruit and drinks such as soft drinks, juices and hot tea or coffee.
---
WIFI
There's no WIFI on Firefly flights.
---
Frequent Flyer
Enrich
Firefly offers a frequent flyer program named Enriched. This is the same frequent flyer program that Malaysia Airlines offers, meaning that you can earn points on Malaysia Airlines flights and spend them on Firefly flights and vice versa.
Passengers earn Enrich Miles for each flight flown, which they can then spend on either Firely or Malaysia Airlines flight. The amount of Enrich Miles earned per flight depends on the fare purchased and the route flown.
In addition to earning Enrich Miles, passengers can also earn Elite Miles and Elite Sectors, which are exclusive to Firefly flights. The number of Elite Miles and Elite Sectors earned will determine the level of membership that the passenger holds. There are four different levels of membership — the higher the level of membership earned, the more benefits the passenger has.
Take a look at the table below which shows the benefits for each membership.
MEMBERSHIP LEVEL
NO. OF POINTS REQUIRED
BENEFITS
Enrich Blue
Starting level
No benefits
Enrich Silver
25,000 Elite Miles or 30 Elite Sectors
(earned in one calendar year)
Priority check-in
Extended baggage allowance
Enrich Gold
50,000 Elite Miles or 50 Elite Sectors
(earned in one calendar year)
Priority check-in
Priority boarding
Extended baggage allowance
Lounge access
Travel assistance
Enrich Platinum
100,000 Elite Miles or 130 Elite Sectors
(earned in one calendar year)
Priority check-in
Priority boarding
Extended baggage allowance
Lounge access
Travel Assistance
Complimentary spouse card
KLIA meet & greet service (Malaysia Airlines flights)
*Passengers earn 250 Elite Miles/0.5 Elite Sectors on every route less than 250 miles & 500 Elite Miles/1.0 Elite Sectors on every route more than 250 miles.
---
Check-In Information
Online Check-In
Firefly currently offers online check-in for passengers travelling domestically within Malaysia, or between Malaysia and Singapore. This web check-in service will open at the earliest 14 days before departure, closing one hour before departure. Once passengers have checked in successfully, they must print their boarding pass to take with them.
The online check-in service can be found on the Firefly online check-in page.
Airport Check-In
Passengers who are not eligible for online check-in on Firefly must check-in at the airport check-in counters. Passengers must ensure that they have plenty of time, as passengers who arrive late to check-in will not be allowed on the flight.
---
Airline Alliance
Firefly isn't a part of any airline alliance. However, its parent airline, Malaysia Airlines is part of the Oneworld alliance.
Firefly also has a codeshare agreement with Firefly, which expands its reach beyond Southeast Asia and to other parts of the world.
---
Fleet
Firefly's fleet consists entirely of ATR 72-500. The airline has more than 10 of these regional jets within its fleet, which it uses to operate all flights. The airline's ATR-72-500s are designed to carry a maximum of 72 passengers.
---
Hub Airport
Firefly has two hub airports, Penang International Airport and Sultan Abdul Aziz Shah Airport.
Penang International Airport
Penang International Airport is one of Malaysia's busiest airports. It was opened in 1935 where it was known as the Bayan Lepas International Airport and is located on Penang Island within George Town.
The airport is also a hub for AirAsia, Malaysia Airlines and Malindo Air.
Sultan Abdul Aziz Shah Airport
Sultan Abdul Aziz Shah Airport is an international airport located in Subang, Malaysia. Sultan Abdul Aziz Shah was the main airport serving Kuala Lumpur until Kuala Lumpur International Airport opened in 1998.
Sultan Abdul Aziz Shah is also the hub airport for Berjaya Air, MYAirline, and Raya Airways.
---
Alternative Airlines to Firefly
Please click on the logos below to find out more about airlines that fly similar routes to Firefly:
---
News
Firefly Route Update
After previously announcing temporarily flight cancellation through May and June due to COVID-19, Firefly has updated its route offering and is flying a limited scheduled between 29th April—12th May. The airline is only offering domestic flights during this time. Previously, international flights had set to be cancelled until June. However, this may change depending on how the situation evolves.
At the moment, all passengers are asked to wear face masks for the entirety of their trip. This includes at the airport, on the plane (except when eating) and when they land at the arrival airport.