Search & Buy Proflight Zambia Flights
Let's fly!

Select your payment method to view total prices including any payment fees:
Airlines will always try to sit children with their parents (subject to check-in)
Some airlines will allow travel for unaccompanied minors. Please email us to check.
The fare is based on the child's age on the date of travel.
More detailed information can be found here Traveling with children
Most airlines will let infants travel with their parent(s) for free. However some airlines will charge up to 10% of the adult ticket price. Click on 'Price Breakdown' to find out more.
If you are pregnant, but due before the flight departure date, please contact us once your baby is born and has a name. We can then add him/her to your ticket.
Infants will not be given a seat. The airlines expect parents to travel with them on their lap.
Airlines regard infants as being under 24 months old.
The fare is based on the child's age on the date of travel.
More detailed information can be found here Traveling with children

Buy
Proflight Zambia

Flights

Search and Buy Proflight Zambia Flights with Alternative Airlines
Make a Proflight Zambia reservation and find some amazing deals with discounted Proflight Zambia at Alternative Airlines
Check out what people say about Alternative Airlines - Alternative Airlines Reviews
---
About
Proflight Zambia operates both scheduled and charter flights with the largest fleet of aircraft in Zambia and is based in Lusaka.
Destinations that the airline flies to include Chipata, Durban, Kasaba Bay, Lilongue, Livingstone, Lusako, Mansa, Mongu, Ndola and Solwezi.
Proflight Zambia was founded in 1991 and began operating charters within Zambia and the neoghbouring regions. In 1997, Proflight Zambia obtained their first licence to operate schedules to Mfuwe. By 2009, Proflight Zambia was allowed to form an alliance with Zambezi Airlines and rebranded as Proflight Zambia.
Proflight Zambia operates over 200 flights a week with an on-time performance of over 80%. In the three-and a half years from to June 2015 the airline flew 440,205 passengers with an average load factor of 65%.
A code-share agreement is in place with RwandAir and interline agreements with South African Airlines, Emirates, Ethiopian Airlines and Kenya Airways.
Proflight Zambia is the fastest growing local airline in Southern Africa, with capacity almost doubling between 2010 and 2014. It was ranked third, after Ethiopian Airlines and Turkish Airlines.
---
Fleet
1 x 50-seater Bombardier CRJ-100 jet
4 x 29-seater Jetstream 41 aircraft and
2 x 12-seater Cessna Caravan C208 aircraft.
---
Frequent Flyer Program
Proflight Zambia offers a frequent flyer program called Mbasela Club and earn Miles each time you fly and you can use those Miles to pay for a free reward ticket.
Mbasela Club members will shortly be able to qualify for free reward tickets on our partner airline, CemAir on their domestic routes in South Africa.
---
News
14th May 2018
Proflight to Fly
Beginning of July, Proflight Zambia will introduce flights between Lusaka and Harare. The airline will fly 4 x weekly (Mondays, Tuesdays, Thursdays and Saturdays) using a 29-seater Jetstream 4100 (J41).
Proflight will be in competition with Kenya, Ethiopian Airlines, Angola, Emirates and Namibia. The airline was established in 1991 and operates over 200 flights a week with an on time performance of over 80%.
December 2018
Flying a baby elephant- All in a days work for Proflight Zambia
An orphaned baby elephant has won the hearts of people throughout the world after a 577 km mercy flight across the country to rescue the stranded creature and bring her to safety.
The tiny two-month-old elephant was rescued in the South Luangwa National Park, after she was found by local residents in the bush: alone, starving and terrified.
A team from Proflight Zambia then flew into action and dispatched a 12-seater C208 Caravan aircraft to collect the elephant – named Matizye after a nearby river – and fly her to the safety of the Lilayi Elephant Nursery operated by Game Rangers International in Lusaka.

"Who said elephants can't fly!" said Captain Emmanuel Nyirenda, who flew the 90-kg elephant to her new home along with colleague Captain David Ndumba.
"We carry thousands of passengers across the country every year to see Zambia's fantastic wildlife and national parks, so it is only fitting that we put something back by helping little Matizye and ensuring that our natural wonders are cared for," he added.
Matizye was originally rescued by officers from the Department of National Parks and Wildlife (DNPW) with support from the Conservation South Luangwa charity.
With quick action and veterinary support the calf was taken to the nearby Chipembele Wildlife Education Trust where she was cared for by Game Rangers International's consultant vet nurse Liz O'Brien who Proflight rapidly flew to the scene.
Upon arrival she found the fragile female orphan in desperate need of help. The calf was dehydrated, stressed and showing the initial signs of shock. With some intensive care by Ms O'Brien, Chipembele's Anna Tolan and her team, the calf was in the best possible hands, to give her a chance for survival.
The medical aspects of the rescue mission were overseen by DNPW senior veterinary officer Dr Innocent N'gombwa, who assessed Matizye and ensured she was given painkillers and a mild sedative to help manage the trip.
"She was found a week ago lying in a puddle of mud. I was called in by Game Rangers International to see if we could save her life. She was extremely thin; she was very dehydrated; she was extremely stressed. She had lost her mother and she was even having nightmares," said Ms O'Brien.
While the fate of Matizye's mother is not known, she specualted that she may have fallen victim to poachers, who are know to operate in the area.
Game Rangers International is a Zambian conservation organization, working alongside the Department of National Parks and Wildlife to protect the wildlife in Zambia through resource protection, wildlife rescue and community outreach and education.
This is not the first time that Proflight has helped rescue a wild animal. In 2013 Proflight flew Douglas, a 120kg orphaned hippo calf to its new home and have repeatedly flown other orphaned elephants in the past to Game Rangers International who now care for 18 elephants.
11th October 2017
Proflight Zambia aims expansion on its Lusaka-Lilongwe route
Zambian owned international airline company; Proflight Zambia has said it plans to expand its services on the Lusaka-Lilongwe route as it has targeted to move from single flight a day to double in the next two years.
Commercial and Ground Operations Director for Proflight Zambia, Keira Langford-Johnson said in an interview Monday in Lilongwe that having grown in both frequency and capacity during the five years that they have been plying the Lusaka-Lilongwe route, it is their vision as a company to expand further.
"When we were starting out in 2013, we had three flights a week using an 18 seater jet and now we are operating daily on a 29 seater aircraft.
"In the next two years we would like to be able to put a 50 seater aircraft on the Lilongwe route and perhaps go on to double flights per day. That is our vision for the Lilongwe-Lusaka route," Langford-Johnson explained.
This will be a direct response to the rise in the number of passengers that the company has recorded on the route in the past three years which has seen passenger numbers growing by over 60 percent, a combination of both tourists and business people from the two countries.
"In the last six months we have not recorded any growth maybe because of the competition we are facing from Malawian Airlines but we are still optimistic about the prospects and this route remains one most important ones for us. And we believe it will continue to grow," she said.
The company said almost in all the countries that they are operating in, they have been faced with problems of poor state of infrastructure which have in the end slowed down their business.
"In most of the routes they do not have sufficient flyer coverage for large aircraft, have few facilities and in many cases they still have dirt or gravel runways.
"In order for an airline to take full advantage of economies of scale to benefit from putting large aircraft on a route and maximizing the seats filled better infrastructure needs to be put in place to make it more sustainable," Langford-Johnson hinted.
At the moment both Malawi and Zambia are in the process of renovating and building their main international airports, Kamuzu International Airport and Lusaka International Airport respectively are both undergoing facelifts.
"Once we get the new airports in place we would like to see upgraded systems in order to better facilitate the passengers coming through. We can see Zambia becoming a hub because of the good connectivity with so many other airlines flying in and out of Zambia," she said.
The company started its operations in 1991 and it flies out to 12 destinations primarily in Zambia with two international routes of Lusaka to Lilongwe and Lusaka to Durban.
Proflight boasts of intra-line agreements with Fly Emirates, South African Airways, Ethiopian Airlines, Kenyan Airways and Rwandan Airways and it offers a baggage allowance of 23KGs.
18th May 2017
Proflight Air Services has announced the launch of a new domestic route from Zambia's capital Lusaka to Kalabo in the Western Province, 70 km from the Angolan border. This will operate a 2 x Weekly service with a Cessna (Single turboprop) 208 Caravan aircraft and commenced on 15th March, the 1st scheduled service to Kalabo.
The service wil allow passengers to connect to domestic and international services at Lusaka international airport.
7th April 2017
Proflight Zambia is providing 3 special flights to Mongu for travellers to the annual Kuomboka ceremony in Western Province. The is to encourage more tourists to celebrate the cultural highlight of the Lozo Calender on Saturday 8th April 2017.
In January 2017, Proflight Zambia annouced that they will be laucnhing 4 new domestic routes this year to encourage revenue and dig deeper in the growing demand of routes. The Lusaka-Kalabo route will operate on Wednesdays and Saturdays, leaving Lusaka at 08h15 and arriving in Kalabo at 10h45. The return flight departs Kalabo at 11h05, arriving in Lusaka at 13h35.
The Ndola-Solwezi flight will depart Ndola at 08h30 on Tuesdays and Fridays, arriving in Solwezi at 09h30. On Thursdays, the flight will depart Ndola at 13h35, arriving in Solwezi at 14h35. The return flight will depart Solwezi at 09h55 on Tuesdays and Fridays, arriving in Ndola at 10h55. On Thursdays, the flight will depart Solwezi at 15h00 arriving in Ndola at 16h00.
Ndola-Kasama flights will operate on Tuesdays and Fridays, departing from Ndola at 12h45 and arriving in Kasama at 14h25. The return flight leaves Kasama on Mondays and Thursdays at 10h35 arriving in Ndola at 12h15.
In November 2016, Proflight Zambia launched a new service direct from Lusaka to Kalabo in Western Province. Commencing on March 15, 2017, the new route Lusaka-Kalabo-Lusaka will be operated twice weekly on Wednesday and Saturday mornings by a Cessna Caravan with a capacity of eight passengers. Flights will depart from Lusaka at 08:15hrs on Wednesdays and Saturdays to arrive in Kalabo at 10:45hrs, and return from Kalabo at 11:05hrs, to arrive in Lusaka at 13:35hrs providing connections onto Livingstone, Lusaka and Mfuwe tourism connections, Ndola and Solwezi business connections, and international connections including Proflight to Lilongwe, and flights operated by South African Airways, Kenya Airways and Emirates Airlines. In June 2016, Proflight Zambia was removed from the EU blacklist. In the meantime, the airline will maintain its three-times-a-week flights from Lusaka to Kasama in order to service Northern Province. As the airline prepares for the IATA operational safety audit which it will be undergoing in 2016 it Is reducing the use of the 12-seat Caravan aircraft.
In September 2016, Proflight Zambia announced it was supporting this year's World Tourism Day by bringing people to Africa's top attractions quickly, safely and affordably. Proflight Zambia, the country's only domestic airline, flies to Zambia's main tourism destinations which are spread out to the north, south, east and west of the country. Zambia covers just over 752,600 square kilometres, and the tourist destinations are scattered around the country. The airline has announced that it is committed to backing tourism and freedom of movement in Zambia by signing up to the theme of this year's World Tourism Day which is 'tourism for all – promoting universal accessibility'.
In September 2015, Proflight Zambia commenced services between Lusaka and Durban. The 1,609-kilometre sector will operate thrice-weekly on Tuesdays, Thursdays and Saturdays and be flown using CRJ 100s. Although the route does not face any direct competition, South African Airways does offer a very extensive one-stop service via Johannesburg according to its online timetable. The Government said the launch of a direct flight to Durban by Proflight will supplement government's efforts meant to turn Zambia into a hub for air travel throughout the region. Proflight will fly three times a week to Durban using its 50-seater CRJ-100 aircraft.
In December 2016, Proflight Zambia is set to launch four new domestic routes in 2017, opening up new tourist destinations and improving connectivity for business travelers. The country's scheduled airline will relaunch its direct Ndola-Solwezi route in January, along with Ndola-Kasama flights. A Lusaka-Kalabo service will begin on March 15, 2017, and a direct Mfuwe-Lower Zambezi service between June 15 and October 31, next year. The new routes are intended to help boost domestic and international tourism as well as provide additional convenience for business travellers. Proflight Zambia aims to increase business demand and improve customer convenience during the course of 2017.
The newly-opened routes will make travelling more efficient and faster for business and leisure travellers in Ndola, Solwezi, Kalabo, Kasama, Mfuwe, and Lower Zambezi, as they will no longer need to pass through the airline's hub at Kenneth Kaunda International Airport in Lusaka.
The Lusaka-Kalabo route will be operated on a twice-weekly basis on Wednesday and Saturday mornings, leaving Lusaka at 08:15hrs and arriving in Kalabo at 10:45hrs. The return flight leaves Kalabo at 11:05hrs, arriving in Lusaka at 12:15hrs.The Ndola-Solwezi flight will depart Ndola at 08:30hrs on Tuesdays and Fridays, arriving Solwezi at 09:30hrs. On Thursdays, the flight will depart Ndola at 13:35hrs, arriving Solwezi at 14:35. The return flight departs Solwezi at 09:55hrs on Tuesdays and Fridays, arriving Ndola at 10:55hrs. On Thursdays, the flight will depart Solwezi at 15:00hrs arriving Ndola at 16:00.Ndola-Kasama flights will operate on Tuesdays and Fridays, leaving Ndola at 12:45hrs and arriving in Kasama at 14:25. The return flight leaves Kasama on Mondays and Thursdays at 10:35 arriving Ndola at 12:15hrs.
Proflight Zambia set to benefit as the Zambia Tourism Agency in partnership with KAMAGEO, coordinated a successful trade roadshow in the UK. The roadshow was borne out of the fact that there is a recognition that it is important to provide detailed product information to travel consultants and their product managers to enable them effectively sell the various Zambian tourism products, while on the other hand generic information to the consumer is also important as this assists in generation interest to the tour operators. Despite financial limitations the Zambia Tourism Agency and the London office was successful in playing an active role in the successful delivery of the Zambia roadshow in the United Kingdom. The road shows in the United Kingdom were held in Manchester, Cirencester, London West and Kensington London.
---
Fleet
Proflight Zambia's fleet consists of Cessna 208 Caravan, British Aerspace Jetstream 32 and 31 and Bombardier CRJ200.
---
Route Map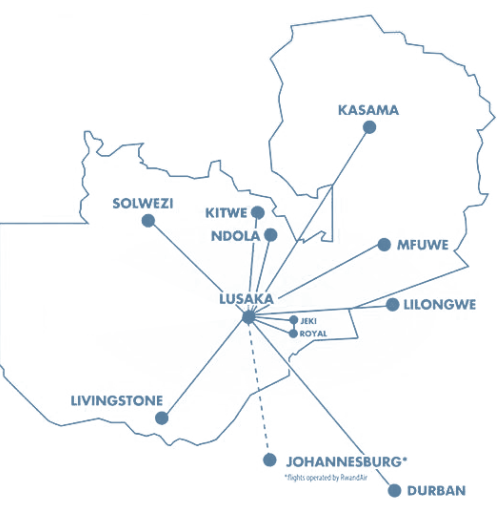 Popular Routes
Lusaka

Kasama
Lusaka

Lilongwe
Lusaka

Ndola
Lusaka

Solwezi
Lusaka

Livingstone
Lusaka

Kitwe

---
The Fleet
---
Lusaka International Airport
HUB Airport
Lusaka International Airport is the hub of Zambian Airlines.
Airlines that fly from and to Lusaka international Airport include: Air Botswana, Air Namimbia Airlink, Emirates, Ethiopian, FastJet, Kenya Airways, Malawi Airways, RwandAir, South African Airlines, South African Express and TAAG Angola Airlines.

---
---
Book Flights with Proflight Zambia
Make a Proflight Zambia reservation and find some amazing deals with discounted Proflight Zambia at Alternative Airlines. Proflight Zambias flies to many destinations, offering a cost effective and safe service to all its passengers. Let Alternative Airlines help find you cheap Proflight Zambia tickets and make reservations on Proflight Zambia today.
Browse the most popular Proflight Zambia flight routes to destinations within the Zambian region. Alternative Airlines can help you make reservations on Proflight Zambia. Use the following list of routes to help you plan your next flight. Express Airways flights on Alternative Airlines to save big! Alternative Airlines is an online travel agency, specialising in booking lesser known airlines and remote destinations.
Alternative Airlines is an Online Travel Agency bonded by the International Air Transport Association (IATA). We specialise in finding the best available fares on the widest range of airlines and making them available to you online, with prices in the currency of your choice.
Alternative Airlines handles all your travel arrangements and payments, complete with ticketed confirmation. We do not direct you to other websites or service providers.
We help you through the process. This is what makes us Alternative Airlines.
Browse for flights, find some amazing deals, make a reservation and pay in the currency of your choice today with Alternative Airlines.
Let Alternative Airlines help find you the best prices and make international and domestic flight reservations with us today.
Join the Alternative Airlines Members Club and get £100.00 back on your 5th booking with Alternative Airlines. You will have insight to many benefits and exclusive deals on over 650 airlines. Click on the Members section on the Alternative Airlines website for more information and join today.
We are open every day from 8am until 8pm (UK local time).
READ MORE ABOUT PROFLIGHT ZAMBIA