Cheap Proflight Zambia Reservations with Alternative Airlines
Make a Booking and Find Some Amazing Deals
---
About
Proflight Zambia operates both scheduled and charter flights with the largest fleet of aircraft in Zambia and is based in Lusaka. The airline offers domestic flights to destinations within Zambia, flights to destinations in South Africa and Malawi, as well as domestic flights within South Africa, which are operated by Kulala on behalf of Proflight Zambia
The airline was founded in 1991 under the name Proflight Commuter Services and began operating charters within Zambia and the neighbouring regions. In 1997, it obtained its license to operate scheduled services and began flights to Mfuwe. In 2009, the carrier formed an alliance with Zambezi Airlines which later ended when Zambezi Airlines was dismantled in 2012. In 2010, Proflight Commuter Services rebranded as Proflight Zambia, which it's still known as today.
---
Destinations
Domestic Destinations
| CITY | AIRPORT |
| --- | --- |
| Kalabo | Kalabo Airport (KLB) |
| Livingstone | Harry Mwanga Nkumbula International Airport (LVI) |
| Lusaka | Kenneth Kaunda International Airport (LUN) |
| Mfuwe | Mfuwe Airport (MFU) |
| Ndola | Simon Mwansa Kapwepwe International Airport (NLA) |
| Solwezi | Solwezi Airport (SLI) |
International Destinations
COUNTRY
CITY
AIRPORT
Malawi
Lilongwe
Lilongwe International Airport (LLW)
South Africa
Cape Town
Cape Town International Airport (CPT)
Durban
King Shaka International Airport (DUR)
Johannesburg
O.R Tambo International Airport (JNB)
---
Baggage
Carry-On Baggage
Passengers are entitled to one item of free carry-on baggage with a maximum weight of 5 kg. As the planes that the aircraft use don't have overhead storage compartments, this baggage must be able to fit under the seat on the aircraft. Any baggage that doesn't fit under the seat on the aircraft will have to be put in the hold, which passengers may be charged for.
Checked Baggage
The amount of free checked baggage that passengers are permitted depends on the route that passengers are flying.
| | NO. OF BAGGAGE | WEIGHT ALLOWANCE |
| --- | --- | --- |
| DOMESTIC FLIGHTS | 1 | 23 kg |
| FLIGHTS TO MALAWI | 1 | 30 kg |
| FLIGHTS TO SOUTH AFRICA | 2 | 23 kg (per piece) |
---
Economy Class
Economy Class is the airline's only cabin class. It is a spacious cabin, with a professional service carried out by the airline's expertly trained cabin crew.
Passengers are given complimentary food and drink on all flights in Economy Class.
Seats
Seats are set out in either a 2 x 2, 1 x 2 or 1 x 1 formation.
---
In-Flight Entertainment
The airline doesn't have an in-flight entertainment system installed on any of its aircraft. However, passengers can enjoy a free copy of the latest issue of the airline's in-flight magazine, NKWAZI, which can be found in the seatback pocket of the chair in front of them.
---
WIFI
There's no WIFI network on any of Proflight Zambia's flights.
---
Food
On flights operated by CRJ and J41, passengers are served complimentary light snacks and drinks.
On flights operated by Caravan C208, passengers can help themselves to free snacks and drinks from a self-service area on the aircraft.
On flights between Lusaka and Durban, passengers are served a complimentary light meal which is served by a choice of soft drinks or beer.
---
Route Map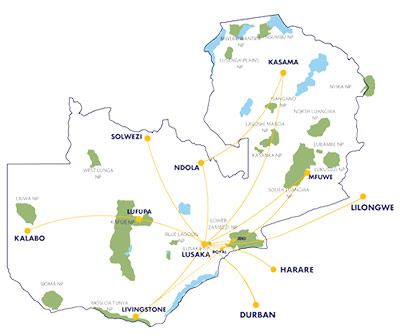 ---
Frequent Flyer Program
Proflight Zambia does not currently offer a frequent flyer program. Previously, they offered a frequent flyer progam called Mbasela Club where passengers could earn Miles each time they flew with Proflight Zambia. Instead, they now offer weekly flash fares.
---
Fleet
The airline operates a fleet of seven regional jets. It uses planes manufactured by Bombardier (RJ100 and Dash 8 Q300), the British Aerospace Jetstream 41 and the Cessna C208.
---
Airline Alliance
Proflight Zambia is not currently in any official airline alliance. However, a code-share agreement is in place with RwandAir and they also have interline agreements with South African Airlines, Emirates, Ethiopian Airlines and Kenya Airways.
---
Hub Airport
Kenneth Kaunda International Airport
Kenneth Kaunda International Airport (LUN), commonly referred to and formerly officially known as Lusaka International Airport is an international airport in Lusaka, Zambia. The airport is the hub airport for Proflight Zambia and the main airport in Zambia. The airport has one terminal building, two runways and the annual capacity to handle two million passengers.
Aside from Proflight Zambia, other airlines that fly to/from Kenneth Kaunda International Airport include Air Namibia, Airlink, Air Tanzania, Ethiopian Airlines, Kenya Airways, Rwandair, SAA, TAAG Angola Airlines and Turkish Airlines.
---
Special Services
If you require any special services whilst flying with Proflight Zambia, then please contact us with your request and our dedicated customer service team will do their best to handle your request. Alternatively, you can enter your request in the requests box when booking.
Flying Whilst Pregnant
If you wish to fly whilst expecting a baby, then there are some additional regulations to be aware of. If you are up to 28 weeks pregnant when travelling then Proflight Zambia do not require a doctor's certificate, although you may be asked to sign an indemnity form. If you wish to travel between 28 to 36 weeks pregnant then you are requested to bring a doctor's certificate that confirms that you are fit to fly and specifies the date that the baby is due. Proflight Zambia will not carry any women over 36 weeks pregnant under any circumstances.
---
Alternative Airlines to Proflight Zambia