Himalaya Airlines Reservations with Alternative Airlines
Make a Himalaya Airlines Booking and Find Some Amazing Deals
---
About Himalaya Airlines (H9)
Himalaya Airlines—also called H9—is a private international Nepalese airline based at Tribhuvan International Airport in Kathmandu, Nepal. Himalaya Airlines provides scheduled flights to 5 destinations in China, Malaysia, Qatar, Saudi Arabia and the United Arab Emirates.
The airline was established in 2014 as a joint venture between Nepal and China. Currently, ownership of the company is shared between Tibet Airlines and Yeti World Investment Pvt Ltd. However, a change in the company's organisational structure towards the end of 2019 will see the Tibet Civil Aviation Development and Investment Company become a majority share holder (this is unlikely to affect the operations of the airline).
Himalaya Airlines began operations using one aircraft and operating one route (Doha - Qatar), but this quickly expanded to three aircraft and five destinations across Asia. Himalaya Airlines was the first and remains the only airline that connects Nepal to Saudi Arabia.
Fun Fact: In its first year of operating, H9 received the 2017 international award for 'Leading New International Airlines in South Asia' at South Asian Travel Awards (SATA), honouring the airline's commitment to developing a high standard of service!
The airline remains dedicated to its goal of building its connectivity with China. Flights to Beijing will begin on 27 October 2019, to be followed by flights to Changsha, Nanchang, Guiyang, and Chongqing - see below for more details.
Top Tip: Do you plan on exploring Nepal and/or the Himalayas? The easiest and quickest way to travel is by air! For more information, check out our guide: domestic flights within Nepal.
Did you know? When you book through Alternative Airlines, you can pay for your flights in Nepalese Rupee, as well as over 160 currency options.
---
Baggage Allowance
Checked Baggage
All passengers are entitled to carry some baggage free of charge. But please note that baggage allowances varies, and is based on a number of factors including route, fare class, departure airport, arrival airport and flight length. Passengers are advised to check their ticket/booking to confirm the applicable free baggage allowance and excess baggage charges.
In most instances, the free checked baggage allowance will be as follows:
Premium: 40 Kgs (25 Kgs on the Kathmandu/Dhaka route)
Economy: 30 Kgs (20 Kgs on the Kathmandu/Dhaka route)
Carry-On Baggage
Passenger may carry one item of cabin luggage. Cabin luggage shouldn't exceed 7kg. The overall dimension of the baggage should not exceed 55 x 35 x 25 cm or 21.7 x 13.8 x 9.9 inches.
---
Check-In Information
Check-in at the Airport
Check-in deadlines are different at every airport. The airline recommends that passengers inform themselves of check-in deadlines and ensure they have plenty of time.
Check-in Online
Online check-in is not currently available. It is advised that passengers arrive at their departing airport with plenty of time to spare.
---
Cabin Classes
The airline's cabin offers between 128 and 150 Economy Seats and 8 Premium seats. In both cabins, passengers can enjoy a bright, modern, and clean interior, with comfortable reclinable seats with soft LED lighting.
---
Economy Class
Economy Facilities
In Economy Class, you can enjoy a choice of hot meals with complimentary hot and cold beverages. Food options will depend on destination. Please note that no alcoholic beverages are served or permitted on any flights.
Economy Entertainment
You can also stay entertained onboard with Himalaya Airline's overhead screens featuring entertainment. There are 18 overhead screens throughout the Economy cabin.
There is also an in-flight magazine, called Danfe, to enjoy. All the major Nepali newspapers (both English & Nepali language) are available on board.
What are Economy Seats Like?
Enjoy spacious seating with the ability to recline up to 3-inch. The seats are 17.5 inches (440 mm) wide with 30 inches (760 mm) seat pitch.
---
Premium Economy Class
Premium Economy Facilities
The airline's Premium Economy offering is an upgrade on Economy. A wide range of food and drinks are available onboard. Enjoy a hot meal, with appetizer and soft bread roll. Food options will depend on destination. Please note that no alcoholic beverages are served or permitted on any flights.
Premium Economy Entertainment
There are two overhead TV screens serving the 8 Premium Economy seats, offering non-stop entertainment, from the latest blockbusters to TV shows and documentaries.
There is also an in-flight magazine, called Danfe, to enjoy. All the major Nepali newspapers (both English & Nepali language) are available on board.
All seats are built-in with a USB port.
What are Premium Economy Seats Like?
Enjoy comfortable seating with the ability to recline up to 7 inches. The seats are 26.9 inches (680 mm) wide with 43 inches (1,100 mm) seat pitch.
---
In-flight Meals
Premium Economy: A hot meal along with appetizer and soft bread roll will be served. The main course consists of a veg or non-veg option. But please note that food options will depend on your destination.
Economy: On all outbound flights from Kathmandu fresh vegetarian patty is served. A hot meal (veg or non option) is served on inbound Doha-Kathmandu and Dammam-Kathmandu flights. A veg or non-veg sandwich is served on Dubai-Kathmandu and Abu Dhabi-Kathmandu Flights.
Special Meals
Meal options only include either a vegetable or non-vegetable option. This can be selected during the booking process from the 'Special Meal' drop-down option, or by contacting our customer service team.
Alcohol
Please note that alcoholic beverages are not served or permitted in any Himalaya Airlines flights.
---
WiFi
WiFi is not currently available for passengers; it is recommended that any entertainment that downloaded onto personal devices before the flight.
---
Fleet
Himalaya Air has plans to add two A319 in its fleet in the near future. As of October 2019, the airline operates a fleet of the following aircraft:
| NUMBER IN OPERATION | AIRCRAFT TYPE | NUMBER OF PASSENGER SEATS |
| --- | --- | --- |
| THREE (3) | Airbus A319-100 | 158 (150 x Economy and 8 x Premium) |
| ONE (1) | Airbus A320-200 | 128 (120 x Economy and 8 x Premium) |
---
Destinations
International Destinations
The airline is an international carrier, flying from its base at Kathmandu to the following countries:
Kuala Lumpur International Airport,
Kuala Lumpur,
Malaysia
King Fahd International Airport,
Dammam,
Saudi Arabia
Hamad International Airport,
Doha,
Qatar
Dubai International Airport,
Dubai,
United Arab Emirates
Abu Dhabi International Airport,
Abu Dhabi,
United Arab Emirates
Tribhuvan International Airport,
Kathmandu,
Nepal
Shahjalal International Airport,
Dhaka,
Bangladesh
Chongqing Jiangbei International Airport (seasonal only),
Chongqing,
China
Beijing Daxing International Airport,
Beijing,
China
Nanchang Changbei International Airport,
Nanchang,
Cina
---
Flights to Everest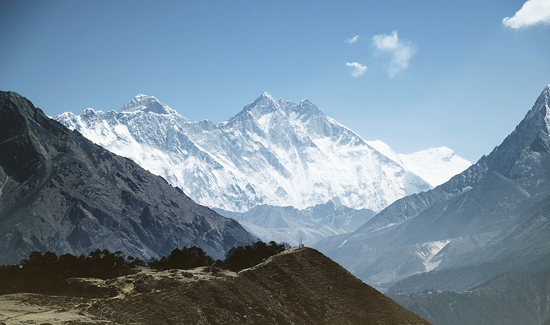 Kathmandu's Tribhuvan International Airport is one of the closest airports to Mt Everest.
The easiest and quickest way to reach Everest is to fly to Lukla Airport. The only airport you can fly to Lukla from is Tribhuvan International Airport. Himalaya Airlines provides flights from a number of international destinations to Tribhuvan International Airport, from which connecting flights can be made to Lukla Airport on a smaller carrier. For more information, check out our full guide to flying to Mt Everest.
---
Hub Airport
Tribhuvan International Airport
Tribhuvan International Airport is an international airport based in Kathmandu, Nepal. It is the primary international airport in Nepal - if your're flying to Nepal, it's likely that you'll land at Tribhuvan (KTM). It is located in the Kathmandu Valley, about 3.1 miles from the city center of Kathmandu. The airport has one domestic and one international terminal. At present, over 30 international airlines connect Nepal to destinations in Asia and the Middle East, and the airport serves as a hub for a number of Nepalese airlines, including Tara Air, Buddha Air, Nepal Airlines, Yeti Airlines, and Shree Airlines, amongst others.
Other airlines that fly to the airport include: Air India, Air China, Air Arabia, Cathay Dragon, China Eastern, and many more.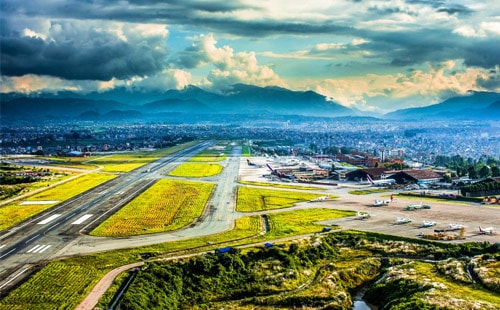 ---
Airline Alliance
Himalaya Airlines is not a member of an Airline Alliance.
---
Frequent Flyer Program
Himalaya Airlines does not offer a frequent flyer program.
---
Special Services
Medical and Special Needs
The airline is dedicated to meeting the needs of its passengers, including passengers with reduced mobility, sensory impairments or any other physical challenges.
The airline asks that passengers requiring any special assistance inform the airline prior to travel, either at the time of booking or 48 hours before departure. When you make your booking through Alternative Airlines, you can make a note of any special requests which we will pass onto the airline, or you can contact our customer service team.
Flying with Pets
It is possible to transport your pet on a Himalaya Airlines' flight, in the hold of the aircraft. It is important to inform the airline before flying - this can be done at the time of booking or by contacting our customer service team. Pets must be transported in suitable containers and will be subject to an additional charge.
---
Alternative Airlines
---
News
23rd January 2020
Himalaya Airlines to add new routes
Himalaya Airlines has added yet another Chinese destination, Chingqing to its route from mid January 2020.
With Chongqing added to the list, it is the fifth direct flight to China, along with destinations including Beijing, Guiyang, Changsha, and Shenzhen. According to the airline, the new service is aimed at providing greater options for both business and leisure travelers.
22nd October 2019
Himalaya Airlines launches new brand identity
Along with a ownership structure, Himalaya Airlines has changed its brand identity with a new logo. The airline has launched its new logo, depicting a soaring eagle, which is composed through three 'A's (the three 'A's in 'Himalaya'). The airline has changed its white and blue branding colours with new colours: blue, orange and white, to represent harmony, trustworthiness and fairness.
30th September 2019
Himalaya Airlines aims to commence services to multiple destinations in China
Himalaya Airlines has reported that it aims to commence services to multiple destinations in mainland China following the launch of Kathmandu-Beijing Daxing service by the end of 2019. These destinations include Lhasa, Shenzhen, Nanchang, Changsha, Guiyang and Chongqing.
29th July 2019
New Route to Dhakar
Himalaya Airlines commenced direct operations between its Kathmandu (KTM) hub and Dhaka (DAC). The flight will operate three times weekly, using the carrier's 158-seat A320 fleet.