Search and Buy Tara Air Flights with Alternative Airlines
Make a Tara Air Booking and Find Some Amazing Deals
---
About Tara Air
Tara Air is an airline headquartered in Kathmandu, Nepal. The airline is based at Tribhuvan International Airport, with a secondary hub at Nepalgunj Airport.
Tara Air was formed in 2009 as a subsidiary of Yeti Airlines, using aircraft from the Yeti Airlines fleet. Tara Air was established to operate Yeti's its STOL (Short Take-off and Landing) flights, with a focus on providing services to remote and mountainous airports and airstrips. Tara Air provides the most extensive flights to remote STOL locations in Nepal, transporting essential supplies, food, medicines, and relief materials.
Today, the airline operates both scheduled flights and air charter services, with an operational focus on serving remote and mountainous airports and airstrips.
Tara Air flies to all popular tourist destinations in Nepal, including Mt Everest.
Top Tip: Are you looking to book travel to Nepal and/or the Himalayas? Flying is one of the quickest and easiest to travel over the tough terrain. For more information, check out our guide to booking domestic flights within Nepal.
Did you know? When you book through Alternative Airlines, you can pay for your flights in Nepalese Rupee, as well as over 160 other currency options, including Pound Sterling and USD.
---
Destinations
The airline operates daily scheduled domestic flights between Kathmandu and Lukla, and between Jomsom and Pokhara. The airline also operates scheduled flights to a number of other destinations, but at varying frequency, including Simikot, Bajura, and Phaplu.
| LOCATION | AIRPORT | IATA |
| --- | --- | --- |
| Kathmandu | Tribhuvan International Airport | KTM |
| Nepalgunj | Nepalgunj Airport | KEP |
| Pokhara | Pokhara Airport | PKR |
| Bajura | Bajura Airport | BJU |
| Bhojpur | Bhojpur Airport | BHP |
| Dolpa | Dolpa Airport | DOP |
| Jomsom | Jomsom Airport | JMO |
| Jumla | Jumla Airport | JUM |
| Lukla | Tenzing-Hillary Airport | LUA |
| Lamidanda | Lamidanda Airport | LDN |
| Manthali | Ramechhap Airport | RHP |
| Phaplu | Phaplu Airport | PPL |
| Rara | Talcha Airport | - |
| Rumjatar | Rumjatar Airport | RUM |
| Simikot | Simikot Airport | IMK |
---
Flights to Everest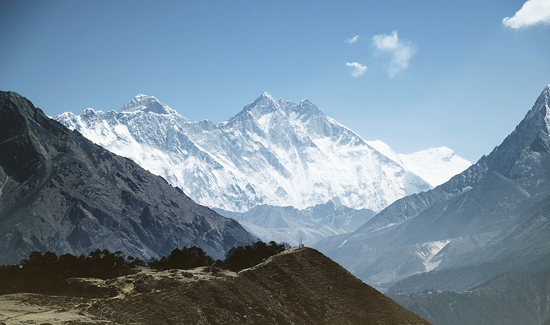 Kathmandu's Tribhuvan International Airport the airport that most travellers to Mt Everest choose to fly to.
The most popular way to reach Everest is to fly to Lukla Airport. The only airport that flights operate to Lukla from is Tribhuvan International Airport. Tara Air is one of the only small regional airlines to provide this connecting flight between Tribhuvan and Lukla.
For more information, check out our full guide to flying to Mt Everest.
---
Baggage Allowance
Checked Baggage
Unfortunately there are baggage limits on most flights. In most cases, tickets don't include free baggage allowance. If you need to add baggage to your booking please contact our customer service team to find out more.
Carry-On Baggage
On most flights, passengers are permitted carry-on cabin bag allowance of 5kg maximum weight. This will be detailed during the booking process.
---
Check-In
Check-In Online
Online check-in is not currently available.
Check-In at the Airport
Airport check-in is available for all Tara Air flights and is currently the only way to check-in. Check-in deadline times differ depending on which airport the passenger is departing from. Tara Air has the right to deny boarding, so please ensure you check the check-in times beforehand.
---
Class Fares
The aircraft are equipped with standard seating.
What are seats like?
All seats are window seats. Facilities are limited and passengers will need to remain seated. Sit back and enjoy the spectacular views.
---
Fleet
Tara Air flies throughout very difficult mountainous terrain, and has a unique fleet to meet these difficult take off and landing conditions. Scheduled flights are provided using the airline's Dornier and de Havilland Canada Twin Otter aircraft, including the DHC-6/400, DHC-6/300 and DO-228 aircrafts.
---
Frequent Flyer Program
The airline does not currently offer a frequent flyer program.
---
Airline Alliance
The airline is not currently part of an airline alliance program. However, the airline is owned by Yeti Airlines so the two airlines operate in partnership.
---
Special Services
The airline can provide special services for those with disabilities or requiring additional assistance. The airline will strive to meet your needs, but there may be restrictions due to the aircraft. Please contact our customer service team before you book or at least 48 hours before flying to avoid disappointment.
---
Hub Airport
Tribhuvan International Airport
Tribhuvan International Airport (KTM) is an international airport located in Kathmandu, in the Bagmati Pradesh district of Nepal, about 3.1 miles from the city center of Kathmandu. It is the only international airport in Nepal, connecting the country to over 40 destinations in 17 countries. If you're flying to Nepal, you'll land at Tribhuvan.
The airport is a primary hub for two international airlines, Nepal Airlines (the country's flag carrier) and Himalaya Airlines, along with domestic and regional carriers including Summit Air, Yeti Airlines, and Sita Air.
---
Alternative Airlines