Buy
Nok Air

Flights

Search and Buy Nok Air Flights Online with Alternative Airlines
Flights to and from Thailand
Make a Nok Air reservation and find some amazing deals with discounted Nok Air tickets at Alternative Airlines
---
About Nok Air
Nok Air is a small, budget operating from the Thai capital of Bangkok to sixteen airports throughout Thailand. Nok Air operates domestic flights and it the low-cost airline from Thai Airways.
Nok Air commenced operations in June 2004 with a single Boeing 737-400 and the first two routes inaugurated were from Bangkok to Udon Thani in the east and Chiang Mai in the north of Thailand. Nok Air is registered under Nok Airlines Co.Ltd and is a joint venture between public and private investors. Nok is the Thai word for 'bird' which is a short, simple and an easy name to remember and one that all Thais can relate to. In Thai, the bird symbolizes friendship and the freedom to fly anywhere.
The trademark Nok Air was first established on February 10th, 2004 under Sky Asia Co.,Ltd. The company's name was changed to Nok Airlines Co.Ltd On January 16th, 2006. On 16 January 2006, the Company name decided to change its name to Nok Airlines Co., Ltd. in preparation for the IPO. On 18th January 2013, the company changed its name to "Nok Airlines Public Company Limited" when it listed on the Stock Exchange of Thailand (SET).
In November 2016, Nok Air, Thailand's premium low-cost carrier took delivery of 23rd brand new Boeing 737-800 Next-Generation. In this delivery, Nok Air took on a new Boeing 737-800 Next-Generation, HS-DBX 'Nok Tawan' to its fleet. The aircraft has a capacity of 189 seats with the latest operating systems and a beautifully designed livery. In July 2016, Nok Air took delivery of its brand new Q400 NextGen from Bombardier, the world's leading manufacturer of planes based in Toronto, Canada. The airline continues to grow and enhance its services, adding more aircraft to its fleet each year.
---
Nok Air News
29th May 2018
Nok Air denies equity sales planes
The operator of low-cost airline Nok Air, has denied rumers that it is in talks with industry giants such as Singapore Airlines regarding its sale of equity. The Thai low-cost carrier is currently undergoing restructuring in order to secure its rapid return to profitability. This will involve generating better synergies with equity partner Thai Airways International. In 2017, Nok Air raised $90 million USD, share hooldings have been slightly less structured ever since this move but there are definitely high hopes for Nok Air.
19th February 2018
Nok Air hopes to profit from route expansions
The operator of low-cost airline Nok Air, aims a turnaround to profit this year thanks to expansion of domestic and international routes. With a focus on cost-cutting plans and higher capacity Nok Air wishes to mitigate loss. The airlines has high aspirations of 17.8 billion baht by the end of the year, an increase of a whopping 15 billion from last year. The company's financial reports showed Nok Airlines and its subsidiaries reported a net loss of 1.89 billion baht in 2017, compared with 3.26 billion a year earlier. Last year, the airline opened 19 new routes to China, adding two Boeing 737800 aircraft, and retained its good on-time performance records of 80%. Their expansion plans will continue for the next three years.



6th October 2017
Nok Air eyes China market; considers Singapore partnership
The Vice Chairman of Nok Air (DD, Bangkok Don Mueang) has said that the airline is looking to the China and India markets as it seeks to recover from a tumultuous few years. Speaking with ch-aviation, Nok's former CEO (and now VC) Patee Sarasin said that he expects 50% of revenue to be coming from Chinese and Indian routes within the next two years.
Routes that are currently being touted include Hong Kong Chek Lap Kok – Phuket and Hong Kong – Hua Hin. The Hong Kong-Phuket route is served by Cathay Dragon, Thai Airways International, Thai AirAsia and HK Express with 7,500 weekly seats. However, there is currently no direct route between Hong Kong and Hua Hin, and Sarasin sees significant potential there.

As part of its China expansion, Nok plans to retire three or four of its older B737-800s (of which it has twenty-one), and increase the maximum take-off weight (MTOW) for its incoming B737 MAX 8s. Nok will also phase out its ATRs, of which it has two, in favour of additional Dash 8-400s for its local network.

"So within the next two years ... over 50% of the revenue will come from flying to places like China or India," Sarasin said. "So we're sort of manoeuvring the changes in our plan to actually expand to fly much longer with these 737s."

Sarasin admits that Nok's marketing efforts in regional foreign markets have been lacklustre in the past and says that they are seeing improvements by implementing better strategies in that area. He adds that Nok is also seeing increased revenues from connections it now offers, for example, allowing passengers to ticket through from Yangon to Phuket via Bangkok Don Mueang.

Speaking with Forbes this week, Sarasin has also said that Nok needs a strategic partner to secure its future. If shareholder Thai Airways International (TG, Bangkok Suvarnabhumi) continues to diminish its support, Singapore Airlines (SQ, Singapore Changi) may step up to the plate, Sarasin said, referring to Nok's upcoming recapitalisation in mid-October.

THAI chose not to participate in Nok's previous capital raise, effectively diluting its stake from 39.2% to 21.6%. Talking about the new stock issue, Sarasin seems unfazed if THAI abstains again. "The current major shareholders now, beside THAI, have expressed that they are willing to take all of it if TG [THAI] doesn't want to participate," he told the news site.

Sarasin recently stepped down as CEO of Nok in a move that many interpret as a concession to THAI, which has become increasingly dissatisfied with the low-cost carrier's performance. If Thai, however, continues to withdraw its support, Sarasin says that they will look elsewhere for a strategic partner.

"We always talk to SQ [Singapore Airlines] on everything," Sarasin said. "There is always exploring on future things that we can do together."

Nok Air and Singapore Airlines currently have a partnership through their joint venture NokScoot (XW, Bangkok Don Mueang).
Source: ch-aviation
4th September 2017
Nok Air taps China boom
Just days before it issues a new share offering to raise THB1.8 billion, Nok Air released details of expansion into China through charter flights, due to take effect from late October.
All of the charter flights will be blocked booked by Chinese tour operators, which eliminates any financial risk for the airline.
But in the long-run the airline hopes to establish some scheduled flights to China that could earn higher fares through direct online bookings, while maintaining allotments from tour operators.
Two of the charters from China will fly to Bangkok's Don Mueang International Airport from Zunyi and Changsha in China.
In addition, it has been contracted to supply roundtrip charters to U-tapao Airport, close to Pattaya, from Yinchuan, Baotou, Linyi, Yichang, Nanchang, and Haikao, the airline confirmed in a press statement last week.
Nok Air did not provide a timeframe for the latest round of China charters, but it is likely they will operate through the peak holiday season that gets underway mid-October and spike with the Chinese New Year, 16 February, or possibly extend to the end of the winter timetable, 31 March 2018.
"We are taking strong, steps to improve our network expansion and always aim to provide the best in services to our passengers. Adding new service to our growing China network will benefit both the tourism industry and economic development as we bring in more tourists to our country. We are looking forward to these regular charter flights being successful" said Nok Air's chief executive officer Patee Sarasin.
Nok Air says it intends to focus more on regional destinations and grow its network as part of the plan to achieve to build profitability and stronger competitiveness.
Turning a profit on domestic routes has proved an uphill task for the airline that faces tough competition from Thai Lion Air and Thai AirAsia.
It suffered huge losses in 2016 amounting to THB3.28 billion and the airline that trades on the Stock Exchange of Thailand needs to raise fresh capital if it is to continue to be a major player in both domestic and regional markets. In 2015 it reported losses of THB1.66 billion.
Earlier one of its founding shareholder, Thai Airways International, said it would not take up an offer on the new issue of shares valued at THB114 million.
In related news the airline confirms it will suspend its twice daily services from Bangkok (Don Mueang) to Hanoi, effective October 29 and start a new three-weekly service from Mae Sot to Yangon.
The airline's twice daily service from Bangkok to Ho Chi Minh City in southern Vietnam continues.
The new Mae Sot-Yangon service will operate on Sunday, Tuesday and Friday departing Mae Sot at 1140. However, a search of Skyscanner failed to come up with any information on a service between Mae Sot and Yangon. On Nok Air's website the service is flagged "sold out" in early November and that continues throughout the month. Possibly, fares have yet to be set and the airline has probably not posted fares and schedules for overseas online travel agencies (OTAs) that supply Skyscanner.
Nok Air operates a successful service to Yangon from Bangkok with two daily departures (0645 and 1930) and a four weekly service that departs 1045, Sunday, Monday, Friday and Saturday. Roundtrip fares start at around THB2,684 and are competitive with both Thai Lion Air and Thai AirAsia.
The airline serves China's outbound travel market entirely through charters in partnership with Chinese tour operators. Last month, Chinese tour operators contracted charters from Yinchuan and Zhengzhou to Bangkok and from Kunming and Zhengzhou to Phuket.
Charters flying from Nanning, Chengdu, Baotou and Yanchang to Bangkok, Chiang Mai and Phuket operated through the first quarter of the year.
None of the charter flights have any relevance to Nok Air's route network and sales online as seats are sold exclusively through Chinese tour operators.
For travellers visiting its website, Nok Air serves just two international destinations; Yangon and Ho Chi Minh City. However, through NokScoot, travellers can buy roundtrip fares on flights to Nanjing, Shenyang, Tianlin, Qingdao and Chongqing in China, all served by the joint venture with Singapore's Scoot that uses Boeing 777s on the services out of Bangkok. NokScoot has its own dedicated website flagging fare promotions to the Chinese cities starting at THB3,985 one-way to Nanjing.
May 2017
NOK Air announced it is aiming to increase its focus on international operations to increase its competitiveness and improve its financial performance. Nok intends to become more of an Asian regional carrier rather than a primarily domestic carrier. Including this latest delivery, Nok Air currently operates a fleet of 23 Boeing 737-800s, eight Q400 NextGens, and two ATR 72-500s. Serving 24 domestic and three regional airports.
May 2017
NOK Air announced a notification of changes in its shareholding structure, confirming that major shareholder Thai Airways International (TG, Bangkok Suvarnabhumi) has reduced its stake to 21.57%, following a rights offering last month in which THAI did not participate. The two next largest shareholders, brothers Thaveechat Chulangkul and Nuttapol Chulangkul holding 15.64% and 13.29% respectively, are now effectively the largest shareholder group with a combined share of 28.93%.
Nok Air, Thai Smile and Thai Airways International will meet at the end of April 2017 to create plans to streamline management of all 3 airlines under the entity THAI Group. The group venture will include flight routes, maintenance and group services, aircraft parking, and joint marketing, reports the Bangkok Post.
---
Nok Air Destinations
Domestic Destinations
From Bangkok - Don Mueang International Airport (Primary Hub)
Buriram - Buriram Airport
Chiang Mai – Chiang Mai International Airport
Chiang Rai – Mae Fah Luang International Airport
Chumphon (Pathio) - Chumphon Airport with onward ferry connections to Ko Tao, Ko Phangnan and Ko Samui.
Hat Yai – Hat Yai International Airport
Khon Kaen - Khon Kaen Airport
Krabi - Krabi Airport
Lampang - Lampang Airport
Loei - Loei Airport
Mae Hong Son - Mae Hong Son Airport
Mae Sot - Mae Sot Airport
Nakhon Phanom - Nakhon Phanom Airport
Nakhon Si Thammarat – Nakhon Si Thammarat Airport
Nan - Nan Airport
Phrae - Phrae Airport
Phitsanulok - Phitsanulok Airport
Phuket – Phuket International Airport
Ranong - Ranong Airport
Roi Et - Roi Et Airport
Sakon Nakhon - Sakon Nakhon Airport
Surat Thani – Surat Thani Airport
Trang – Trang Airport
Ubon Ratchathani – Ubon Ratchathani Airport
Udon Thani – Udon Thani International Airport
From Chiang Mai – Chiang Mai International Airport
Bangkok - Don Mueang International Airport
Udon Thani – Udon Thani International Airport
International
China
Beijing - Beijing Capital International Airport
Myanmar
Yangon - Yangon International Airport
Vietnam
Ho Chi Minh City – Tan Son Nhat International Airport
Hanoi - Noi Bai International Airport
Singapore
Singapore - Singapore Changi Airport (operated in conjunction with Scoot Airlines)
---
Nok Air Route Map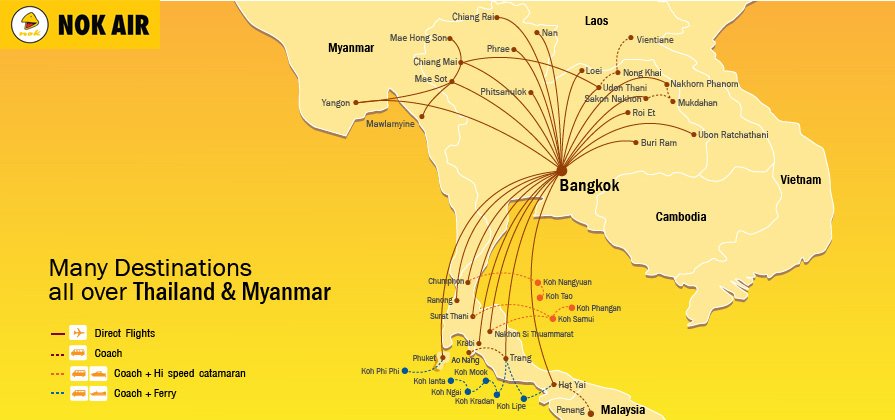 Nok Air Popular Routes
Bangkok

Thung Song
Bangkok

Malaysia
Bangkok

Buri Rem
Bangkok

Nan
Bangkok

Phucket

---
The Fleet
Bombardier Dash 8 Q400
Boeing 737-800
---
Nok Air Airport Hub
Do Mueang International Airport
Don Mueang International Airport is one oldest operating airport in Bangkok and one of the two international airports serving Bangkok, Thailand.
The airport is a low cost airline hub and airlines that fly from and to Don Mueang International Airport include Air Asia, Thai AirAsia, Maldivian and Malindo Air.
.

---
Alternative Airlines to Nok Air
---
Search and Buy Nok Air flights
Make a Nok Air reservation and find some amazing deals with discounted Nok Air tickets at Alternative Airlines. Nok Air flies to many destinations worldwide, offering a cost effective and safe service to all its passengers. Let Alternative Airlines help find you cheap Nok Air tickets and make international and domestic flight reservations on Nok Air today.
Browse the most popular Nok Air flight routes to cities worldwide. Alternative Airlines can help you make reservations on Nok Airfor international flights to lots of destinations. Use the following list of routes to help you plan your next flight. Book Nok Air flights on Alternative Airlines to save big! Alternative Airlines is an online travel agency, specialising in booking lesser known airlines and remote destinations.
---
Pay your way
Pay for flights in USD or 70 other currencies of your choice with Alternative Airlines.
Choose from over 18 payment methods, including PayPal, Apple Pay , Fly now Pay later and Alipay
Check out all of our payment methods here.
---
About Alternative Airlines
Alternative Airlines is an online flight search complete with customer service specialising in booking flights on lesser known airlines and to remote destinations. We offer you a wider choice of airlines supported by a team of customer service and travel specialists for help and advice on your travel plans. We specialise in finding the best available fares on the widest range of airlines and making them available to you online, with prices in the currency of your choice.
Alternative Airlines handles all your travel arrangements and payments, complete with ticketed confirmation. We do not direct you to other websites or service providers. We help you through the process. This is what makes us Alternative Airlines. Check out our revies on Feefo or our reviews page. If you want to know a little bit more about us, read our blog for our alternative travel secrets and stories.
Browse for flights, find some amazing deals, make a reservation and pay in the currency of your choice today with Alternative Airlines. Let Alternative Airlines help find you the best prices and make international and domestic flight reservations with us today.
Join the Alternative Airlines Members Club and get £100.00 back on your 5th booking with Alternative Airlines. You will have insight to many benefits and exclusive deals on over 650 airlines. Click on the Members section on the Alternative Airlines website for more information and join today. We are open every day from 8am until 8pm (UK local time).
How to pay
You can pay for your flights with Nok Air in the currency and payment method of your choice when booking through Alternative Airlines.
We accept PayPal making flight purchases with Nok Air easy and more secure for customers. PayPal is one of the leading forms of online payment, with more than 169 million accounts worldwide.