Search and Buy Nok Air Flights Online with Alternative Airlines
Make a Nok Air reservation and find some amazing deals with at Alternative Airlines
---
About
Nok Air is a small, budget operating from the Thai capital of Bangkok to 24 airports throughout Thailand and 9 destinations in China, India, Myanmar and Vietnam. The airline's hub is Don Mueang International Airport (DMK) and is the low-cost subsidiary of Thai Airways. Nok Air began operations in July 2004 with a single Boeing 737-400 and the first two routes inaugurated were from Bangkok to Udon Thani in the east and Chiang Mai in the north of Thailand. Nok Air is registered under Nok Airlines Co.Ltd and is a joint venture between public and private investors. Nok is the Thai word for 'bird' which symbolises friendship and the freedom to fly anywhere.
In 2006, the company's name was changed to Nok Airlines Co.Ltd. On 18th January 2013, the company changed its name to "Nok Airlines Public Company Limited" when it listed on the Stock Exchange of Thailand (SET).
Did you know? You can book your Nok Air flights today at Alternative Airlines and pay later using flexible payment plans at checkout - read our guide on Fly Now Pay Later with Nok Air for more information!
---
Destinations
Nok Air flies to a variety of destinations both within Thailand and around Asia.
Chengdu,
China (Chengdu Shuangliu International Airport CTU)
Hefei,
China (Hefei Xinqiao International Airport HFE)
Nanning,
China (Nanning Wuxu International Airport NNG)
Nantong,
China (Nantong Xingdong Airport NTG)
Yancheng,
China (Yancheng Nanyang Airport YNZ)
Zhengzhou,
China (Zhengzhou Xinzheng International Airport CGO)
Guwahati,
India (Lokpriya Gopinath Bordoloi International Airport GAU)
Bangkok,
Thailand (Don Mueang International Airport DMK) (HUB)
Buriram,
Thailand (Buriram Airport BFV)
Chiang Mai,
Thailand (Chiang Mai International Airport CNX)
Chiang Rai,
Thailand (Mae Fah Luang International Airport CEI)
Chumphon (Pathio),
Thailand (Chumphon Airport CJM)
Hat Yai,
Thailand (Hat Yai International Airport HDY)
Khon Kaen,
Thailand (Khon Kaen Airport KKC)
Krabi,
Thailand (Krabi Airport KBV)
Lampang,
Thailand (Lampang Airport LPT)
Loei,
Thailand (Loei Airport LOE)
Mae Hong Son,
Thailand (Mae Hong Son Airport HGN)
Mae Sot,
Thailand (Mae Sot Airport MAQ)
Nakhon Phanom,
Thailand (Nakhon Phanom Airport KOP)
Nakhon Si Thammarat,
Thailand (Nakhon Si Thammarat Airport NST)
Phrae,
Thailand (Phrae Airport PRH)
Phitsanulok,
Thailand (Phitsanulok Airport PHS)
Phuket,
Thailand (Phuket International Airport HKT)
Ranong,
Thailand (Ranong Airport UNN)
Roi Et,
Thailand (Roi Et Airport ROI)
Sakon Nakhon,
Thailand (Sakon Nakhon Airport SNO)
Surat Thani,
Thailand (Surat Thani Airport URT)
Trang,
Thailand (Trang Airport TST)
Ubon Ratchathani,
Thailand (Ubon Ratchathani Airport UBP)
Udon Thani,
Thailand (Udon Thani International Airport UTH)
Yangon,
Myanmar (Yangon International Airport RGN)
Ho Chi Minh City,
Vietnam (Tan Son Nhat International Airport SGN)
---
Baggage
Carry-on Baggage
One item of carry-on baggage is included on both domestic and international flights. The carry-on baggage must not weigh more than 7kg and must not exceed the dimensions of 56 x 36 x 23 cm.
Checked Baggage
Passengers on Nok Air flights are able to purchase checked baggage. Passengers are allowed 15kg of checked baggage per fee for domestic flights and 30kg of checked baggage per fee for international flights and domestic flights that connect to international flights. Checked baggage is dropped off at the airport check-in counters.
---
Check-In Information
Online Check-In
Nok Air customers on domestic flights can check-in online. Those booked onto international flights are not able to use online check-in. Passengers can check-in to your domestic Nok Air flight 24 hours between 24 hours—one hours before their flight. To check-in online for your flight, please visit Nok Air web check-in page and enter your booking number and last name to check-in to your Nok Air domestic flight.
Airport Check-In
If passengers are unable to check-in online for their domestic flight or they're flying on an international flight, Nok Air offers airport check-in on all their flights. For domestic flights, airport check-in opens two hours before departure and closes 45 minutes before. For international flights, airport check-in opens three hours before departure and closes one hour before.
---
Route Map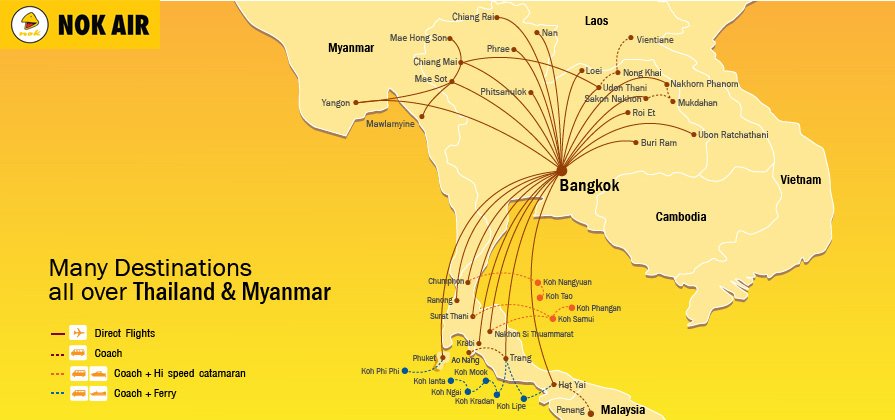 ---
Popular Routes
Bangkok

Thung Song
Bangkok

Malaysia
Bangkok

Buri Rem
Bangkok

Nan
Bangkok

Phucket
---
Economy Class
Economy Class facilities
Economy is the only cabin class on Nok Air flights. You can enjoy complimentary snacks and beverages are provided for all service classes in addition to free onboard WiFi for all passengers. This allows passengers to stay connected, from using their own devices to stream entertainment or using them to be productive and keep up with work.
Economy Class seats
It provides comfortable leather seats to set up for an enjoyable and relaxing journey with lots of legroom to stretch your legs.
---
Premium Economy Class
Economy Premium Class facilities
Passengers can choose to upgrade to premium economy, called Nok Smile Plus with this airline. You're served complimentary snack as well as hot and cold beverages in addition you can enjoy free WiFi. This earns passengers extra and exclusive privileges, such as an additional 10kg of baggage, priority check-in (at certain airports) and premium seat selections onboard your flight.
Economy Premium Class seats
With premkum class seats you can enjoy extra comfort and legroom space with more pitch rate compared to economy class. comfortable leather seats to set up for an enjoyable and relaxing journey with lots of legroom to stretch your legs.
---
The Fleet
The airlines fleet consists of 23 aircraft, with 7 on order, ranging from Boeing 737-800 and Bombardier Dash 8 with 7 Boeing MAX 8. In November 2016, Nok Air, Thailand's premium low-cost carrier took delivery of 23rd brand new Boeing 737-800 Next-Generation. In this delivery, Nok Air also took HS-DBX 'Nok Tawan' to its fleet. The 189-seat aircraft is equipped with the latest operating systems and a beautifully designed livery. In July 2016, Nok Air added a brand new Q400 NextGen from Bombardier to its fleet from the world's leading manufacturer of planes based in Toronto, Canada. The airline continues to grow and enhance its services, adding more aircraft to its fleet each year.
15 x Boeing 737-800
8 Bombardier Dash 8
7 Boeing MAX 8 on order
---
Frequent Flyer Program
Nok Air has a frequent Flyer Program called the 'Nok Fan Club' and gets exclusive privileges being Nok Smile and Nok Smile Plus members. Privileges such as free extra baggage allowance, premium sear, dedicated check-in desks at some airports and free flights and awards.
---
Airline Alliance
The airline is part of the Value Alliance, with 8 Asia-Pacific low-cost airline alliances or "Value Alliance" consist of Nok Air, Nok Scoot, Scoot, Cebu Pacific (including Cebgo Air), Jeju Air, Tigerair Singapore, Tigerair Australia and Vanilla Air which cover more than 160 destinations all over Asia-Pacific region in order to facilitate the passengers.
---
Airport Hub
Don Mueang International Airport (DMK)
Don Mueang International Airport (DMK) is one oldest operating airport in Bangkok and one of the two international airports serving Bangkok, Thailand.
The airport is a low-cost airline hub and airlines that fly from and to Don Mueang International Airport (DMK) include Air Asia, Thai AirAsia, Maldivian and Malindo Air.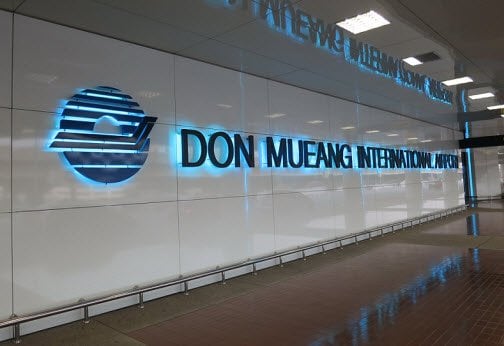 ---
Alternative Airlines to Nok Air
Please click on the logos below to find out more about airlines flying similar routes to Nok Air:
---
Book Nok Air Flights in English
Choose to book Nok Air flights in English when you book with us. At Alternative Airlines, we offer assurance and trust in our bookings, using companies such as PayPal to ensure safe payments for you. We provide you with choice in flight departure times and routes, giving you the choice without the hassle by combining alternative airlines and prices for you.