NokScoot Reservations with Alternative Airlines
Make a NokScoot Booking and Find Some Amazing Deals
---
About NokScoot
NokScoot, also known as NokScoot Airlines Company Limited, is a Thai low-cost airline based at Don Mueang International Airport in Bangkok. The airline is a joint venture of Singapore based Scoot and Thailand's Nok Air.
NokScoot commenced operations in 2013 when Scoot announced plans to establish a new carrier in Bangkok that would fly medium and long-haul routes with a fleet of Boeing 777-200 aircraft. NokScoot is owned by 51% of Nok Air and Scoot (a subsidiary of Singapore Airlines) owns 49%. The Thai airline is currently expanding its routes to China with a new direct service between Bangkok and Shanghai.
---
NokScoot Baggage
NokScoot has many fares including Fly, which does not include any checked baggage allowance. Other product bundles, FlyBag and FlyBagEatcome with 20kg and Scootbiz comes with 30kg of checked baggage included.
Cabin baggage for Economy is limited to one piece of up to 7kg and ScootBiz class limited to 2 pieces of up to a combined weight of 15kg.
Fly, FlyBag and FlyBagEat Fares are limited to one piece of up to 7kg, plus more 3kg allowance if the laptop is carried. ScootBiz Fare is limited to 2 pieces of up to a combined weight of 15 kg.
ScootBiz includes full leather seats that offer at least 38" (96.5cm) of legroom, 21.7" (55.1cm) of width, 8" (20.3cm) of recline, plus a footrest and in-arm trays that can be unfolded partially or fully. In addition, ScootBiz passengers receive preferred seat selection in an exclusive 24-seat upfront, cabin, with our most experienced staff, a complimentary meal with beverages, 30kg of checked baggage allowance, up to 15kg/ two bags of carry-on baggage and priority check-in & boarding.
---
NokScoot Destinations
China (Dalian; Nanjing; Qingdao; Shenyang; Tianjin; Shanghai; Dalian)
Japan (Tokyo)
Taiwan (Taipei)
Thailand (Bangkok)
---
Economy Class
Economy Class offers great value in a cabin that is crewed by the airline's friendly cabin crew.
Economy Class Facilities
Economy Class passengers can order a range of food and drink from the airline's in-flight menu.
Although there's no in-flight entertainment system, passengers can enjoy reading material from the airline's in-flight magazine.
Economy Class Seats
The Economy Class cabin seats are set out in a 3 x 4 x 3 formation, with each seat giving a good amount of width and pitch.
---
Business Class
The Business Class cabin is in an exclusive section of the cabin at the front of the aircraft. All Busines Class passengers will be taken care of by the airline's excellent flight crew.
Business Class Facilities
Business Class passengers are given priority check-in, boarding and baggage handling.
In-flight, each passenger is given a complimentary Business Class meal, accompanied by a drink service that includes hot, cold, alcoholic and non-alcoholic beverages.
What are Business Class Seats Like?
Business Class seats are set out in a 2 x 4 x 2 formation. The formation allows for extra space in the cabin for each passenger. Each seat comes with a power outlet which can be used to charge personal electronic devices.
---
NokScoot Route Map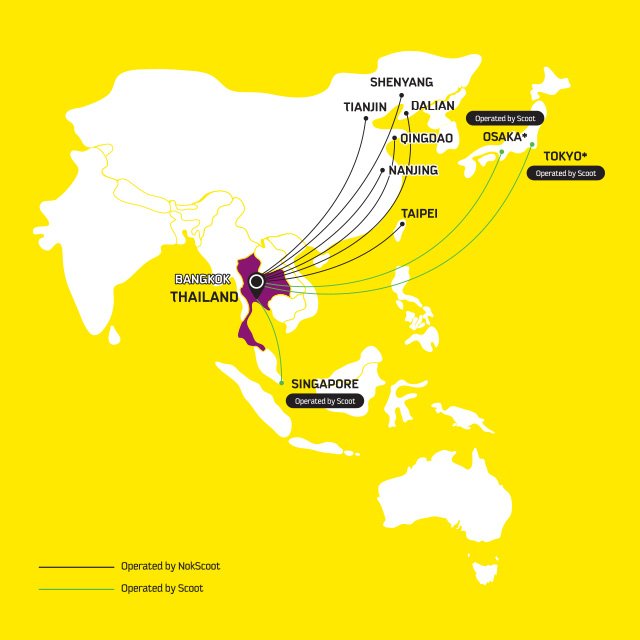 ---
NokScoot Popular Routes
Bangkok

Thung Song
Bangkok

Malaysia
Bangkok

Buri Rem
Bangkok

Nan
Bangkok

Phucket
---
NokScoot Hub Airport
Don Mueang International Airport
Don Mueang International Airport is one of the oldest operating airport in Bangkok and one of the two international airports serving Bangkok, Thailand.
The airport is a low cost airline hub and airlines that fly from and to Don Mueang International Airport include Air Asia, Thai AirAsia, Maldivian and Malindo Air.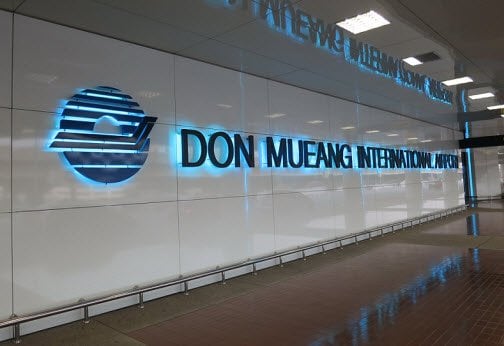 ---
NokScoot News
31st May 2018
NokScoot will operate B737 aircraft in the third quarter of this year
NokScoot, based at Bangkok Don Mueang International Airport (BKK), will begin operating its newly acquired B737-800 in the third quarter of 2018. NokScoot will use the B737-800 to fly a daily service between Bangkok Don Mueang and Taoyuan International Airport (TPE) starting on 16th September 2018.
NokScoot Deputy CEO, Giam Ming Toh, has addressed the arrival of the new aircraft, stating that all incoming B737s will follow the same layout as this current 189 seat B737-800 with only Economy Class tickets seats on offer.
31st May 2018
Scoot to wet-lease a B777 to cover for B787 downtime
Scoot (TR, Singapore Changi) has announced it will wet-lease one B777-200(ER) from Singapore Airlines (SQ, Singapore Changi) to cover the shortage of B787-8s and -9s caused by the technical issues with Rolls-Royce Trent 1000 engines.

The wet-leased aircraft will be deployed between June 6 and June 30, 2018, on the low-cost, long-haul operator's service from Singapore Changi to Sydney Kingsford Smith.

It is recalled that Singapore Airlines CEO Goh Phong Choon recently told a media gathering that Singapore Airlines Group has not seen any headwinds due to the Trent 1000 engine issues currently afflicting carriers across the globe.

According to CAPA, after the initial lengthy grounding of one aircraft in the second half of 2017, Scoot resumed full operations of all its B787s in early 2018. However, the new airworthiness directive issued in April 2018, which tightened the requirements for inspections of the Trent 1000 engines and reduced ETOPS capabilities, has reportedly caused new headaches for the airline.

Flightradar24 ADS-B data shows that out of Scoot's ten B787-8s, 9V-OFD (msn 37121) has been grounded since May 19, while all the others are currently active. All six of the carrier's B787-8s are also active.