Trusted Choice
Secure Booking
Airlines will always try to sit children with their parents (subject to check-in)
Some airlines will allow travel for unaccompanied minors. Please email us to check.
The fare is based on the child's age on the date of travel.
More detailed information can be found here Traveling with children
Most airlines will let infants travel with their parent(s) for free. However some airlines will charge up to 10% of the adult ticket price. Click on 'Price Breakdown' to find out more.
If you are pregnant, but due before the flight departure date, please contact us once your baby is born and has a name. We can then add him/her to your ticket.
Infants will not be given a seat. The airlines expect parents to travel with them on their lap.
Airlines regard infants as being under 24 months old.
The fare is based on the child's age on the date of travel.
More detailed information can be found here Traveling with children
Search & Book Flights

With Widerøe
Cancellation Protection
Protects
Trusted Choice
65,000 happy customers
Rated 4.5 Stars. Based on 3,581 service ratings over the past year
Dedicated customer service team on hand to help
Secure payments
Cancellation Protection
Protects
Trusted Choice
65,000 happy customers
Rated 4.5 Stars. Based on 3,581 service ratings over the past year
Dedicated customer service team on hand to help
Secure payments
Buy
Widerøe

Flights
Widerøe Reservations with Alternative Airlines
Make a Widerøe Booking and Find Some Amazing Deals with Alternative Airlines
---
About Widerøe
Widerøe is a Norwegian regional airline and is part of the SAS Group. Widerøe Airline flies to many destinations including Aberdeen, Alesund, Alta, Bergen, Batsfjord, Bodo, Berlevag, Copenhagen, Floro, Forde, Gothenburg, Hammerfest, Hasvik, Lakselv, Leknes, Mehamn, Mold, Narvik, Namsos and many others. Widerøe airlines has a codeshare agreement with Eastern Airways.
Widerøe is the largest regional airline in Scandinavia. The airline carries around 2.8 million passengers per year and serves 50 domestic and international destinations. Widerøe operates over 450 flights daily and operates to more than twice as many airports in Norway than any other airline. Today, Widerøe's network consists of 40% Public Services Obligations and 60% commercial routes. Widerøe provides many routes for tourists visiting the Scandanavian area and wish to see the Northern Lights to tick off their bucket lists.
---
Destinations
| COUNTRY | CITY | AIRPORT |
| --- | --- | --- |
| Denmark | Billund | Billund Airport |
| Denmark | Copenhagen | Copenhagen Airport |
| Denmark | Rønne | Bornholm Airport |
| Norway | Ålesund | Ålesund Airport, Vigra |
| Norway | Alta | Alta Airport |
| Norway | Bergen | Bergen Airport, Flesland |
| Norway | Båtsfjord | Båtsfjord Airport |
| Norway | Bodø | Bodø Airport |
| Norway | Brønnøysund | Brønnøysund Airport, Brønnøy |
| Norway | Berlevåg | Berlevåg Airport |
| Norway | Florø | Florø Airport |
| Norway | Førde | Førde Airport, Bringeland |
| Norway | Hammerfest | Hammerfest Airport |
| Norway | Haugesund | Haugesund Airport, Karmøy |
| Norway | Honningsvåg | Honningsvåg Airport, Valan |
| Norway | Harstad/Narvik | Harstad/Narvik Airport, Evenes |
| Norway | Hasvik | Hasvik Airport |
| Norway | Kirkenes | Kirkenes Airport, Høybuktmoen |
| Norway | Kristiansand | Kristiansand Airport, Kjevik |
| Norway | Kristiansund | Kristiansund Airport, Kvernberget |
| Norway | Lakselv | Lakselv Airport, Banak |
| Norway | Leknes | Leknes Airport |
| Norway | Mehamn | Mehamn Airport |
| Norway | Mo i Rana | Mo i Rana Airport, Røssvoll |
| Norway | Mosjøen | Mosjøen Airport, Kjærstad |
| Norway | Molde | Molde Airport, Årø |
| Norway | Namsos | Namsos Airport |
| Norway | Ørsta/Volda | Ørsta/Volda Airport, Hovden |
| Norway | Oslo | Oslo Airport, Gardermoen |
| Norway | Røros | Røros Airport |
| Norway | Rørvik | Rørvik Airport, Ryum |
| Norway | Røst | Røst Airport |
| Norway | Sandane | Sandane Airport, Anda |
| Norway | Sandefjord | Sandefjord Airport, Torp |
| Norway | Sandnessjøen | Sandnessjøen Airport, Stokka |
| Norway | Skien | Skien Airport, Geiteryggen |
| Norway | Sogndal | Sogndal Airport, Haukåsen |
| Norway | Sørkjosen | Sørkjosen Airport |
| Norway | Stavanger | Stavanger Airport, Sola |
| Norway | Stokmarknes | Stokmarknes Airport, Skagen |
| Norway | Svolvær | Svolvær Airport, Helle |
| Norway | Tromsø | Tromsø Airport, Langnes |
| Norway | Trondheim | Trondheim Airport, Værnes |
| Norway | Vadsø | Vadsø Airport |
| Norway | Vardø | Vardø Airport, Svartnes |
| Sweden | Gothenburg | Göteborg Landvetter Airport |
| Sweden | Visby | Visby Airport |
| United Kingdom | Aberdeen | Aberdeen Airport |
| United Kingdom | Liverpool | Liverpool John Lennon Airport |
| United Kingdom | London | London Stansted Airport |
| United Kingdom | Newcastle | Newcastle Airport |
---
Widerøe Baggage
Carry-on Baggage
All passengers who are 2 years or older are entitled to one hand baggage weighing less than or equal to 8kg and does not exceed 55cm x 40cm x 20cm. One personal item is also allowed, an example of this would be a laptop case or a small handbag.
Checked Baggage
Passengers who purchased Economy Light / Youth Light does not have any free baggage allowance. Economy/ Youth class passengers are entitled to one 23kg baggage whereas Flex/Full Flex/ Senior passengers will have two 23kg baggage.
All baggage cannot exceed a total dimension of 158cm per baggage.
---
Wideroe Fare Classes
Widerøe offers many ticket types including Full Flex, Flex, Eco Low, Eco High, Youth Tickets and the Student Ticket. Full Flex is a good option of ticket for those who want full flexibility and tickets can be changed and are refundable free of charge. Flex ticket is flexible ticket that can be changed within the same fare type or upgraded by paying the cost difference. The tickets are refundable.
---
Buy Widerøe Flights in English
Alternative Airlines provides bookings for Widerøe flight tickets in English for your convenience. This is a reliable and trustworthy service for helping travellers in reserving Widerøe airline tickets to Norway. Fly with Widerøe airlines to Norway with Alternative Airlines with an English booking.
---
Buy Widerøe Flights using Norwegian Krone
Search and buy Widerøe flights in Norwegian krone at Alternative Airlines. Alternative Airlines accept more than 70 different currencies for Widerøe flight bookings, including Norway's currency — Norwegian krone.
---
Wideroe Route Map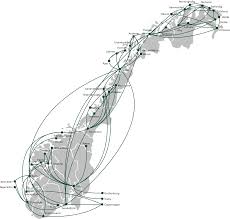 ---
Wideroe Popular Routes
Copenhagen

Bodo
Aberdeen

Alta
Hasvik

Leknes
Bodo

Gothenburg
Mold

Alta
---
Check-In Information
Online Check-In
Passengers can check-in 22 hours prior to departure on the airline's check-in website.
Airport Check-In
Airport check-in closes varies at different airports. Please check the airline's website for the check-in deadline that you are departing from. We advise passengers to arrive at the airport two hours before scheduled departure time.
---
Widerøe Frequent Flyer Program
Widerøe operates a frequent flyer program called EuroBonus to reward regular passengers travelling with the Norwegian airline. EuroBonus frequent flyer points can be earned on all international routes, and can be redeemed on international routes and domestic routes not part of the public service obligation.
---
EuroBonus Levels
There are various EuroBonus membership levels through Widerøe that you can achieve, depending on how many Widerøe flights you fly on:
Member - Collect up to 20000 points
Silver - 20000 points +
Gold - From 45000 points +
Diamond - From 90000 points +
---
Widerøe Fleet
| AIRCRAFT | IN SERVICE | ORDERS |
| --- | --- | --- |
| DHC-8-100 | 20 | / |
| DHC-8-300 | 2 | / |
| DHC-8-Q100 | 3 | / |
| DHC-8-Q200 | 3 | / |
| DHC-8-Q300 | 5 | / |
| DHC-8-Q400 | 10 | / |
| ERJ 190-300 | 3 | / |
---
Wideroe Hub Airport
Oslo Airport is the principal airport serving Oslo and is the hub airport for Scandinavian Airlines and is an operating base for Norwegian Air Shuttle. Oslo Airport is the hub airport for Wideroe and has two runways and can handle nearly 25 million passengers.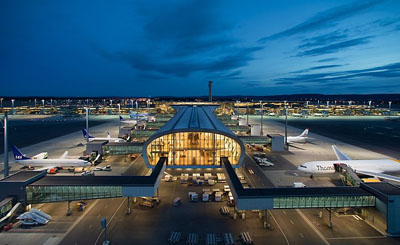 Photo Credit: Avinor Oslo lufthavn/Espen Solli on Wikimedia
---
Alternative Airlines to Wideroe Airlines
Please click on the logos below to find out more about airlines that fly similar routes to Wideroe Airlines:
---
Widerøe News
25th June 2018
Widerøe launches new service to Billund
Today, Widerøe flew its first-ever flight on a new service between Bergen and Billund. The Nordic airline will continue to fly between Bergen Airport, Flesland (BGO) and Billund Airport (BLL) three times a week. Widerøe will use its Q400 aircraft to carry passengers on the flight, which is expected to take one 1 hour and 20 minutes. Representatives from both Billund airport and Wideroøe were present to celebrate the launch of the new Bergen—Billund service, as was special guest, Kirsten Jeppesen — a popular Norweigan handball player. Currently, Widerøe is the only regional airline to offer this service.
6th June 2018
Widerøe fly to Liverpool
Widerøe is planning to start operating a new service between Liverpool and Norway. The Nordic carrier will fly between Bergen Airport (BGO) and Liverpool John Lennon Airport (LJLA) twice a week and will use an Embraer E190-E2 aircraft to carry passengers on the service. Flights will commence from 17th August 2018.
Chief Executive of Liverpool Airport, John Irving, stated that Liverpool John Lennon is happy to see Widerøe fly to the airport. He added that the new service will give the people of North England the option to visit Bergen, as well as the opportunity to connect to other parts of Scandinavia.
Widerøe Commercial Director, Christian Skaug, said he's excited for both English and Norwegian passengers. He also mentioned that Widerøe is currently working with Finnair to allow passengers to fly to the Far East in the easiest way possible.
17th May 2018
Widerøe and Finnair expand codeshare agreement
Widerøe and Finnair are deepening their connection by adding nine new destinations that Widerøe will operate to Norway on Finnair's behalf. These routes will be flown from Finnair's current destinations in Norway which include Tromso, Bergen, and Oslo. This will provide Finnair passengers with more option when travelling to Norway, as well as giving them new connections to other destinations.
The new codeshare agreement will be active from 25th May and will serve the following routes from Oslo:
Floro
Ostra-Volda
Svolvær
Leknes
Stokmarknes
From Tromso:
From Bergen:
Tromso
Bodo
Kristiansund
Molde
Floro
Billund
14th May 2018
Widerøe offer two-week unlimited travel ticket around Norway
The Norweigan airline are offering a new Explore Norway Ticket,which gives passengers the ability to travel domestically around Norway as much as they want within a two week period. The special ticket is available between 1st July and 31st August. The only restriction on the terms of the ticket is that passengers can not fly between the same two cities more than four times, but apart from that, the ticket will work on an 'all-you-can-fly basis'.
There are three different types of tickets that passengers can purchase, each offering different zones in Norway. The three different zones are Zone Southern Norway, Zone Nordland, and Zone Finnmark. The first ticket will gain you access to just one zone, the second ticket will give you access to two zones, and the third will give you access to all three —which covers the entirety of Norway.
24th April 2018
New Embraer aircraft takes flight for the first time ever with Widerøe
Today, Widerøe undertook a service with the brand-new Embraer 190-E2 aircraft, departing from Bergen and landing in Tromso. It was the first time that the jet took flight with a scheduled passenger service after Widerøe had the aircraft certified earlier this year in February.
President and CEO of Widerøe, Stein Nilsen, commented 'We'll always have the distinction of being the first airline to fly the E2. We see a bright future with our new E2 jets." The airline is going to receive two additional E190-E2 jets this year and hold the rights to purchase a further 12.
12th April 2018
Wideroe consider increasing Embraer jet order
Scandinavia's largest regional airline, Wideroe have plans to increase its order for E2 jets after it received the first of three new-generation aircraft from Brazil's Embraer to become its inaugural operator. It has options to buy another 12. Wideroe could also be showing interest in the smaller E175-E2, due to enter service in 2021 and currently prevented by union scope clauses from operating in the United States. Wideroe is the oldest airline in Norway and has discarded any reports of competition with Norweigan, saying there was no direct competition with Wideroe which serves mainly small domestic airports. Embraer expects a market for 6,400 jets in the 70-130 seat segment over the next 20 years.
1st March 2018
KLM Signs a Codeshare Agreement With Wideroe
The two airlines now jointly offer several destinations in Norway, which means that passengers can fly with both airlines on the same booking.
Thanks to the new agreement, which will come into force on 21st February, KLM and Widerøe will offer customers new opportunities and flexibility to choose from a larger number of destinations for their travels, including domestic Norwegian routes to smaller destinations.
Frank Prillevitz, KLM Director Alliances, said:
"We are pleased to start this new cooperation with Widerøe, which strengthens our Network in the Nordic region. In Widerøe we have found a very reliable partner, with whom we can offer passengers more transfer options and a greater number of destinations in Norway."
KLM will add a KL code on Widerøe's Norwegian domestic routes, which allows passengers from around the world to change flights in Oslo, Trondheim or Bergen to continue their journey with the same ticket and a one-stop check-in to a number of smaller airports around Norway.
Christian Skaug, Director Network & Pricing in Widerøe, said:
"Widerøe continuously works to improve the flight offer for our customers in the outer districts of Norway. We have cooperation agreements with many companies and now we expand our cooperation with KLM. We are pleased that our customers get more travel options to choose from. KLM's large network gives access to more destinations for Widerøe's customers and better access to Norway as a whole for tourists."
1st March 2018
Widerøe will put the first E190-E2 into revenue service in Apr-2018
Embraer reported (28-Feb-2018) Widerøe will put the first E190-E2 into revenue service in Apr-2018.
The airline has a contract for up to 15 Ejets-E2 family jets, consisting of three firm orders for the E190-E2 and purchase rights for 12 further aircraft.
26th January 2018
Norwegian, Wideroe To Launch Interlining On Domestic Network
Norwegian and Wideroe, Norway's largest regional airline, have agreed to launch interlining on a wide domestic network.
The new cooperation is supposed to begin in the first half of March. It includes all of Wideroe's public service obligation (PSO) routes as well as Norwegian's domestic network. Specifically, interlining will be available on Wideroe services from Oslo to Roros as well as from Oslo and Bergen to Sogn og Fjordane and Orsta/Volda
19th December 2017
Widerøe announces new link from Stansted to Kristiansand in Norway
A Wideroe Dash-8 Q400 aircraft of the kind to be used on the Norwegian airline's new route between Stansted and Kristiansand. Picture: Winderoe
Norwegian airline Widerøe is to launch direct flights from Stansted to the southern Norwegian city of Kristiansand, a gateway for activities including elk safaris, white water rafting and salmon fishing.
The flights, to be operated with a 78-seater Dash-8 Q400 aircraft from Stansted to Kjevik Airport, will begin on August 13, 2018 and are on sale now.
Stein Nilsen, chief executive at Widerøe, said: "We know that London is always in high demand amongst Norwegian travellers and see enormous potential for growing inbound tourism and opening travel links for Brits travelling to southern Norway and Kristiansand."
Mats Sigurdson, aviation director at Stansted Airport added: "I'm sure this news will be welcomed by Norwegian travellers wishing to visit London and the east of England, as well as the Norwegian community living in the UK.
"This makes a beautiful region of Norway more accessible to British travellers and we're pleased Widerøe chose to operate to London Stansted Airport."
Heidi Sørvig, chief executive at the destination marketing organisation USUS, one of the tourism bodies in the Sørlandet (southern Norway) region, said: "A London service has been highly requested in the region for many years and will open up tourism links and business opportunities in the region.
"Southern Norway offers many fantastic travel products and experiences that we are looking forward to introducing to British travellers. One of them is the largest underwater restaurant in the world, set to open in 2019, which we believe will be a world-class attraction and of great interest to British visitors."
19th December 2017
Wideroe to serve Munich, London, Hamburg
Wideroe(WF, Bodø) has announced it will launch its first services into major airports outside Scandinavia, connecting Bergen to Munich and Hamburg Helmut Schmidt, as well as Kristiansand to London Stansted.

Flights to Munich and Hamburg will also become the first Wideroe services to continental Europe beyond Denmark.

The Norwegian regional specialist will operate each of the routes 3x weekly, starting in summer 2018. Flights to Munich and Hamburg out of Bergen will be operated with the new EMB-190 E2s. Wideroe is the launch customer for the type and will launch the aircraft on commercial services in April 2018. Two out of the three EMB-190 E2s, which will be delivered in 2018, will be based in Bergen, while the third one will be positioned at Oslo Torp.

The carrier has also announced it will launch two new Scandinavian services out of Bergen: to Billund(3x weekly) and Gothenburg Landvetter (2x weekly).

The 4x weekly route from Kristiansand to London Stansted will be the first Wideroe service to the British capital. Currently, the airline operates to Aberdeen Dyce& from Bergen and Stavanger.
October 2017
Wideroe outlines Embrarer E-190 E2 rotues for Finnnair in S18
Finnair in summer 2018 is launching new partnership with Widerøe, which the Norwegian carrier will operate Embraer E190-E2 aircraft for Finnair to Helsinki, from Bergen and Tromso. Configuration of the Embraer E190-E2 is J6Y108, using IATA code 290.

Planned schedule as follow.

Helsinki – Bergen eff 15MAY18 1 daily
AY941 HEL1520 – 1615BGO 290 D
AY942 BGO1125 – 1420HEL 290 D

Helsinki – Tromso eff 16MAY18 1 weekly
AY945 HEL1520 – 1615TOS 290 6
AY946 TOS1125 – 1420HEL 290 6
February 2017
Widerøe Airlines announced it will launch operations of the Embraer E190-E2, making a move up to jet operations after years of operating Bombardier turboprops. The airline will place its first E190-E2 into revenue service in the first half of 2018, and the remaining two E190-E2s will be delivered later in the year, Wideroe has purchase rights for an additional 12 E-Jet E2 aircraft, in a deal worth $873 million at list prices if all orders are exercised. The order was announced in January.
Widerøe is configuring its E190-E2s in a single class configuration of 114 seats. In February 2017, SAS and Wideroe have signed a new agreement with Statoil regarding the company's domestic and international flights. The agreement covers a period of five years including options. A wide-ranging network and frequent departures were just two of the reasons for Statoil once again demonstrating its confidence in SAS in the form of a new agreement. The agreement covers a period of three years, with an option for a further two years.
In November 2014, Widerøe and Eastern Airways announced a new codeshare agreement. This agreement will provide greater connections via Aberdeen and Newcastle, along with improved access between Eastern's destinations in UK and Widerøe's network in Norway. Widerøes Flyveselskap AS was founded on February 19th 1934 by five enthusiastic friends. One of them was Viggo Widerøe. In the beginning the company was located at Ingierstrand outside Oslo and initially the company operated air taxi, ambulance, school transport services and aerial photo flights. Widerøe operates a fleet of 41 Bombardier Dash-8 turbo-prop aircraft. The fleet consists of 7 Dash-8 300, 20 Dash-8 100, 3 Dash-8-Q200 and 11 Dash-8 Q400 aircraft. All the planes are built between 1990 and 2010. Widerøe operates more than 450 flights every day and operates to more than twice as many airports in Norway than any other airline. Today our network consists of 60% commercial routes, and 40% PSO routes
Widerøe was founded in 1934 by 5 people and was located at Ingierstrand, outside Oslo. The company originally operated as a transport for schools, aerial photos and as well as an air ambulance and taxi. In the 1950's, the airline's activity increased significantly, with additional routes added to new airports being built in the Scandinavian regions. The airline was then involved in World War II to help with sea air ambulances as there was no ban on civil aviation. They also took part in aerial advertising, by dropping leaflets mid-flight which increased revenue in mountain resorts. The fleet were built between 1990 and 2010 and is made up of 41 Bombardier Dash-8 turbo-prop aircraft, 7 Dash-8 300, 3-Dash-8-Q200, 11 Dash-8 q400 and 20 Dash-8 100. The flight capacities range from 39 – 78 seats. Widerøe is committed to adhere to the International Air Transport Association (IATA)'s goal of zero emissions by 2050. The goal is an emissions-neutral aviation as an integral part of a future sustainable of society and environment. The main bases for Widerøe is Sandefjord Airport, Torp, Bodø Airport, Tromsø Airport, Bergen Airport, Flesland and Oslo Airport, Gardermoen. Widerøe's operations are focused on point-to-point transit, although the airline essentially feeds medium-haul and international airlines. Their main domestic airport is Sandefjord Airport.