Widerøe Reservations with Alternative Airlines
Make a Widerøe Booking and Find Some Amazing Deals with Alternative Airlines
---
About Widerøe
Widerøe is a Norwegian regional airline and is part of the SAS Group. The airline has a codeshare agreement with Eastern Airways.
Widerøe is the largest regional airline in Scandinavia. The airline carries nearly 3 million passengers per year and serves 50 domestic and international destinations. Widerøe operates over 450 flights daily and operates to more than twice as many airports in Norway than any other airline. Today, Widerøe's network consists of 40% Public Services Obligations and 60% commercial routes. Widerøe provides many routes for tourists visiting the Scandinavian area and wish to see the Northern Lights to tick off their bucket lists.
---
Destinations
Widerøe Airline flies to many destinations including Aberdeen, Alesund, Alta, Bergen, Batsfjord, Bodo, Berlevag, Copenhagen, Floro, Forde, Gothenburg, Hammerfest, Hasvik, Lakselv, Leknes, Mehamn, Mold, Narvik, Namsos and many others.
| COUNTRY | CITY | AIRPORT |
| --- | --- | --- |
| Denmark | Billund | Billund Airport |
| Denmark | Copenhagen | Copenhagen Airport |
| Denmark | Rønne | Bornholm Airport |
| Norway | Ålesund | Ålesund Airport, Vigra |
| Norway | Alta | Alta Airport |
| Norway | Bergen | Bergen Airport, Flesland |
| Norway | Båtsfjord | Båtsfjord Airport |
| Norway | Bodø | Bodø Airport |
| Norway | Brønnøysund | Brønnøysund Airport, Brønnøy |
| Norway | Berlevåg | Berlevåg Airport |
| Norway | Florø | Florø Airport |
| Norway | Førde | Førde Airport, Bringeland |
| Norway | Hammerfest | Hammerfest Airport |
| Norway | Haugesund | Haugesund Airport, Karmøy |
| Norway | Honningsvåg | Honningsvåg Airport, Valan |
| Norway | Harstad/Narvik | Harstad/Narvik Airport, Evenes |
| Norway | Hasvik | Hasvik Airport |
| Norway | Kirkenes | Kirkenes Airport, Høybuktmoen |
| Norway | Kristiansand | Kristiansand Airport, Kjevik |
| Norway | Kristiansund | Kristiansund Airport, Kvernberget |
| Norway | Lakselv | Lakselv Airport, Banak |
| Norway | Leknes | Leknes Airport |
| Norway | Mehamn | Mehamn Airport |
| Norway | Mo i Rana | Mo i Rana Airport, Røssvoll |
| Norway | Mosjøen | Mosjøen Airport, Kjærstad |
| Norway | Molde | Molde Airport, Årø |
| Norway | Namsos | Namsos Airport |
| Norway | Ørsta/Volda | Ørsta/Volda Airport, Hovden |
| Norway | Oslo | Oslo Airport, Gardermoen |
| Norway | Røros | Røros Airport |
| Norway | Rørvik | Rørvik Airport, Ryum |
| Norway | Røst | Røst Airport |
| Norway | Sandane | Sandane Airport, Anda |
| Norway | Sandefjord | Sandefjord Airport, Torp |
| Norway | Sandnessjøen | Sandnessjøen Airport, Stokka |
| Norway | Skien | Skien Airport, Geiteryggen |
| Norway | Sogndal | Sogndal Airport, Haukåsen |
| Norway | Sørkjosen | Sørkjosen Airport |
| Norway | Stavanger | Stavanger Airport, Sola |
| Norway | Stokmarknes | Stokmarknes Airport, Skagen |
| Norway | Svolvær | Svolvær Airport, Helle |
| Norway | Tromsø | Tromsø Airport, Langnes |
| Norway | Trondheim | Trondheim Airport, Værnes |
| Norway | Vadsø | Vadsø Airport |
| Norway | Vardø | Vardø Airport, Svartnes |
| Sweden | Gothenburg | Göteborg Landvetter Airport |
| Sweden | Visby | Visby Airport |
| United Kingdom | Aberdeen | Aberdeen Airport |
| United Kingdom | Liverpool | Liverpool John Lennon Airport |
| United Kingdom | London | London Stansted Airport |
| United Kingdom | Newcastle | Newcastle Airport |
---
Baggage
Carry-on Baggage
All passengers who are 2 years or older are entitled to one hand baggage weighing less than or equal to 8kg and does not exceed 55cm x 40cm x 20cm. One personal item is also allowed, an example of this would be a laptop case or a small handbag.
Checked Baggage
Passengers who purchased Economy Light / Youth Light does not have any free baggage allowance. Economy/ Youth class passengers are entitled to one 23kg baggage whereas Flex/Full Flex/ Senior passengers will have two 23kg baggage.
All baggage cannot exceed a total dimension of 158cm per baggage.
---
Fare Classes
Widerøe offers many ticket types including Full Flex, Flex, Eco Low, Eco High, Youth Tickets and the Student Ticket. Full Flex is a good option of ticket for those who want full flexibility and tickets can be changed and are refundable free of charge. Flex ticket is flexible ticket that can be changed within the same fare type or upgraded by paying the cost difference. The tickets are refundable.
---
Buy Widerøe Flights in English
Alternative Airlines provides bookings for Widerøe flight tickets in English for your convenience. This is a reliable and trustworthy service for helping travellers in reserving Widerøe airline tickets to Norway. Fly with Widerøe airlines to Norway with Alternative Airlines with an English booking.
---
Buy Widerøe Flights using Norwegian Krone
Search and buy Widerøe flights in Norwegian krone at Alternative Airlines. Alternative Airlines accept more than 70 different currencies for Widerøe flight bookings, including Norway's currency — Norwegian krone.
---
Route Map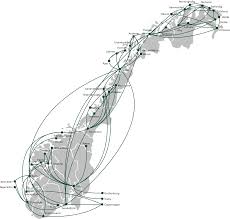 ---
Popular Routes
Copenhagen

Bodo
Aberdeen

Alta
Hasvik

Leknes
Bodo

Gothenburg
Mold

Alta
---
Check-In Information
Online Check-In
Passengers can check-in 22 hours prior to departure on the airline's check-in website.
Airport Check-In
Airport check-in closes varies at different airports. Please check the airline's website for the check-in deadline that you are departing from. We advise passengers to arrive at the airport two hours before scheduled departure time.
---
Frequent Flyer Program
Widerøe operates a frequent flyer program called EuroBonus to reward regular passengers travelling with the Norwegian airline. EuroBonus frequent flyer points can be earned on all international routes, and can be redeemed on international routes and domestic routes not part of the public service obligation.
---
EuroBonus Levels
There are various EuroBonus membership levels through Widerøe that you can achieve, depending on how many Widerøe flights you fly on:
Member - Collect up to 20000 points
Silver - 20000 points +
Gold - From 45000 points +
Diamond - From 90000 points +
---
Fleet
| AIRCRAFT | IN SERVICE | ORDERS |
| --- | --- | --- |
| DHC-8-100 | 20 | / |
| DHC-8-300 | 2 | / |
| DHC-8-Q100 | 3 | / |
| DHC-8-Q200 | 3 | / |
| DHC-8-Q300 | 5 | / |
| DHC-8-Q400 | 10 | / |
| ERJ 190-300 | 3 | / |
---
Wideroe Hub Airport
Oslo Airport is the principal airport serving Oslo and is the hub airport for Widerøe, Scandinavian Airlines and is an operating base for Norwegian Air Shuttle. Oslo Airport has two runways and can handle nearly 25 million passengers a year.
---
Alternative Airlines to Wideroe Airlines
Please click on the logos below to find out more about airlines that fly similar routes to Wideroe Airlines:
---
News
25th June 2018
Widerøe launches new service to Billund
Today, Widerøe flew its first-ever flight on a new service between Bergen and Billund. The Nordic airline will continue to fly between Bergen Airport, Flesland (BGO) and Billund Airport (BLL) three times a week. Widerøe will use its Q400 aircraft to carry passengers on the flight, which is expected to take one 1 hour and 20 minutes. Representatives from both Billund airport and Wideroøe were present to celebrate the launch of the new Bergen—Billund service, as was special guest, Kirsten Jeppesen — a popular Norweigan handball player. Currently, Widerøe is the only regional airline to offer this service.
6th June 2018
Widerøe fly to Liverpool
Widerøe is planning to start operating a new service between Liverpool and Norway. The Nordic carrier will fly between Bergen Airport (BGO) and Liverpool John Lennon Airport (LJLA) twice a week and will use an Embraer E190-E2 aircraft to carry passengers on the service. Flights will commence from 17th August 2018.
Chief Executive of Liverpool Airport, John Irving, stated that Liverpool John Lennon is happy to see Widerøe fly to the airport. He added that the new service will give the people of North England the option to visit Bergen, as well as the opportunity to connect to other parts of Scandinavia.
17th May 2018
Widerøe and Finnair expand codeshare agreement
Widerøe and Finnair are deepening their connection by adding nine new destinations that Widerøe will operate to Norway on Finnair's behalf. These routes will be flown from Finnair's current destinations in Norway which include Tromso, Bergen, and Oslo. This will provide Finnair passengers with more option when travelling to Norway, as well as giving them new connections to other destinations.
The new codeshare agreement will be active from 25th May and will serve the following routes from Oslo:
Floro
Ostra-Volda
Svolvær
Leknes
Stokmarknes
From Tromso:
From Bergen:
Tromso
Bodo
Kristiansund
Molde
Floro
Billund
24th April 2018
New Embraer aircraft takes flight for the first time ever with Widerøe
Today, Widerøe undertook a service with the brand-new Embraer 190-E2 aircraft, departing from Bergen and landing in Tromso. It was the first time that the jet took flight with a scheduled passenger service after Widerøe had the aircraft certified earlier this year in February.
President and CEO of Widerøe, Stein Nilsen, commented 'We'll always have the distinction of being the first airline to fly the E2. We see a bright future with our new E2 jets." The airline is going to receive two additional E190-E2 jets this year and hold the rights to purchase a further 12.
12th April 2018
Wideroe consider increasing Embraer jet order
Scandinavia's largest regional airline, Wideroe have plans to increase its order for E2 jets after it received the first of three new-generation aircraft from Brazil's Embraer to become its inaugural operator. It has options to buy another 12. Wideroe could also be showing interest in the smaller E175-E2, due to enter service in 2021 and currently prevented by union scope clauses from operating in the United States. Wideroe is the oldest airline in Norway and has discarded any reports of competition with Norweigan, saying there was no direct competition with Wideroe which serves mainly small domestic airports. Embraer expects a market for 6,400 jets in the 70-130 seat segment over the next 20 years.
1st March 2018
KLM Signs a Codeshare Agreement With Wideroe
The two airlines now jointly offer several destinations in Norway, which means that passengers can fly with both airlines on the same booking.
Thanks to the new agreement, which will come into force on 21st February, KLM and Widerøe will offer customers new opportunities and flexibility to choose from a larger number of destinations for their travels, including domestic Norwegian routes to smaller destinations.
KLM will add a KL code on Widerøe's Norwegian domestic routes, which allows passengers from around the world to change flights in Oslo, Trondheim or Bergen to continue their journey with the same ticket and a one-stop check-in to a number of smaller airports around Norway.
Christian Skaug, Director Network & Pricing in Widerøe, said:
"Widerøe continuously works to improve the flight offer for our customers in the outer districts of Norway. We have cooperation agreements with many companies and now we expand our cooperation with KLM. We are pleased that our customers get more travel options to choose from. KLM's large network gives access to more destinations for Widerøe's customers and better access to Norway as a whole for tourists."