CM Airlines Tickets and Reservations with Alternative Airlines
Book Your CM Airlines Flight Tickets and Find Some Amazing Deals
---
About
CM Airlines, also known as Cielo Maya, is a domestic airline based in Honduras, founded in August 2008. CM Airlines flies out from Toncontín International Airport (TGU) and travels to San Salvador, Guatemala City, Tegucigalpa, San Pedro, Roatan, Puerto Lempira, Utila Bay Island and Copan Ruins. The airline has a Saab 340, Embraer EMB 110 and Let 410 in its fleet which is outfitted with the latest technology in air navigation, satellite systems and GPS. The pilots are recognized at an international level, which enables the airlines to ensure that the flights will be safe and the passenger will have excellent flying experience. CM Airlines has created a more modern image in association with the development of aviation tourism for Honduras and Central America. CM Airlines' fleet includes LET L-410 Turbolet, Embraer EMB 110 Bandeirante and SAAB 340.
---
Baggage Allowance
Carry-on Baggage
CM Airlines allows passengers to bring one item of hand luggage, weighing a maximum of 5 kg. In addition, passengers are permitted one personal item, which must not exceed 45 x 38 x 20 cm.
Checked Baggage
Passengers are permitted 1 item of checked luggage and may not exceed 16 kg for their Eco and Classic Luggage allowance. With Opti and Flexi Luggage allowance, passengers can take up to two bags of 16 kg each. This must not exceed 157 cm in combined dimensions (height + length + width).
---
Check-in Information
Online Check-In
CM Airlines offer passengers online check-in from 24 hours before departure, until 1 hour before. More information can be found on their website, here.
Airport Check-In
Passengers can check-in at the airport 1 hour before scheduled departure time. This closes 30 minutes before departure time.
---
Book CM Airlines flights in English
Imagine how easy your life would be if you could book flights from all over the world in English? Well, now you can. With Alternative Airlines you can book CM Airlines flights completely in English. We also have an excellent English-speaking customer service team who are ready to answer any of your queries.
---
Economy Class
Economy Class is the only cabin class that CM Airlines offer.
Economy Class Facilities
Due to its small domestic route network, the airline doesn't offer many facilities. This includes no food and drink, WiFi or in-flight entertainment. However, you can stay entertained with magazine and newspaper that they give out to their passengers.
However, the airline's cabin crew are trained to the highest of levels to make sure you safely and comfortably arrive at your destination.
Economy Class Seats
Seats are set out in a 3 x 3 formation. Economy Class seats are comfortable with sufficient legroom to give passengers a pleasant and relaxed journey.
---
Alternative Airlines to CM Airlines
Please click on the logos below to find out more about airlines that fly similar routes to CM Airlines:
---
Frequent Flyer Program
StarMiles
CM Airlines has a frequent flyer program called StarMiles. This allows the passenger to carry a frequent flyer card wherever they go and provides them with stars for each flight the passenger completes; eventually resulting in free travel.
What sets StarMiles apart from the rest is the flexibility to be able to have a single account used by an individual, family, or business. The colours of CM Airlines fleet are striking gold and forest green and the logo of the Esmeralda hummingbird represents a native bird to Honduras. This hummingbird does not appear in any other part of the world and is registered only in dry valleys in Atlantic Honduras. Visit the Alternative Airlines blog for a breakdown of the best frequent flyer programs around the world.
---
Destinations
Domestic Destinations
| CITY | AIRPORT | CODE |
| --- | --- | --- |
| Tegucigalpa | Tegucigalpa Toncontín International Airport | TGU |
| San Pedro Sula | San Pedro Sula Ramón Villeda Morales International Airport | SAP |
| Roatan | Roatan Juan Manuel Gálvez International Airport | RTB |
| Puerto Lempira | Puerto Lempira Airport | PEU |
| Útila | Útila Airport | UII |
| La Ceiba | Golosón International Airport | LCE |
International Destinations
| CITY | AIRPORT | CODE |
| --- | --- | --- |
| Guantemala City | La Aurora International Airport | GUA |
---
The Fleet
As of January 2020, CM airlines fleet consisted of 19 and 33 passenger aircraft, including:
Saab 340
Embraer EMB 110 Bandeirante
Let 410
---
Hub Airport
Toncontín International Airport (TGU) is a civil and military airport in Tegucigalpa, Honduras that has 2 runways. The airline flies to 9 destinations including Aerolíneas Sosa, American Airlines, Avianca El Salvador (previously TACA), Avianca Nicaragua, CM Airlines, Copa Airlines, Delta Air Lines, Lanhsa and United Airlines.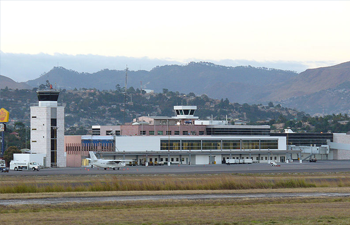 ---
Frequent Flyer Program
---
Airline Alliance
CM Airlines is not part of any airline alliance however they are in alliance with Transportes Aéreos Guatemaltecos and this has allowed us to join the international level, specifically the daily flights of the routes of Guatemala City.
---
News
April 2018
CM Airlines change customer service hours for Easter
Due to the holiday change, CM airlines have altered their schedule to fit in with religious ceremonies. The schedule is as follows:
Wednesday: 6:00 - 19:00
Thursday: 6:00 - 17:00
Friday: 9:00 - 16:00
Saturday: 8:00 - 17:00
Sunday: 8:00 - 17:00
17th May 2017
CM Airlines announces flights between Choluteca with Tegucigalpa
CM Airlines have announced they will commence flights between Cholteca and Tegucigalpa, 5 x Weekly with Let 410 aircraft. The airfield recently completed runway works to extend its length to 1,600 metres so as to permit 50-70 seater aircraft to land and take-off. It will also serve to boost the export and import of agricultural products through the use of the large cargo aircraft.
---
CM Airlines History
2016
Added 10 flights a week to Guatemala
San Salvador City
2015
Launch New Copan Flight
Gracias Lempira day trip
2014
2 extra flights a day to Roatan
Acquired a SAAB 340
2013
Launch New Website January
Guatemala City
2012
CM Airlines became the first Honduran airline to offer an Online Check-In and mobile device boarding pass service.
New ticket counter acquired for CM cargo in Toncontin International Airport, Tegucigalpa.
New aircraft introduced, October 2012.
The first airline chosen to sell airport departure tax at our ticket counters in all Honduran airports
First flight between Roatán and Copan, February 2012.
First flight between Tegucigalpa and Catacamas, January 2012.
Seven new routes were launched, expanding CM to a true national airline
New aircrafts were added to total 14 aircrafts and a team of 40 people.
2011
Launch Party for new aircraft and new logo on August 11, 2011.
Launch of our new website and social media network, September 2011.
Launch of our new frequent flyer program StarMiles
First flight between Utila and San Pedro Sula/ Roatan on January 22, 2011.
The airline had 5 routes, 4 aircraft and a team of 22 people.
2010
Launch of airline management system
Acquired domain name www.cmairlines.com
Daily flights between Tegucigalpa and Roatán, February, 2010.
Flights between Puerto Lempira and Tegucigalpa every Monday, Wednesday & Friday
Flights between Tegucigalpa and San Pedro Sula Monday- Friday
The airline had 34 flights per week, three aircrafts and a team of 15 people
2009
Launch new destination between Roatán and Tegucigalpa, flights from Friday –Sunday
Launch new route between Tegucigalpa and San Pedro Sula
The airline had three routes, two aircrafts and a team of 10 people.
2008
CM Airlines inaugural flight between Tegucigalpa and Puerto Lempira in, August 2008.
The airline had one route, four flights a week, one aircraft and a team of just 5 people.
---