Make a TAG Airlines reservation at Alternative Airlines
---
About
Transportes Aéreos Guatemaltecos (TAG) is an airline based at La Aurora International Airport (GUA), Guatemala. The airline flies both domestic and international flights to more than 10 destinations in more than five different countries across Central, South and North America.
Founded in 1961 as a family business, the airline was a pioneer of a civil aviation company in Guatemala and is the first airline in Guatemala to hold ICAO certification.
In 1972, TAG broke the monopoly of the then state-owned Aviateca, to incorporate into its fleet by DC3. It was the first Guatemalan company certified Air Operator under the regulations of Civil Aviation and founder of the Association and Guild Airlines Cargo Airline of the Chamber of Industry, among others. TAG fleet consists of SAAB 340 A, Embraer 110 P1, King Air 300, Piper Seneca II and Helicopters. TAG is a 100% Guatemalan airline with more than 50 years of experience flying in Guatemala and providing a variety of specialized and personalized services, both nationally and internationally. TAG Airlines provides regular flights and charters and helicopter transfers, between other services.
---
Destinations
The airline flies to many destinations including Guatemala City, Flores, San Pedro Sula, Tegucigalpa, Puerto Barrios, Retalhuleu, Belize City, Roatan, San Pedro Sula and Tegucigalpa. It also operates flights to Puerto Barrios Airport, Copan, Cancun, San Salvador and many other destinations. Here is a full list of destinations:
Guatemala City, Guatemala
Flores, Guatemala
Puerto Barrios, Guatemala
Retalhuleu, Guatemala
Belize City, Belize
San Salvador, El Salvador
Roatán, Honduras
San Pedro Sula, Honduras
Tegucigalpa DC, Honduras
Charter destinations
Puerto Barrios Airport, Quetzaltenango Airport, Retaluhleu/Xetulul, Zacapa, Chiquimula, Antigua Guatemala (helicopters), Panajachel (helicopters)
Copán, Roatán, Utila, Belize and other Central American destinations
Cancún, Chetumal, Mexico City, Acapulco
San Salvador-Ilopango (SSS), El Salvador
---
Route Map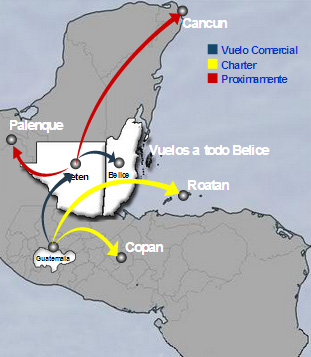 ---
Baggage
The airline gives a free maximum weight allowance of 15 kg (35 lbs) for international flights. This baggage must fit within the dimensions of 60 cm (23.6") x 24 cm (9.4") x 24 cm (9.4").
For domestic flights, the airline gives a free baggage allowance of 9 kg for domestic flights. This baggage must fit within the dimensions of 42 cm (22") x 24 cm (12") x 24 cm (12").
---
Economy Class
Economy Class is the only cabin that the airline offers. The service is conducted by the airline's friendly cabin crew, who are on-hand to help with anything that you might need.
The airline does offer refreshments during the flight.
Seats
Seats are set out in a 1 x 2 or 2 x 2 formation. Each seat gives a reasonable amount of legroom.
---
In-Flight Entertainment
There's no in-flight entertainment on TAG Airlines flights.
---
Food
The airline serves food and drinks on all flights, regardless of how short the flight time is. Passengers can enjoy food snacks such as potato crips and cookies and soft drinks like juice or water.
---
Fleet
TAG's fleet includes Embraer 110, Beechcraft BE-300, Saab 340, Bell 206 and Piper PA-34.
---
Hub Airport
La Aurora International Airport
La Aurora International Airport is the main airport serving Guatemala City. It is the hub airport for Transportes Aereas Guatemaltecos. Other airlines which fly to and from this airport include Aeromexico, American Airlines, Avianca, Avianca El Salvador, Copa Airlines, Copa Airlines Colombia, Maya Island Air, Spirit Airlines, Volaris, United Airlines, CM Airlines and Transportes Aereos Guatemaltecos.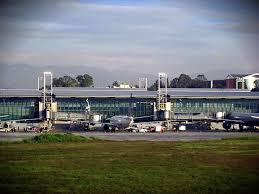 ---
Alternative Airlines
Please click on the logos below to find out more about airlines that fly similar routes: