Search & Buy Binter Canarias Flights
Airlines will always try to sit children with their parents (subject to check-in)
Some airlines will allow travel for unaccompanied minors. Please email us to check.
The fare is based on the child's age on the date of travel.
More detailed information can be found here Traveling with children
Most airlines will let infants travel with their parent(s) for free. However some airlines will charge up to 10% of the adult ticket price. Click on 'Price Breakdown' to find out more.
If you are pregnant, but due before the flight departure date, please contact us once your baby is born and has a name. We can then add him/her to your ticket.
Infants will not be given a seat. The airlines expect parents to travel with them on their lap.
Airlines regard infants as being under 24 months old.
The fare is based on the child's age on the date of travel.
More detailed information can be found here Traveling with children
Buy
Binter Canarias

Flights
Binter Canarias Reservations with Alternative Airlines
Make an Binter Canarias Booking and Find Some Amazing Deals
---
About Binter Canarias
Binter Canarias, also known as Binter, is a regional airline based in Telde, Gran Canaria, Spain. The airline operates as an inter-island services within the Canary Islands and services to Morocco, Portugal and Western Sahara. Binter currently serves 18 airports with close to 1,000 weekly flights, predominantly across the Canary Islands, but it also operates international sectors to Cape Verde, Gambia, Mauritania, Morocco, Portugal and Senegal.
Binter Canarias flies to many destinations including El Hierro, Fuerteventura, Gran Canaria, La Gomera, La Graciosa, Lanzarote, La Palma, Tenerife, Agadir, Cape Verde, Casablanca, El Aaiun, Lisbon, Madeira, Marrakech, Banjul, Ponta Delgada, Dakar and Nouakchott. Binter Canarias has several hub airports including Gran Canaria Airport, La Palma Airport and Tenerife North Airport.
The airline is an integral part of the life of the Canary Islands, both for the residents who use it to hop between islands and the increasing number of tourists who wish to see more than one of these beautiful islands during their stay. Binter Canarias' fleet consists of ATR 72-500 and ATR 72-600s and Bombardier CRJ900 as well.
---
Binter Canarias Frequent Flyer program
BinterMas level is obtained when when flying with Binter Canarias only.
The Silver level is attained with 2,500 points and the Gold with 8,000. Customers can earn points by presenting their BinterMas card when flying with Binter Canarias and can earn points by reserving flights, accommodation, car hire and other services.
Frequent Flyer members can take advantage of advance information of offers, waiting list priority on Binter Canarias flights, exclusive offers, check-in by telephone, priority baggage handling, additional card for spouse, Gold check-in counter and free extra weight for their luggage.
---
Binter Canarias Baggage Allowance
Binter Canarias offers in flight magazine and passenegrs are allowed to bring one hand luggage with a maximum weight of 6kg.

Economy class passengers are allowed to bring 20kg for their checked baggage.

Binter Canarias offer online and airport check- in. BinterCanarias offer a Loyalty Program called BinterMas for frequent travelers.

Passengers can earn points when they travel with BinterCanarias and depending on the destination and BinterMas card level they can have upgrades double points and free flights. In March 2016, BinterCanarias expanded connections between the Canaries and the African continent with new flights to Morocco, specifically destinations Agadir and Casablanca
---
Class Fares: Economy
The airline only offers Economy seating.
Economy Facilities
There is a limited number of seats on the aircraft, which offers inter-island travel. Because the flights are short, warm meals are not served. However, snacks/snack boxes are available.
What are Economy seats like?
Depending on the aircraft, but a 2-2 formation is commonly available. The cabin is modern, roomy and clean.
---
Binter Canarias Route Map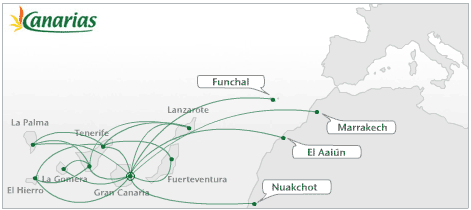 ---
Binter Canarias Popular Routes
Tenerife

Lanzarote
Lanzarote

London
Gran Canaria

Tenerife
Fuerteventura

London
---
Binter Canarias Fleet

ART 72-500
Bombardier CRJ900-ER
ATR 72-600
Bombardier CRJ900
---
Binter Canarias Hub Airport
Gran Canaria Airport
Gran Canaria Airport (sometimes also known as Gando Airport and frequently, but incorrectly, referred to as "Las Palmas Airport"), is a passenger and freight airport on the island of Gran Canaria.
It is an important airport within the Spanish air-transport network (owned and managed by a public enterprise, AENA), as it holds the fifth position in terms both of passengers and cargo transported, and fourth in terms of operations. It is also ranks first of the Canary Islands in all three categories. Airlines that fly from and to Gran Canaria Airport include Air Berlin, Air Europa, Sundair and Easyjet.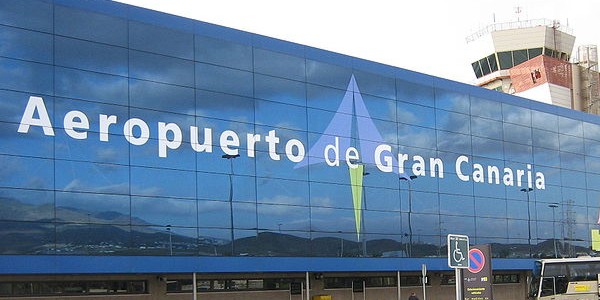 Alternative Airlines to Binter Canarias
---
Buy Discounted Binter Canarias Tickets at Alternative Airlines
---
Binter Canarias News
18th June 2019
Binter Canarias increase flight frequency for Casablanca—Gran Canaria route
At the beginning of next month, Binter Canarias will increase the number of times it flies between Gran Canaria and Casablanca each week. Binter will now operate the flight four times a week — twice on Monday, once on Thursday and once on Sunday. Binter Canarias will use an ATR 72 aircraft to carry passengers on the service — an aircraft is able to seat 72 people. Binter Canarias has listed an estimated 2 hour and 30 minute flight time for the service.
6th June 2019
Binter Canarias to launch new service between Madeira and Porto
Binter Canarias has begun operating a new service between Madeira Airport (FNC) and Porto Santo Airport (PXO). The airline ran the service for the first on 5th June 2018 and will continue to operate the flight two times a week. Binter Canarias will use an ATR72-500 aircraft to carry passengers on the flight and the journey is expected to take 25 minutes. The Madeira—Porto Santo route is a public service obligation route for Binter Canarias, meaning the airline has to operate the route on order of authorities.
Binter Canarias was awarded this route from the Portuguese Ministry of Planning and Infrastructure, who gave Binter Canarias the authorisation to operate this service after the airline that previously flew the route, Sevenair, saw their contract expire on 4th June 2018.