Search & Buy Binter Canarias Flights
Airlines will always try to sit children with their parents (subject to check-in)
Some airlines will allow travel for unaccompanied minors. Please email us to check.
The fare is based on the child's age on the date of travel.
More detailed information can be found here Traveling with children
Most airlines will let infants travel with their parent(s) for free. However some airlines will charge up to 10% of the adult ticket price. Click on 'Price Breakdown' to find out more.
If you are pregnant, but due before the flight departure date, please contact us once your baby is born and has a name. We can then add him/her to your ticket.
Infants will not be given a seat. The airlines expect parents to travel with them on their lap.
Airlines regard infants as being under 24 months old.
The fare is based on the child's age on the date of travel.
More detailed information can be found here Traveling with children
Buy
Binter Canarias

Flights
Binter Canarias Reservations with Alternative Airlines
Make an Binter Canarias Booking and Find Some Amazing Deals
---
About Binter Canarias
Binter Canarias, also known as Binter, is a regional airline based in Telde, Gran Canaria, Spain. The airline operates as an inter-island services within the Canary Islands and services to Morocco, Portugal and Western Sahara. Binter currently serves 18 airports with close to 1,000 weekly flights, predominantly across the Canary Islands, but it also operates international sectors to Cape Verde, Gambia, Mauritania, Morocco, Portugal and Senegal.
Binter Canarias flies to many destinations including El Hierro, Fuerteventura, Gran Canaria, La Gomera, La Graciosa, Lanzarote, La Palma, Tenerife, Agadir, Cape Verde, Casablanca, El Aaiun, Lisbon, Madeira, Marrakech, Banjul, Ponta Delgada, Dakar and Nouakchott. Binter Canarias has several hub airports including Gran Canaria Airport, La Palma Airport and Tenerife North Airport.
The airline is an integral part of the life of the Canary Islands, both for the residents who use it to hop between islands and the increasing number of tourists who wish to see more than one of these beautiful islands during their stay. Binter Canarias' fleet consists of ATR 72-500 and ATR 72-600s and Bombardier CRJ900 as well.
---
Binter Canarias Frequent Flyer program
BinterMas level is obtained when when flying with Binter Canarias only.
The Silver level is attained with 2,500 points and the Gold with 8,000. Customers can earn points by presenting their BinterMas card when flying with Binter Canarias and can earn points by reserving flights, accommodation, car hire and other services.
Frequent Flyer members can take advantage of advance information of offers, waiting list priority on Binter Canarias flights, exclusive offers, check-in by telephone, priority baggage handling, additional card for spouse, Gold check-in counter and free extra weight for their luggage.
---
Binter Canarias Baggage Allowance
Binter Canarias offers in flight magazine and passenegrs are allowed to bring one hand luggage with a maximum weight of 6kg.

Economy class passengers are allowed to bring 20kg for their checked baggage.

Binter Canarias offer online and airport check- in. BinterCanarias offer a Loyalty Program called BinterMas for frequent travelers.

Passengers can earn points when they travel with BinterCanarias and depending on the destination and BinterMas card level they can have upgrades double points and free flights. In March 2016, BinterCanarias expanded connections between the Canaries and the African continent with new flights to Morocco, specifically destinations Agadir and Casablanca
---
Binter Canarias Route Map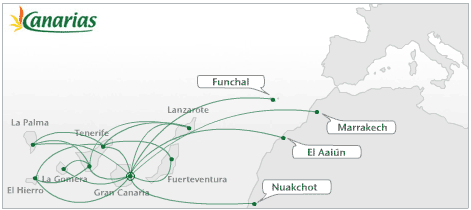 Binter Canarias Popular Routes
Tenerife

Lanzarote
Lanzarote

London
Gran Canaria

Tenerife
Fuerteventura

London
---
Binter Canarias Fleet

ART 72-500
Bombardier CRJ900-ER
ATR 72-600
Bombardier CRJ900
---
Binter Canarias Hub Airport
Gran Canaria Airport
Gran Canaria Airport (sometimes also known as Gando Airport and frequently, but incorrectly, referred to as "Las Palmas Airport"), is a passenger and freight airport on the island of Gran Canaria.
It is an important airport within the Spanish air-transport network (owned and managed by a public enterprise, AENA), as it holds the fifth position in terms both of passengers and cargo transported, and fourth in terms of operations. It is also ranks first of the Canary Islands in all three categories. Airlines that fly from and to Gran Canaria Airport include Air Berlin, Air Europa, Sundair and Easyjet.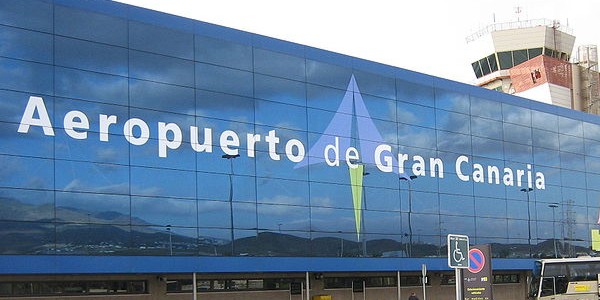 Alternative Airlines to Binter Canarias
---
Buy Discounted Binter Canarias Tickets at Alternative Airlines
---
Binter Canarias News
18th June 2019
Binter Canarias increase flight frequency for Casablanca—Gran Canaria route
At the beginning of next month, Binter Canarias will increase the number of times it flies between Gran Canaria and Casablanca each week. Binter will now operate the flight four times a week — twice on Monday, once on Thursday and once on Sunday. Binter Canarias will use an ATR 72 aircraft to carry passengers on the service — an aircraft is able to seat 72 people. Binter Canarias has listed an estimated 2 hour and 30 minute flight time for the service.
6th June 2019
Binter Canarias to launch new service between Madeira and Porto
Binter Canarias has begun operating a new service between Madeira Airport (FNC) and Porto Santo Airport (PXO). The airline ran the service for the first on 5th June 2018 and will continue to operate the flight two times a week. Binter Canarias will use an ATR72-500 aircraft to carry passengers on the flight and the journey is expected to take 25 minutes. The Madeira—Porto Santo route is a public service obligation route for Binter Canarias, meaning the airline has to operate the route on order of authorities.
Binter Canarias was awarded this route from the Portuguese Ministry of Planning and Infrastructure, who gave Binter Canarias the authorisation to operate this service after the airline that previously flew the route, Sevenair, saw their contract expire on 4th June 2018.
9th May 2018
Binter Canarias, the Spanish regional airline, has started three new domestic routes this week.
Launched on 2 May, the first sector linked the carrier's second largest operation in Tenerife North (TFN) to Palma de Mallorca (PMI). The remaining two routes were commenced from the carrier's biggest base at Gran Canaria (LPA), to Palma de Mallorca and Vigo (VGO) on the following day. All the new airport pairs are flown twice-weekly by leased CRJ 1000 equipment (from Air Nostrum), with Gran Canaria-Palma de Mallorca operated on Mondays and Thursdays, the Vigo connection from the same origin on Thursdays and Sundays, and the link from Tenerife North to the Balearic island on Wednesdays and Saturdays. There is no incumbent competition on any of the three domestic flights.
7th May 2018
Binter Canarias adds three more domestic routes to their schedule
Spanish airline, Binter Canarias, launched three new domestic routes that each completed their first service last week. Each new service will run twice a week and will carry passengers on the Bombardier CRJ-1000 aircraft.
The first service is between Tenerife North (TFN) and Palma de Mallorca (PMI), with an expected flight time of 3 hours and 10 minutes. The other two services fly from the carriers largest hub, Gran Canaria (LPA), and will travel to Palama de Mallorca and Virgo (VGO). The Gran Canaria—Mallorca route is expected to take 3 hours and the Gran Canaria—Vigo service will take an estimated 2 hours and 30 minutes.
24th April 2018
Binter Canarias wins TripAdvisor award
Binter Canarias was voted among the top European airlines for the category of 'Best Economy Class' in the TripAdvisor Travellers' Choice Awards 2018. The Travellers' Choice Awards are handed out based on the reviews of millions of travellers across the globe on the TripAdvisor website — the largest travel review website in the world.
Reviews on the website describe Binter as a friendly airline, with very good service, great value, and a easy-to-use check-in system.
8th March 2018
Binter Canarias introduces three new routes
Binter Canarias has announced that it will be operating services on 3 new routes, starting from May 2018. This is an attempt to improve the connectivity of the archipelago and to increase the supply of direct air routes with its national destinations. The routes will be operating as follows:
Gran Canaria - Palma Mallorca
Gran Canaria - Vigo
Tenerife Norte - Palma Mallorca
The routes will be operated by new Bombardier CRJ 1000 aircraft incorporated into the Binter Canarias fleet in 2017. These are efficient, high performing aircraft with a capacity of over 100 passengers.
20th February 2018
Binter Canarias Client Satisfaction ratings are fantastic
Binter Canarias has managed to increase its 2017 rankings of client satisfaction getting an overall aggregated score of 8.6/10. This is a 2.2% year-on-year improvement.They believe a contribution to the rise in client satisfaction for BinterCanarias may be due to the increas in the number of punctual flights, which had a yearly average of 94.13% in 2017, peaking at 98% in May.
Binter Canarias is ranked first in the Canarias Mediabrand ranking, which measures the digital identity of brands in the canary islands from a qualitative and quantitative point of view. This ranking analyses the reputation, the audience, the positioning and the adaptation of the web to mobile phones, which gave Binter the score of 63 points. It has become the brand with the best digital presence in the Canary Islands.
29th January 2018
Binter Canarias launch cheap flights between Lisbon, Madeira and the Canary Islands
From today, BinterCanarias have launched their new 'Bintazo' campaign, allowing passengersto purchase tickets at lower prices to fly from the various international destinations the company are operating. The offer will also apply to BinterCanarias connecting flights in Morroco and West Africa.
The new 'Bintazo' will be applied to tickets purchased between Monday 29 January and 12 February to fly between 1 March and 30 June 2018.
The minimum price per route is € 71.09 for Madeira's flights and € 98 for Lisbon flights in the case of round trips.
All those who wish to take advantage of this promotion can purchase the tickets through the company's usual sales channels: the www.bintercanarias.com website, the Binter app, via telephone (034 902 391 392) or travel agencies and counters at Airports, where you can check the conditions and prices for the various destinations.
19th December 2017
Binter Canarias announces it is #1 carrier in Gran Canaria
Gran Canaria was Spain's sixth busiest airport in 2016, behind the country's two hubs in Madrid and Barcelona, as well as the inbound traffic hot spots of Palma de Mallorca, Malaga and Alicante. However, as the main operational base (in terms of weekly seats and frequencies) for the Canaries' inter-island operator Binter Canarias, the airport is the fifth busiest in Spain for movements and cargo throughput, according to Aena data for last year.
The airport is currently served by 43 airlines (based on OAG schedules for w/c 18 December), a tally which unlike the vast majority of Europe's airports (and indeed Spain's) peaks in the winter and not the summer, given the fact that the island is a winter sun destination but with a growing year-round appeal. The same can be said for the airport's network of non-stop destinations, which rises from 113 in August to 128 in December.
19th December 2017
Binter and Canaryfly will improve inter-island passenger connectivity
Canaryfly and Binter canary airlines have reached a collaboration agreement whereby they commit to process the change of flight from one airline to another, without costs or penalties for the user, in order for their customers to gain flexibility and service to benefit from the multitude of flights that both add daily between the islands.
This agreement will only apply to passengers who have purchased a full fare, in the case of Canaryfly, Fleximás or Flexible, in the case of Binter, as long as there are seats available for the same class on the flight to which it is intended to change.
With this initiative both companies want to improve their customers' options and favor connectivity between the islands, so that, in case their clients need to change their flight, they have more options to choose from.
22nd November 2017
Binter Canarias launches Lisbon link
Celebrating BinterCanarias' new service to Lisbon are Sergio Millanes, Director, Tenerife North Airport, Alberto Bernabé, Cabildo de Tenerife Tourism Counsellor, Isaac Castellano, Canary Islands Government Tourism Counsellor and Candelaria Umpiérrez, Director General of Planning and Tourism Promotion, Canary Islands Government.
BinterCanarias opened a new route from Tenerife North (TFN) to Lisbon (LIS) on 29 October. It will serve the 1,323-kilometre sector twice-weekly with its CRJ series aircraft. The Spanish regional airline will face no direct competition on the new route.
April 2017
Binter Canarias announced it will add a Sao Filipe service from April 2017.
Binter Cabo Verde earlier this month launched new domestic route, which saw the inaugural service of Praia – Sao Filipe route on 15APR17. This route is operated by ATR72 aircraft, serving 6 times a week
March 2017
Binter Canarias announced that it will increase its flights between the Canaries and Funchal from one to two weekly flights on Thursdays and Sundays starting on March 26.
In the high season the offer will be increased for a daily flight. The offer of daily flights between Gran Canaria and Madeira is reserved for the months of July, August and September, but there will be a second round-trip flight every Sunday. It should be noted that from 22 June Binter Canarias will join the islands of Tenerife and Madeira three times a week.
The new frequency, to join the flights of Monday and Friday, will be held on Saturdays. The flights are made by ATR 72 with a capacity of 72 passengers
March 2017
Binter Canarias announced it will expand its network with a Bombardier CRJ1000 aircraft under a leasing agreeement with Air Nostrum
It will be the first CRJ1000 operated by Binter. The CRJ1000 aircraft to be leased to Binter was delivered to Air Nostrum March 30 at Bombardier's facility in Mirabel, Canada. Air Nostrum now has 36 CRJ aircraft in its fleet, including 19 CRJ1000s. In May 2017, Binter Canarias announced it had completed its deployment in Cape Verde. Binter's subsidiary in Cape Verde will complete the deployment of its inland route network in the African country by flying to the seven islands that have the airport: Santiago, Sal, San Vicente, Buena Vista, Fogo, Mayo and San Nicolás. The airline began operating domestic flights in the Cape Verdean archipelago last November 12, after several months of efforts to obtain the operator license that would allow it to break the monopoly of the public company TACV until then.
The Spanish company, which intends to replicate in Cape Verde the inland route business model it has managed for years in the Canaries, began operations in the country with connections to the two most populated islands, Santiago and San Vicente, and its main destination Sun and beach tourism, Sal.
December 2016
Binter Canarias launched the 'Business Class' for international routes between Tenerife and Gran Canaria to Dakar
Passengers may check three bags of 23 kilos, plus hand luggage, and have access to lounges and a process billing, shipping and preferred landing. They can also use the fast track passport control at the airport in Dakar.
On board, the 'Business Class' has a special differentiated cabin, located on the front of the plane, which will have a double seat for private use, plus extras like a lunch Premium, pillow products and blanket or newspapers and magazines. Binter Canarias is set to benefit as Funchal Airport grew by 13.4% for the first three quarters of 2016.
August 2016
Binter Canarias and the Government of Canarias created the campaign to promote the Canary Islands as a business platform in Africa
The Government of Canarias and Binter presented the campaign Together promotion to go further, which bind to publicize the brand Canary islands European Business Hub in Africa and spread abroad the advantages of the islands as a platform logistics and business with Africa.
July 2016
Binter Canarias announced it would rent one of its aircraft to operate interisland routes in Cape Verde
Binter aircraft will operate flights Cape Verdean airline TACV the under wet lease for three weeks, according to the agreement signed between the two airlines. The flights have started this Wednesday, July 27. The aircraft has moved from the Canaries to Cape Verde to operate domestic routes is a device manufacturer ATR, model 72500, with capacity for 72 passengers. To service it has moved from the Canary Islands a team of around 20 professionals, consisting of crews and maintenance personnel.
In September, Binter announced final preparations to begin flying between the islands of Cape Verde. Binter Canarias will operate ATR 72 aircraft model 500 to Cape Verde in order to operate interisland connections in the African country. It is expected that in the coming weeks Binter CV obtained from the Cape Verdean authorities operator's certificate to begin offering inter-island flights in the African archipelago, where it plans to replicate the existing system of air transport in the Canary Islands, in order to contribute to its development bringing the experience of more than 27 years connecting islands. Binter relationship with Cape Verde began in 2012, when it started operating direct flights between the two archipelagos, moving from then on this route to a total of 36,500 passengers.Currently the airline flies twice a week to the country, every Tuesday and Friday, in a triangular operation whose destinations Islands Sal and Santiago.
In November 2016, Binter CV has secured its Air Operator's Certificate from the Cape Verde civil aviation authority ahead of its planned launch later this month. The Binter Canarias subsidiary plans to begin scheduled flights on Saturday, November 12. Initial services will cover São Vicente-Praia-Sal using a single ATR72-500, D4-CCA. Thereafter, a second ATR72 is expected to join the fleet before year-end following which the network will be expanded to other points around the archipelago and even internationally. A third aircraft, type unspecified, is also slated to arrive in January next year.
---
Search and Buy Binter Canarias Flights
Make an Binter Canarias reservation and find some amazing deals with discounted Binter Canarias tickets at Alternative Airlines. Binter Canarias flies to many destinations worldwide, offering a cost effective and safe service to all its passengers. Let Alternative Airlines help find you cheap Binter Canarias tickets and make international and domestic flight reservations on Binter Canarias today.
Browse the most popular Binter Canarias flight routes to cities worldwide. Alternative Airlines can help you make reservations on Binter Canarias for international flights to lots of destinations. Use the following list of routes to help you plan your next flight. Book Binter Canarias flights on Alternative Airlines to save big! Alternative Airlines is an online travel agency, specialising in booking lesser known airlines and remote destinations.