Search & Buy Star Perú Flights
Select your payment method to view total prices including any payment fees:
Airlines will always try to sit children with their parents (subject to check-in)
Some airlines will allow travel for unaccompanied minors. Please email us to check.
The fare is based on the child's age on the date of travel.
More detailed information can be found here Traveling with children
Most airlines will let infants travel with their parent(s) for free. However some airlines will charge up to 10% of the adult ticket price. Click on 'Price Breakdown' to find out more.
If you are pregnant, but due before the flight departure date, please contact us once your baby is born and has a name. We can then add him/her to your ticket.
Infants will not be given a seat. The airlines expect parents to travel with them on their lap.
Airlines regard infants as being under 24 months old.
The fare is based on the child's age on the date of travel.
More detailed information can be found here Traveling with children
Buy
Star Perú

Flights
Star Perú Reservations with Alternative Airlines
Make a Star Perú Booking and Find Some Amazing Deals
---
About Star Perú
Star Perú currently flies to over 10 domestic destinations and its fleet is comprised of a mix of British Aerospace aircraft, most of which transport passengers, while one other carries cargo. The airline solely flies within Peru, to destinations including Cuzco, Lima, Andoas, Camisea, Corrientes-Trompeteros, Huanuco, Iquitos, Pucallpa, Puerto Maldonado and Tarapoto.
The airline was established in May 1997 as Star Up S.A., with Peruvian and Ukrainian capital and began scheduled commercial domestic flights and acquired their first Boeing 737-200 in 2004. The airline commenced operations providing freight transport services and charter flights for domestic and multinational companies, with a fleet composed of Soviet-made Antonov aircraft. In 2004, the airline added its first Boeing 737-200 to its fleet and began commercial operations to its first destination, the city of Pucallpa. A year later Star Perú its name to StarPerú and gradually acquired more Boeing 737-200 aircraft until its fleet numbered five airliners. Star Perú decided to update its fleet with more efficient aircraft better suited to Peru and its airports in 2008, with the British-made plane, the BAe 146. The renovation of the fleet was completed in early 2010, with the withdrawal of the last Boeing 737-200 aircraft. Later that year, the company overhauled its corporate image, and colours, and thereby heralding a new period of growth. Star Peru's Iata Code is 2I. Its ICAO code is SRU.
---
Star Perú Fleet
The Star Peru fleet has gone through many different transformations but, as of 2018, includes 6 Bae 146 and 2 CRJ 200s.
---
Star Perú Baggage Allowance
Carry-on Baggage
Star Perú allows its passengers to carry 1 piece of hand luggage, provided it does not exceed 4kg in weight and is no more than 40cm x 35cm x 20cm.
Checked Baggage
The baggage allowance for each passenger is 25 kg, distributed between a maximum of 2 items of luggage for each passenger. Baggage items must not exceed the following dimensions: 75 cm high, 45 cm long, 35 cm wide, or 155 linear centimetres. Any baggage amount that exceeds the maximum baggage allowance permitted is considered baggage excess. It can be ultimately transported prior payment of USD$1.77 (sales tax incl.) per each extra kilo.
---
Star Perú Check-in
Online Check-in
Online check-in is available on the Star Perú website.
---
Alternative Airlines to Star Perú
Please click on the logos below to find airlines that fly similar routes to Star Perú:
---
Book Star Peru Flights in English
Avoid confusion and find Star Peru flights in English with Alternative Airlines. Visiting Machu Pichu? Need flights from Lima to Cusco? Alternative Airlines gives you the chance to make your reservation in English and even pay with Paypal!
---
StarPeru Frequent Flyer Program
StarPeru offers a frequent flyer program to its most loyal passengers. Passengers can accumulate miles and collect StarPeru points. To find out more about the best frequent flyer programs around the world, visit our frequent flyer program blog.
---
Star Perú Route Map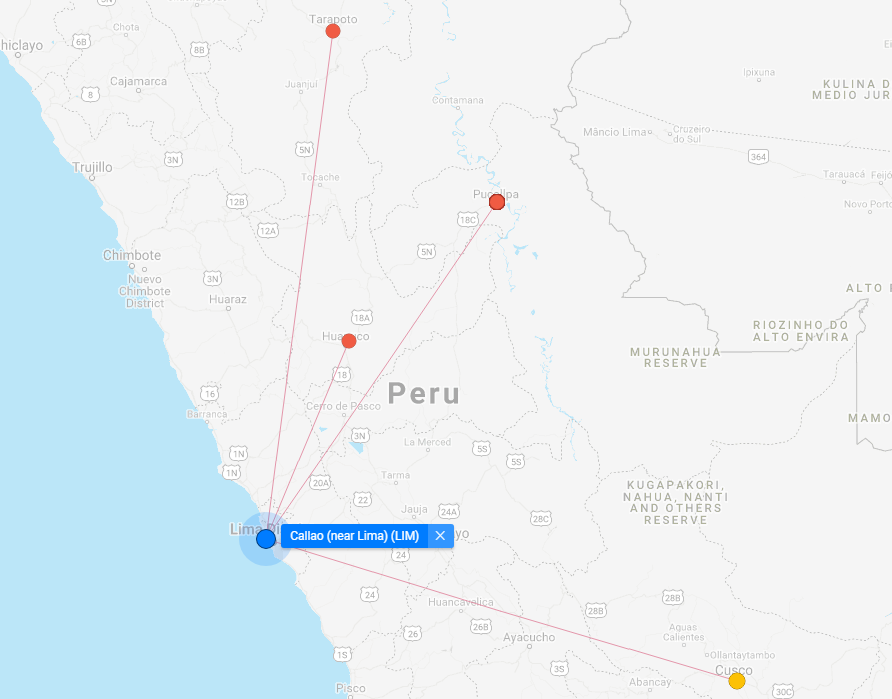 ---
Star Perú Popular Routes
Lima

Cuzco
Andoas

Lima
Huanco

Cuzco
Pucallpa

Lima
Pulcallpa

Huanco
Lima

Iquitos
---
Star Perú Hub Airport
Jorge Chávez International Airport
Jorge Chavez International Airport is Peru's main international and domestic airport. It is the hub airport for Avianca Peru, LAN Peru, Peruvian Airlines, Star Peru and LC Peru. Other airlines which fly to and from this airport include Copa Airlines, Delta Air Lines, Air Europa, Aerolineas Argentinas, Avior Airlines, Air France, LAN Peru, TAM Airlines, JetSMART, Viva Colombia and many others.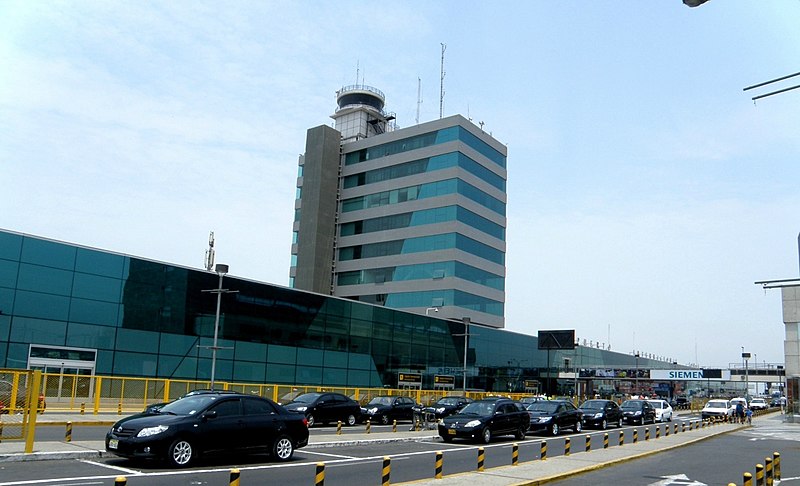 Photo credit: Capomo81
---
Star Perú News
15th May 2018
Star Perú and Peruvian Airlines form alliance
Star Perú and Peruvian Airlines have signed a code-share agreement that will allow each airline to sell the other's flights in an attempt to better compete with other airlines in the country.
The new agreement will Star Perú airline a wider variety of flights, better services, and more economic fares for their passengers. Put together, both airlines currently account for 26% of national air traffic in Peru.
General Manager of Star Perú, Roman Kasianvo, stated the new agreement will benefit passengers greatly as it will offer the best of both airlines with a single ticket.
April 2017
Star Perú announced that it was looking to sign a Memorandum of Understanding with Latin American Wings over a proposed merger
Among the tie-up's details are that the two carriers will operate each other's aircraft interchangeably. They will also coordinate on ground-handling services, commercial facilities (including counters), retail and sales, reservations, and IT among other areas.
A codeshare agreement has also been devised covering either carrier's network. Once the talks have been concluded, StarPerù will allow LAW executives to join its management while also allowing them to participate in board meetings.
March 2017
Star Perú announced the resumption of commercial flights connecting Lima and Ilo cities, after nearly six years
The route is operated by StarPerú airline on Mondays, Wednesdays and Fridays. The one-and-a-half-hour flight also marks Ilo Airport's beginning of operations, set to boost development in the south. Ilo Airport's opening showcases the region's major and interesting attractions, which transcend history, natural landscapes, unmatched cuisine and famous Pisco cellars.
On the other hand, Ilo Port stands out for its warm weather, nature and culture. Highlights include rocky spit Punta Coles, packed with overwhelming marine life, and museums such as Chiribaya to get an overview of the region's pre-Hispanic history.
13th January 2017
From 2017, Star Perú will offer permanent flights to Pisco (Ica), Manu (Puerto Maldonado) and Chachapoyas (Amazonas).
The new flights will be from Lima to Pisco, and then will fly to Cuzco.
Star Perú has bought two Canadian aircrafts with a seating capacity of 50 passengers each. The idea is to depart from Lima, with a stopover in Chiclayo for tourists interested in visiting the heart of Chachapoyas culture.
In mid-2010, StarPerú overhauled its corporate image, changing its corporate logo and colors, and thereby heralding a new period of growth. Currently, StarPerú flies to 8 domestic destinations and possesses a fleet composed of 9 BAe 146 aircraft, eight of which transport passengers, while the ninth carries cargo. StarPerú is a young, modern and efficient airline and has a personnel of more than 500 are committed to providing a high quality and personalized service.
Star Perú is set to benefit as Latin America attempts to climb out of a two year long recession and Peru has emerged as a bright spot in the region. For the seven months ending Jul-2016 Peru recorded 9% passenger growth to 11.2 million, driven by growth of 10.2% in the country's domestic market. Peru's air passenger growth continues to remain promising, as the country's largest airline – LATAM Airlines Peru – calculates that the country's trips per capita are slightly below the still-emerging markets of Mexico, Colombia and Brazil, whose passenger growth potential should remain robust once the country's economy begins to fully recover. StarPerú is set to benefit as the domestic Peruvian aviation market is grow very fast.
In terms of operations LAW operates three B737-300s on scheduled passenger flights covering Chile as well as the Dominican Republic, Cuba, Venezuela, and Peru. For its part, StarPerù operates two BAe 146-100s, four BAe 146-200s, one BAe 146-200(QT), two BAe 146-300s, and two CRJ-200s on scheduled passenger and cargo flights covering Peru exclusively.
---