Star Perú Reservations with Alternative Airlines
Make a Booking with Amazing Deals
---
About Star Perú
Star Perú flies to domestic destinations within Peru, and its fleet is comprised of a mix of British Aerospace aircraft, most of which transport passengers, while one other carries cargo. The airline was established in May 1997 as Star Up S.A., with Peruvian and Ukrainian capital and began scheduled commercial domestic flights and acquired their first Boeing 737-200 in 2004. The airline commenced operations providing freight transport services and charter flights for domestic and multinational companies, with a fleet composed of Soviet-made Antonov aircraft.
---
Destinations
Star Perú flies to domestic destinations within Peru, including: Cuzco, Lima, Andoas, Iquitos, Pucallpa,o and Tarapoto.
---
Baggage Allowance
Carry-on Baggage
Star Perú allows its passengers to carry 1 piece of hand luggage, provided it does not exceed 4kg in weight and is no more than 40cm x 35cm x 20cm.
Checked Baggage
The baggage allowance for each passenger is 25 kg, distributed between a maximum of 2 items of luggage for each passenger. Baggage items must not exceed the following dimensions: 75 cm high, 45 cm long, 35 cm wide, or 155 linear centimetres. Any baggage amount that exceeds the maximum baggage allowance permitted is considered baggage excess. It can be ultimately transported prior payment of USD$1.77 (sales tax incl.) per each extra kilo.
Excess Baggage Fees
If passengers' baggage is over the free allowance, they we be subject to pay for excess baggage. This currently stands at $2.50 USD + VAT per kilo.
---
Check-in Information
Online Check-in
Online check-in is available on the Star Perú website.
---
Destinations
The airline flies to the following destinations within Peru:
Cajamarca
Chiclayo
Cuzco
Iquitos
Lime
Pucallpa
Tarapoto
---
Book Star Peru Flights in English
Avoid confusion and find Star Peru flights in English with Alternative Airlines. Visiting Machu Pichu? Need flights from Lima to Cusco? Alternative Airlines gives you the chance to make your reservation in English and even pay with PayPal!
---
Star Peru Frequent Flyer Program
StarPeru offers a frequent flyer program to its most loyal passengers. Passengers can accumulate miles and collect StarPeru points. To find out more about the best frequent flyer programs around the world, visit our frequent flyer program blog.
---
Star Perú Route Map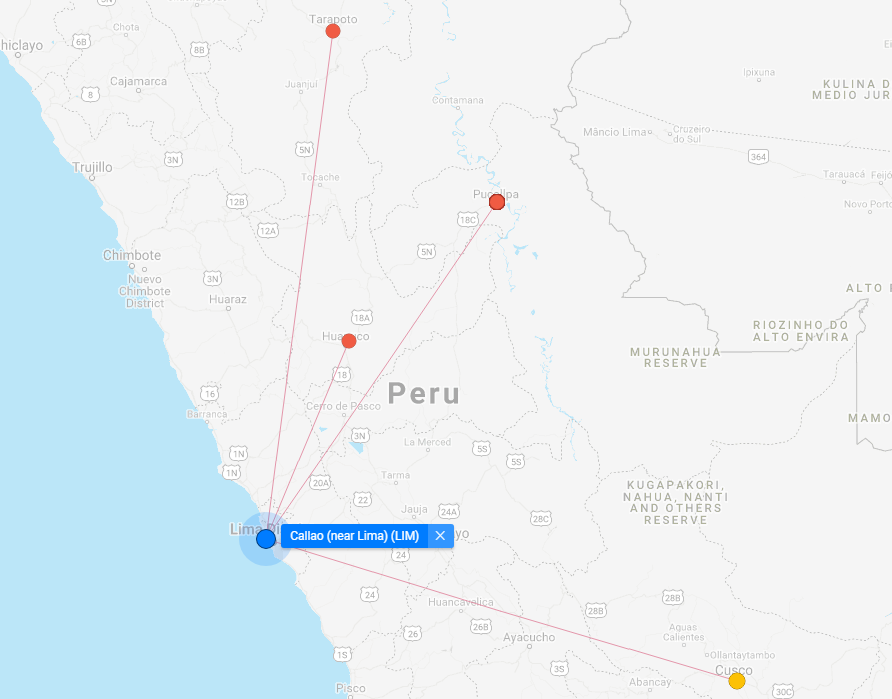 ---
Star Perú Popular Routes
Lima

Cuzco
Andoas

Lima
Lima

Cuzco
Pucallpa

Lima
Lima

Iquitos
---
The Fleet
The Star Peru fleet has gone through many different transformations but, as of 2018, includes 6 Bae 146 and 2 CRJ 200s. In 2004, the airline added its first Boeing 737-200 to its fleet and began commercial operations to its first destination, the city of Pucallpa. A year later Star Perú its name to StarPerú and gradually acquired more Boeing 737-200 aircraft until its fleet numbered five airliners. Star Perú decided to update its fleet with more efficient aircraft better suited to Peru and its airports in 2008, with the British-made plane, the BAe 146. The renovation of the fleet was completed in early 2010, with the withdrawal of the last Boeing 737-200 aircraft. Later that year, the company overhauled its corporate image, and colours, and thereby heralding a new period of growth.
---
Hub Airport
Jorge Chávez International Airport
Jorge Chavez International Airport is Peru's main international and domestic airport. It is the hub airport for Avianca Peru, LAN Peru, Peruvian Airlines, and LC Peru. Other airlines which fly to and from this airport include Copa Airlines, Delta Air Lines, Air Europa, Aerolineas Argentinas, Avior Airlines, Air France, LAN Peru, TAM Airlines, JetSMART, Viva Colombia, ATSA Airlines and many others.
---
Alternative Airlines
Please click on the logos below to find airlines that fly similar routes to Star Perú:
---
Star Perú News
15th May 2018
Star Perú and Peruvian Airlines form
Star Perú and Peruvian Airlines have signed a code-share agreement that will allow each airline to sell the other's flights in an attempt to better compete with other airlines in the country.
The new agreement will Star Perú airline a wider variety of flights, better services, and more economic fares for their passengers. Put together, both airlines currently account for 26% of national air traffic in Peru.
General Manager of Star Perú, Roman Kasianvo, stated the new agreement will benefit passengers greatly as it will offer the best of both airlines with a single ticket.
---