Search & Buy FlySafair Flights
Let's fly!

Select your payment method to view total prices including any payment fees:
Airlines will always try to sit children with their parents (subject to check-in)
Some airlines will allow travel for unaccompanied minors. Please email us to check.
The fare is based on the child's age on the date of travel.
More detailed information can be found here Traveling with children
Most airlines will let infants travel with their parent(s) for free. However some airlines will charge up to 10% of the adult ticket price. Click on 'Price Breakdown' to find out more.
If you are pregnant, but due before the flight departure date, please contact us once your baby is born and has a name. We can then add him/her to your ticket.
Infants will not be given a seat. The airlines expect parents to travel with them on their lap.
Airlines regard infants as being under 24 months old.
The fare is based on the child's age on the date of travel.
More detailed information can be found here Traveling with children

Buy
FlySafair

Flights

FlySafair Reservations with Alternative Airlines
Make a FlySafair Booking and Find Some Amazing Deals
Check out what people are saying about Alternative Airlines - Alternative Airlines Reviews
---
About FlySafair
FlySafair is a South African airline based in Johannesburg, South Africa.
FlySafair flies to many domestic destinations within South Africa, including Cape Town, East London, Durban, George, Port Elizabeth and Johannesburg. The airline began operating in October 2014, although the company behind FlySafair has been operating for 50 years. FlySafair is based in Johannesburg, South Africa and its hub is in Cape Town International Airport.
---
FlySafair Fleet
FlySafair currently operates scheduled passenger utilising a fleet of a mix of Boeing and Lockheed aircraft. In total, FlySafair has over 17 aircraft in its fleet, which includes models such as the Boeing 737-800, Boeing 737-400 and the Lockheed L-10-30 Hercules. These aircraft are used by many other prominent South African airlines.
---
FlySafair Baggage
FlySafair's baggage allowance per passenger is 2kg per flight (checked baggage) and 7kgs hand luggage.
Bags weighing in over 20kgs will incur a Heavy Bag Feel of R450 per bag at the airport, payable via cash or credit card.
Bags weighing more than 32kg will not be accepted.
Hand luggage pieces are not allowed to have greater dimensions than 56 x 36 x 23cm, and checked-in baggage may not exceed 90 x 75 x 43cm in size.
A single extra checked-in bag can be booked no later than two hours prior to flight departure at a cost of R450.00 per bag at the airport (cash or credit card), or for a fee of R250 per bag if booked via the website or call centre more than 2 hours ahead of scheduled flying time.
---
FlySafair Check-In
Online Check-In
Passengers can check-in for their FlySafair flight by visiting the FlySafair online check-in page an entering their booking reference and surname. Online check-in is available from 24 hours—4 hours before scheduled flight departure time on all flights.
Airport Check-In
Passengers can also check-in at the airport for their FlySafair flight. FlySafair recommends that all passengers arrive at least 90 minutes before their flight is scheduled to depart to allow time to check-in and pass through security. Airport check-in closes 40 minutes before flight departure time on all FlySafair flights.
---
FlySafair Route Map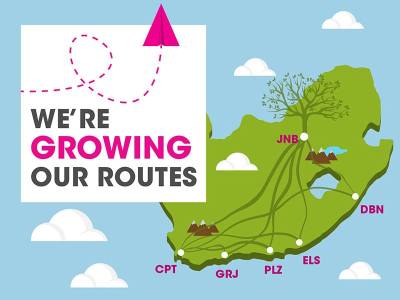 ---
FlySafair News
28th June 2018
South Africa's FlySafair launch massive promotion
The low-cost carrier, FlySafair, has made over 30,000 one-way flights available as part of their R4 per flight promotion earlier this year. The promotional sale was launched in honour of the airline's fourth birthday at 9:00. The idea was to have 30,000 flights costing 4 South African Rand (less than $0.50 USD). This will go through on flights to September. FlySafair said customers could buy tickets for up to 14 passengers as stated in their general terms and conditions for promotions. Of course, some luck is involved but there will be some very happy FlySafair customers out there today!
9th April 2018
FLYSAFAIR NAMED THE BEST AIRLINE IN AFRICA
The airline was named the Best Airline in Africa and the Indian Ocean in the 2018 TripAdvisor Travellers' Choice awards.
FlySafair continues to fly the South African flag high!
The low-cost airline took home the title of Best Airline in Africa and the Indian Ocean in the 2018 TripAdvisor Travellers' Choice awards.
It also walked away with the Best Economy Class award in the same region.
The awards highlight the world's top carriers based on the quantity and quality of reviews and ratings for airlines worldwide gathered over a 12-month period.
FlySafair is the only local airline to have made it onto the coveted list and shares the top spot for the region with Air Austral, a French airline, and RwandAir from Rwanda.
Kirby Gordon, Head of Sales and Distribution at the airline says: "FlySafair is extremely proud to have received a number one ranking in the TripAdvisor Travellers' Choice awards, especially given that these awards are based on consumer feedback."
Words which travellers most frequently use to describe FlySafair, include "always on time", "value for money", "better rates" and "friendly staff".
The airline performed well across the ratings categories scoring particularly high marks under Value for Money and Cleanliness.
27th March 2018
South Africa's FlySafair expands with new planes
The Low cost carrier, FlySafair has added two new generation Boeing 737 800s to its fleet, considerably boosting its capacity on existing routes. The aircraft are scheduled to enter the airline's service in late March and late April this year, and will see FlySafair's total number of B737 800s grow to five, bringing the fleet total to 14 aircraft. There are other carriers in South Africa, such as Mango. "It's imperative that we pursue an aggressive growth strategy to ensure that we keep our cost per seat as low as possible by finding economies of scale," said Kirby Gordon, head of sales and distribution at FlySafair.
The premier new aircraft, which has already been loaded on to the airline's schedule, will contribute to an increase in FlySafair's capacity on the Johannesburg/Port Elizabeth, Johannesburg - East London and Johannesburg - Cape Town routes, as well as the Johannesburg/Durban route on weekends.This will see the airline's overall capacity increase by just over 25,000 seats as of July.
4th December 2017
FlySafair to enable inflight card payments
FlySafair has announced it will become the first local low-cost carrier to offer cashless transactions on all of its flights. The airline has officially launched AviaPay, a new mobile point of sale (POS) system, enabling passengers to use their credit and debit cards to purchase refreshments inflight.
The solution, which is the result of a partnership between BlueMarket Retail Solutions, and payment service providers, PayGate and PosMarket, was specifically designed to address the needs of the aviation industry. FlySafair now provides travellers with receipts, regardless of the payment method used. This makes it far simpler for business travellers to manage their expense claims. Dealing with the administration relating to these claims also becomes easier for the travel management teams which process them.
4th December 2017
Airlink and Safair set to merge in consolidation drive
Two independent South African airlines Airlink and Safair, are to apply to South Africa's Competition Commission for approval to unite under the common umbrella of the Airlink group of companies.
The proposal, expected to be submitted tomorrow, sees the Airlink and low-cost FlySafair airlines and Safair's other businesses, including humanitarian aid flights, continuing to operate separately under their unique brands.
The airlines will retain their respective products, aircraft fleets, management and leadership teams. Employees will be secure with no job losses because of the consolidation, a statement from the company said.
"Airlink's acquisition of Safair, which is financially robust and profitable, makes good business sense. It presents opportunities to reduce our combined costs, position ourselves for growth while at the same time increasing connectivity and choice while making air travel accessible and affordable for our customers across Southern Africa," said Airlink CEO and Managing Director, Rodger Foster.
"Our combined networks will enable us to connect 37 destinations in nine Southern African & Indian Ocean countries and St. Helena. This will stimulate and enable trade, tourism, economic growth and social development in those markets we serve," added Foster
In addition, the proposed new ownership structure will see Airlink continue to meet - and in future exceed - South Africa's Broad-based Black Economic Empowerment targets.
A decision from the commission is expected early next year
22nd November 2017
FlySafair to launch new routes from Durban
FlySafair will launch two new flights from Durban on November 27. The first route will be from Durban to Port Elizabeth, and the second from Durban to East London. The new routes are expected to promote positive economic development of the cities involved.

The GM of King Shaka International Airport, Terence Delomoney, said any new route to an airport stimulates travel, trade and tourism. He said while there were already existing frequencies between Durban and PE, and Durban and East London, it is important for cities to create as much connectivity as possible.

Hamish Erskine, CEO of Dube TradePort, said Durban recognised the importance of a strong, competitive, well-priced network. He believes that new routes, such as those soon to be launched by FlySafair, have a positive impact on the city across a number of different levels.

The ability to offer onwards connections to cities like Port Elizabeth and East London is particularly important for Durban's proposition as an inbound tourism destination, Erskine said.

Counsellor Andrew Whitfield, a member of the Mayoral Committee responsible for Economic Development, Tourism and Agriculture within the Nelson Mandela Bay Municipality, said additional flights play an important part in Nelson Mandela Bay Tourism's efforts to promote the destination.

Whitfield believes that PE is also ready to showcase the best that it has to offer from a business tourism perspective, including some of the best hotels in the country.
15th November 2017
FlySafair and Zapper team up for easy travel
Getting around South Africa by plane just became a whole lot easier. Awarding-winning airline FlySafair and Zapper, the rewarding mobile payment company have joined forces to make booking flights as pleasant as possible.
Travellers can now use the Zapper app to pay for FlySafair tickets online, as well as at the airline's web kiosk and sales desk at OR Tambo International Airport.
This time-saving and frictionless payment option eliminates the need for passengers to complete mandatory payment information fields. Customers simply select the option to pay with Zapper, scan a QR code on their computer screen with their smartphone and confirm the amount due. Fast, safe and hassle free.
Customers booking tickets via mobile devices enjoy the same ease and convenience. Zapper's deep-linking technology allows them to tap the generated QR code to confirm payment.
In this way passengers experience simplified payment journeys, resulting in an enhanced FlySafair experience long before they even get on board.
1st October 2017
FlySafair fills flights void
While South African Airways (SAA) plans to reduce its flights to and from the Eastern Cape this month, other airlines have already stepped in to fill the void.
SAA said last week it would be reducing flights between Johannesburg and Port Elizabeth from four to two return flights a day, with return flights between Johannesburg and East London being cut from three to two a day.
This would take effect from October 29, SAA spokesman Tlali Tlali said.
However, travellers will not be left in the lurch, according to FlySafair sales and distribution head Kirby Gordon.
Gordon said the airline would be increasing its flights to both the Eastern Cape cities.
"Previously we had operated five flights a week between Johannesburg and East London, which we have upped to seven, as of September 23," Gordon said.
"We have now increased the flights between Johannesburg and Port Elizabeth [from six] to eight flights a week."
FlySafair also plans to further increase these flights in December for holiday travellers to 14 flights a week on the Port Elizabeth route.
At the same time, flights from Cape Town will be increased to 14 a week as well, both to and from Port Elizabeth and East London.
Meanwhile, Comair, which operates British Airways and Kulula flights, said any plans for increasing its flights would be "commercially sensitive".
"We continually consider ways that our two airline brands can better serve the flying public," Comair spokeswoman Susan van der Ryst said.
British Airways operates five return weekday flights between Johannesburg and Port Elizabeth, while Kulula operates three return flights between Johannesburg and East London.
20th April 2017
FlySafair has been ranked the world's most on-time airline for 2017 by air travel intelligence specialist, OAG.

The airline achieved an annual on time performance (OTP) of 95.94%. It was also 1 of 3 airlines to receive a five-star rating. This is the first time that OAG has introduced star ratings based on carriers' OTP performance.

OAG's airline schedule database holds future and historical flight details for more than 900 airlines and over 4 000 airports.

Its On-time Performance Star Ratings is a global accreditation programme that recognises on-time performance across all airports and airlines regardless of size, geographic location or relative relation to their peers.

For an airline to achieve an OTP of 95.94% is very difficult. It requires extremely smooth operations and exceptional focus from across the entire team," says Caroline Mather, marketing director of OAG.
16th April 2014
The Air Services Licensing Council (ASLC) granted FlySafair a domestic air service license.
---